The Best Concerts to See During New Orleans Music Month
October is now officially music month in NOLA—here's how to celebrate.
Crescent City Blues & BBQ Festival

| Photo courtesy of New Orleans Jazz & Heritage Foundation
Crescent City Blues & BBQ Festival

| Photo courtesy of New Orleans Jazz & Heritage Foundation
Walk around any neighborhood in New Orleans and you're bound to hear something that will stop you in your tracks, whether it's coming from an iconic live music venue, a high school marching band, a second line, or a street performer. After all, New Orleans is the birthplace of jazz, and home to countless musicians whose influence extends far beyond the city boundaries. People come from far and wide to see live music, attend prestigious festivals like Jazz Fest and French Quarter Fest, and soak up the musical history. From jazz and blues to funk, zydeco, gospel, hip hop, and many other genres, music is truly woven into the fabric of the city.
In honor of the city's musical heritage and to emphasize the importance of the music industry to the local economy, New Orleans leaders have designated October as New Orleans Music Month for the first time this year. This celebration of the vibrant music scene is a coordinated effort to increase awareness of New Orleans as a hub for music business, education, and innovation. It includes various collaborations between local organizations, music festivals, and business leaders to promote the growth of the local music industry. As part of Music Month, the city will host NOLAxNOLA (September 28 to October 8)—a showcase of New Orleans music, artists, and venues—and NOLA MusiCon (October 24-17, a conference for music professionals designed to promote New Orleans as a destination for the industry.
Any time of year is a great time to catch live music in New Orleans, but October is particularly packed with options, from an abundance of music festivals to a number of regular outdoor performances that take advantage of the cool weather. Take Music Month as a reminder to catch a show at one of the many iconic, bucket list venues around the city like Tipitina's, Preservation Hall, Snug Harbor, Maple Leaf, Kermit's Mother-in-Law Lounge, and Vaughan's. Or get out there and see a regular weekly gig by local favorites like Rebirth Brass Band, John Boutte, Tin Men, Nayo Jones, Kermit Ruffins, Johnny Vidacovich, George Porter Jr., and more. You can always listen to local jazz and heritage station WWOZ for inspiration, and check out their live music calendar for more nightly options around town.
While Music Month is designed to let visitors know about all the great live music happenings that locals already hold dear, the emphasis on seeing live local music is a message everyone can get behind. Make a point to see a show or attend a festival and support the musicians who keep the city moving and grooving. Here are 10 can't-miss shows and festivals that will help you celebrate the spirit of Music Month.
Scatterjazz featuring Shannon Powell, Brian Haas, Rurik Nunan, and Rick Trolsen
Wednesday, October 4
Mid-City; $15-$18
What better way to immerse yourself in the New Orleans music scene than an outdoor concert featuring entirely improvised sets performed by some of the city's top musicians? Scatterjazz brings together different groupings of musicians for unique evenings of "sound sculpture" at venues around the city. This session at The Broadside features virtuoso drummer Shannon Powell, keyboardist Brian Haas, violinist Rurik Nunan, and prolific trombone player Rick Trolsen.
79ers Gang
Saturday, October 7
French Quarter; $15-$20
The powerhouse combo of Big Chief Romeo Bougere of the 9th Ward Hunters and Big Chief Jermaine Bossier of the 7th Ward Creole Hunters makes for a truly funky sound based around traditional Mardi Gras Indian music. Their show at Toulouse Theater—with special guests—is sure to be electric.
Quiana Lynell
Sunday, October 8
French Quarter; $25
Stunningly talented blues and jazz vocalist Quiana Lynell combines her classical training with a gospel upbringing to weave stories through song. She's performed with the likes of Nicolas Payton, Tank and the Bangas, Ledisi, Jon Batiste, and Herbie Hancock. See her at the elegant Jazz Playhouse on Sundays throughout the month.
Soul Rebels
Thursday, October 12
Uptown; $20
Soul Rebels are on fire these days (even more than usual), collaborating with the likes of Wu-Tang Clan at Jazz Fest and with Rakim and Big Daddy Kane at Blue Note in NYC. While they certainly shine on the big stage, there's nothing like seeing them at their regular Thursday night gig at Le Bon Temps.
Crescent City Chamber Music Festival
Thursday, October 12 –Sunday, October 22
Citywide; Free
Classical music in New Orleans is not to be overlooked. The Chamber Music Festival is celebrating its eighth anniversary with seven free concerts throughout the city. This year's theme is Songs of the Earth. Enjoy collaborative works of chamber music including the renowned Manhattan Chamber Players and Gryphon Trio, Canada's premier chamber ensemble. Performances will take place at a variety of locations, from Trinity Episcopal Church to Urban South Brewery.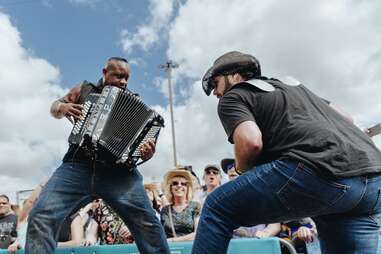 Dwayne Dopsie & The Zydeco Hellraisers
Friday, October 13
Marigny; $15-$20
Head down Frenchmen to d.b.a. to see the flaming hot Dwayne Dopsie throw down on the accordion with his Zydeco Hellraisers. The intimate venue and small stage means you can get up close and personal, and everyone will be on their feet, dancing to the zydeco rhythms.
Crescent City Blues & BBQ Festival
Friday, October 13 –Sunday, October 15
CBD; Free
This celebration of the blues in Lafayette Square brings together top musicians from across southern Louisiana and Mississippi. Performers include Tab Benoit, Samantha Fish, Little Freddie King, Shemekia Copeland, and dozens of others. But it's not just the music—this fest also features amazing barbecue in a range of regional styles plus vendors selling handmade art, jewelry, crafts, and more.
Generationals
Friday, October 20
Uptown; $25
Indie garage-pop duo Generationals—Ted Joyner and Grant Widmer—return home for a show following the release of Heatherhead, their seventh studio album. Catch them performing their mesmerizing synth sounds and buoyant guitar hooks at Tipitina's.
NOLA Funk Fest
Friday, October 20 – Sunday, October 22
French Quarter; $45-$345
The NOLA Funk Fest is a reveal party of sorts for the forthcoming Louisiana Music & Heritage Experience, a museum dedicated to the preservation of Louisiana's rich musical history. It's also packed with performances from some of the funkiest local musicians, symposiums, and a new exhibit titled I Found My Thrill: The Music and Artistry of Fats Domino and Dave Bartholomew. Performers include Dirty Dozen Brass Band, Irma Thomas, Ivan Neville, Leo Nocentelli, Erica Falls, and many more.
Tremé Fall Festival
Saturday, October 21
Tremé; By donation
Celebrate the music and food of this cherished historic neighborhood, the oldest African-American neighborhood in the country and home to some of the most famous musicians in the city. The event begins with a patron party on Friday night, with a full day of music and food on the streets surrounding St. Augustine Church on Saturday. The fest kicks off with a second line, and performers include Nayo Jones, Partners-n-Crime, and The Rumble. Donations (and proceeds from the patron party) support the church and the neighborhood's music and cultural groups.
My Morning Jacket
Tuesday, October 31
Downtown; $53-$103
The Americana rock band from Louisville has a tight bond with New Orleans, having performed here many times. MMJ has toured with the Preservation Hall Band, appeared on a Preservation Hall live album, and headlined Midnight Preserves during Jazz Fest. They return to the Orpheum for what's sure to be an epic Halloween show to close out a month of incredible music.