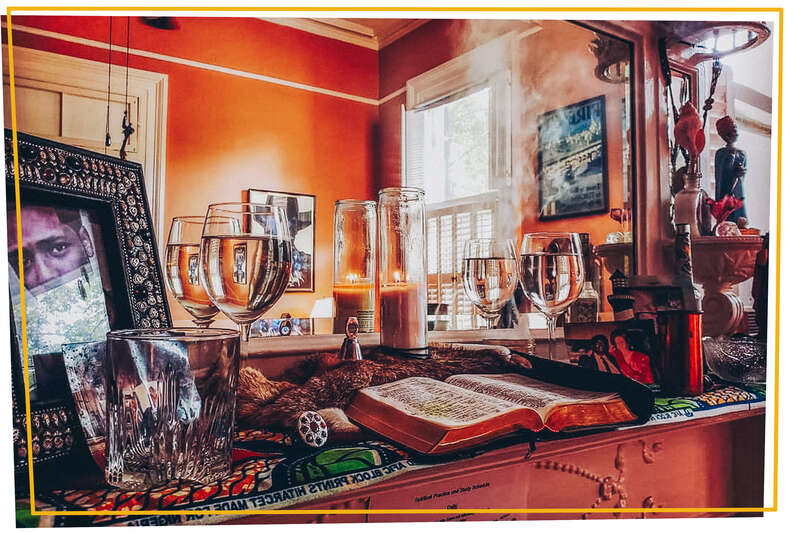 How to Discover and Experience Voodoo Culture in New Orleans
People come to New Orleans and eagerly ask where to find the best po'boys, the best snowballs, the best gumbo. Maybe where to find a second line. But ask how to find authentic Voodoo in New Orleans and the answers aren't as straight-forward. The city's relationship with the ancient religion is complicated, fraught with a difficult history, and an evolution tinged with gentrification and fraudulent practices. Yet there are still plenty of legitimate shops and spiritualists practicing throughout the city. You just have to know where to look.
Voodoo traces its origins in New Orleans, often called the "northernmost Caribbean city," back to centuries-old immigrant populations from Haiti, Cuba, and the Dominican Republic. During the late 18th century, the Place des Negres (now known as Congo Square in Louis Armstrong Park) provided slaves with a place to practice their native religions -- Voodoo being one of them. And many of them masterfully disguised their worship by assigning Catholic saints to publicly represent the saints they actually venerate. This is why you see prayer cards and rosary beads in Voodoo shops to this very day.
With this complex history, it's easy to understand why discovering authentic Voodoo in the Crescent City can be a daunting task. Despite the proliferation of Afro-Caribbean spirituality, in New Orleans, Voodoo is still hush-hush. But if you do your research, know what to look out for (and what to avoid), you can get an education in the ancient religion and even learn how to take the practice back home with you.
What is Voodoo?
Voodoo is an actual religion in the African diaspora, with its own god (Bondye) and saints (loa) and there is a lot of work leading up to the initiation of a priestess or priest. But what is more commonly practiced in New Orleans is referred to as Hoodoo, a spirituality that evolved after centuries of slavery and immigration. There's no specific way to practice Hoodoo, since it's a little bit of Voodoo, a bit of Catholicism, bits of Judaism, many Afro-Caribbean religions, and a lot of ancestor communication. Some people enjoy using crystals, others like tarot cards, and many practitioners like candles. Hoodoo and Voodoo followers believe in a universal energy, that the soul can leave the body during dreams and spiritual possessions.

Historically, those practicing Voodoo in New Orleans were mocked. They were called "wild," "cannibals," and sexual deviants. In the 1850s, according to Times-Picayune archives, it was a common and boastful practice to make sweeping arrests upon the discovery of "more Voudouism." A few decades later, reports mention "fetish offerings of lizards' tongues and blind worms' stings" and "the strangest of strange religions find in uncouth exercises the marvelous eccentricities of superstition." That mockery and mischaracterization continued well into the 20th century, so much so that many who practice even today find it best to do so behind closed doors. You'll find many authentic botanicas, or folk medicine stores, in New Orleans that have windows and doors that are tinted or completely obscured.
How to avoid fake Voodoo
Because of this anonymity, it's easy for fakes to get by, displaying crystals on colorful cloths, mixing herbs in oil, or reselling wholesale candles with no supernatural guidance. After decades of Voodoo being practiced primarily in private, most people have no internal litmus test to judge these seemingly spiritual showmen. People call themselves mambos, hooungans, witches, and brujas, but are just good at putting on a ruse for tourists in the French Quarter.
"You're not going to find anybody that's authentic hanging on the corner on Bourbon Street," says Yaya Bea, a New Orleans priestess of Ifa, a West African religion in which Voodoo has roots. "So if they're in the French Quarter, baby, run. Pay attention to how much they're talking about the ancestors. Pay attention to how they treat you. Anyone that's saying you need to do this and you have to spend money without trying to properly educate you, those are the people that you need to stay away from."
Despite the proliferation of Afro-Caribbean spirituality, in New Orleans, Voodoo is still hush-hush.
Like many other American cities, New Orleans is experiencing gentrification. So those who practice are often priced out or have moved just to get away from this strange, new New Orleans. The few real practitioners left don't want to have their knowledge stolen. With those absences, fakes see a way in. These factors put tourists especially at an impasse when trying to learn more about Voodoo in New Orleans. As a basic rule, avoid any place giving out "haunted tours," shops that make you feel judged, and never, ever pay $100 for a candle.
"New Orleans is getting hit with gentrification on every level possible. The idea of who we are, everyone is coming to steal it," Yaya Bea says. "It's time for my generation, the generation after me, and the generation before me. It's in our hands now."
Finding real Voodoo spirit in New Orleans
Only in her late 20s, Yaya Bea is one of the few native south Louisianians doing the work to grow deeper in her spirituality while also sharing it with others. Despite her petite figure, her warm smile and smooth cocoa skin command attention. While doing her work, she dresses in all white, from head wrap down, and is draped in elekes -- beaded necklaces that represent Yoruba deities. She remembers being a young girl, surrounded by altars and incense in her home and given spiritual baths by her grandmother. Her grandmother would tell her she had to "get the dark off [her]," which she now understands was about cleansing her and removing negativity.
"We're naturally spiritual people -- it's in our blood. We don't come from anybody who wasn't spiritual," she says. "From the Native Americans, to the Africans, they all had very strong, very strict, very prominent systems of divination and of spirituality."
One of the best ways to find real spiritualists is through other real spiritualists, she says, and social media can be a powerful tool. Before you visit New Orleans, take a look at the accounts of priestesses like Yaya Bea, Yeye Luisah, and Nana Sula. Look at their favorite spiritual shops, conferences where they've spoken, and people that they repost.
"Not only would you be getting authentic New Orleans, but you would be getting authentic Ifa. That's what helped me to be where I am," Yaya Bea says. "Because the energy is real here, it's very strong. All the work that the elders have been doing, for someone like me who really truly wholeheartedly wanted this, it came back around full circle for me to catch. Those interested need to go to those sources."
"You're not going to find anybody that's authentic hanging on the corner on Bourbon Street."
Another great place to find real spiritualists is at botanicas. The most reliable and trusted of these for decades was F&F Botanica in Treme, which closed in 2018. (Eerily, its co-owners and an employee all passed away within months of each other.) Known for its welcoming ethos and fair prices, F&F was a one-stop shop for candles, incense, herbs, perfumes, books, and beads. Now, a New Orleans visitor may have to check out a few different places (see below) to get a more complete picture of the Voodoo religion.
But there are certainly a few authentic Afro-Caribbean spiritual shops left where you can find items pertaining to Voodoo, Hoodoo, Santeria, and Catholicism alike. Typically, you'll walk in and find altars and particular deities that will clue you in as to the shop's religious faith. Try to find items that are made at the store -- like spiritual oils, dressing candles, or perfume. Many of the priests or priestesses will light a candle for you and keep it on their altar, giving you a sheet of parchment paper to write your name and intention, and they will pray on it for seven days.
In most of the shops, there are rooms in the back to get a reading from a priest or priestess. Often, you're able to record your reading on your phone, and you'll receive a prescription afterwards -- like an okra bath, rum and coconuts, or a daily psalm to read until all is well. The late Jonathan B. Scott of F&F said the best approach is to let the spirit guide you to the right items or practice. If all else fails, ask your ancestors for help.
"I'm not gonna tell anybody to throw away their faith, but the most essential piece is the egun, your ancestors," says Yaya Bea. "So if you praise and you honor your ancestors, life would be so much better -- especially in New Orleans."
Taking Voodoo back home with you
Just because you discovered the power of Voodoo in New Orleans, does not mean it has to stay there. Many spiritualists advise visitors to try the practice at home, and it doesn't have to feel daunting. It's just like talking to a friend, or saying traditional prayers.
"Just go for it, even if you don't know all your ancestors," says Yaya Bea. "Set up a spot with a white cloth, preferably in the living room. Keep a clean glass of water there and keep a seven-day candle lit and put out whatever the ancestors liked -- food, perfume, jewelry. Then start to talk to them. Just talk out loud. Start small and just start talking out loud to the creator and to that one ancestor you know that you trust. And once you knock, those doors will open."
Just because you discovered the power of Voodoo in New Orleans, does not mean it has to stay there.
Think you're ready to begin? Here are a few great places to study and to shop. If you can't get a reading or get a candle put on an altar for you here, they will likely be able to suggest someone who can.
Mid-City and Metairie
Now open in Mid-City, in addition to the original Metairie location, this botanica feels and smells more like F&F Botanica than any other. In addition to aisles full of candles, the store contains a ton of aerosol sprays, baths, and floor washes.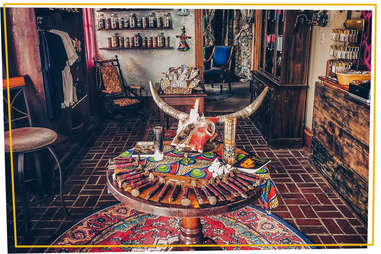 Marigny
Most of the items you can buy are made in-house, and you can get readings and spellwork. Because many Voodoo spiritualists disguised their practice as Catholicism, you'll see items like prayer cards and rosary beads. Classes are hosted there by outside practitioners, so there's always education happening.
Treme
Mambo Carmel and her staff are incredibly knowledgeable and never make customers feel rushed. You can always consult with a priest, get a reading, or have a candle fixed. Of course, the store is also full of incense, herbs, oils, perfumes, and more.
Uptown
Houngan Matt is the founder and in-house priest of Uptown's only spiritual shop. In addition to classes, readings and elaborate altar services, there's always a great selection of oils, colognes, powders, candles, and soaps. Many of these are hard to find, but Houngan Matt always makes a special announcement when something rare is in stock.
Mid-City
A great thing about F&F Botanica was the wall of dried herbs and roots. Here, there's a giant wall of herbs and they can be made into tinctures, salves, and teas in house. They also sell books, journals, herbs, tarot and oracle cards, and nearly every crystal imaginable. Also, there's a chair with books for reading, and there are classes happening there often. The community bulletin board is vetted by them, so it's worth a look to seek a spiritualist there.
Terrytown
This started as a party supply store, but owner Sheila Sanchez kept adding more things that customers requested. The most exciting thing about Dollar Zone Plus, aside from it being an actual store with tons of party goods and housewares, is that inventory changes frequently. One day, there's the elusive Sai Flora incense, another there's a huge Virgen de Guadalupe light-up lawn sign. There are always candles, colognes, oils, incense, aerosols, and soaps.
Seventh Ward
Since 1994, customers have been able to come here and find orisha oils, hand-dipped incense, soaps, herbs for burning, and body butters. Sister Andaiye Alimayu is a chemist and spiritualist and Sula Spirit is a doula and Akan priestess. Customer service is unparalleled, and guests can even get their own perfume oil mixed onsite.
New Orleans East
Mambo Treadway calls her botanica "Orisha-centric," and that's clear from the altars for each orisha around the store, to the huge hidden altar in the back where clients pay to get candles lit, to the inventory full of elekes, curios and cloths for communicating with each Orisha. If the religion of Voodoo is the goal, this is the place. She also has a reader there, and there are candles, housemade oils, soaps and floor washes, incenses, and colognes.
Marigny
Priestess Miriam is one of the few people in New Orleans doing bone readings, and she also sells her own gris-gris bags, oils, powders, and incenses. There are candles, Voodoo dolls and herbs for sale, all at a very affordable price -- especially for the location. Her shop has been around since 1995, and she also offers spiritual healing.
Sign up here for our daily New Orleans email and be the first to get all the food/drink/fun in the Big Easy.
Megan Braden-Perry is a native New Orleanian, mom to a kid and cats, and an award-winning journalist and author. She is a 2019 Jack Jones Literary Arts fellow. Follow her on Instagram and Twitter at @megandoesnola.