Inside the New Orleans Cemetery Kept Under Lock and Key
Here's everything you need to know to visit New Orleans' oldest cemetery.
Photo by Paul Broussard
Photo by Paul Broussard
Thanks to street-filling celebrations like Mardi Gras and countless world-famous jazz clubs, it's hard to imagine anyone calling New Orleans a lifeless city. But take a trip to one of the dozens of unique cemeteries in New Orleans, and you'll quickly realize these "Cities of the Dead" are a cornerstone of the city's culture.
Influenced by French, Spanish, and Caribbean traditions, as well as the city's high water table, New Orleans cemeteries are unlike most others across the country. Caskets buried "six feet under" would likely resurface, given the city's location below sea level, so tombs are built above ground into epic neo-classical tombs that resemble patterns of city streets.
Of all of the fascinating, visually intriguing places where you can visit the tombs of noteworthy New Orleanians, St. Louis No. 1 is one of the most significant, making it a must-see on any visitor's list.
St. Louis No. 1 is best known as the purported final resting place of noted voodoo priestess Marie Laveau. She is said to be buried in the Glapion family crypt. For years, tourists and wannabe voodoo practitioners carved Xs into the tomb as legend has it that any carver's wish would be granted. But preservationists say the practice has no basis in voodoo tradition, so the Archdiocese of New Orleans set new rules requiring visitors to be a part of a guided tour group to visit the cemetery and established a hefty fine for anyone attempting to write on the grave.
Over the years, the cemetery has attracted various elements of pop culture; most famously, it was the location of the acid trip scene in the 1969 film Easy Rider. In 1982 the New Jersey punk band The Misfits were arrested in St. Louis No. 2—they were looking for Marie Laveau (and accused of attempting to exhume her body), but went to the wrong cemetery. Even one-time local resident Nicolas Cage got swept up in the fervor and purchased a nine-foot tall, pyramid-shaped tomb in St. Louis No. 1 to be his future final resting place.
But this cemetery is much more than a collection of supernatural stories—as home to the tombs of several influential New Orleanians, it's a site of historical importance. Located on the north side of Basin Street just outside of the French Quarter, St. Louis No. 1 is the oldest continuously operating cemetery in the city, established in 1789. An ordinance in 1803 mandated above-ground burials to deal with the constant threat of flooding, and the first above-ground tombs in the city were erected here in 1804. Though it spans just one city block, it is the burial spot for thousands of departed souls and a visit to St. Louis No. 1 is essential to understand the history of these distinctive cemeteries as well as the history of the Crescent City itself.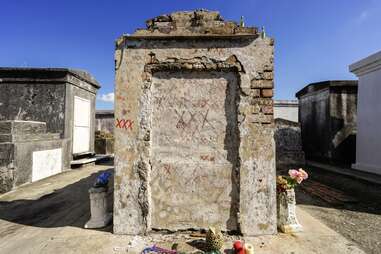 How to Visit St. Louis No. 1 Cemetery
To visit St. Louis No. 1, visitors must be a part of a tour group. In 2021, the Archdiocese imposed stricter rules granting cemetery access to just one designated tour company. Prior to that, several companies toured the cemetery, giving their own perspective and insight into its significance including Two Chicks Walking Tours, which leads a variety of tours around the city.
As a long time tour guide and cemetery enthusiast, Two Chicks founder and owner Christine Miller has a deep knowledge of St. Louis No. 1. She says this cemetery in particular is a must for both visitors and locals because the history and the tombs themselves are so unique, and a tour provides contrast and context to all the pop culture stories that surround it.
But Miller also notes there are many underrepresented stories and more complex interpretations of the site that are not told on tours at this time. She encourages further exploration of the cemetery's history through local sources like Our Sacred Stories.
"The first time I visited was in the '80s, after seeing Angel Heart, and I was hyped up on every sensational thing I'd ever heard about the place," says Miller. "I eventually established a bond with the space and unlearned so many [of those] things over the years of walking there."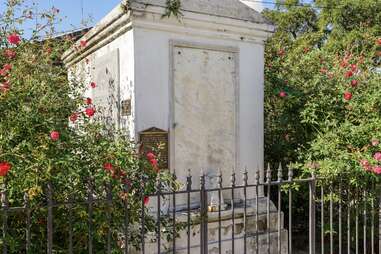 What to See in St. Louis No. 1 Cemetery
Whether you seek out the cemetery around Halloween or visit this cultural center some other time of year, Miller is quick to point out that there are many other significant tombs in addition to that of voodoo queen Marie Laveau. Here are some of the highlights:
Homer Plessy
Known for his role in the landmark case of Plessy vs. Ferguson, Plessy is interred around the corner from the esteemed Voodoo Queen. His act of civil disobedience in challenging Louisiana's racial segregation laws went all the way to the U.S. Supreme Court.
Étienne de Boré
His sugar-refining knowledge helped establish the booming granulated sugar industry throughout Louisiana. He also served as mayor of New Orleans from 1803 to 1804.
Bernard de Marigny
This French-Creole American nobleman, planter, politician, writer, horse breeder, and land developer owned property adjacent to the French Quarter. The Marigny neighborhood, home to Frenchmen Street, is his former property.
Paul Morphy
The world famous chess champion widely viewed as the first great American chess player is buried here. You may have noticed a few mentions of him in The Queen's Gambit. Keep an eye out for offerings of chess pieces, and you'll know you've found his final resting place.
Benjamin Latrobe
Latrobe is considered the father of American architecture. He died of Yellow Fever while in the city working on a project. Latrobe's on Royal Street is associated with his family.
Musician's Tomb
The 20-foot tall tomb with a blue music note at the top is where members of the Barbarin family, an influential musical family, are interred along with several other New Orleans culture bearers. Though not a relative, Sylvester Francis, founder and curator of Backstreet Cultural Museum, was buried here in 2020. Music and burial traditions in the city are tied together, and Francis worked to preserve that culture, contributing to an exhibit at the Historic New Orleans Collection as well as his own museum.
Other Cemeteries in New Orleans to Visit
Each of the historic cemeteries has its own unique characteristics, and Miller recommends also checking out Lafayette No. 1, St. Roch, and Metairie Cemetery. For more information about all of the city's hauntingly beautiful cemeteries, visit Save Our Cemeteries, an organization dedicated to the preservation, promotion, and protection of New Orleans's historic cemeteries through restoration, education, and advocacy.