Tales is coming, and planning for it is made all the more difficult by the fact that -- let's face it -- it's unlikely to be done stone-cold sober. Thankfully, we've taken a bullet (or at least a shot) for the team by sitting down with Abigail Gullo, bar-chef extraordinaire at the French Quarter's vaunted SoBou, and getting the inside scoop on what to do…
What are the must-do's?
Well, the tasting rooms are only open to those with wristbands. And you get a wristband merely by attending one seminar. So once you get a couple of seminars under your belt, you're free to openly wander around the various tastings at the Hotel Monteleone, which is a great way to learn about new products.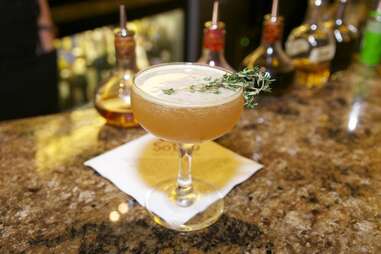 What's the best advice can you give someone during their first Tales, from an insider's perspective?
Avoid feeling tied to the French Quarter. If there's an event that maybe seems more far afield, don't say, "Oh, that one's going to be hard to get to", which is a mistake. Go to those places! Those places are going to be fun. And -- obviously, I love the brands and what they do -- but try not to get sucked into just one big brand. See all the little guys, too.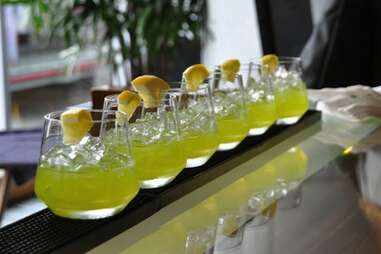 Is there anything that people should avoid?
What you should try to not care about is doing everything. Because if you try to do everything, you'll wind up really doing nothing. So my advice would be to pick something that really interests you and give it your full time and attention, and don't worry about all the other cool things going on that you might be missing. There are always great things happening at the same time.

Cool. Any pro-tips to keep in mind?
Whatever you do, don't over-indulge. Hydration is not for chumps, especially in New Orleans in July! Take it slow, as we New Orleanians would, and don't drink like a Yankee. To be honest, your palate is going to be blown out after tasting five or six cocktails, so save it for the really good stuff.
What about the parties? We hear, er, tales about Tales parties...
Tales parties have really become spectaculars. I can't even begin to imagine how much work it takes to pull these gorgeous events off. Every party has its own quirky twist, and it's just such a great time. Aside from the seminars, you absolutely have to make sure that you get to at least one of these guys.

Are there any awesome unofficial events that people can find out about that aren't on the Tales schedule?
I wouldn't call them unofficial events as much as informal meet-ups between friends. We all just seem to find a way to all be in the same place at the same time down here and have a blast. Plus, it's fun to find out who has the best hotel rooms and make that a good camping spot, especially who has access to the best hotel pools because, after a while, the pool at the Monteleone... you have to worry about getting pregnant just by getting in.
And finally, what's the best way to get lucky during Tales?
Always carry some mezcal in your bag, preferably with traditional cupitas, because we boozy ladies are classy. We will be charmed by a man who has cupitas in his bag. Another must-do for men, when you're in New Orleans, is that guys down here have fantastic taste in hats. We have two or three outstanding hat shops in town -- Meyer the Hatter, of course, and there are several others as well. It's amazing what a nice hat does.