The Most Amazing Muffulettas in the Big Easy
<strong>Parran's |&nbsp;</strong>Scott Gold/Thrillist
<strong>Parran's |&nbsp;</strong>Scott Gold/Thrillist
Go ahead, close your eyes and picture an iconic sandwich in the Big Easy (this is a visualization exercise you should probably just start incorporating into your meditation practice -- it's sure to bring you more peace and joy than a waterfall, or whatever). You almost certainly ended up envisioning your favorite po-boy... which is to be expected. But while po-boys are truly delicious, they are not the only signature sandwich in the city of New Orleans. While the muffuletta is often relegated to second billing, it's an incomparable combination of cured meats (generally including ham, pepperoni, mortadella, salami, and/or capicola) and cheeses (provolone, Swiss, and/or mozzarella), and dressed with the ever-important olive salad. It is a thing of beauty, and something wholly New Orleanian. We've got the best of what the city has to offer.
Metairie
The muffuletta at Parran's (one of the best po-boy shops in town, and yes, we know it's in Metry) has something of an identity crisis. While it shares a namesake round, seeded Italian loaf with its muff brethren, on the inside, it's all fried seafood po-boy, spilling over with fried shrimp, oysters, and catfish, and dressed in the typical fashion with lettuce, tomatoes, pickles and mayo. Whatever it wants to call itself, we're just happy it's here.
French Quarter
There's no disputing that this small Italian grocery with a deli counter, which dates back to 1906, invented the sandwich, and still has its flag firmly planted in that fertile territory. Truth be told, the CG muff, served cold and not always overstuffed with meats and cheeses, has been surpassed in recent years by other eateries. But if you've never been there, do yourself a favor and wait in line for the original, if only for the experience. Also, don't forget that Central Grocery is also a grocery, with tons of canned, fresh, and dried Italian goodies for your sweet nonna.
French Quarter
Few things are as refreshing and as classicaly NOLA as a cold Pimm's Cup at the Napoleon House on a hot summer day in the Quarter. The old, mottled walls; the classical music or opera wafting through the dining room, bar and courtyard; the penguin-suited servers, all combine to make this place an experience like none other. Pair that cool, cucumber-y beverage with the hot house muffuletta with perfectly melty cheese... you won't be disappointed.
Old Metairie
Similar to the Central Grocery, Nor-Joe is a grocery as well as a deli, offering up not just fantastic sandwiches, but also all of the special Italian ingredients you'd need for a true-to-form old-world feast. So while you're there picking up your imported olive oil, panettone, and canned scungilli, don't miss the chance to try one of their muffulettas. Interestingly, Nor-Joe stands apart from the pack by placing their olive salad in the middle of the sandwich instead of atop the meats and cheeses, which is an excellent idea if you're a stickler for maintaining the proper ratio of olive salad to meat, cheese, and bread throughout your sandwich-eating experience.
CBD
When chef Donald Link opened this butcher shop/cafe as a companion to his full-service restaurant Cochon, there was never any doubt that a muffuletta would appear on the menu (alongside his unstoppable pork burger, Le Pig Mac). The version found here is genuinely one of the finest in the city, in large part due to the fact that all of their meats are cured in-house -- not to mention the house-made olive salad. The muffuletta here is considerably more modest in size than at other spots, which is either a good or bad thing, depending on your perspective -- but you can definitely devour a whole one of these all by your yourself.
Metairie
Like many treasured neighborhood Creole Italian restaurants in Metairie, Giorlando's is a great place to hit for that saucy eggplant parm, spinach, and artichoke bread with shrimp, and other classic fare. But what's now a full scale eatery started in 1972 as a humble sandwich shop, and spot-on hot muffuletta is one of the greats. Their 9in Italian loaf is baked fresh daily, and employs both mozzarella and Swiss for an added cheesy bonus.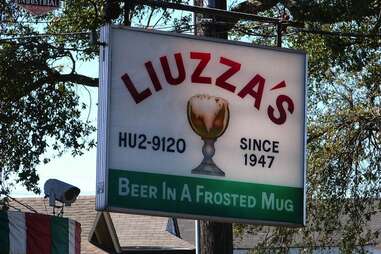 Mid-City
We have to hand it to Liuzza's for taking the traditional muffuletta to heart-stopping new levels (literally) by inventing what's now famously known as their "French-uletta." Like Mandina's, Liuzza's employs French bread for its muff. But better still, it coats the loaf in garlic butter and toasts it before adding the meats, cheeses, and olive salad. The result, you guessed it, is a muffuletta served on garlic bread. Make sure to pack the Lipitor for this one, folks; it's a monster.
French Quarter
Most people consider Central Grocery the de rigeur go-to for muffulettas in the Quarter. But for many decades, there has been significant debate on who has the better Decatur St muff: CG, or the nearby Frank's, which stands out for its signature toasting method. That debate still simmers with many natives, so clearly, you should hit both places and make an informed decision for yourself, like the democracy-loving American you are.
Mandeville
Is it worth driving all the way across Lake Pontchartrain to the North Shore for a sandwich? Well, that depends how far you're willing to go on a quest for greatness. If you have a serious thirst for adventure (and appetite), then yes, you should brave the Causeway for Bosco's, which has what may be the single biggest, overstuffed muffuletta in the New Orleans area.
Mid-City
Another schizophrenic muffuletta can be found at local favorite Mandina's. If you're not chowing down on its insanely generous portions of trout amandine, gargantuan fried seafood platters, or veal parm with spaghetti, check out its muffuletta, which -- as a mirror opposite of the one at Parran's -- incorporates traditional fillings, but is served on French (i.e. po-boy) bread.
Algiers (& other locations)
If you happen to find yourself headed to the other side of the river -- perhaps on the famous Algiers ferry -- don't miss the chance to stop by DiMartino's. Its muffuletta is mostly traditional, though served just hot enough to get the cheese perfectly melty without becoming gloppy or sweaty (which can ruin the whole affair). Unlike some places, DiMartino's never skimps on its homemade chunky olive salad. Also worth noting: they ship!
Mid-City
There are a number of reasons that you should seek out Katie's for a meal -- not the least of which is that its menu is chockablock with delights, including everything from generous po-boys to seafood beignets, chargrilled oysters, blackberry-and-jalapeno BBQ ribs, burgers, pastas,and pizzas. The muffuletta standd out here, too: plus, it offers not just a vegetarian version (with eggplant, mushrooms, onions, bell peppers, snf tomato), but a Kalamata olive salad, as well as mozzarella and Provel cheese, which you rarely find in NOLA. It has excellent melting properties, and works perfectly here.
Sign up here for our daily New Orleans email and be the first to get all the food/drink/fun in the Big Easy.
Scott Gold is a writer in New Orleans who once consumed an entire half-seafood muffuletta from Parran's entirely by himself, and he regrets NOTHING. Follow his muffuletta misadventures and more on Twitter @scottgold.