Avoid Tourist Traps with This Local's Guide to the French Quarter
Check out live music, sip sazeracs, and other fun things to do in the French Quarter.
From its unique history and jaw-dropping architecture to world-renowned dining and celebrated hotels, the French Quarter—the oldest neighborhood in New Orleans—provides an endless feast for the senses.
Everything is packed into roughly a square mile, meaning you can take in all of the Quarter's famous sites and bohemian charms while on foot. Which is especially beneficial considering the area's biggest draw continues to be Bourbon Street, one of the world's most notorious addresses for drinking and debauchery. But the Quarter is so much more than Bourbon Street; it's a living museum filled with notable landmarks, music venues, and culinary institutions around every corner.
The Vieux Carre is the best place to explore New Orleans' history and to pay your respects to the mighty Mississippi River, so be sure to check out this ultimate guide to the French Quarter. Once you find your own way to enjoy the Crescent City's most famous neighborhood, you may never want to leave.
Best restaurants in the French Quarter
The French Quarter is packed with restaurants old and new, from hundred-year-old icons and trendy modern spots to late-night eats. The best (and in some cases original) versions of the city's most iconic dishes can be found here, including beignets, muffulettas, Bananas Foster, and Oysters Rockefeller.
Mornings in the Quarter call for beignets—even if there's a line, Cafe du Monde is a must. Get an order of the powdered sugar-topped pillows and a cafe au lait, and be sure to watch the magic happen through the side window into the kitchen. For a more opulent start to the day, Brennan's is an iconic option where you can finish breakfast with flaming Bananas Foster, while Stanley and Wakin' Bakin' are casual spots with delightful renditions of breakfast faves.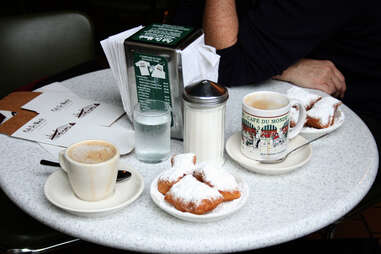 You'll be doing a lot of walking around the Quarter, so go ahead and indulge for all three meals. Lunch is a great time to pick up a po-boy, either classic options at Johnny's Po-Boys or creative takes at Killer PoBoys. The birthplace of the muffuletta, Central Grocery, is currently closed for repairs, but their iconic (and massive) sandwich can be found next door at Sidney's. For something different try Dian Xin, a newish spot for dim sum, or longtime favorite Bennachin for West African cuisine. If you're in need of a coffee after lunch, check out Cafe Envie—a true locals' haunt—or the cozy, classically French Croissant D'Or Patisserie.
Dinner in the Quarter is where authentic local cuisine really shines. Splurge at Galatoire's—where many of the bow tie-clad servers have worked for decades—or the similarly revered Antoine's or Arnaud's, all stalwarts of Creole cuisine. Irene's is an upscale-yet-homey spot with a menu of Creole-Italian classics. Restaurant R'evolution is a swanky destination where the chef-driven menu includes a take on gumbo that's so indulgent it's called Death by Gumbo. Some of the new-school spots—Saint John, MaMou, Jewel of the South, Sylvain, and Palm & Pine—provide a more contemporary experience that wouldn't be out of place in the trendiest corners of NYC or LA. Those looking for late-night eats are equally well-served by Verti Marte, a market and deli with sandwiches and po-boys that hit the spot, and Clover Grill, a diner that dishes out comfort fare with a cranky but friendly smile; both are open 24 hours.
Best bars in the French Quarter
Bourbon Street is known around the world—and rightfully so. There's nothing quite like this loud, flashy, mostly tourist-packed stretch of booming bars that serve up sticky-sweet, oversized drinks to patrons looking for an all-night party. You'll surely see folks wandering the streets with neon-hued drinks called hand grenades and signs boasting "Big Ass Beer," and it's worth a look for the spectacle. But feel free to steer clear, especially late at night when most of the respectable joints have already closed.
At the far end of Bourbon, however, you'll find several bars worth a visit like Good Friends—a laid-back gay bar known for their frozen coffee concoction, the Separator, and Lafitte's Blacksmith Shop, one of the oldest bars in the country, where you can sip a Purple Drank and sing along with the piano player. Pat O'Brien's may be a tourist favorite, but their iconic hurricane packs a punch, so maybe share one with a friend in the lush courtyard just for the experience.
Fortunately, however, there's a world beyond Bourbon Street when it comes to nightlife in the Quarter, from intimate cocktail-driven venues to welcoming joints where you're sure to make friends over a couple of beers. Cane and Table exudes a Caribbean vibe with its Latin-accented cocktail list. Napoleon House is the place to go for history, ghosts, and a Pimm's Cup. Arnaud's French 75 Bar, established in the late 1800s, offers the classic old Quarter vibe. Be sure to take a spin—yes, it really rotates—at the Carousel Bar & Lounge at the Hotel Monteleone. The Will & The Way has an IG-worthy courtyard and an equally enticing cocktail and wine list. For casual drinking experiences, head to Erin Rose, an unpretentious, Irish pub-style joint with a killer frozen Irish coffee and bonus po-boy shop called Killer PoBoys operating out of the back. Or stop by the Chart Room, a hangout with regulars from way back when the Quarter was a more residential neighborhood.
Coolest things to do in the French Quarter
The Quarter is the spot to get a feel for the city's French and Spanish heritage. Stop in the Historic New Orleans Collection for some insight, and use their handy app for the history behind many of the Quarter's buildings as you peruse the neighborhood. The Cabildo and Presbytère cover even more history, and the Jazz Museum will give you a deep dive into the musical history of the city (check the calendar for live performances, too).
Walking the Quarter is a feast for the eyes, as you take in the architecture (mostly Spanish, with Caribbean influences). The number of actual year-round residents is dwindling, but you'll get a feel for the neighborhood vibe as you get closer to Esplanade Avenue. Hang out in Jackson Square and admire the beauty of St. Louis Cathedral and maybe catch a brass band before heading over to take a gander at the Mississippi River in all its immense glory. Get a bird's-eye view of the Quarter from the elevated lobby of the Westin Hotel, where you can grab a cocktail at Observatory Eleven.
It's also a feast for the ears, with street performers and music clubs throughout. Preservation Hall is the pinnacle of music clubs for traditional jazz. The Jazz Playhouse and Fritzel's both offer live jazz nightly. Balcony Music Club features everything from jazz to brass to rock every night. The Toulouse Theater hosts both local and touring bands, and Santos Bar offers a more eclectic lineup, from DJs to surfrock to metal and more.
There's plenty of shopping in the Quarter too. The French Market is worth a visit for the history and maybe a few unique souvenirs. Stop in Trashy Diva for vintage-inspired clothing, or Krewe for locally designed specs. Fleurty Girl is the place to go for in-the-know New Orleans gifts and t-shirts, and Hové Parfumeur is the spot for NOLA-inspired scents and custom blends. Stroll Royal Street to browse art galleries and antique shops, including the historic Bevolo lighting shop and M.S. Rau, a maze-like gallery of fine art, jewelry, and museum-quality antiques.
Events throughout the year spotlighting local food and music make the Quarter even more exciting. Spring and summer festivals include French Quarter Fest, Creole Tomato Festival, Dirty Linen Night, and Satchmo Summerfest. Krewe du Vieux parades through the Quarter during Carnival, and caroling in Jackson Square (as well as Reveillon dinners) is a holiday highlight. Any time of year you'll find something out-of-the-ordinary going on.
Where to stay in the French Quarter
Staying in the Quarter makes it easy to take in everything there is to see and do, considering most highlights are a short walk away. There are plenty of options, from the glamorous to the quirky. Hotel Monteleone, family-owned and operated since 1886, is one of the city's most-recognized. The likes of Anne Rice, Truman Capote, Tennessee Williams, and William Faulkner preferred this hotel, and of course it's home to the Carousel Bar. Though located on busy Canal Street, the Ritz-Carlton is a luxurious option, and the Royal Sonesta on Bourbon is a top choice for those looking to witness the chaos from the comfort of their balcony. The W Hotel is a little oasis with a lovely courtyard, and Le Richelieu Hotel is a newly renovated hidden gem often recommended by locals.