How to Stay Cool (and Still Have Fun) in New Orleans This Summer
The ultimate guide to things to do on those triple-digit days.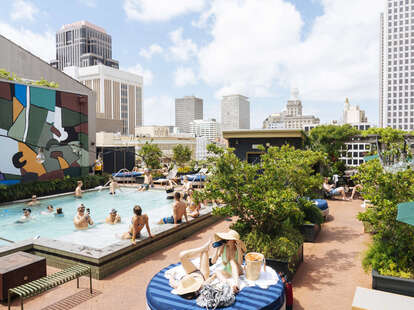 The Ace Hotel

| Photo by Rush Jagoe
The Ace Hotel

| Photo by Rush Jagoe
It can get unbearably hot and humid in New Orleans come summertime, but that doesn't mean the fun has to stop. In fact, the hottest months usually bring some perks: fewer crowds, shorter wait times, and lower hotel prices, just to name a few.
There are plenty of ways to stay cool, even when it's boiling outside. You can still explore the city and take in all the charms of the Crescent City—just be sure you have plans to grab a cold drink or hop in a hotel pool at some point during the day. When the temperature hits triple digits, don't let the steamy weather keep you from having a blast: Here are the best things to do to stay cool this summer in New Orleans.
Various locations
Short of hanging out in the walk-in cooler at your favorite restaurant, there's no better place for an instant cool-down like a museum. New Orleans is home to a number of world class options, ranging from the serious and historical to the stylish and colorful. So pick out what sounds best to you and plan to spend the afternoon enjoying the cold air while giving yourself an education in art, history, local culture, and much more. You could easily send the entire day wandering around the city's biggest and most-visited option, the National World War II Museum, or go museum-hopping to mix things up while staying cool. As a bonus, look for deals and special events during Museum Month in August.
Various locations
Swimming is a perfect way to cool off on a sticky afternoon, and fortunately there are a bunch of notable hotels that open their pools to the public (for a fee). Seek out the right kind of scene for you; some pools serve as a relaxed hideaway, while others turn things up with lively DJ parties and top-notch bites and bevvies or offer a birds-eye view of the city. So plunk down the day fee, put on your finest swimsuit, and laze the day away surrounded by trendy hotel guests.
French Quarter
Fresh off a multi-million-dollar renovation, the recently reopened Audubon Aquarium is one of the best places in the city for passing some time indoors. Touch a stingray, meet some butterflies, and lose track of time staring at undulating jellyfish, all while bathing in nonstop AC.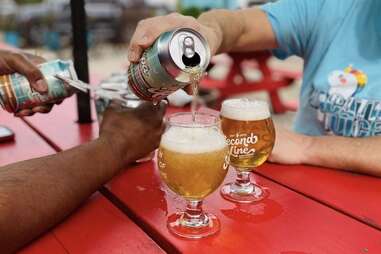 Various locations
Park yourself at one of the best breweries in New Orleans and beat the heat with an indoor drinking session. Complete the experience by planning your visit around a free tour, trivia night, or some live music—the likes of Urban South, Second Line, and Port Orleans usually have something fun brewing. No matter where you go, you'll be able to cool off with frosty pints of freshly made brews, the kind that make you want to take one sip after another. So make a day of it and string together a few visits, stepping outside into the heat only when taking a rideshare from one brewery to the next.
Have your own carnival, any time of year
Lower Garden District
Mardi Gras World is perfect for visitors whose dates don't coincide with NOLA's biggest annual party. It's also a great option for staying cool while enjoying a festive afternoon in the dead of summer. See colorful Mardi Gras props and floats up close, then try a slice of king cake. Maybe you'll even find some inspiration for your next Mardi Gras costume.
Various locations
Come summertime, nights in NOLA rarely bring respite from the heat. Good thing there's always some worthy concerts and performances taking place at the city's best spots for live music. Why suffer through a hot sticky night when you can rock out to a chart-topping act or relax while watching a local jazz master, all in classy temperature-controlled environs? For a surefire way to have a big night out while staying cool, simply head to Frenchmen Street and bounce between venues, popping out for a few minutes now and then to move from one place to the other between sets. Or simply spend the night at the Saenger Theater or Jazz Playhouse, enjoying a performance while sipping on a cold cocktail.
Various locations
When it's a super sunny scorcher, there's nothing like escaping to the nearest beach. Good thing there are a bevy of beach spots all within a short drive of NOLA, meaning you can spend a day at an idyllic Gulf beach and make it back in time for a big night out in the Crescent City. Mississippi's finest options include Bay St. Louis and Pass Christian, both of which offer small town charms in addition to postcard-perfect white sand beaches.
Indulge in NOLA's iconic summertime fave
Various locations
Whether it's your first or thousandth, your next sno-ball is guaranteed to delight your inner child while cooling you off. While there are variations found the world over, there's nothing quite like enjoying an authentically New Orleans combination like nectar cream and wedding cake at a tried-and-true neighborhood icon like Hansen's Sno-Bliz or Plum Street Snoballs. Make the next record setting heat wave a memorable one by going all-out and adding toppings such as condensed milk, ice cream, candy, and whatever else your heart desires.
Stay cool with some retail therapy
Various locations
When it's insufferable outside, make a day of it inside at Canal Place, where shopping highlights include Saks Fifth Avenue, Louis Vuitton, Shake Shack, and a movie theater. Or scope out wallet-friendly finds at the Riverwalk, the nation's first downtown outlet center. If it's hot but bearable, find a fun balance on Magazine Street, staying cool by popping into any number of indie businesses while you stroll down the city's longest shopping street. Artsy types can always escape the sun by enjoying the galleries along Royal Street in the Quarter or Julia Street in the Warehouse District.
Zoom around the city while catching a breeze
Various locations
There's no more memorable way to get around the city than by historic streetcar. It's especially handy when you want to see some sights, but can't bear to walk around in the heat. Simply grab a seat by a window and enjoy the breeze. One of the longest and most scenic rides can be found on the St. Charles streetcar; ride this popular line through the Garden District and Uptown, taking in jaw-dropping mansions, Audubon Park, and more. If you want to stay closer to the action, take the Riverfront streetcar, which runs along the edge of the French Quarter, passing by Woldenberg Park, the aquarium, Canal Place, and the Riverwalk, ending at the Convention Center (near Mardi Gras World).
Slurp down slushy boozy drinks
Various locations
Make a night of it by setting up shop at an inviting bar with tasty frozen cocktails. Anchoring its own corner of the Quarter, Lafitte's Blacksmith Shop is famous for its frozen Voodoo Daiquiri, a.k.a. Purple Drank. Nearby, Cane & Table usually offers a pair of craft frozen options such as a refreshing paloma or pina colada (made with house-made coconut cream and fresh citrus) and Erin Rose is a dive that's known for its boozy frozen Irish coffee. Over in the Warehouse District, Flamingo A-Go-Go has a slate of frozen drinks, including frose and pineapple upside down cake. If you're Uptown, head over to Vals, which is famous for its frozen margs, which get a kick from blood orange liqueur and ancho salt.
Chill out with some cukes on your eyes
Various locations
These fancy hotel spas take chilling out seriously. Get all the toxins out with a massage, regulate your temp with some time in the sauna, and give your skin a boost with a facial. The most notable options can be found at the Four Seasons, Ritz-Carlton—with 20 treatment rooms, a cafe, and a boutique, it's the largest spa in New Orleans—and Windsor Court. For a local, non-hotel option, check out Earthsavers, which has three area locations including one Uptown on Magazine Street.
Eric Grossman is a Thrillist contributor.