Where to Stay in New Orleans on Your Next Trip or Staycation
The ultimate guide to what to eat, drink, and do in every New Orleans neighborhood.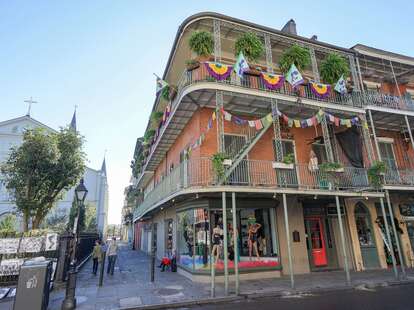 Photo by Paul Broussard, courtesy of New Orleans.com
Photo by Paul Broussard, courtesy of New Orleans.com
New Orleans might not be the biggest city around, but it punches well above its weight when it comes to visitor-friendly wonders. There's a surplus of cool things to do, including world-class restaurants and bars, plus killer live music every night of the year. So when it comes to planning a visit, the toughest part is often determining where to stay.
Make the most of your time in the Crescent City and seek out the neighborhood that's the best fit for you. While no trip is complete without some time spent in the French Quarter, the city's most famous neighborhood isn't for everyone. Fortunately, there are lots of other worthy neighborhoods—each with its own distinct vibe—so here's a guide to make choosing a home base for a memorable stay in New Orleans easy.
Marigny/Bywater
If you want to discover why NOLA has attracted creatives and cool kids from coast to coast, take a short stroll from the French Quarter across Esplanade Avenue to reach the Marigny, which flows right into the Bywater. While some visitors never make it past Frenchmen Street—one of the city's premier party strips, packed with beloved local haunts and music venues—those who venture beyond are rewarded with an endless supply of historic buildings and colorful Creole cottages, many of which house charmingly intimate cafes and eclectic shops.
Where to stay: With its thoughtful design and striking environs, Hotel Peter & Paul—formerly a Catholic church and school—has become a popular option for hip out-of-towners looking for a home base in the Marigny. Those eager to stay in the middle of nightlife madness are wise to consider The Frenchmen, Royal Street Inn, or Royal Frenchmen, all of which are a short stumble from dozens of popular venues. For a quieter experience, seek out one of the area's many B&Bs; top picks include Auld Sweet Olive Bed & Breakfast and R&B Bed and Breakfast.
Things to do: It's easy, and recommended, to get lost while strolling through some of the city's most scenic streets. Go crate digging at Euclid Records or Louisiana Music Factory, then enjoy a leisurely stroll along the river at breezy Crescent Park. If it's a hot one, escape the sun while exploring Studio BE—the huge warehouse space that showcases the work of local artist Brandon "Bmike" Odums—or JAMNOLA, an immersive, New Orleans-themed "cultural funhouse" that was designed to boost your Insta grid.
Best restaurants:Bacchanal provides an outdoor dinner party setting where strangers make new friends while enjoying curated wine and cheese, thoughtful small plates, and free live music in the famously photogenic, Mediterranean-style courtyard. Award-winning barbecue is the name of the game at The Joint, and Chef Nina Compton lures Top Chef fans to her Bywater American Bistro. Don't leave without trying the famous praline bacon at Elizabeth's, or sweet treats from Taylor Swift's preferred local cake spot at Bywater Bakery. For weekend thrills, the city's liveliest drag brunch can be found at The Country Club.
Best bars and nightlife: A welcome alternative to the tourist-packed Quarter, various beloved drinking dens double as meeting points for local social groups, service industry workers, and out-of-town scenesters looking to tap into the only-in-NOLA vibes. Come nighttime, follow the cool kids to St. Claude Avenue, home to indie stalwarts like Siberia and Hi-Ho Lounge. The largest and most boisterous crowds can be found on Frenchmen Street, which is home to higher-priced clubs featuring national acts (Blue Nile, Snug Harbor), as well as low-key dives (Apple Barrel, Cafe Negril) that rarely charge a cover. For a hidden rendezvous over a well-made cocktail, head to Hotel Peter and Paul's The Elysian Bar.
French Quarter
A magnet for first-time visitors, the French Quarter is one of the world's most visually striking neighborhoods, overflowing with captivating history, iconic architecture, legendary restaurants and music venues, and so much more. Running through it all like a booze-filled vein is Bourbon Street, which can't be avoided if you want to check out some of the city's most enduring, and notorious, haunts. No visit to NOLA is complete without time spent soaking up the Quarter in all of its glory.
Where to stay: The compact, easily walkable Quarter contains a diverse array of lodging choices that put visitors right in the middle of the action. Hotel Monteleone, family-owned and -operated since 1886, is home to the Carousel Bar, which features a slowly revolving bar, classic cocktails, and live music. The Ritz-Carlton, New Orleans provides a classy oasis along sometimes-chaotic Canal Street, and the Royal Sonesta New Orleans offers balcony rooms right on Bourbon Street, ideal for those wanting an up-close view of 24/7 debauchery.
Things to do: For a classic French Quarter experience, follow in the footsteps of countless visitors and start your day with some piping hot beignets and a cafe au lait at the original Cafe Du Monde, then cross the street to gawk at idyllic Jackson Square, home to postcard-perfect St. Louis Cathedral. Running parallel to down-and-dirty Bourbon Street is one of the city's most enchanting paths—lined with world-class art galleries and antique shops, Royal Street is often patrolled by a coterie of lively street performers. A good place to start is M.S. Rau, a 36,500-square-foot gallery that has been lauded as one of the best antique showrooms in the world.
Best restaurants: Befitting the city's oldest neighborhood, the "Vieux Carre" is home to some of the oldest continually-operating restaurants in the country. Galatoire's, Arnaud's, Antoine's, and Tujague's all serve as living culinary museums; each overflows with historical touches, perfect for anyone eager to explore the traditional Creole dishes and cordial service of a bygone era.
New-school options include tropical bites at Palm & Pine, modernized Creole at Saint John, and Southern fare at swoon-worthy Sylvain. For a quick bite in between (or after) drinks, head to Verti Marte, a 24/7 grocery that was Anthony Bourdain's preferred spot for po'boys and other late-night noshes.
Best bars and nightlife: Take advantage of NOLA's uniquely lax alcohol regulations, grab your favorite tipple from the nearest bar, and enjoy a stroll along Bourbon Street, where you can peek inside to check the scene at notorious party spots like Pat O' Brien's or Lafitte's Blacksmith Shop. Order their iconic drinks—bright red hurricanes at the former, Voodoo daiquiris colloquially known as "purple drank" at the latter—at your own peril. Music fans can seek out jazzy thrills at ever-popular venues such as Preservation Hall and the Davenport Lounge. For first-rate cocktails, seek out nationally lauded stalwarts like Jewel of the South, Cane & Table, and the French 75 Bar.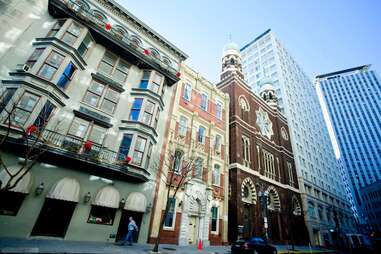 CBD/Warehouse District
The Central Business District (CBD), which lies just across Canal Street from the French Quarter, extends into the Warehouse District and its notable cultural institutions. Popular with business travelers and conventioneers, the once low-key area has perked up in recent years thanks to its growing ranks of hip hotels, trendy restaurants, and popular concert halls.
Where to stay: The area provides a centrally located base from which to explore the city, with quieter environs than what you'd find a few blocks away in the Quarter. Full of large chain properties and the expansive Harrah's Casino, the CBD impresses with high-end hotels like The Windsor Court, The Roosevelt, and Four Seasons Hotel New Orleans. Sister properties Maison de la Luz and the Ace Hotel cater to cool crowds and visiting creatives. The colorful new Virgin Hotel is ideal for celebratory groups looking to enjoy rooftop pool vibes.
Things to do: One can easily spend a day touring one of the city's most visited attractions, the National WWII Museum, but be sure to pencil in some time for other activities. The Ogden Museum of Southern Art is full of stunning regional works. Lined with modern art galleries, Julia Street is best enjoyed during one of the many open gallery nights held throughout the year. South Louisiana's two largest event venues—the Caesars Superdome (home to the NFL's Saints) and Smoothie King Center (home to the NBA's Pelicans)—are separated by Champions Square; all three attract the biggest touring names in music, and serve as the backdrop for annual events like Essence Festival. The gloriously restored Orpheum, Civic, and Joy theaters all host big acts as well.
Best restaurants: Several of NOLA's brightest culinary beacons are represented here, especially Donald Link, whose Herbsaint, Pêche Seafood Grill, Chemin à la Mer, Gianna, and Cochon all vie for attention. The flagship Emeril's continues to delight groups of visitors, and Alon Shaya's Miss River is ideal for celebratory crowds. For cheap eats, join the line at Beyonce's favorite local eatery, Mother's, or grab some best-in-class boudin and a meaty sandwich to go at Cochon Butcher.
Best bars and nightlife: For an education in local cocktail history, buzz through the Sazerac House—admission is free, and there are samples!—then stroll on over to The Roosevelt's timeless Sazerac Bar to enjoy a properly made version of the namesake cocktail. Bar Marilou's bordello-like space is one of the city's sexiest drinking dens, and cocktails with a view can be found next door at Alto, the rooftop pool bar atop the Ace. Sports fans can keep an eye on all the games and check out cool local memorabilia at Manning's, while Ernst Cafe and Lucy's Retired Surfers Bar cater to those looking for dirt-cheap drinks and good times.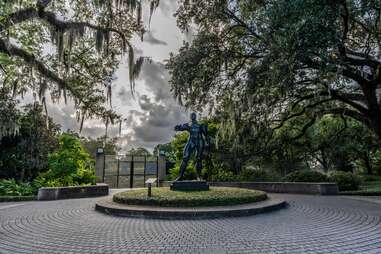 Mid-City
Nestled between the Mississippi River and Lake Pontchartrain, Mid-City provides a welcome break from the Quarter. The two neighborhoods are linked by the Lafitte Greenway, a 2.6-mile paved trail, as well as the Canal Street streetcar. Famous for its cemeteries, Mid-City comes alive every spring in the run-up to the Jazz and Heritage Festival; during those two weekends in late April and early May, the streets overflow with JazzFest revelers and the sounds of porch concerts. A range of beloved, lived-in hangouts ensure you'll have plenty of opportunities to interact with the locals, anytime of year.
Where to stay: Befitting its true neighborhood feel, Mid-City is light on lodging options, which proves especially challenging for the thousands of out-of-towners searching for a place to stay during JazzFest. There are no large hotels, only small inns and B&Bs like Ashton's B&B, Inn at the Old Jail, Canal Street Inn, and the 1896 O' Malley House. For an affordable option that's low on frills but heavy on indie vibes, check out The Drifter.
Things to do: To get a sense of Mid-City's diverse population and community pride, take a walk or bike ride through the colorful houses of the Bayou St. John area, and be sure to check out the historic landmarks along Bayou Road. Take a break from all the food and drink by enjoying a stroll around beloved City Park, home to the New Orleans Museum of Art and its stunning (and free-to-visit) Besthoff Sculpture Garden. To understand the distinctive way locals honor the dead, join a walking tour of the above-ground Masonic and St. Patrick's cemeteries.
Best restaurants:Parkway Bakery & Tavern might just be the city's definitive place to try a po'boy, and while there you can check some other only-in-NOLA items like jambalaya and alligator sausage off your culinary bucket list. Other can't-miss options with lots of local flavor include Toups' Meatery and Liuzza's By The Track, while Bevi Seafood Co. is an ideal spot for trying boiled crawfish when they're in season. Take a step back in time and reward yourself with a stop at old-time Angelo Brocato's, where the sweet treats have been a local tradition since 1905.
Best bars and nightlife: Mid-City's nocturnal gems come in a variety of forms. Rock'n'Bowl is a local institution famous for its unique combination of slick bowling lanes and top-notch live music. Bayou Wine Garden and Wrong Iron are a pair of indoor-outdoor, all-purpose hangouts where after-work crowds rub shoulders (and cross leashes) with local residents. Catch a big soccer game at the city's preeminent soccer bar, Finn McCool's, and you'll likely make new friends by halftime.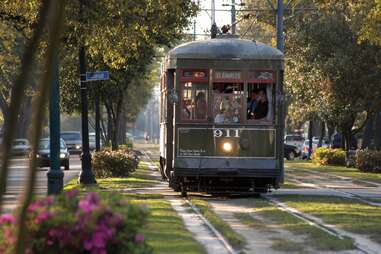 Uptown/Garden District
Uptown contains several smaller, heavily residential neighborhoods such as the Garden District, Irish Channel, Black Pearl, Riverside, and Carrollton. Here you'll find the scenic St. Charles Avenue streetcar (a steal at $1.25 per ride), opulent historic mansions, the Tulane and Loyola campuses, and the genteel Audubon Park and Zoo. During Carnival season, the trees are covered in beads and house parties spill out into the street, but anytime's a good time to explore its family-run cafes, po'boy shops, and sno-ball stands.
Where to stay:The Chloe and Hotel Saint Vincent, two of the most notable hotels to open in recent years, feature unique design touches and trendy F&B outlets in chic environs. Visitors looking to be in the middle of the action are wise to stay on St. Charles Avenue; popular choices include The Columns and Hotel Indigo Garden District.
Things to do: Uptown's primary commercial streets—Magazine, Freret, Oak, and Maple—are filled with a dizzying array of independent shops and eateries. Take a break from all the great window shopping by taking a guided walking tour of jaw-dropping Garden District mansions, or reconnect with nature by spending some time at Audubon Park and Zoo.
Best restaurants: Uptown specializes in beloved fine dining haunts with welcoming environments. Prime examples include Commander's Palace, Brigtsen's, and La Petite Grocery. A number of notable new-school options can be found along Magazine Street: high-end Indian fare with a local accent at Saffron, Alon Shaya's vivid Middle Eastern dishes at Saba, and mouth-watering takes on Creole classics at Gris-Gris. Or veer just off of Magazine to try Turkey and the Wolf's personality-packed sandwiches.
Best bars and nightlife: Colorful neighborhood dives like Parasol's, Tracey's, and Ms. Mae's all live up to their legendary reputations, as does one of the city's most lauded cocktail dens, Cure. NOLA Brewing and Urban South offer expansive playgrounds for beer-fueled fun, and live music fans are well-served at Tipitina's and Le Bon Temps Roule.
Eric Grossman is a contributor for Thrillist.