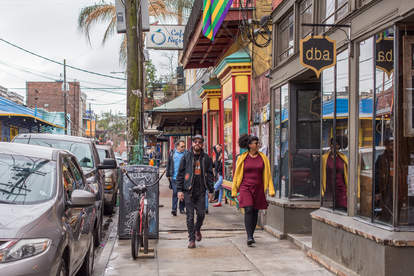 The Best Neighborhoods in New Orleans to Spend a Weekend
New Orleans is a city of dynamic, diverse neighborhoods. But the majority of visitors only hit the French Quarter and maybe the Central Business District (right across Canal Street from the quarter.) This is a shame, and it means missing out on some of the unmanufactured weirdness and wonder of the city.
In order to really wrap your head around the Crescent City's rich history, culture, and traditions (including -- but not limited to -- eating, drinking, and music), it's imperative to venture outside of the downtown area. This is an opportunity to look at New Orleans, this crazy, unpredictable town, with new eyes through the lens of location. Here are five neighborhoods, some more well known than others, whether you're visiting for a weekend or a local looking for new grounds to stomp.
Marigny
The Faubourg Marigny (Faubourg is French for "false city," which morphed into "suburb") goes way back when Bernard Marigny, the owner of the plantation where the neighborhood now lies, started selling off subdivision parcels in the early 1800s. It's right next to the French Quarter -- Esplanade Avenue is the dividing line -- and is full of colorful Creole cottages, corner stores, neighborhood bars, and live music, courtesy of the many clubs on Frenchmen.
Where to stay: The newest hotspot is the Hotel Peter & Paul, a restored property that once was a Catholic church, school, rectory, and cloister. Be sure to check out the food and drinks at the Elysian Bar while staying there, or if you're in the neighborhood. Auld Sweet Olive is a traditional B&B with well appointed rooms and a candy bar in the foyer, and the Royal St. Inn is located directly over beloved neighborhood watering hole, the R Bar, with funky, comfortable rooms.
What to do: Marigny is a great place to get your live music on, since it has a very high concentration of clubs. First and foremost is Frenchmen Street, just one block from the eastern edge of the French Quarter -- there are at least a dozen clubs in that area, playing all kinds of music. Check out Blue Nile, Spotted Cat, and d.b.a., to name a few. That area of St. Claude Avenue is great for live music with clubs like the Hi-Ho and Carnaval Lounge. For daytime activity, local bike tour company Confederacy of Cruisers offers great neighborhood tours, including a cocktail crawl and a food tour.
Best restaurants: On the breakfast/lunch side, longtime beloved Cake Cafe is perfect for breakfast, with plentiful coffee, housemade bagels, and $1 cupcakes with any meal (either breakfast or lunch). Small Mart Vegetarian Cafe recently relocated from a tiny bodega-style store in the French Quarter and now serves an expanded vegetarian and vegan menu in a larger space. Food hall St. Roch Market is worth a look-see, with vendors that will provide craft coffee, seafood, BBQ, healthy smoothies and salads, or regular soups and sandwiches.
For dinner, well, there are a ton of options: fancy seafood and raw bar at Cru; live music, cocktails, and chef-driven food at Three Muses; new-school regional Italian food at Paladar 511; classy bistro vibe at The Franklin; smoked meat/Vietnamese mashup at Em Trai; meat, meat, and more meat (and housemade pasta) to eat there or to-go at Shank Charcuterie; Chinese food at Bao & Noodle, casual falafel and ethically sourced meat sandwiches at Kebab; or small plates and a party vibe at Mimi's in the Marigny.
Bars and nightlife: Besides the music club hopping, some other awesome nighttime activities include belting out karaoke at Kajun's Pub, enjoying a freshly made beer at Brieux Carre Brewing, taking in a burlesque show at The All Ways Lounge, or just chilling at a neighborhood bar like Marie's or Iggy's.
Molly's Rise and Shine

| Courtesy of Denny Culbert
Lower Garden District
Bordering the Garden District, the LGD is and has historically been a grittier area than its elegant neighbor and used to mostly house working class immigrants. Today, the spot is buzzing with hip coffee shops, bars, eateries, antique/vintage shops, and galleries. Although it's getting fancier with gentrification, this is a neighborhood where you can still find cheap eats and pints with regularity.
Where to stay: The Pontchartrain Hotel on Saint Charles Avenue is inspired by one of its most famous past guests, Tennessee Williams, and the location can't be beat (neither can the views from its rooftop bar, Hot Tin). Art Deco-meets modern design glamour abounds at the very upscale Henry Howard Hotel, housed in a pristinely restored double-gallery Creole townhouse, designed by the eponymous Mr. Howard, an architect of great renown in 19th-century New Orleans. Creole Gardens Guesthouse & Inn is a more eclectic spot, with rooms inside the antebellum mansion.
Things to do: Although Magazine Street has many magnificent miles of shopping, the stretch in the LGD is by far the funkiest. Check out Century Girl for flirty vintage clothes, Miette for offbeat gifts, Sunday Shop for interior design and lifestyle inspiration, Bella Umbrella for a variety of parasols and umbrellas, NOLA Mix Records for all vinyl needs, Tchoup Industry for recycled canvas bags of all shapes and sizes, or 1920 Magazine for cool wares made by local artists. Blaine Kern's Mardi Gras World is great for groups or families, and very educational about Mardi Gras and why we're so into it. Parades are the biggest thing, and this is the place that builds a ton of floats, so there's a lot of important info to glean.
Best restaurants: This neighborhood has the highest concentration of quality breakfast spots in town. Brash newcomer Molly's Rise and Shine (owned and opera ted by the same crew that helms nearby sandwich paradise Turkey and the Wolf, also well worth a visit) backs up its kitschy decor and unusual offerings with excellent food with evocative flavor profiles. Surrey's Cafe and Juice Bar is a quasi-hippie, definitely-hip joint that has a lot of vegetarian/vegan items along with various breakfast boudin preparations, and the best grits ever. HiVolt Coffee has strong coffee, baked goods, and a varied selection of breakfast/lunch items for vegans and the gluten-free alike.
For lunch, grab a banh mi or pho at Lily's Cafe, or head to Gris-Gris across the street (free rice and beans on Monday!), which also serves dinner and has an excellent cocktail program. Thalia, a cheerful neighborhood bistro that just feels like it's having a damn good time, has the culinary chops from Coquette couple Michael Stoltzfus and Kristin Essig to back up its more whimsical nature. The newly opened Blue Giant Chinese is the brainchild of two fine dining chefs that just wanted someplace to get classic American Chinese food. For something a little fancier, check out Jack Rose at the Pontchartrain Hotel, which combines New Orleans and Southern cuisine with a rebel flair and is one of the best decorated restaurant spaces in the city, hands down. (It also has a bottomless Veuve Cliquot brunch, so you're going to want to get in on that.)
Bars and nightlife: Beer and whiskey lovers will want to hunker down at the Avenue Pub, open 24 hours a day. Courtyard Brewery is just moving into its new location on Erato Street, and that's another fantastic spot for high quality beers without pretension. From there, moving on to whiskey dive Barrel Proof is an excellent option. If you end up at The Saint, it's possible you should have gone home already, but enjoy the crazy late-night vibe with live music and/or a DJ before you wake up the next day having made some questionable life choices.
Wrong Iron on the Greenway

| Courtesy of Allison Evans
Bayou St. John/Fairgrounds
Bayou St. John and the Fairgrounds has loads of pre-colonization history as a trading post and route from Lake Pontchartrain to Bayou St. John down Bayou Road to the Mississippi River. Today, it's got quirky shops and restaurants, and proximity to a little musical festival that the locals call "Jazz Fest." It's a bit of an odd area that lies between the Treme, Mid-City, and the Seventh Ward, and incorporates all those different neighborhood vibes to create its own.
Where to stay: La Belle Esplanade is a colorful, exuberant experience heightened by the master of ceremonies, Matthew King (to call him an innkeeper really doesn't do him justice.) Just a couple houses down is the Degas House Bed & Breakfast, if you want to stay on the property where Edgar Degas lived briefly. Right on the bank of the bayou is Bayou St. John Bed & Breakfast, with two rooms and a super homey vibe.
What to do: Although the Lafitte Greenway starts in the Treme and ends in Mid-City, a good amount of the walking/biking path runs through this neighborhood. Bayou St. John itself is a great place to walk or bike the banks of, or do a little kayaking if that's your style -- check out the bright blue Cabrini pedestrian bridge as well as the historic Pitot House (one of the oldest buildings still standing in New Orleans). Le Musee de f.p.c. relays the history of slavery, free people of color, and African-American experience in an intimate setting via guided tour only. Explore the various sights and shops on Bayou Road including Southern Rep Theatre, Community Book Center, Cupcake Fairies, and Domino Sound Record Shack.
Best restaurants: Start your day right with breakfast and/or a coffee break at Toast or Pagoda Cafe. At lunchtime, a terrible choice awaits: famous roast beef po-boy at legendary Parkway Bakery and Tavern or the BBQ shrimp po-boy at the equally legendary Liuzza By the Track? Then later, check out dinner at the sophisticated Cafe Degas French bistro, the lively Spanish restaurant Lola's, or the hometown local goodness of Creole food at Neyow's. Try to duck into Piece of Meat if you can, a butcher/sandwich shop for delightful charcuterie and sausage.
Bars and nightlife: For such a small, eclectic neighborhood, there's something for everyone here. Neighborhood vibes and cheap cocktails at Pal's Lounge, thirst-quenching beer at Wrong Iron on the Greenway (literally right on the Lafitte Greenway), baller cigars and whiskey at Whiskey & Sticks, and the laid back Bayou Beer Garden, which shares a huge outdoor patio (and ownership) with the adjoining wine garden.
Treme
The first African-American neighborhood in America, the Treme is awash with joyful and tragic history and is where many New Orleans traditions (second lines, Mardi Gras Indians) were born. Residents whose families have lived there for generations are struggling with rising housing prices but there's no better place in the city to understand the black experience of New Orleans through its jazz clubs, soul food spots, and various cultural centers.
Where to stay: B&Bs line this stretch of Esplanade, with Rathbone Mansions being one of the more luxurious (there's a pool!) yet still attainable inns. Jazz Quarters, just off North Rampart, is only steps away from the French Quarter and has a killer courtyard, and the curator of the Petit Jazz Museum also rents out the room above the museum, in a prime Treme location.
What to do: This neighborhood has some amazing tributes to New Orleans and local black culture and influences. For a more traditional museum-y experience, the New Orleans African American Museum recently reopened following a delay in construction. Smaller and less formal (though by no means less educational) are the Backstreet Cultural Museum -- where Mardi Gras Indian and second line traditions are illuminated -- and the Petit Jazz Museum, where the amount of knowledge you'll gain drastically dwarfs the one-room museum. For outdoor sights, definitely check out the musician statues, public art, and Congo Square area in Armstrong Park. Walk by the historic St. Augustine Church (first African-American Catholic Church in the country) to see the sobering Tomb of the Unknown Slave, paying homage to all slaves who lived and died in New Orleans.
Best restaurants: When starting out the day, first check out Backatown Coffee Parlour for coffee and housemade soul food baked goods. Or, Fatma's Cozy Corner serves a more substantial breakfast/snack/lunch with global influences (think Turkish coffee with a Cuban sandwich or a sausage egg biscuit.) Lunchtime is perfect for checking out the buffet at Lil Dizzy's, but it also serves a hearty breakfast as well as non-buffet plate lunch specials.
A two-block radius around Orleans Avenue includes several restaurants steeped in New Orleans history. Dooky Chase, of course, where the late Leah Chase welcomed politicians from local council members to the President of the United States with her homestyle soul cooking and safe space for blacks to gather in the Civil Rights era. Gabrielle's is a family-run institution with Uptown roots serving classic but elevated Creole food. Last but certainly not least, Willie Mae's Scotch House, famous for its take on fried chicken is well worth waiting in line. (Open for lunch only, FYI.)
Bars and nightlife: There are a bunch of tiny corner bars (many with live music) in the neighborhood, especially the closer you drift eastward to the Seventh Ward. Duck into Bullet's Sports Bar, Prime Example Jazz Club, or Old Hank's Bar. Kermit's Treme Mother In Law Lounge -- which combines the star power of two local legends/musicians, Kermit Ruffins and the late Ernie K. Doe, whose club this once was before his death. For something a little more bougie, check out Seven Three Distilling, which has tours, a bunch of different spirits, and a cocktail bar.
Bar Marilou

| Courtesy of Stephen Kent Johnson
Warehouse District
Once a run-down industrial area, this neighborhood, which serves as a bridge between downtown and uptown, is now one of the most culturally rich and restaurant-dense in the city. With the Convention Center right along the river, internationally lauded World War II Museum, and its own historic Arts District, the area is always buzzing.
Where to stay: This neighborhood is host to a huge number of hotel developments, restorations, and renovations. A couple of the more boutique-style options include the arts-oriented Old No. 77 Hotel and Chandlery, the Art Deco-influenced Maison de la Luz, the always hip Ace Hotel (with pool bar), gorgeous multi-building restoration The Eliza Jane, and the Lafayette Hotel with its central location and timeless, easy hospitality.
What to do: The World War II Museum has grown into a hugely successful operation, both in popularity, content, and general scope. It's a must-do for anyone with any interest in military history. The Ogden Museum of Southern Art for a perspective on regional art is excellent, as is the Contemporary Arts Center across the street. Peruse the six blocks of Julia Street, also known as "Gallery Row" to explore the spaces that highlight local and international artists.
Best restaurants: The Warehouse District is killing it with the coffee scene, with Mammoth Espresso leading the pack. A couple other fun spots are Drip Affogato, which combines coffee/matcha tea/hot cocoa with ice cream and Willa Jean, a full-service bakery and restaurant. Come for the addictive pastry and Intelligentsia coffee, stay for the fried chicken biscuit or avocado toast. Carmo showcases Latin American flavors and solid vegetarian/vegan offerings in a casual setting; Compere Lapin is the flagship restaurant from Caribbean-raised, classically Italian trained chef Nina Compton; Maypop fuses the flavors of Southeast Asia with those of Southeast Louisiana; Both Gianna (Italian) and Peche (seafood) are Donald Link Group restaurants that also include the more Cajun focused Cochon nearby and sister casual restaurant/deli Cochon Butcher, Sofia brings life and sophistication to coastal Italian cuisine, and Otra Vez offers upscale Mexican cuisine from tacos to mole.
Bars and nightlife: Depending on what you're in the mood for and where you want your night to go, this area has it all. Check out live music at The Howlin' Wolf, drink and play Simpsons pinball (and tons of other games) at Barcadia, bowl for funsies at Fulton Alley, or enjoy dog-friendly dive bar The Rusty Nail. New cocktail bar stunner Bar Marilou is a sumptuous space with Parisian flair and a speakeasy vibe, and definitely worth a visit.
Uptown
Between the Garden District and where the Mississippi River bends, Uptown covers a lot of ground and several sub-neighborhoods, with pockets of shenanigans found everywhere you look. Arguably the most gorgeous part of the city (hint: get your Instagram stories ready), this is where you'll find areas like Irish Channel, Riverside, The Garden District, and Freret. with the meandering St. Charles Avenue streetcar line guiding the way. Even just a self-guided tour of beautiful Uptown homes could give you plenty to do in a day, but we've got plenty more suggestions.
Where to stay: The Columns Hotel is right on St. Charles and is somewhat of a local institution. Under new ownership, we're hoping that the grand and elegant spirit of the spot won't change much. Chimes Bed & Breakfast is centrally located, yet on a quiet residential street, with cheerful rooms and friendly hosts. For a budget decision that's still stylish, the new mid-century modern Alder Hotel is within a stone's throw of Freret Street. Keep an eye out for Hotel Chloe, a swanky 14-room boutique hotel in a converted mansion on St. Charles that's under construction.
What to do: Wandering Freret Street is generally a fun (and delicious) time -- check out Windowsill Pies, Crescent City Comics, and if you are so inclined, pet some puppies or cats at Zeus' Rescues. This Uptown stretch of Magazine Street has some higher end boutiques, galleries, and antique shops. Some favorites include the unique Imaginarium from Lady Delaney where you can find whimsical miniatures and other art pieces for sale, Magpie for vintage clothing and jewelry, Dark Garden Corsetry and Couture, Vedure Olive Oil, locally designed jewelry at Mignon Faget, and modern pop art paintings that feature the likenesses of Lil Wayne and Ruth Bader Ginsburg at Ashley Longshore Gallery (a must visit). If you're looking to take a load off, head to the Prytania Theater, which features arthouse films and afternoon classics.
Best restaurants: Cherry Espresso is a great place to kick back with a really well made cup of coffee in the morning or afternoon. If you're looking for oysters, no-fuss, hard-working Casamento's is the best place to be. On Freret there are so many options for places to eat, but Ancora, Company Burger, and Bar Frances are a few standouts. Go high end at Indian dream palace Saffron, or French-influenced New Orleans cuisine at La Petite Grocery. Or go for sandwiches at Guy's Poboys or the St. James Cheese Company. Visit old-timey ice cream parlor Creole Creamery for hand churned ice cream with locally influenced flavors like Black and Gold Crunch, Green Fairy, or King Cake. Or partake in an age-old New Orleans tradition, the sno-ball. This finely shaved ice treat is flavored with syrups that run the gamut, and Hansen's Sno-Bliz is one of New Orleans' beloved institutions.
Bars and nightlife: There's a bar for every occasion and mood in Uptown. Head to Tipitina's for a rowdy concert, Gasa Gasa for a more esoteric musical experience, or Le Bon Temps Roule for a pool table and corner bar vibe. Port Orleans Brewing Company offers freshly brewed beer a stone's throw away from Tipitina's, and is family-friendly in its expansive outdoor space. And it should probably be outlawed towander down Freret Street at night without stopping in for a drink at nationally recognized cocktail bar Cure.
Sign up here for our daily New Orleans email and be the first to get all the food/drink/fun in the Big Easy.
Nora McGunnigle covers food, drink, and culture in New Orleans, selflessly researching all of these establishments for the good of Thrillist readers.