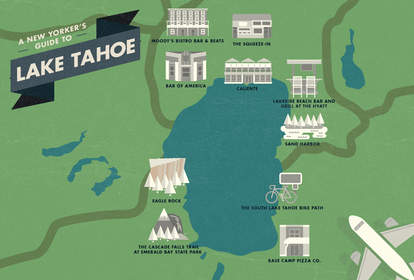 A New Yorker's Guide To Lake Tahoe
You're a New Yorker -- you have access to the craziest nightclubs, the best restaurants, and rooftop bars galore. But with all that, plus views of the Sierra Mountains, falls, hiking trails, and endless water-based activities a crystal clear lake offers, Tahoe is a destination worth hopping in a plane for.  
 
That's why we've outlined the best spots to visit in Lake Tahoe that would impress even the most jaded of New Yorkers. Be sure to book your ticket on a JetBlue flight to get there hassle-free with their new nonstop service from New York to Reno-Tahoe and, take it from us, you'll want to ask for a window seat.
 
Grant Marek
Best Cocktail Bar
Bar of America (address and info) 
A tricked out, four-story former bank that boasts a cocktail, aptly named "The Cock-tail." Made with Wild Turkey, 151, and George Dickel, the Cock-tail is available for 95 cents (with a free shot of Fireball!) if you bring receipts to prove you've already had the Chupacabra from Caliente and the Wet Woody from Gar Woods Grill, which are all owned by the same folks who own Bar of America.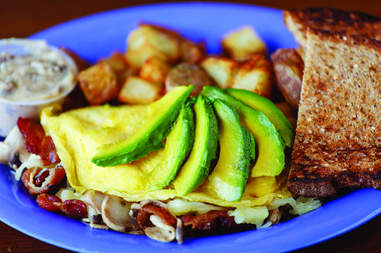 Courtesy of Squeeze In
Best Brunch 
Squeeze In (address and info)
This family-owned establishment's ever-growing franchise is spurred on by a clever social media strategy that includes releasing staff-made parodies of music videos loaded with egg-based breakfast puns. You can access these videos through their very own app, which also lets you calculate tips and get to their menu. Try their signature California omelet, the Racy Tracy, featured on an episode of Throwdown With Bobby Flay.
<a href="http://travelnevada.com/" rel="nofollow" target="_blank">Sydney Martinez/Travel Nevada</a>
Best Waterfront 
Lakeside Beach Bar and Grill at The Hyatt (address and info)
 
While noshing on a Nathan's dog and walking over to the shore on Coney Island is a New York moment, the Lakeside Beach Bar & Grill is something else. Located in The Hyatt-Regency Hotel, Lakeside offers casual lunch-time fare -- salads, burgers, grilled chicken -- and can whip up whatever cocktail you'd like (the Lakeside Lemonade is a guest-favorite). And do try the shrimp salad bowl -- you'll be dreaming about it the whole way home.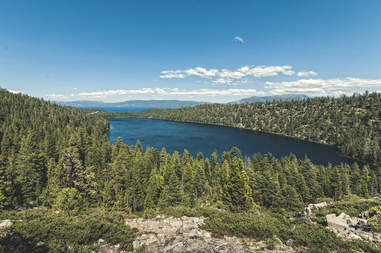 <a href="https://www.flickr.com/photos/wickedwhite/9294716946" rel="nofollow" target="_blank">Max Denisevich/Flickr</a>
Best Hike 
The Cascade Falls Trail at Emerald Bay State Park (address and info)
 
Schlepping an air conditioner into a walk-up is the usual New York version of "a hike." Tahoe's more relaxing versions involve scenic trails and baller views. The Cascade Falls Trail at Emerald Bay State Park is a local favorite. Right on the West Shore, the hike itself is pretty short -- a few hours worth of walking -- not too strenuous, and includes killer examples of those aforementioned views: Cascade Lake, Emerald Bay Lake, and of course, Lake Tahoe.
Court Leve
Best Live Music 
Moody's Bistro Bar & Beats (address and info)
Originally more of an upscale dining haunt, Moody's revamped their style and presentation to make the experience more approachable to lunch guests and the après-ski crowd instead of just high-class clientele, like Sir Paul McCartney and Britney Spears. (Though New Yorkers aren't impressed by celebrities, of course.) Moody's is most known for having live acts every night, which includes jazz, folk, and bluegrass bands. The brick oven pizza doesn't hurt either.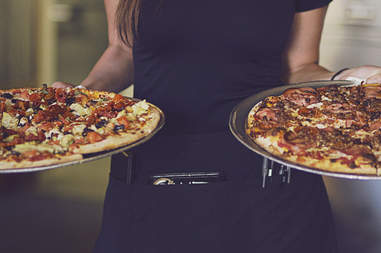 <a href="http://www.justinelurevaphotography.com/index2.php#!/HOME" rel="nofollow" target="_blank">Justine Jenkins</a>
Best Pizza 
Base Camp Pizza Co (address and info)
 
With pizzas like Thai Curry Chicken (spicy!) and pear & gorgonzola, we're aware Base Camp is trying to impress New Yorkers with high pizza IQs… and they've succeeded. Even though the fastest way to the heart is through the stomach, the outdoor patio seating, live music by local acts, and full bar go a long way in setting the mood.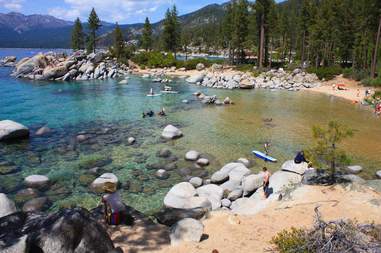 <a href="https://www.flickr.com/photos/raybouk/14298531693" rel="nofollow" target="_blank">Ray Bouknight/Flickr</a>
Best Place to Swim 
Sand Harbor  (address and info)
Sand Harbor is perfect for scuba diving with its pristine waters and cove. It has a half mile trail as well as a handicap-accessible trail, room for picnics, and hosts the Lake Tahoe Shakespeare Festival (far superior to the East River Marlowe Festival) every summer.
Courtesy of JetBlue
Courtesy of Caliente
Best Rooftop 
Caliente (address and info)
After marveling at the views from the top of a midtown hotel it's pretty clear we New Yorkers enjoy a more… elevated drinking experience. Over in Tahoe, it's the fairy lights and the umbrellas and the Palapa-style thatched bar on the rooftop of Caliente that can make any New Yorker forget those Brooklyn rooftops. Can you think of a better place to sip on a 64oz El Campeon Margarita or their signature cocktail, The Chupacabra? Chips and salsa are on the house (and keep you thirsty) and their ceviche with mango salsa is a definite winner.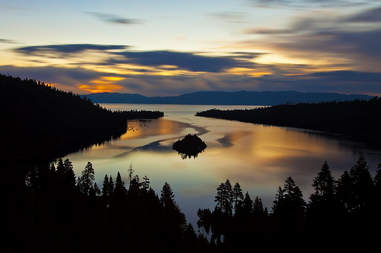 <a href="https://www.flickr.com/photos/the_tahoe_guy/7728186736" rel="nofollow" target="_blank">the_tahoe_guy/Flickr</a>
Best View 
Eagle Rock (address and info)
Some may argue that the best view of New York City is from the Top Of The Rock observatory at sunset. While you can't take an elevator to the top of this rock, the summit is a brisk 20-minute hike up to the eroded, dormant volcano that offers panoramic views of Lake Tahoe.
<a href="https://www.flickr.com/photos/facilitybikeclub/6031365596" rel="nofollow" target="_blank">Jeff Moser/Flickr</a>
Best Bike Trail 
The South Lake Tahoe Bike Path (address and info)
 
From the Hudson River to Central Park, NYC has some great bike trails, but for a different but equally spectacular experience, the South Lake Tahoe Bike Path is the road you'll want to take. It's an easy route to follow along, hugging the lake in the scenic Al Tahoe neighborhood. Don't forget to marvel at the views as you pass through the Trout Creek bridge crossing.