Thanks to some recent revitalization, Reno is starting to look a lot like Brooklyn, complete with pints of house-made ginger beer and plenty of live music. What's not like Brooklyn? No dudes riding velocipedes and rocking handlebar mustaches. And that's why Reno makes for a vacation destination worth flying for.
 
Thankfully, JetBlue just started offering nonstop service to Reno from NYC. Read up and cop that ticket.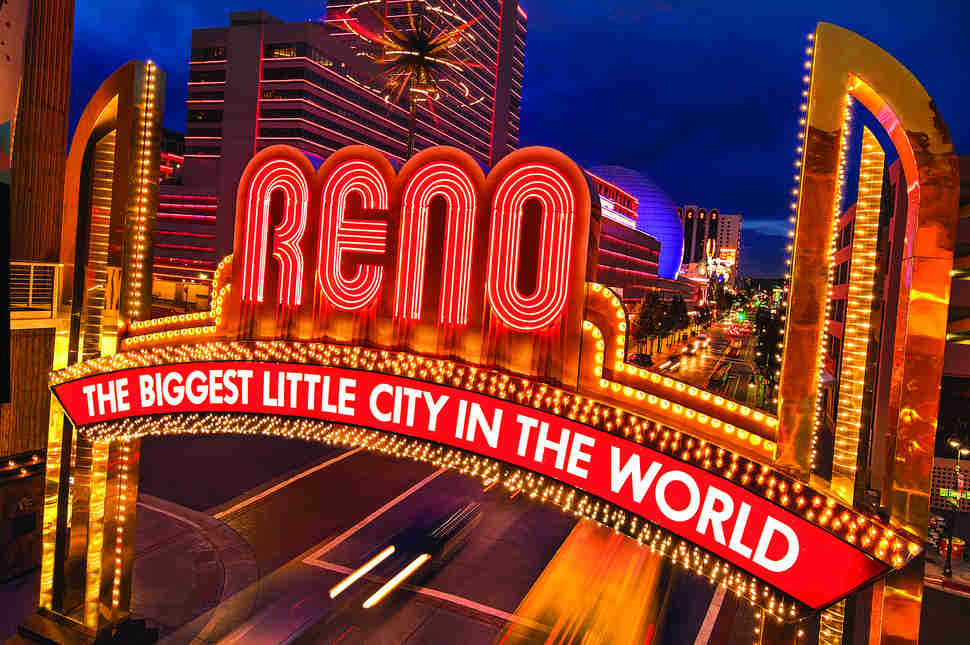 Most Famous Landmark
The Reno Arch (address and info) 
New Yorkers are notorious for having more than a handful of landmarks they've never visited, but as far as Reno goes, this sign is its most iconic and unavoidable by all as it marks the bustling downtown area frequented by everyone. The original sign was built in 1926, a year before our Empire State Building, and unlike the ESB, was changed three times. Its final iteration was refurbished in 2009 and bears Reno's slogan "The biggest little city in the world" Even if you're not going to go out of your way to see it -- you're going to run into it.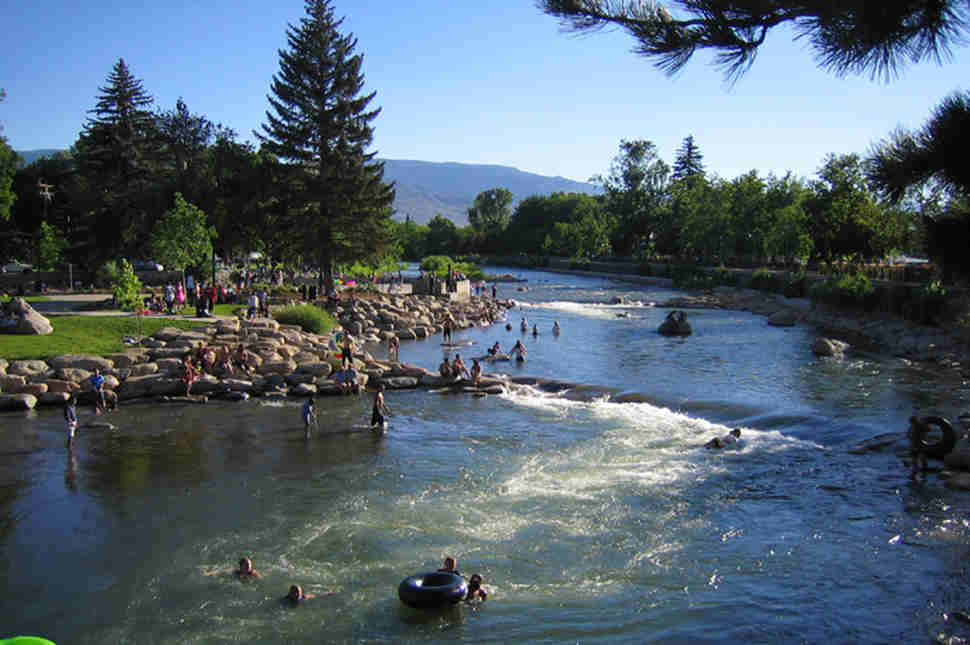 Best Urban Park
Wingfield Park (address and info)
Imagine Central Park, except you can fish, swim, and kayak. Yep, the Water Park features all of that and is a downtown respite from the sights and sounds of the city. It even has as an amphitheater that hosts numerous plays and concerts over the summer.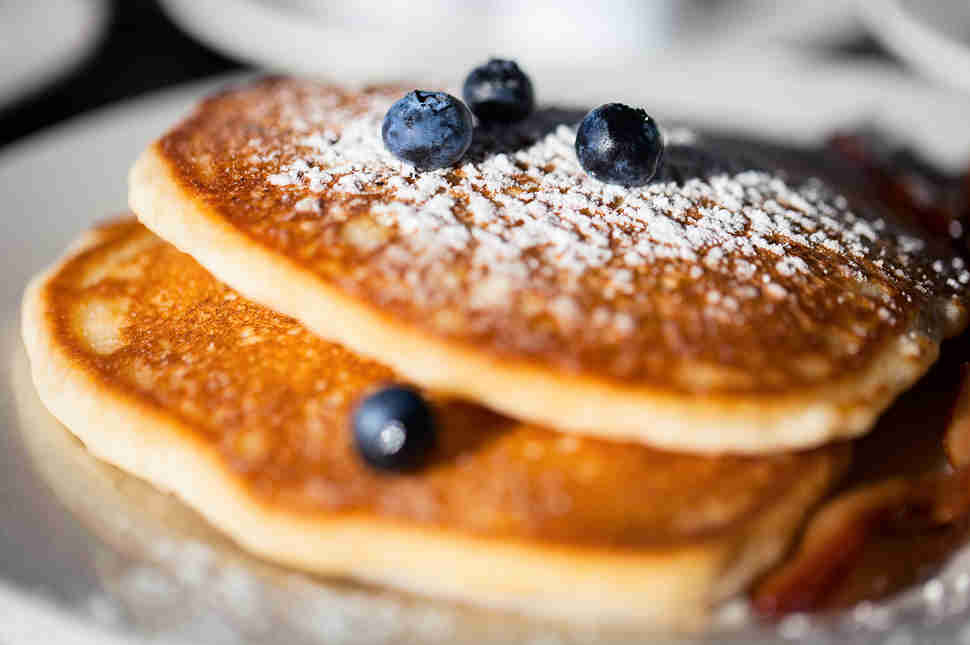 Best Brunch
The Stone House Cafe (address and info) 
Just like NYC's Babbo was a carriage house, Reno has its own converted treasures. The Stone House was an old botanical nursery, so admire the former flowerbeds as you demolish French toast made with ciabatta bread and garnished with cherries, whipped cream, and cherry liqueur. Or, because brunch is an arbitrary construction and pizza should be eaten 24-hours a day, you might go for the chorizo breakfast pizza on herbed flatbread. Breakfast's on until 4pm, enough time for you to try all five of their Bloody Marys.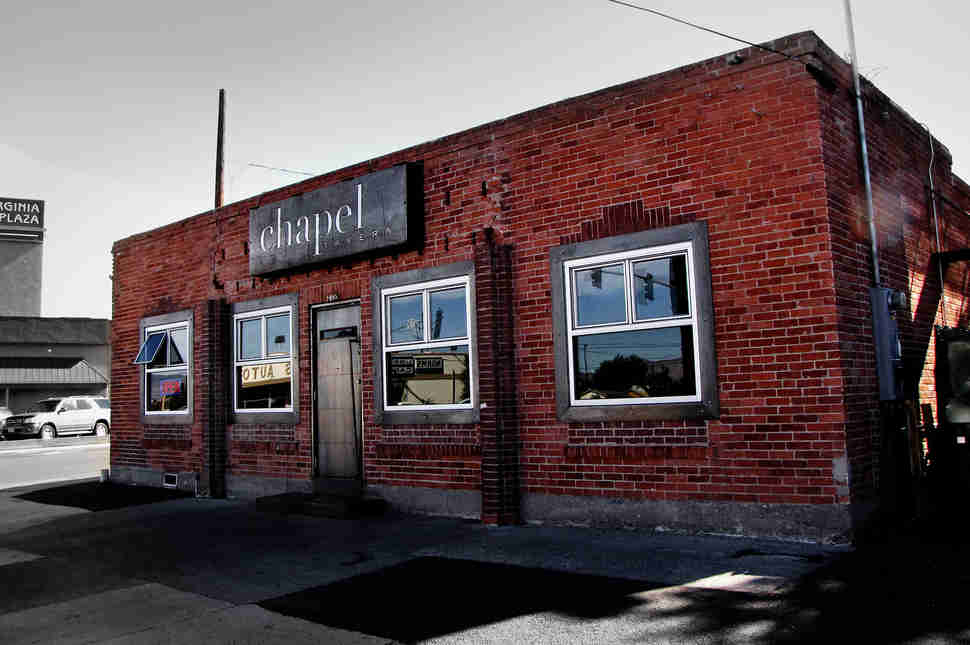 Best Cocktail Bar
 The Chapel Tavern (address and info)
 
Featuring shelves reaching up to the ceiling filled with obscure bottles and a bar stacked with house-made syrups and fresh ingredients, The Chapel Tavern can whip up anything to a city slicker's taste -- even finicky New York city slickers. Go "Dealer's Choice" to get the bartender to craft you a cocktail made with your favorite base spirit. Or try the Passed Bright Milk Punch. It takes three weeks to make and includes clarified milk, blanco tequila, and aged Trinidadian rum -- as well as additional flavors like orange, fennel, coriander, and oolong tea.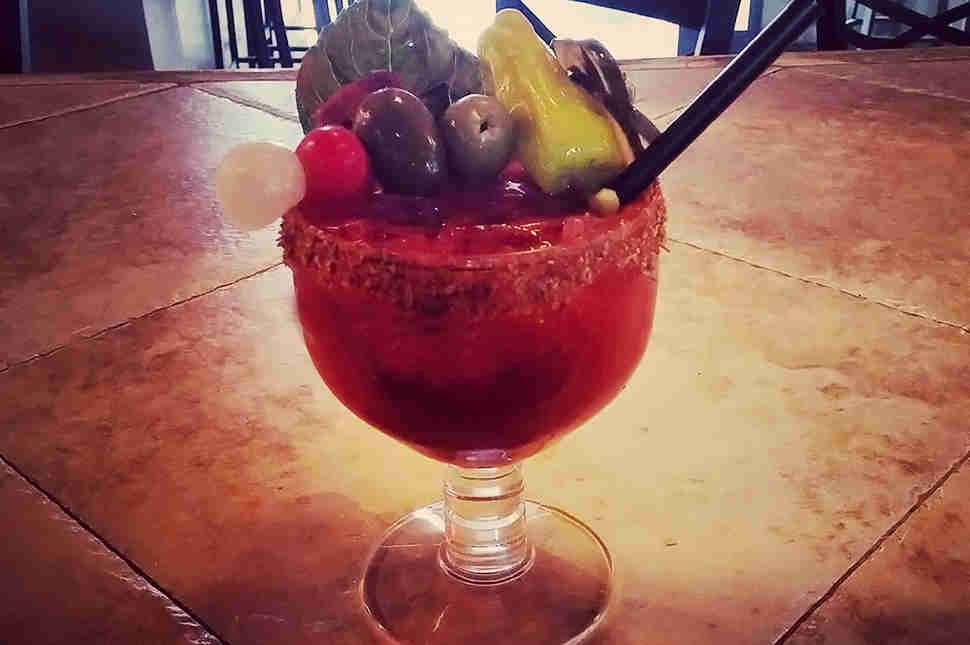 Best Happy Hour
Z Bar (address and info)
Like Union Hall in BK, the Z Bar isn't your average post-work happy hour dive. They have a bocce ball court, a covered patio with a fire pit, and they screen old movies on the regular. But the real reason the Z Bar is where it's at? Their bar is stacked with fresh ingredients -- if it's not in season, they don't use it. Not only that, but the folks that run the show are foodies at heart and will use ingredients like veal broth (for a Bloody Mary!), pumpkin butter, rhubarb, and hand-make everything from the fruit purees to the butters and even the rim salt.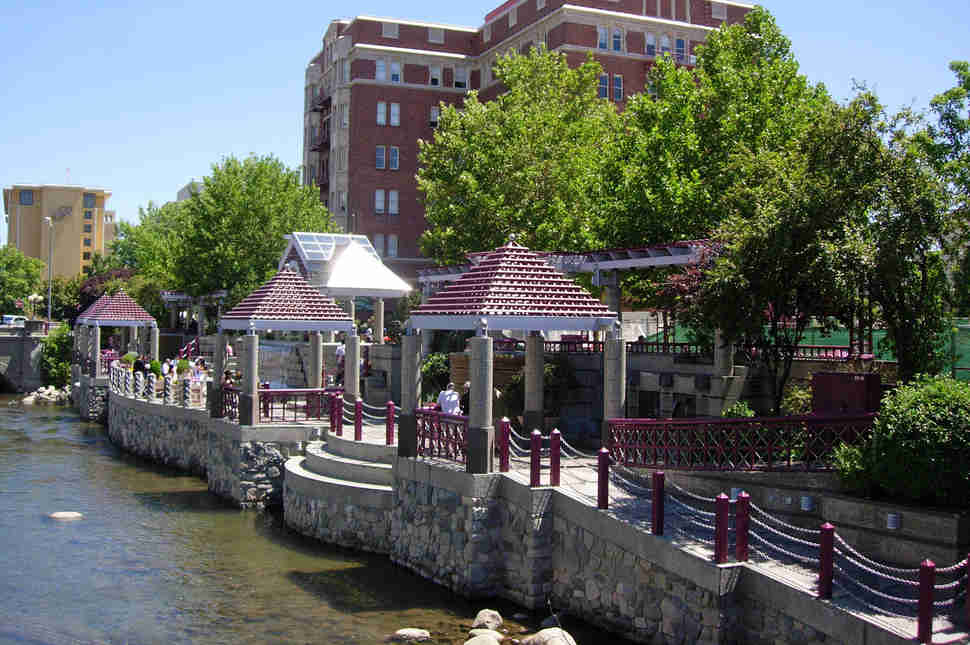 Best Leisurely Stroll
The Truckee Riverwalk (address and info)
The city was established right alongside the first bridge to run across the Truckee River, today the site of a riverwalk established in the '90s. Today, shops, galleries, restaurants, pubs, and museums dot the area along the Truckee. Drop your map and throw your itinerary into the river (actually don't do that, this isn't the East River), and take a stroll.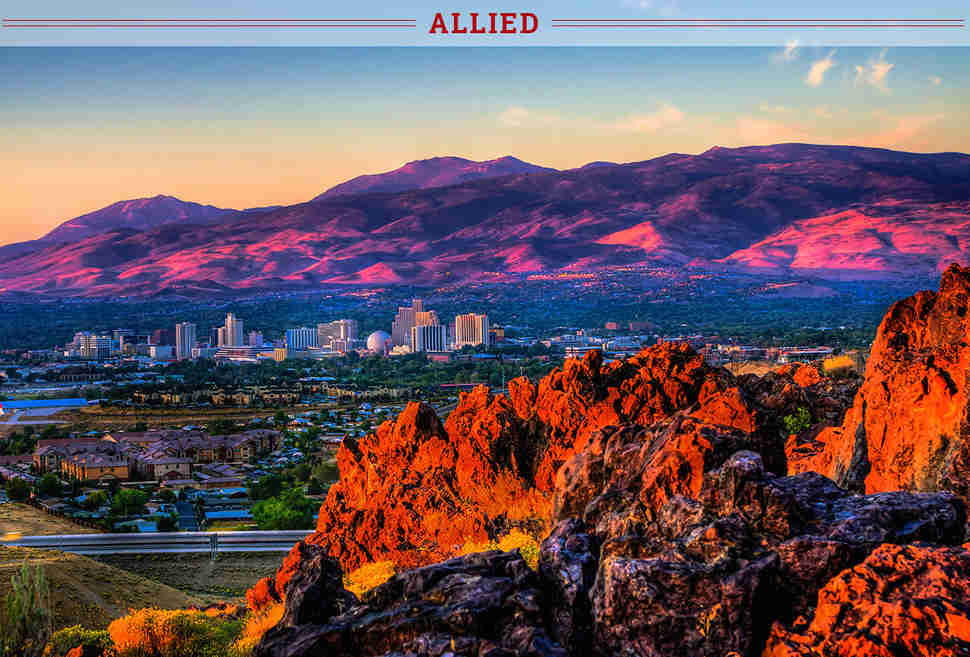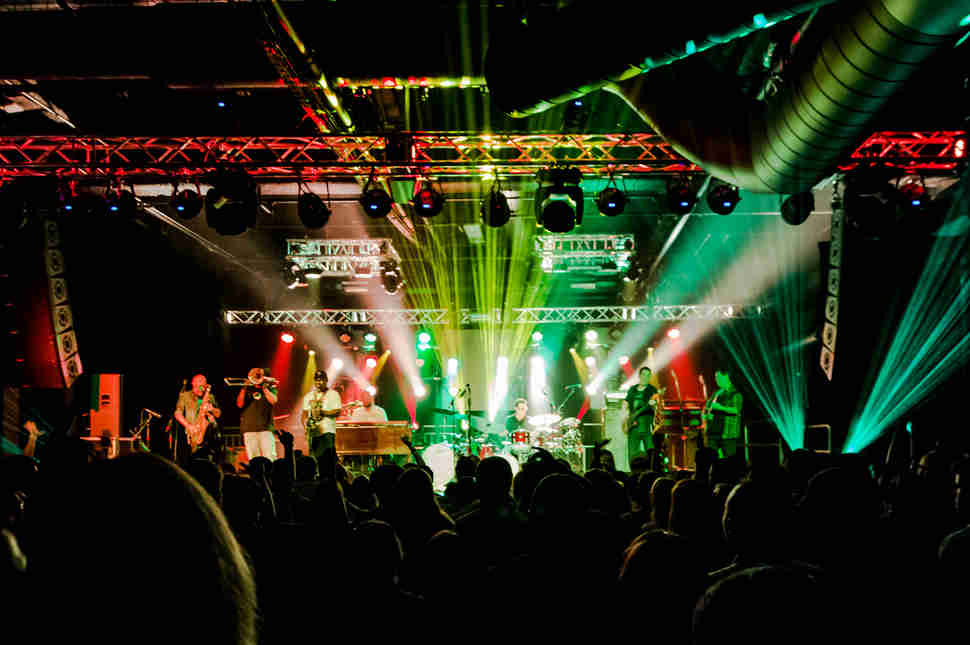 Best Live Music
The Cargo Concert Hall (address and info) 
The Cargo Concert Hall is located downtown on the premises of the new non-gaming, non-smoking Whitney Peak Hotel -- the only such hotel in downtown Reno. The Whitney was gutted after the aging casino-hotel was shut down and the recreational center that replaced it failed to succeed. The inside of this new hotel holds the Cargo Concert Hall, a 1,100 person concert venue that draws bigger name national acts like Shiny Toy Guns, WarPaint, and Old Crow Medicine Show while also attracting local acts and west coast contenders from Portland and Seattle. Now if only the cooler NYC music venues would stop shutting down…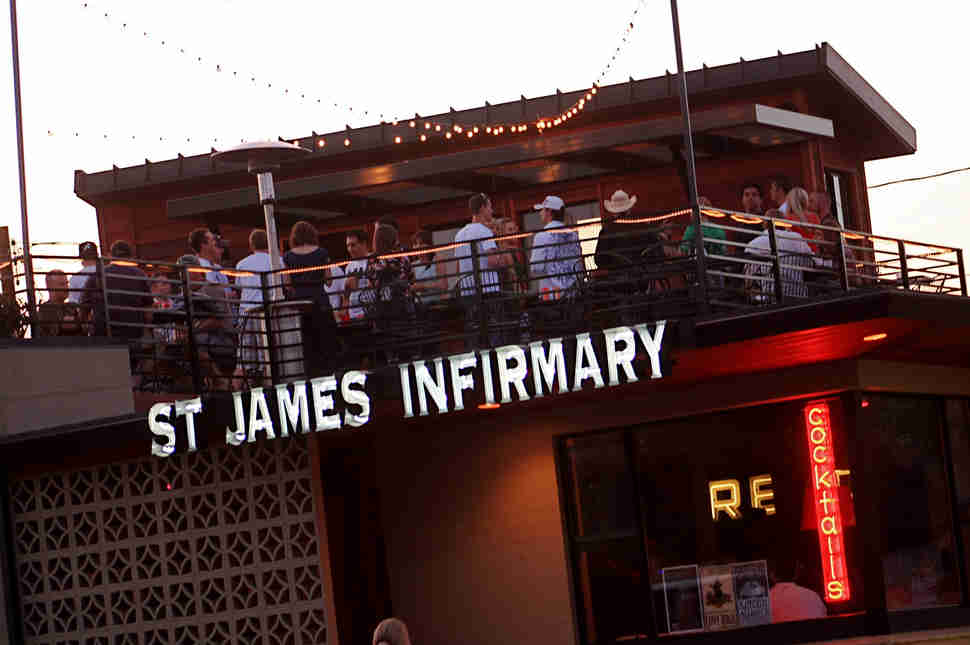 Best Rooftop Bar
The St. James Infirmary (address and info)
The St. James Infirmary may not be nestled on the rooftop of a towering midtown hotel, but its second-story rooftop patio is much loved by the locals for its views of the downtown area and for being one of the rare open-air bars in Reno (it's a little toasty). Post up by the balcony and drink a Moscow Mule, made with their house-brewed ginger beer.
Best Pizza
Blue Moon Gourmet (address and info)
Don't get it twisted: nobody is matching New York's pizza excellence. That said, Blue Moon Gourmet does an awesome play on the kind of pizza NYC doesn't really do: deep dish. They've won Best Pizza in Reno a whopping 14 times. Their pie features a crisp, golden crust and an enough toppings to feed a small village. If you'd like to stay away from the entire concept of New York pizza entirely, then order the Tahoe Ranch, made with -- you guessed it -- ranch dressing as well as cheese, bacon bits, sun-dried tomato, and red onion.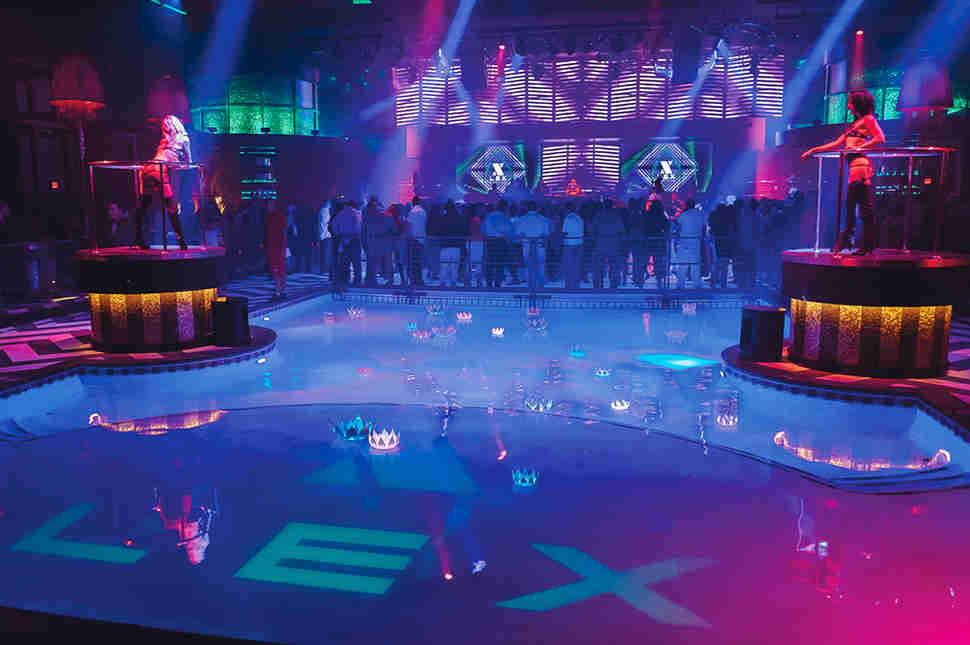 Best Nightclub
Lex Nightclub (address and info)
Reminiscent of a West Side mega club, Lex cost its owners $15 million -- unheard of for any club in Reno. It's been glitzed up with three full bars, 33 VIP tables for bottle service, and a freakin' indoor pool partially covered by a dance floor. Even 1 Oak is jealous.