There are lots of reasons to travel to upstate New York: hiking trails, winding drives, charming small towns you never knew existed -- and that's not to mention all the activities that come with fall weather (apple picking, cider drinking, leaf peeping -- just kidding, no one is actually leaf peeping). But aside from everything you can actually do upstate, some of the best reasons to head there are all the places you can stay -- from mini-castles to renovated barns to mountain retreats. We've put together a list of the best upstate Airbnbs available now, all of which are worth planning a vacation around.
Recommended Video
Please Don't Hang Up: The Best Things to See, Eat, and Do in Nashville
Lake George
Rate: $395/night (for 1 bed)
In most parts of the world (or your favorite Disney tale), you need royal blood or some kind of crazy lineage to get to live in a castle. But a cool $395 and a drive up to Lake George can make you king or queen for the weekend at this adorable lakeside stronghold. The three-bedroom castle is perched on a mountain overlooking Lake George, and is complete with all the stained glass, balconies, and pointed archways you'd expect from a fairy tale. Bring your own prince and whimsical animal sidekicks.
Aurora
Rate: $595/night
Going to church is probably not your idea of a vacation, but if you knew said church was decked out like a dimly lit ninja boudoir, you'd probably change your tune. This historic church has been turned into a palatial eight-person house complete with a pool table and hot tub. Plus it's within walking distance of Cayuga Lake for all your swimming, boating, and fishing needs. And it's a church decorated like a ninja boudoir. Let's not forget that.
Cold Spring
Rate: $1,365/night
If you're looking for a retreat, this is the one to beat. It's 6,000sqft spread over three floors on almost five acres, with views of the Hudson, the Highlands' Bear Mountain, and West Point. A stone fireplace, in-ground swimming pool, and hot tub round out the amenities at this hilltop hideaway. The house even has its own sauna and massage room (masseuse not included, though we bet after a few drinks someone in your group of 12 will offer).
New Paltz
Rate: $325/night
Because corners are overrated, this completely dome-shaped house, shrouded in 28 acres of forest, is one of the more uniquely designed Airbnbs we have come across. Inside you'll find modern design with massive, curved windows that flood the space in light. Counters, tables, and chairs all curve along with the design of the building. If 90-degree angles freak you out, this is the place for you.
Buffalo
Rate: $300/night
Sure, you could rent any NON-historic Airbnb, but why would you do that when you can rent the Central Park Trainstation, also known as the Bennett Station. Originally owned by Buffalo Cement and leased by New York Central and Hudson River Railroad, this former actual train station is now a completely modern house. Amenities include a pool, hot tub, stainless-steel kitchen, and heated bathroom floors.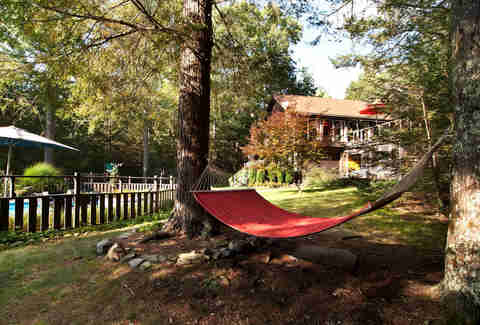 Woodstock
Rate: $1,000/night
Once considered a great bohemian escape, Woodstock has now become a playground for yuppies looking to escape Manhattan. We're not saying YOU'RE a yuppie, but you certainly can lounge like one in this massive gated compound. In addition to four bedrooms and two and a half baths, you'll find a saltwater in-ground pool, soaking tub, decks, and Catskill views. The inside looks exactly like what you'd expect from a mountain cabin-meets-SoHo loft, with high ceilings, exposed wooden beams, accent walls, and Edison bulbs. It's just the right amount of kitschy and quaint.
Watkins Glen
Rate: $450/night
It's not like you need to be lured to Watkins Glen, what with all its wine, beer, cheese, and chocolate culture. But if you do need another reason to go, this quirky cottage might be it. There's not much to look at from the outside, but the inside looks like the cabin of a salty sea captain, in all its reclaimed wood and nautical glory. The house also sits right on the lake with its own 100ft dock, so when you're not drinking all the booze and eating all the cheese and chocolate, you can go swimming from the privacy of your own dock.
Tivoli
Rate: $345/night
This listing is for every time you've looked at your own apartment and thought, "Hmm... not enough like a Mumford & Sons video." Now you can fulfill your dreams of Edison bulb-draped beams, linen curtains, weathered wood, and lofty ceilings. This cool barn is a cozy countrytime retreat surrounded by four acres of gardens and greenery. In addition to the quaint barn itself, you'll also have access to an outdoor shower; a back deck with a grill, pond, and stream; three fire pits; AND a picnic table. Take a minute to let that soak in, then immediately pack your banjo and skinny jeans and hit the road.
Alexandria Bay
Rate: $3,000/night
OK, OK, you're not a Rockefeller. We get it. However, this historic and famous residence can fit more than 16 people (~$187 a head!), so please do read on. This nine-bedroom estate lives on its own island in the St. Lawrence River, so you truly can have the own private-island experience you've been dreaming about without having to go to the pesky Caribbean. Watch boats pass by via your floor-to-ceiling windows without having to leave the comfort of your bed. There's also a protected boat docking on the backside of the island with its own swimming area. The only house rules? No smoking inside, no pets, and no jerky people. Seems reasonable.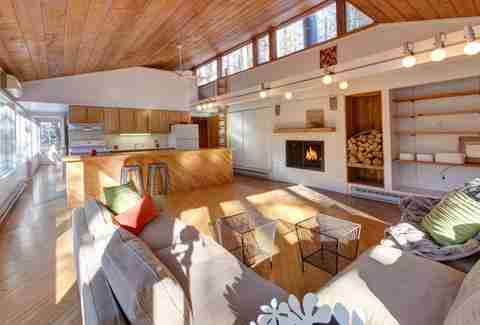 Phoenicia
Rate: $325/night
Bauhaus architecture is probably not why you're going to Phoenicia, but now that you know it's there, why not kill two birds with one stone? This modern cabin in the woods was designed by an apprentice to architect Marcel Breuer. Don't know who that is? Now you do. The three-bedroom home sits on two private acres and has its own indoor fireplace, not to mention floor-to-ceiling windows and minimalist design that any New Yorker will find comforting.
Red Hook
Rate: $269/night
For those who take their barns with a West Village vibe, this decked-out "barn" is more like a chic city apartment with tons of light, a modern indoor fireplace, and luxury appliances. The fact that the entire place is solar-powered reminds you that you are, in fact, in upstate New York. The barn itself is actually in Gallatin, though its mailing address is Red Hook. It's a 15-minute drive to Red Hook village and seven minutes to Pine Plains.
Lake Placid
Rate: $1,275/night
You might balk at such a hefty price tag, but when you find out this place can sleep you and 11 of your closest friends (~$115 a head!), that number seems a little more manageable. And what you get is entirely worth it. This historic home was built around 1920, but is decked out to fit in with the modern century with a hot tub, indoor fireplace, washer/dryer, Wi-Fi... basically everything you would ever want or need. There are three levels to this upstate paradise, with a kitchen, dining room, living room, library, enclosed porch with fireplace, bedrooms with more fireplaces, and access to the club, which has a golf course, tennis center, beach, and marina with kayaks. It's like staying in a hotel where the only guests are you and your friends.
Ithaca
Rate: $395/night
Unless you went to Cornell or know someone who is going to Cornell, chances are you're not thinking about planning a trip to Ithaca -- but this Airbnb will totally change that. The loft-like space sits above Cayuga Lake with access to a private dock, patio, and hammock. If freshwater isn't exactly your speed, there's also a pool on the premises. Hikers will love Taughannock Falls, which is about a three-minute drive. Treman State Park and Buttermilk Falls, both close by, are also great for hiking.
Canandaigua
Rate: $1,400/night
What words in that title sound bad to you? None, is the correct answer. This manor of a lake house can sleep 16 in its 10 bedrooms (that's just ~$87 a person). A 100ft dock offers two boat slips for all your nautical needs. There are also nine parking spots for all you landlubbers. Plenty of porches and a fire pit are perfect for outdoor beer drinking and nature viewing, two things we're sure you know how to do.
Sign up here for our daily NYC email and be the first to get all the food/drink/fun New York has to offer.