Ditch Plains

| Gjorcheski/Shutterstock
Ditch Plains

| Gjorcheski/Shutterstock
New York City doesn't get enough credit for its miles and miles of beaches. We've got sand and shore accessible with the swipe of a MetroCard. But when max relaxation calls for a beach day a little farther away, look no further than the isle of Long. Long Island has more beaches than exits on the L.I.E., so choosing the right one for you can be a chore. Each spot has a distinct vibe, pace, and flavor, and one wrong move can turn your staycation into a summer bummer.
Here, you'll find everything you need to know before you go. Whether you're looking to eat and drink the day away, have some family fun in the sun, catch a glimpse of your favorite celebrity or even Alec Baldwin, take in a little nature, or make it a real rager, these are the best Long Island beaches to suit every mood.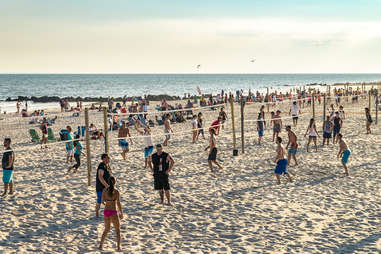 Long Beach Blvd, Long Beach
The city by the sea that's just an LIRR ride away for city dwellers is also the best place to dine. The West End beach's newly refurbished post-Sandy boardwalk offers oceanside eats for every appetite. Stop by Swingbelly's for slow-cooked BBQ and beers, grab a marshmallow-topped s'mores donut at the Dough Hut, and chow down on tall stacks of chocolate chip pancakes and rainbow milkshakes at Diner By The Sea. Don't have time to sit? Grab and go at Shoregasboard, the beachside food truck smorgasbord. Still hungry? Pick up a few tacos al pastor from Copper and Clay, where nothing is more than $10, or carbo-load on tutta da fava at Steven's Pasta before scarfing a banana fro-yo from the Marvel Frozen Dairy stand or shelling out $14 for one of Baked By The Ocean's OG creations, the 7-inch chocolate chip cookie with rainbow cookies baked right in. Finally, treat yo' self at Atlantica, the oceanfront New American restaurant in the Allegria Hotel. When you're done, you can walk out onto the beach and fall into a food coma. Be sure to apply adequate SPF so you don't wake up as blistered as Atlantica's shishito peppers.
1000 Ocean Parkway, Wantagh
It's easy to write Jones off as a basic beach since every Tom, Dick, or Harry in the tristate area visits. But it's the place to be for anyone tasked with tykes, especially if they aren't all that interested in actually beaching. The Splash pad is the perfect place to cool down with rambunctious bambinos, while the new adventure park offers a ropes course and zip lines for kiddos ages 7 and up. Fill the rest of those prime beach hours with ping pong, corn hole, bocce ball, paddleball, and shuffleboard, all available to rent. Even better, all this fun in the sun is sure to tire the kids out for the ride home.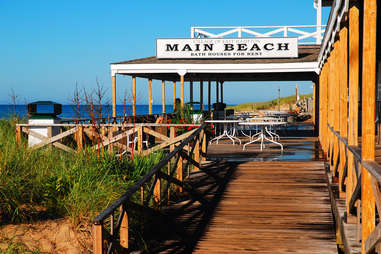 104 Ocean Avenue, East Hampton
No surprise, the best place to spot a Hollywood star out in the wild is still the Hamptons. To beach how the other half beach, however, isn't so easy. While this quaint, tony beach, described as "quintessential East Hampton," is where you'll find celebrities, setting up your umbrella next to them on a weekend requires a parking permit for residents and non-residents alike -- and they sell out before Memorial Day. (Not to mention, the town only offers 60 parking spots for non-residents so you'll have to get there very, very early.) But normies averse to sneaking onto the beach needn't worry, there's plenty to do in this town that could lead to you rubbing elbows with the rich and famous -- though, they'd probably prefer that you refrain from actually touching them. See who's whos and who's thats at Tuscan farm-to-table eatery Nick & Toni's -- an institution for celebrities like Alec Baldwin and Martha Stewart for over 30 years. Manhattan Mayor Sarah Jessica Parker has been known to frequent Tutto il Giorno, a Naples-style Italian restaurant owned by Donna Karan's daughter, while Babette's, a clean food joint named in honor of the 1987 Danish film, Babette's Feast, is Goop-approved. And Kim K. once had cocktails at 75 Main, so there's that. Grab your biggest hat and darkest sunglasses and live like a one-percenter for a day. Who knows, you might even get mistaken for one yourself.
906 Dune Rd, Westhampton
This beach is made for animal lovers who don't have the funds to explore farther flung islands. Positioned at the east end of Fire Island and the west end of Westhampton Island, this barrier beach is a hot spot for harbor seals, dolphins, and humpback whales. To ensure a sighting, sign up for the beach's whale watching tours, which kick off in July. (The seal walks start back up in the fall.) Otherwise, keep your eyes peeled and enjoy this surprisingly quiet white sand beach great place for humans and marine life.
38 North Ferry Road, Shelter Island
When you only have one beach day it has to count, hop on a ferry, either from the North or South Fork, to this island (that is technically a peninsula) where there's a beach to suit your every mood. Ride a bike (rentals available by the North Ferry) to Shell Beach for a quiet hideout and kayaking. Get a closer look at the Bug Light lighthouse at Hay Beach, which isn't a bathing beach but good for spotting piping plover nests. Or, hang out in the shallow waters of Wade Beach before traipsing through the Mashomack Nature Preserve, nicknamed the "Jewel of the Peconic," which covers one-third of the island.
If you're more interested in being, head to Crescent Beach, but not before grabbing homemade chocolate croissants at Marie Eiffel Market. Walk around town and peruse the fine used book store Black Cat and enjoy the oceanfront raw bar at local favorite Salt. Catch a sunset at the flapper-era Pridwin Hotel and feel the bay breeze in your hair. Then head back home, or maybe don't? Instead, get a room at the Chequit, an 1870s-era hotel that Marilyn Monroe reportedly stayed at, and do it all over again tomorrow
1 Sunken Meadow Pkwy, Kings Park
The calm waters of the Long Island Sound help make this a scenic retreat to catch a 'Gram worthy #sunrise or #sunset. On a good day, those glacier-formed bluffs give way so you can see straight to Connecticut from the North Shore beach boardwalk. In between those peak selfie hours, check out the six miles of picturesque hiking trails offering tidal marshes, estuaries, dunes, coastal forest, and wildflowers. Or, just pack a picnic, turn off your notifications, and take all this quiet beauty in at your leisure.
4 Atlantic Avenue, Amagansett
The fact that the concession stand is stocked with Gatorade lets you know the vibe here is very much like a Jimmy Buffet song, who's been known to show up at the nearby venue The Stephen Talkhouse. It's 5:00 somewhere, so grab a nutcracker, roll out the backyard games (Spikeball, anyone?) and worry about the hangover later. After all, that's what the Gatorade's for.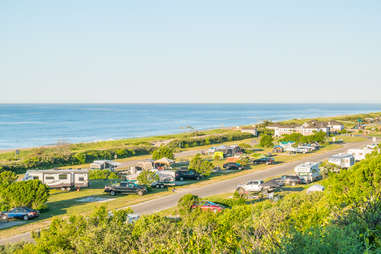 164 Old Montauk Highway, Montauk
If sleeping out under the stars is your thing, head to the beachside campgrounds outside Montauk Village ($35 a day for NYS residents, $70 for those who aren't), which is one of the last stops before you officially hit "The End" -- the easternmost point of the island and New York State. During the day, you can laze away on the beach just steps from your tent or RV, go bird watching at the Napeague Bird Conservation Area or explore the Walking Dunes, which includes the Phantom Forest, an ominous spot where dead trees poke out from the hulking parabolic dunes. At night, tell ghost stories and roast marshmallows to get the full camping with a capital "C" experience.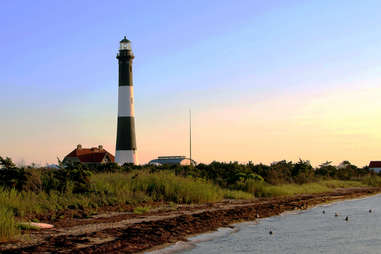 Brookhaven
These neighboring spots, Cherry Grove and the Fire Island Pines, which are only accessible by ferry, are LGBTQ+-centric resort communities and have been for years. Let it all hang out at the beach on Cherry Grove, which is clothing optional, or pass through the "Meat Rack," a lightly wooded area that leads to the Pines' beach where you can join a pickup volleyball game. Later, grab a quick slice at the cash-only Cherry Grove Pizza before hitting up an underwear dance party at the Ice Palace nightclub in the centrally located Grove Hotel. Enjoy the views of the Great South Bay at Cherry's Bar where you can get bombed, or maybe just a little tipsy, off their signature frozen drinks like the Cherry Bomb, a sweet three maraschino vodka concoction that's topped with whipped cream. At The Pines' Sip-n-Twirl you can take a spin on the dancefloor or check out one of the bar's legendary drag nights, or head to Blue Whale and let someone sing you a song at the piano bar. Whatever you do, make time for a visit to the Belvedere, a Venetian-style palace that houses the all-gay clothing optional retreat where you can see the best sunsets and a little more.
18 Ditch Plains Road, Montauk
The very tip of the South Fork is an actual surfer's paradise that would make Keanu Reeves jealous. (It's a real point break, FYI.) Rent a surfboard and get a lesson from the nearby Air and Speed Surfshop so you can catch a wave or two -- beginners be warned, the tides can get rough here so look for a beach break away from the rocks. If you aren't ready to hang 10, give boogie or paddle boarding a try. Or, just zen out on the quiet beach and finally give meditation a try before you grab a breakfast burrito or a cinnamon bun at the Ditch Witch food truck.
95 South Emerson Avenue, Montauk
The cool kids know that Montauk is the place to be in the summer. Less crowded and less expensive, but just as eclectic as the Hamptons proper, this beach is for anyone who wouldn't be caught dead in Manhattan on the weekends. Accessible by train, and with free parking, it's the choice spot for locals, students, families, and anyone else who just wants to catch some rays and some waves. Before you head home, gorge to your little heart's content on crispy baja fish tacos from Tacombi, lobster rolls from Duryea's, and buttermilk fried chicken at Navy Beach. Grab a summer ale at Montauk Brewing, Co. or sip some Whispering Angel at The Surf Lodge where Solange, Leonardo DiCaprio, and Malia Obama have all been spotted in recent years. You know, if you're into that sort of thing, which I'm sure you're so not.
268 Meadow Lane, Southampton
This secluded white sand spot with its own livestream is where you go to live your best Great Gatsby life, without the grizzly end. The seven-mile Southhampton beach surrounded by Fitzgeraldesque old money mansions (more F. Scott than Zelda -- she'd probably prefer Atlantic Avenue Beach, tbh), is where you'll ounge like you don't have a care in the world. The price of a spacious pristine beach along the South Shore doesn't come cheap, though. The parking fee will set you back a cool 40 bucks, but can you really put a price on serenity now? Yeah, we didn't think so either.
Sign up here for our daily NYC email and be the first to get all the food/drink/fun New York has to offer.
Shannon Carlin is a pop culture writer whose work has appeared on Bustle, Refinery29, and BUST. Her dream is to eat at Drake's restaurant, preferably with Drake.