Long Island is not a misnomer. The stretch from the Queens border all the way to Montauk Point runs nearly 100 miles. And far more lies between these shores than just Billy Joel's old haunts and beautiful beaches. Allow us to warn you, cramming the best of this lengthy sandbar into a single day is not for the faint of heart (or stomach), but hopefully this small sampling will more than pay for the drive in spectacular scenery, fantastic food, and a lot of signature sparkling personality. Here's your local-approved itinerary for the ideal day in the eclectic paradise known as Long Island. 
It's going to be a long day; start it off with a jolt from this local roaster. Their coffee is hand-roasted in small batches daily and Southampton's location boasts a pour-over bar rivaling any in the city. Feel like an elite Hamptonite as the barista slowly swirls your perfect cup of joe. Don't forget to grab a pastry to go... you'll need it for beach fuel.
You're not going to LI without hitting at least one beach of course -- and this is one of the best in the nation. (No, seriously. The famous Dr. Beach has put it in his top 10 list yet again this year.) This gorgeous South Shore strip of white quartz sand is one of the reasons millions trek to the East End every summer, but you'll be here early enough to beat the crowds. Spend the morning soaking up the sun and surf, then roll out once the throngs start kicking up sand.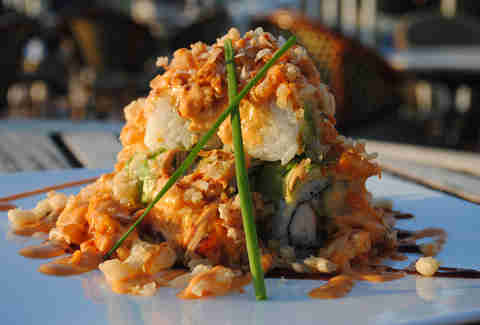 Enjoying fresh seafood dockside is a classic LI pastime. If you lack a boat on which to sail the Shinnecock Bay, the next best thing is to watch the world cruise by while sampling the catch of the day. With a 360-degree view of the water, there's not a bad seat in the house at Cowfish, but on a clear day the top deck can't be beat. Order some clam chowder or lobster-stuffed mushrooms, feel the ocean breeze, and congratulate yourself on making great decisions
Three vistas typify the eastern end of Long Island: beaches, farmland, and vineyards. Crossing over to the North Fork, there's plenty of the latter two, with wineries being the primary draw. Paumanok offers the chance to sip and stare at the wide rows of vines that will make you think you've teleported to a rustic villa in Tuscany. But those raw oysters you'll be slurping? They're all Long Island local.
Roadside farm stands are mainstays on Sound Ave. from Memorial Day to Thanksgiving. Garden of Eve is one family-owned outpost particularly notable for its commitment to organic farming as well as its community-based agriculture. The stand has a huge selection of their vegetables as well as herbs and starter plants, homemade jams, honey, and more. Plus, you can say hi to some pretty adorable goats while you're there.
The small village of Bay Shore is fast becoming LI's must-stop spot for good eats. But the jewel in its restaurant crown is definitely Tullulah's. Its vintage, speakeasy vibe wouldn't be out of place in Brooklyn and the innovative, enticing small plates change seasonally and are sourced locally. The cocktails are not to be missed either; their modern twists on classic recipes are worthy of modern day Gatsby. Just make sure you save room for the next stop.
An island institution since 1963, this roadside greasy spoon is a time warp. Not much has changed in 50 years at this drive-in, where the classic burgers cost just over a dollar and the line often snakes into the parking lot. No worries, this original fast food joint lives up to its heritage of speedy service and timeless good food. For an extra dose of nostalgia, hop next door to Marshall's Ice Cream Bar (their sister store) for a chocolate shake -- if your stomach can handle the challenge.
If you've never experienced a summer concert perched high in the stands with Zach's Bay stretched out beyond the lighted stage, you're doing it wrong. It might be the only venue in the world where the cheap seats offer more of a thrill than front row -- the view alone is worth the climb. There's something undeniably magical about swaying to the music as the sun sinks behind your back, casting a rosy glow on the crowd.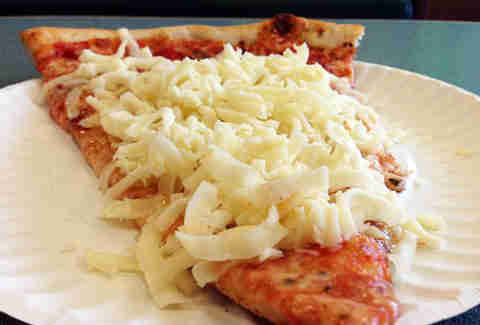 It wouldn't be a proper late night on LI without a signature slice of cold cheese, so much so that it's worth trekking back up to the North Shore to get it. The formula is simple but effective: hot pizza fresh from the oven + a pile of cold mozzarella cheese = melty, creamy, salty slice of heaven. It's the perfect culinary conclusion to your busy best day ever on Long Island.