New Jersey's Small Towns Are Bursting with Big Personality
Eight small towns in Jersey that are perfect for an easy weekend getaway from NYC.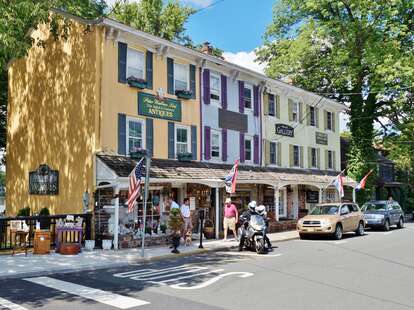 Lambertville, NJ

| EQRoy/Shutterstock
Lambertville, NJ

| EQRoy/Shutterstock
New Jersey has long been a destination for beachgoers, but there are plenty of other places worth a visit. Nicknamed the Garden State in 1876 due to the fact that the majority of the state was once rolling farmlands, the moniker still graces license plates and state welcome signs.
But don't write off the Garden State just yet. Agriculture is New Jersey's third largest industry after pharmaceuticals and tourism, and almost half the state is still wooded, with plenty of bird sanctuaries and nature preserves to explore. We've rounded up some New Jersey towns that have everything from historic main streets to state-of-the-art cultural centers—and all of them are an easy getaway from NYC.
Palisades Park
Distance from NYC: 14 miles
Sure, New York City has a vibrant Korean enclave in Flushing, Queens, and Manhattan's Koreatown, but just over the bridge, Palisades Park has its own thing going on. Home to one of the most densely populated Korean American neighborhoods in the U.S., over fifty percent of Palisades Park residents are of Korean descent. Take a walk along Broad Avenue and you'll find numerous dining options, such as the popular Korean barbecue spot So Moon Nan Jip or Sambong Noodles, known for their naengmyeon noodles—but save room for Korean shaved ice at Cafe Leah in all kinds of flavors like Choco Oreo.
While there, take some time for yourself and get cozy at King Spa & Sauna, a sprawling facility with 10 different kinds of sauna rooms, a lounge, and a dining area with vegetarian-friendly Korean food options like tofu soup and bibimbap. Of course, you could also just spend the day visiting the many neighborhood shops and groceries, which includes Korean bookstore Koryo Books and & Media Inc, clothing boutique KKI Trend, and Korean Red Ginseng, a health food store and gift shop that also sells the namesake root. For an outdoor excursion, it's about a 5-minute drive to Overpeck County Park, which includes a modern sports complex, equestrian center, walking trails, and a canoe and kayak launch.
Rutherford
Distance from NYC: 13 miles
Just a quick trip away, spend some time walking Rutherford's tree-canopied streets, many of which are lined with huge Victorian homes. The downtown hub along Park Avenue is a short walk from the train station with a variety of eateries including Rutherford Pancake House and Sonoma Bistro for breakfast/lunch, and the vegan bakery Sweet Avenue Bake Shop. While this is a dry town, there are a few wine shops to grab a bottle before dinner at one of the BYOB restaurants like Café Matisse, a European-style spot with Impressionist paintings in a historic building. Also right downtown is Williams Center, a vintage theater constructed in the 1920s that's now a cultural center with events like film screenings and drum circles. And fun fact: Rutherford has a castle—situated on the campus of Felician University, Iviswold Castle was originally built in 1868, and in the past had served as a home residence before it was acquired by Fairleigh Dickinson University and now by Felician University. Though the castle is closed to the public, you can still view the exterior in all its glory.
Don't leave before visiting the Meadowlands Museum (only open on Saturdays), where you'll find exhibits showcasing the area's geological history, a pre-electric kitchen display, and the works of poet William Carlos Williams, a lifelong Rutherford resident. You can also take a walk past his old house located at 9 Ridge Road, though it's currently a private residence.
Millburn
Distance from NYC: 20 miles
Millburn (also called Millburn-Short Hills) has a very walkable downtown filled with restaurants and boutique shops. During spring, summer, and fall, the town closes off Main Street for programming like live music performances. To catch a theatrical production before it possibly makes its way to Broadway, book tickets for the Paper Mill Playhouse, a regional non-profit theater that's been the debut venue for beloved musicals such as Les Misérables.
Millburn is also home to a fairly large population of Asian descent, and the nonprofit organization Millburn Short Hills Chinese Association organizes events throughout the year such as the annual Millburn Lunar New Year Festival. Also a great hub for nature lovers, the Cora Hartshorn Arboretum & Bird Sanctuary is a family-friendly spot with almost 17 acres of woodlands and three miles of trails. For a longer hike, the 2,100-acre South Mountain Reservation has five different trails, the longest being the 36-mile Lenape Trail, which features a scenic viewpoint and a waterfall. On your way out, consider a stop at the Essex County Turtle Back Zoo or, step back in time while touring Thomas Edison's home and laboratory at the Thomas Edison National Historic Park, both located in West Orange.
Red Bank
Distance from NYC: 49 miles
Set along the Navesink River, Red Bank's buzzy downtown is best known for its vibrant arts and culture scene. The town is also less than a 20-minute drive to the beaches in Sea Bright and Long Branch, so you could easily spend a weekend exploring art galleries, restaurants and shops before hitting the sand. A must-stop includes the Count Base Center for the Arts, named after jazz musician William James "Count" Basie, who was born here in 1904. Originally opened in 1926 as a vaudeville theater and cinema, the historical venue hosts a range of events, including movie screenings, concerts, and comedy acts. Other historical sites include the T. Thomas Fortune Cultural Center, where civil rights leader and founder of Black newspaper The New York Age, resided in the early 1900s. Tour the home, which is open to the public on weekends.
If you plan to make a weekend of it, the Molly Pitcher Inn is within walking distance of downtown. Built in 1928, the hotel was renovated in the 1990s and also has a restaurant that overlooks the Navesink River—the dining room serves breakfast, lunch, and dinner as well as a killer Sunday brunch. Back in town, sip some craft beers at family-owned Red Tank Brewing Company or grab a bite while supporting a good cause at JBJ Soul Kitchen, a non-profit community restaurant co-founded by Jersey boy Jon Bon Jovi and wife Dorothea Hurley.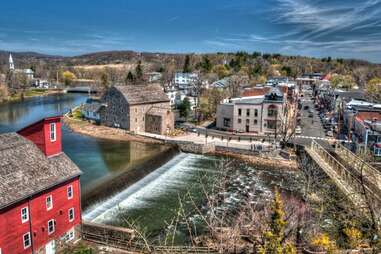 Clinton
Distance from NYC: 53 miles
Arguably one of most picturesque destinations in the state, the Clinton Historic District comprises most of the town, where quaint storefronts and Victorian homes with wraparound porches are the norm. The main attraction here is the Red Mill Museum Village, the site of a 19th-century era grist mill that sits on the banks of the Raritan River (and is apparently one of the most photographed sites in the state). Tour the mill when it opens for visitors on weekends and explore exhibits detailing the area's agricultural and industrial history and a historical village with a schoolhouse, blacksmith shop, and carriage shed. The museum also hosts events throughout the year, such as its popular Haunted Red Mill during Halloween season. A second grist mill, the Stone Mill, is located on the opposite side of the river. Also built in the 1800s, it's now home to the Hunterdon Art Museum, which has rotating exhibits and a permanent collection of works from renowned artists—which includes prints by Salvador Dali.
Grab some fresh baked treats and a spot on the patio at The Stone Bean at Riverside Coffee and Tea, which overlooks the Raritan River and is also a prime location for getting that snapshot of the Red Mill. Clinton is also home to a variety of artisan shops such as Kilhaney's Pickles and Karen's Dollhouse Shop, a hobby shop with handcrafted miniatures, furniture, and dollhouses.
Lambertville
Distance from NYC: 68 miles
Just next door to New Hope, Pennsylvania, Lambertville, founded in 1705, is an artist's haven with galleries, shops, and historic buildings. Situated along the Delaware River, the town is an antiquer's paradise—every Wednesday, Saturday, and Sunday, there's a huge outdoor and indoor flea market, in addition to The People's Store, a three-story antique shop with over 40 dealers.
Another reason to visit? Lambertville is rated one of the top LGBTQIA+ friendly towns in New Jersey. Home to a large number of LGBTQIA+ residents, you'll find the rainbow flag displayed at many establishments. For some caffeine, Union Coffee is an LGBTQIA+-owned hybrid cafe and retail shop that hosts events. Grab a proper meal at Under the Moon Cafe, a cozy tapas spot; and for waterfront views, Lambertville Station Restaurant & Inn is a historic venue inside a restored 19th century train depot with fine dining and lodging.
Vernon
Distance from NYC: 52 miles
For an easy day trip, Vernon's Mountain Creek has long given the town cred as an outdoor recreation haven. The expansive resort, which surrounds the rustic Red Tail Lodge, is primarily known as a snow sports hub, but there are other activities to be enjoyed in warmer months, such as ziplining, a mountain bike park with trails for various skill levels, and a waterpark during summer season. Not far from the resort, additional outdoorsy activities include the TreEscape Aerial Adventure Parks Ropes Course, where you can tackle a rope course high above in the trees, or you can book a horse ride at Legends Riding Stables. If hiking is more your speed, Wawayanda State Park has over 60 miles of trails, including the 7.3-mile Stairway to Heaven trek, which runs along the Appalachian trail and takes you to a panoramic view.
In addition to dining at Mountain Creek Resort, Vernon has some local favorites right in town. Grab breakfast or lunch at The Daily Bean, a cozy coffee shop with cushy chairs and a resident French Bulldog named Bean. Or for something a bit heartier, The Crystal Cafe, set in a historic building, serves breakfast along with weekly dinner specials while The Glenwood has everything from brick oven pizza, burgers, and smoked brisket. In between dining and exploring the outdoors, carve some time to peruse local shops, where you'll find one-of-a-kind gifts at Highland Flowers & Gifts and healing crystals—among other items—at metaphysical shop Crystals of Quartz. On your way out of town, the Sterling Hill Mining Museum is worth a visit. The last working mine in New Jersey before it closed in 1986 (and the fourth oldest mine in the country), the site's highlights include the trippy fluorescent Rainbow Tunnel, an underground lake, and a gift shop. Tours are on Saturdays and Sundays only at 1 pm.
Tuckerton
Distance from NYC: 100 miles
For a quiet weekend getaway, Tuckerton is a maritime village located along Tuckerton Creek that's just a 15-minute drive from Long Beach Island. Though visitors tend to flock to Jersey's shore towns in the summer, Tuckerton is a great place to visit any time of year. The main attraction is Tuckerton Seaport, a maritime museum and village open year-round with exhibits on the region's maritime history. Made up of buildings that were recreated to look like how they originally did, the village museum has plenty of hands-on activities, such as woodcarving workshops; clamming lessons at Parson's Clam House; and a chance to climb Tucker's Island Lighthouse, a replica of the original (which fell into the ocean in 1927). Also at Tuckerton Seaport, don't skip the New Jersey Surf Museum, where there are over 50 surfboards on display, along stories of local surfers highlighting the state's surfing history. Get a dose of nature while visiting the Jacques Cousteau National Estuarine Research Reserve and for a longer hike, the Bass River State Forest, located in the Pine Barrens, has eight walking trails with opportunities for bird viewing, as well as camping sites (just watch out for the Jersey Devil).
Michelle Harris is an Editorial Assistant at Thrillist. Over the years her writing has also appeared in
Atlas Obscura
,
Mental Floss
, and
Audubon Magazine
. When she's not busy typing, she enjoys hiking, road trips, and cooking vegan food.