Explore NJ's Rich Black History by Car or Mass Transit
The Black Heritage Trail includes historic sites across Northern, Central, and Southern New Jersey.
New Jersey might not be renowned for its Black history, but scattered across the breadth of the state is the Black Heritage Trail, a potpourri of historic sites dating back to pre-Revolutionary era museums, historic homes, and more featuring African American and Black origins.
As we celebrate Black History Month, we've put together a guide on how to learn more about the plethora of centuries old historic places in our neighboring state. From locales in Northern New Jersey easily accessible to transit-loving New Yorkers to Central New Jersey that might require a vehicle, here's our guide on the Black Heritage Trail in each region of New Jersey.
Black Heritage Trail in Northern New Jersey
Jersey City
With the advent of the Underground Railroad in the 1800s, its route through New Jersey ran from South Jersey to the "last station" of Jersey City. Jersey City played a pivotal role as a place where thousands of enslaved people traveled through to get to New York or Canada (where slavery was prohibited).
Another local historical site is an "African burying ground" at the junction of Pine Street and Johnston Avenue, where studies of an 1841 map identify the ground behind the Garrabrant estate as where enslaved persons were buried. A historic site still standing is the Hilton-Holden House, which was an Underground Railroad safe house providing shelter within its cellar. Winfield Avenue was also known as Jackson Lane for two freed brothers who bought land on Newark Bay in 1831. Their home in Greenville was part of the Underground Railroad helping enslaved persons across the Hudson, and a plaque at the Martin Luther King Station on the Hudson-Bergen Light Rail commemorates this. Discover more of history at the Afro-American Historical Society Museum and check out its 1940s recreation of a typical African American home of the day.
For sustenance, dine at Black-owned spots like the Caribbean eatery, Freetown Road Restaurant; Carolyn's Soul Food serving southern cuisine; Cherry's Lounge for Oxtails, Rice, and Corn; and Vibez Juice Cafe for Creole Ribs, Jerk Steak, and fresh juices.
Getting here from NYC: PATH from 33rd & Broadway or World Trade Center to Jersey City. In Jersey City, take the city's Light Rail System.
Newark
At this city with a sizable African American and Black community, start with a curated long term installation, the Arts of Global Africa Gallery at the Newark Museum of Art, where past and present collections of African art pieces reside. Next is the Krueger-Scott hilltop mansion bought by Louise Scott in 1959 and is on the National Register of Historic Places. As an entrepreneur and pioneer of the beauty industry for Black women's hair, she used it as a charm school and homebase for cosmetology and beauty classes. Lastly, the James Brown African American Room at the Newark Public Library holds over 10,000 artworks, books, and magazines on African American history and culture.
Afterwards, stop by Source of Knowledge Bookstore, an independent Black-owned store and community space centering Black culture, art, and literature. And the Institute of Jazz Studies stands out as one of the best centers of jazz archives and research in existence today with over 100,000 sound recordings, oral files on jazz history, and a research facility.
For meals, try RicoSoul, a unique blend of Puerto Rican and soul food cuisine, at The Weekend Spot; modern soul food at the Black women-owned Cornbread Restaurant; before finishing with a tipple at Black-owned Bar Vanquish Oyster Bar & Lounge in downtown Newark with its speakeasy vibes and bites.
Getting here from NYC: NJ Transit train from Penn Station, then hop on the Newark Light Rail for these sites on Washington, Grove Street, and other stops.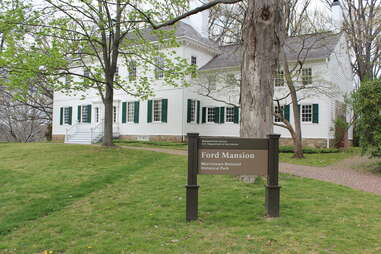 Morristown
As Morris County's first Black church, the Bethel Church of Morristown was established in 1843 and was once the only school for "Colored" and Native American children of its era. While many remaining African American historic sites nationwide are not graced with markers and plaques like other American locations of importance, Morristown has a prominent historic district with Morristown National Historical Park for forest walks and historic homes; Fosterfields Living Historical Farm opened in 1854 for hiking, golfing, camping, and fishing; and Morris Museum for permanent galleries of clockmaking and earth science.
Getting here from NYC: By car via NJ-24 W, or NJ Transit train from Penn Station
Tenafly
Explore the African Art Museum of the SMA Fathers and its collection of West African sculpture and paintings, religion and folklore ranging from wooden door designs of the Nupe people of Nigeria to wood, animal skin, and hair masks of the Bete people of Cote d'Ivoire. The museum was founded and is maintained by a Catholic religious organization.
Getting here from NYC: By car via I-95 N or FDR Drive and Palisades Interstate Parkway N; or bus from Port Authority Bus Terminal
Black Heritage Trail in Central New Jersey
Scotch Hills
Shady Rest Country Club was founded in 1921 as the first Black-owned golf club in the United States with a nine-hole course, croquet, tennis, and riding. Black elites like Louis Armstrong, W.E.B DuBois, Althea Gibson and others, would meet here for lectures and entertainment in an era where they were hardly welcomed elsewhere. Shady Rest was so popular within the Black community that it was listed in the historic Green Book—a travel guidebook listing inns, restaurants, service stations and other public services that were safe for African Americans to patronize. Additionally, the first American professional golfer, John Shippen, was African American and the club's greens keeper until 1964.
Getting here from NYC: By car via US-22 W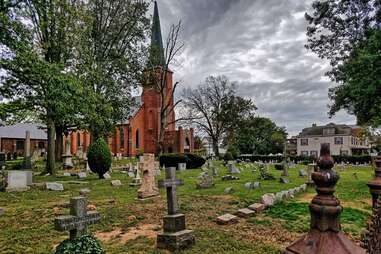 Perth Amboy
Do you know who the first African American voter in the U.S. was? His name was Thomas Mundy Peterson, a school principal and handyman, and he was forty-six years old at the time of his vote in 1870. The vote wasn't for a Presidential election, but locally for Perth Amboy and whether it would revise or scrap its charter. Peterson was presented with a medal to commemorate the occasion, and he's interred at Saint Peter's Churchyard at 183 Rector Street.
Getting here from NYC: By car via I-278 W and I-95 S; or NJ Transit train from Penn Station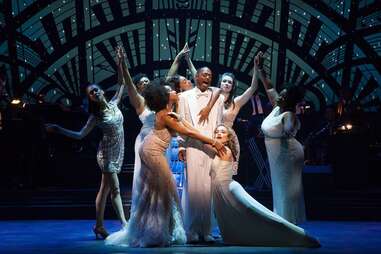 Princeton/Skillman/New Brunswick
The Paul Robeson House was the birthplace of the famous activist, actor, and singer, where he attended a segregated public school. Another historic site is the Stoutsburg Sourland African American Museum in Skillman. It depicts the culture and contributions of African Americans in the Sourland Mountain Region. For theater, visit Crossroads Theatre Company, the country's premiere theater committed to the African American experience where they present positive imagery and diaspora works.
Replenish calories at Princeton's Jagrah's Restaurant and New Brunswick's Dashen Ethiopian Cuisine for Doro Wot, Avocado Salad, Yebeg Wot, and vegetarian platters like Misir Wot.
Getting here from NYC: By car via US-22 W to Princetown, via I-78 W to Skillman, and via I-78 W and I-95 S for New Brunswick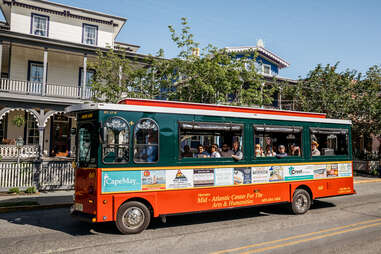 Black Heritage Trail in Southern New Jersey
Cape May
Unbeknown to most, Cape May played a pivotal role in African American history. It's where Harriet Tubman lived and worked service jobs in the 1850s to fund her Underground Railroad travels of transporting enslaved runaways northbound. The Harriet Tubman Museum of New Jersey is a tribute to her life and dangerous freedom work. Cape May houses three major abolitionist sites, such as Banneker House, one of the only summer resorts for free Black people in the 1840s.
Visit Cape May for a two-hour Underground Railroad Trolley Tour with Cape May MAC and travel through town for history.
Getting here from NYC: By car via Garden State Parkway or I-95 S; by bus from Port Authority Bus Terminal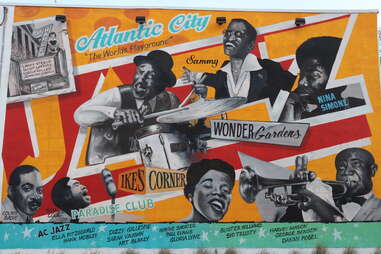 Atlantic City
Beyond its casinos and beach fame, Atlantic City possesses Black historic sites like the Civil Rights Garden, a public sculpture garden with Gingko trees and the African American Heritage Museum of Southern New Jersey that displays cultural paintings and memorabilia.
In the 1930s, the segregation of beaches resulted in a stretch along Missouri Avenue becoming the unofficial Black beach known as Chicken Bone Beach. The Chicken Bone Beach Historical Foundation exists today to educate the community and tourists on jazz, with jazz summer camp and free lessons on voice and instrument available.
Walk the boardwalk and its environs for Black-owned eateries like Kelsey & Kim's Southern Cafe and Vegans Are Us for Cashew Mac 'n' Cheese, Falafel bowls and more plant-based platters.
Getting here from NYC: By car via Garden State Parkway; or bus from Port Authority Bus Terminal
Camden County
Lawnside is an African American town established in 1840 by free people who came together for community. It is home to abolitionists and several families who can still trace their ancestry to enslaved persons that arrived via the Underground Railroad. Mount Peace Cemetery in Lawnside was founded in 1902 as a result of African American exclusion from established cemeteries, but it is currently in disrepair with slow progress being made to preserve this historic and cultural landmark.
Getting here from NYC: By car via I-95 S