9 Ways to Buy Cheap Tickets to NYC's Hottest Broadway Shows
2-for-1 deals, lotteries, and more to the best musicals and plays right now.
While a visit to Times Square is free, catching a Broadway show or musical is becoming pricier by the year and could set you back hundreds. But what if we told you that it's possible to see one without breaking the bank?
For your next outing to The Great White Way (aka the best theater the world has to offer), here are 9 tips and tricks to make a seat at every show fit your budget. And for all of your pre- and post-show dining needs, be sure to check out our guide to the best restaurants within the Theater District.
Get 2-for-1 tickets through this popular biannual program
Twice a year, NYC Broadway Week rolls into town with an incredible offer: 2-for-1 tickets. Celebrating its 12th anniversary this year, the 2023 winter program will run from January 17 to February 12. Previous deals have included productions like A Strange Loop, Aladdin, Death of a Salesman, Hadestown, and Wicked–be sure to check their website for updates on the upcoming season.
Line up at the box office for same-day or standing room tickets
Most Broadway shows offer a select number of same-day tickets (often around $40) that are only available in-person when the box office opens. While rush tickets won't always get you the best views, they'll still have you at some of the hottest productions out, and this tip is a foolproof, tried-and-true method for last-minute and affordable seats. Alternatively, if you're able to lean for a few hours, standing room only (SRO) is typically located just behind the last row of the orchestra and can provide a great view for much cheaper than craning your neck in the nosebleeds. The rush and SRO policies are dependent on each show, so we recommend calling box offices ahead of time for availability and when to start lining up. Be warned: lines for rush and SRO tickets for new and popular shows tend to start forming at the crack of dawn.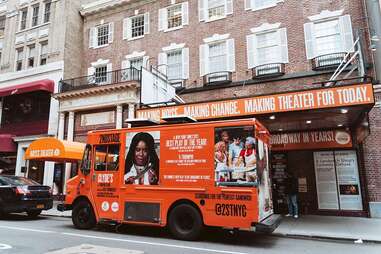 Sign up for a 18-40 year old discounted ticket program
Lincoln Center, Roundabout Theater Company, and Manhattan Theatre Club each produce some of the best shows on Broadway, and they want you to see them. For those in the range of 18-40 years old, joining these free programs can unlock affordable tickets without having to try your luck in a lottery or schlep to the box office: Lincoln Center's LincTix offers $32 tickets for 21-35 year olds; Roundabout's HipTix offers $30 tickets for 18-40 year olds; and MTC's 30 under 35 offers $30 tickets to anyone under 35. For similarly fantastic deals at Off-Broadway shows, check out Second Stage and Playwrights Horizons.
Purchase rush tickets from anywhere
In addition to in-person rush, some shows offer digital rush tickets on platforms like TodayTix. The gist is the same as in-person rush: you can get a ticket the day of the show as soon as digital rush opens, so you'll have to beat other excited prospective audience members to the punch (but at least you can do this one from bed!). Check out Playbill's complete guide to rush policies to find out which of the shows on your list you can digitally rush.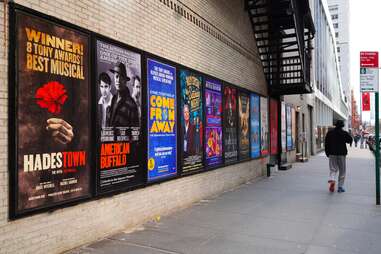 Try your luck at digital lotteries
Not all, but many Broadway shows offer some form of digital lottery with platforms like TodayTix and BroadwayDirect. Similar to rush tickets, each show has their own policy with options like winning a same-day ticket, seat for tomorrow's show, or sometimes you can enter in one big batch for the week ahead. Some shows set aside a certain amount of tickets for the digital lottery, and others use it as a way to offload remaining seats, meaning whether there will even be a lottery on a certain day can be hard to predict. Lotteries are more of a long-game option to get a ticket to that one show you've been waiting for–check out this guide for which productions offer a digital lottery.
Snag last-minute resale tickets
This one is risky, but it can pay off big-time. If you've got a free day, a slightly looser budget, and crave an adrenaline rush, here's your gameplan:
1. Choose if a show has tickets up for resale on websites like StubHub or SeatGeek.
2. Obsessively refresh.
3. Head towards Times Square while constantly still refreshing—as showtime gets closer, you'll see prices slowly go down.
4. About an hour before curtains go up, prices update faster. When they get to an amount that works for you, smash that buy button! If you're really craving some adrenaline, you can even wait until 10-15 minutes before showtime.
5. Sprint to the theater! While we can't say this method is a 100% sure thing, it can result in some of the most surprising, affordable, and story-worthy theater experiences.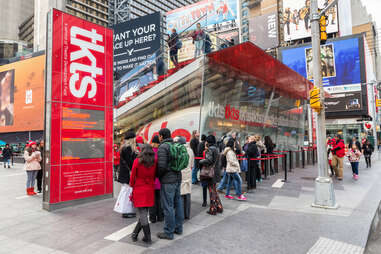 Head to this Big Apple institution in the heart of Times Square
The next time you're in Times Square (check out our guide on everything fun to do), head to the famous TKTS Discount Booth under the red glass steps on Broadway and 47th. That's where you can get same-day (and next-day matinee) tickets up to 50% off to tons of Broadway and Off-Broadway shows. And with the free TKTS Live app, you can check before you head to the booth IRL to scope (in real time) which shows are available and for what price. While these tickets may not be quite as cheap as rush or lottery tickets, it's still a fantastic option that involves minimal scheming ahead of time.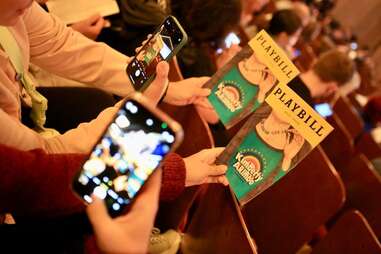 If you're under 30, a senior, teacher, or freelancer, join this non-profit
TDF, the non-profit behind TKTS, also runs a membership program that offers some of the best ticket deals you can get. TDF members have special access to deeply discounted tickets to Broadway shows, plus Off-Broadway and Off-Off Broadway, dance performances, and concerts for only $11-$57. Even better: you can book your tickets online days—and sometimes weeks—in advance, and the seats (which are chosen for you) are often great. TDF memberships are available to students, teachers, freelancers, anyone under 30, seniors, civil servants, non-profit employees, and more. A one-year tax-deductible membership to TDF typically costs $40, visit the TDF website to learn more and see if you're eligible.
Roll the dice and let Broadway Roulette pick for you
Broadway Roulette adds a bit of spontaneity to your cheap-ticket repertoire. For a flat fee around $49-$59, pick a date, the number of tickets, and a few other choices (like whether you want to see a musical or a play, or eliminating a show you've already seen), and they'll handle everything else! On the morning of your selected date, you'll receive a notification letting you know the surprise show you will be seeing and additional necessary details. All Broadway shows are included in Broadway Roulette—even the biggest hits. So you can even guarantee an orchestra seat, and if you use the program more than once, they'll make sure you never see the same show twice.