Cheap flights! $$$ off our artificially inflated prices! A free carry-on that always used to be free until we started charging for it! You've seen the glut of getaway airfare ads and, yeah, there are a lot of straight-up cheap flights, too. But what you really want to know, in your vulnerable mid-winter state, is if you're actually getting a good deal. If a scarily low fare was that scarily low last year (and the five before that), it doesn't seem like such a steal anymore.
Enter Hipmunk, a brainbox metasearch site that ranks flights by "agony" -- i.e. factoring in price, duration, stops, and if you have to go anywhere near JFK at rush hour. They're also in prime position to analyze gazillions of fares from years gone by, and work out which destinations are at a cheap ebb to start 2018.
We asked Hipmunk's content manager, Kelly Soderlund, to crunch the numbers for us, and out the other side came the flights that are expected to be cheaper now than at any other time of year, straight from NYC to somewhere warmer, exoticer, or just way outside the daily grind. These are based on the average cost of flights through March -- punch in specific dates on your favorite airline's site or online airfare bazarr, and you might get a nice surprise.
Recommended Video
Please Don't Hang Up: The Best BBQ & Barcade in Dog-Friendly Kansas City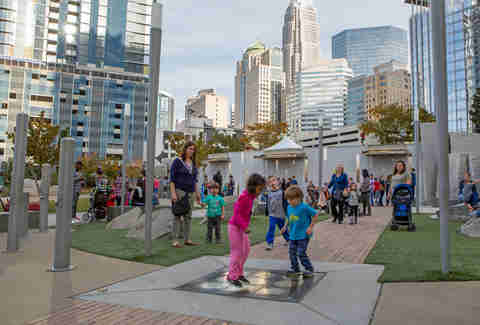 North Carolina
The Tar Heel State is the undisputed champion of cheap fares from NYC this winter. Four of the top-10 discounts are to cities here: Wilmington's got the steepest price cut (the average fare is $242, 35% less than normal), while Charlotte is the flat-out cheapest destination ($175, which is 19% lower than you'd expect). Hendersonville (26% off at $206) and Durham (21% off at $190) are also going for not much more than a Piedmont Blues song.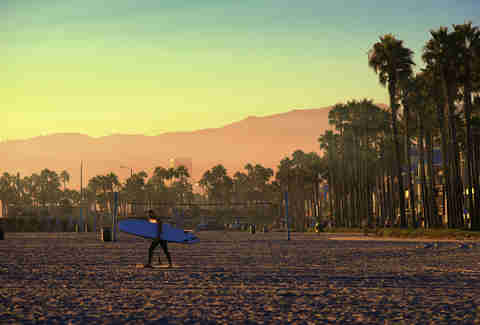 California
Math says, yes, with more than two dozen major airports, something was bound to be on sale in Cali. But it turns out there's a buffet of cheaper-than-usual flights to choose from. King of the cuts is Santa Barbara -- it normally sets New Yorkers back $598 on average, but right now that's down to $398 (37% off). You can save over 10% on trips to Burbank ($299 instead of $364), Oakland ($278 instead of $365), San Francisco ($315 instead of $356), Long Beach ($355 instead of $399) and LA ($347 instead of $387) too. A round-trip to Oakland in March runs just $260 -- it's a good time to catch the Warriors shooting hoops.
Florida
OK, so it's a love it or hate it kind of place, but there's one thing everyone can agree on: it's warm. So if nothing else, grab a cheap flight to Florida just to remind yourself what it feels like to venture outside free from thermal leggings and fear of your nostrils freezing over. Daytona Beach ($273 instead of $322) and Fort Myers ($275 instead of $323) are both running at 15% off; Orlando ($220 instead of $235) and Jacksonville ($259 instead of $290) are tempting, too.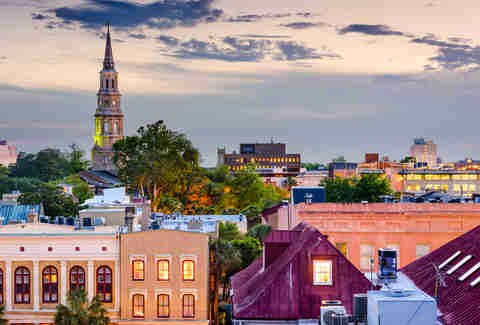 South Carolina
Fly to Charleston before the end of March, and you're looking at an average fare of $297 instead of usual $327. Up the coast, the vacation resort Myrtle Beach is a surprisingly cheap weekend getaway at $184 instead of $199 -- if you go in February, the average drops to just $175.
Hawaii
Nobody needs an excuse to plop Hawaii at the top of their wishlist, but here's one anyway: average fares to Kahului, Maui (down 18% to $693 in March), Lihue, Kauai (down 17% to $850) and Honolulu (down 15%, to $853 average) are all as cheap as they get all year, at the best time of year to trade the Upper East Side for the North Shore. So there's a slab of extra change to invest in surf lessons/image doctoring to make it look like you've got abs.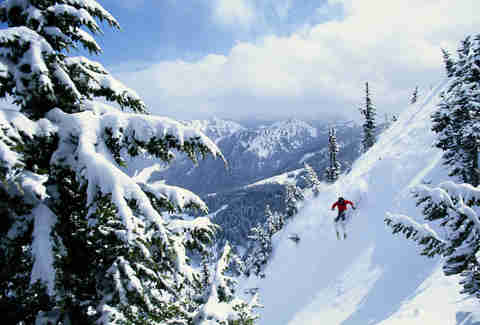 The Pacific Northwest
You know what New York lacks? A tall spiky thing. And by that I mean not one filled with offices, apartments or any vaguely useful stuff, but simply a tall spiky thing that's perfectly happy just being tall and spiky. Enter, Seattle -- and flights are 16% lower this winter, at $302 instead of $360 on average. It'll be prime time to ski at Crystal Mountain, the huge resort sitting on Mount Rainier's porch. An alternative destination, literally, is Portland. Flights are down to $362 right now, which is $37 cheaper than normal.
Stockholm
Why would you go to Stockholm in winter? It's a valid question, so we asked someone who is: Sweden-bound New Yorker Chelsea Summers. Granted, she's got family ties as extra motivation, but she also points out that it's peak off-season so "the crowds are much, much smaller in the Old Town and at the countless museums." It's more likely to rain than snow, she says, but if you catch a spell of good weather, take the ferry to Gotland, an island in the Baltic Sea that's practically deserted this time of year. Flights are freakishly low right now, at $432 instead of the historic average of $747. For the best deals, go in March (the average is 42% down at $411), or jump on the Norwegian flight Chelsea snagged for just $342.
Hamburg
The north German port is tipped (by us) for a big 2018, with a killer combination of edgy hipsterness and enough cultural clout to make your parents think you've finally grown up. What we didn't know, until Hipmunk chirped up, was that the flights are 39% cheaper this winter. A round trip comes in around $569 instead of $929. Das ist gut, nein?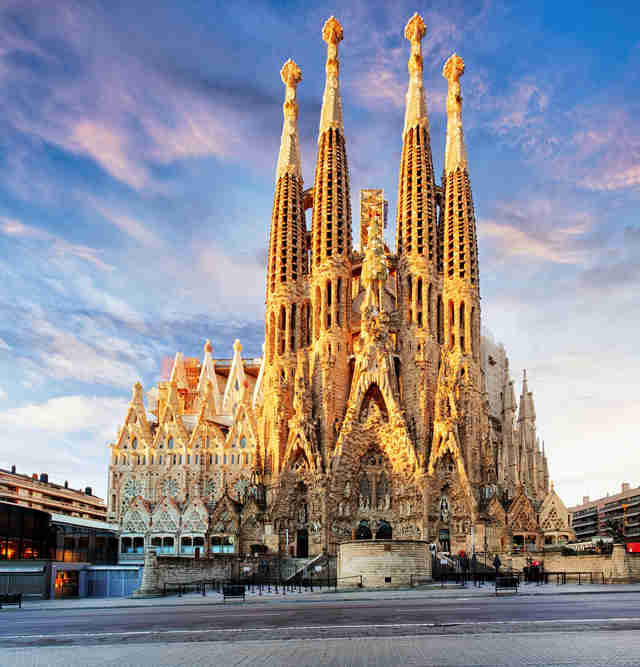 Spain
Take your pick from bargainacious flights to Barcelona ($566), Madrid ($522) or Malaga ($513), which are all 31% cheaper than usual. The Classico cities are European giants with year-round appeal, but mix it up with Malaga for warmer weather and a gateway to the southern region of Andalucia. In February, the average for NYC to Malaga flights is just $437.
Vienna
If there was ever a city for all seasons, it's Vienna. Summers are smokin' hot, but in winter you get bright blue skies and crisp Alpine air -- plus your steaming strudel tastes better. Right now, flights to Vienna are down at $585, compared with the historic average of $722 (that's a 34% drop, in case you hadn't calculated that already). Apart from anything else, a trip here is perhaps the best possible excuse for breaking out your "I heart Wieners" T-shirt.
Prague
Flights from NYC to Prague are a third cheaper than usual right now -- $488 instead of $727, says the mighty Hipmunk. Factor in that a beer costs a little over $1, and you've got yourself one cheap-ass winter break.
Kiev
In terms of sheer miles for your dollar, a flight to Kiev is about as good as you get. It's over nine hours from NYC, and this winter the average price is 32% lower, at $565. When you arrive, you'll find one of Europe's most historic -- and undiscovered -- capital cities.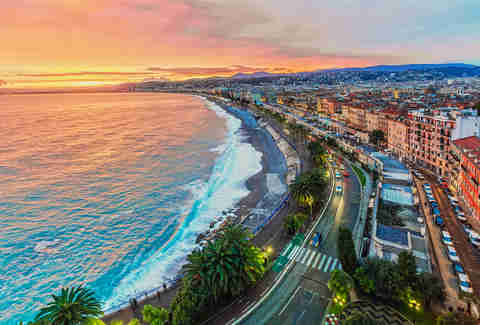 Nice, France
There's never a bad time to hit up the Cote d'Azur, and at least in winter you won't have a hard time squeezing your superyacht into St. Tropez marina. What's that? You don't have one? Well Hipmunk reckons you'll save over $300 on the flight ($674 instead of $977), so you can put that toward the deposit.
Venice
Scoring a pair cheap flights to Venice is basically like getting a discount on another year of marriage -- so avoid this one if you're trying to break free. This winter, fares are down 30% ($693 instead of $993). It's a deal, it's a steal -- but whatever you do, don't reward yourself with a $1,000 dinner at this place.
Antigua
There comes a time each year when you're so fed up of the slush and muck of a New York winter, that you'd sell your slightly annoying nephew for a bit of sun. That time was about two months ago, but you can still snag a deal on flights to the Caribbean idyll of Antigua. Hipmunk says they're nearly a third cheaper than normal, at an average of $496 (usually $698). Hello, hammock.
Sign up here for our daily Thrillist email and subscribe here for our YouTube channel to get your fix of the best in food/drink/fun.