This Christmas Market in Pennsylvania Rivals Anything in Europe
You don't have to fly to the Old Country to experience an authentic German Christmas market.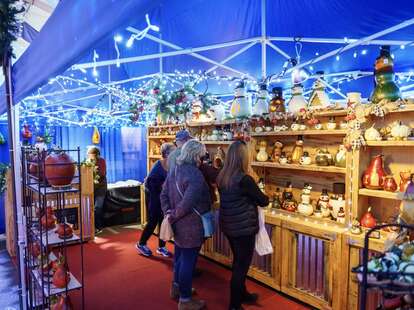 Christkindlmarkt Bethlehem is a three-decade-old holiday market in Bethlehem, Pennsylvania.

| George Sheldon/Shutterstock
Christkindlmarkt Bethlehem is a three-decade-old holiday market in Bethlehem, Pennsylvania.

| George Sheldon/Shutterstock
Christmas season often means carols; ringing bells; warm, spiced beverages; and—the less accessible, but equally iconic—Christmas markets that twinkle across Germany and the rest of Europe each year. For those not planning a trek to Europe for the holidays, the itinerary can still include a visit to a Christmas market in the Lehigh Valley,
The three-decade-old, German-inspired Christkindlmarkt Bethlehem takes place each year in a town with its own Germanic roots—and an identity built around Christmas that stretches back across three centuries. On Christmas Eve 1741, German Moravian bishop Nicolaus Zinzendorf christened the city Bethlehem. In 1747 it became the first US city to sport a decorated Christmas tree. It's no surprise then that the popular Christmas destination adopted the nickname Christmas City USA in December 1937.
Revelers flock to Christkindlmarkt Bethlehem each year for festive holiday shopping including handmade arts, crafts, gifts, and authentic Bavarian decorations from lauded German ornament manufacturer Käthe Wohlfahrt. For 21 years, Käthe Wohlfahrt has set up shop at the market with handmade schwibbogens, nutcrackers, and glass ornaments.
While it's easy to spend a fortnight's wages on unique ornaments, save some time and cash for special performances (and an appearance by St. Nicholas), or lace up for ice skating at The Ice Rink at SteelStacks. After working up an appetite, take a break with strudel, bratwurst, Christmas cookies, and more from local food vendors.
Christkindlmarkt Bethlehem takes place at the PNC Plaza at the 10-acre SteelStacks campus and runs weekends from November 17 through December 17.
Drive time:
1 hour 50 minutes by car from NYC via I-287 N.
1 hour 20 minutes from Philadelphia via I-476 N.
4 hours 50 minutes from Boston via CT-15 S.
More things to do in Bethlehem, Pennsylvania:
Recently designated a National Historic Landmark District (and one of only eight such districts in Pennsylvania), the Historic Moravian Bethlehem Historic District is home to over 20 of the oldest surviving buildings in Bethlehem. At the district's core lies the Moravian Museum of Bethlehem, where visitors can take a self-guided tour and explore how the Moravian settlers in the 18th century established a community with German architecture and town planning alongside an industrial area. Within two years of arriving, they built their first grist mill, along with a saw mill, brass foundry, tannery, and the infrastructure for other practical industries. Some of these industries started in small log structures that still survive in this historic area.
While the Moravian Museum keeps regular hours, many of the other sites require tour reservations. These include the Colonial Industrial Quarter (the first industrial park in the United States) and the 1752 Apothecary, which was the oldest pharmacy in continuous operation in the United States until it shuttered in the 1950s. Tour options abound with many, like the eerie Mystery and History Walking Tour that starts around twilight, led by certified guides in period costumes.
The best restaurants in Bethlehem, Pennsylvania
Even if you aren't staying at the Historic Hotel Bethlehem, stop by the hotel's all-day restaurant 1741 at the Terrace for a menu with globe-trotting dishes like ahi tuna with orange and ginger glaze and jumbo lump crab cakes with harissa aioli, cozy options like meatloaf and macaroni and cheese, plus an extensive wine list and a full bar served in a picture-lined dining room with overlooking historic Main Street. Don't miss live jazz from local musicians on Thursday evenings. For a light lunch, try a cup of crab bisque and grilled shrimp salad with smoky tomato vinaigrette at the Twisted Olive. The charming cafe sources ingredients from its own organic garden, and a full bar mixes up a robust menu of special martinis alongside special cocktails tailored to the season.
Warm your insides at The Bayou Bethlehem with a casual, lively atmosphere and a menu full of twists on hearty Louisiana dishes like chicken and andouille gumbo, fontina-laced macaroni and cheese with smoked ham hock, and jambalaya studded with shrimp and crawfish. Close out the evening with a tipple at The Bookstore Speakeasy, where the 1920s and '30s are reborn with Prohibition-era cocktails, live jazz, and vintage objects like old books and a gramophone. Dress in your best 1920s garb and strut over for jazz and period era fun on Thursdays through Sundays from 5 pm until midnight.
Where to stay in Bethlehem, Pennsylvania
Bethlehem offers plenty of accommodations steeped in the town's rich history, but the Moravian District's Historic Hotel Bethlehem stands out from the rest with the original, restored interior from 1922 with details like murals, palladium windows, and beautiful balconies. For the thrill-seekers, the hotel says friendly ghosts linger in the boiler room, lobby, exercise room, and restaurant. Book the highly requested Room 932, which reportedly has so much paranormal activity that the hotel invited a paranormal investigator to spend the night there in April 2007. He reported that he recorded several disembodied voices during his visit.
For a boutique stay, visit the 19-room, historic Sayre Mansion or the even smaller Wilbur Mansion with just nine rooms. For affordable conventional chain hotels, check out Candlewood Suites and Holiday Inn Express & Suites Bethlehem.