Bridget Shevlin/Thrillist
Whether you recently moved to the East Village or you're just passing through, this downtown NYC neighborhood has door-to-door options for nearly everything you could ever want or need to do. But with so many choices, how do you know where to turn for the basics? We've compiled the ultimate East Village survival guide to cover all your big city demands. You'll feel right at home in no time... like, as soon as you're done reading this list.
WHEN YOU NEED: A GOOD MORNING-AFTER BAGEL
Black Seed Bagels
What is it about a bagel sandwich that makes it a cure-all for a late night out? (Which you'll definitely experience living in this neighborhood.) In the East Village of a few years ago, you would've had to settle for a far inferior bagel than the almighty Black Seed. Thankfully, the beloved shop (whose original location is in Nolita) opened on First Avenue in 2015, and should serve as your go-to spot for morning pick-me-ups, on-the-go lunches, and other bagel-related emergencies. What makes Black Seed bagels special is their texture -- combining the soft, chewy New York-style with the dense, crispy Montreal-style. Try a signature sandwich like the Miami Vice: a turkey melt with sauteed onions, pickles, Swiss cheese, and mustard -- or create your own. The only wrong choice would be skipping out on Black Seed.
WHEN YOU NEED: A QUIET PLACE TO READ
Creative Little Garden
The first thing you'll notice about the bustling East Village is exactly that: It's bustling. No matter what time of day or night, this popular NYC neighborhood lives up to the stereotype of never sleeping. That's why finding a near-silent place to retreat should be one of the first things you do. Let us present you with Creative Little Garden, a known "oasis of tranquility" on East Sixth Street that's open to the public daily from 11am to 6pm. Founded in 1978, and renovated in 2004, the 24-by-100-foot shaded space features a winding gravel path, rock garden, flagstone patio, and many seating areas. Stop in with a good book and cup of coffee for an hour of bliss. We can't promise you won't hear car horns in the distance, but Creative Little Garden is so peaceful, you'll tune them right out.
WHEN YOU NEED: A COFFEE SHOP WHERE EVERYBODY KNOWS YOUR NAME
Abraço
It's no secret that New Yorkers are always on the go. And to sustain, they turn to coffee. For many, it's merely a necessity -- a jumpstart to what will likely turn out to be a chaotic day. Abraço, a beloved espresso bar on East Seventh Street, encourages East Villagers to slow down and smell the slow-roasted beans. The name, which translates to "embrace" in Portuguese, lends itself perfectly to the familial, European café vibe. At Abraço, patrons stray away from laptop-driven solitude and instead engage in quality conversation. You'll often find families and friends catching up over the famous olive oil cake and other house-made pastries, as well as co-owner/roaster Jamie McCormick's special espresso blends. So while you'll definitely need a go-to caffeine boost to survive the fast-paced East Village life, at this treasured cafe, you won't have to chug it.
WHEN YOU NEED: A FREE WORKOUT
Yoga to the People
Located on St. Marks Place, Yoga to the People is a donation-based studio that practices what they believe to be the very essence of yoga: that it should be available to everyone. Regardless of economic limitations (i.e., you just paid your rent), you can come here for exercise that strengthens your mind and body; classes are 60 minutes long, and have a $10 suggested donation and mats for rent ($2). Of course, it's recommended that you arrive at least 15 minutes prior -- it's a free East Village workout, after all. The best part? There are 63 classes a week, which means there will always be time to work exercise into your busy schedule.
WHEN YOU NEED: TO REALLY IMPRESS A DATE
Momofuku Ko
How's this for impressive: David Chang's Momofuku Ko, located on Extra Place, has retained its two Michelin stars every year since 2009 (it opened the year before). No surprise, reservations are required for the tasting menu, which runs $255/person, plus $195/person for the beverage pairing -- in other words, take someone you really like. (For a more affordable option, you can always try your luck at the walk-in only bar for a la carte dishes.) Executive chef Sean Gray's Japanese and French-inspired menu changes based on market availability; think dishes like sea urchin with chickpea and Chang's trademark Hozon seasoning, and beef au poivre. Oh, and since Christina Tosi's Milk Bar empire started as a result of Ko (she was its original pastry chef back in 2008), you're assured a show-stopping dessert to end the 10-course meal. Sure, it's pricey, but Ko is a piece of modern culinary history that anyone would be lucky to experience, making it the perfect special occasion date spot. Go revel in the mastery together, even if only once.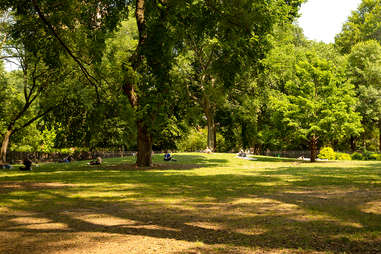 WHEN YOU NEED: A LITTLE VITAMIN D
Tompkins Square Park
You don't have to go down to Coney Island or all the way up to Central Park to catch some sun. The East Village has 10.5 acres of cherished green space in Tompkins Square Park, where families, students, seniors, pups, and even tourists go for a breath of fresh air. In addition to year-round staples like basketball and handball courts, playgrounds, and chess tables, the park also hosts annual events, like August's Charlie Parker Jazz Festival. Whenever you visit, you'll find grassy lawns, shaded benches, and abundant greenery. Considering New Yorkers fight for outdoor tables at every breakfast, brunch, and lunch spot in the city just to soak up a few rays, consider this your always-open alternative (no entree order required).
WHEN YOU NEED: A GOOD SCHVITZ
Russian & Turkish Baths
Sometimes you need to cleanse yourself of the slightly grimy (albeit beautiful) city in a room that's nearly 200 degrees. Since 1892, New Yorkers near and far -- from the East Village and around the five boroughs -- have traveled to East 10th Street to schvitz at the Russian and Turkish Baths. Open 365 days a year, the Baths feature five saunas and steam rooms, a cold plunge pool, roof deck, and restaurant. The facility also offers massage services and treatments if you're looking for a more hands-on experience... literally. What's interesting about the Baths is that they're co-owned and operated by two men who alternate weeks because they refuse to work together. The two split in the late 1980s, and while they share utility and maintenance costs, profits are kept separate. Regardless of which week you choose to sweat -- "Boris week" or "David week" -- prices are consistent. One admission will run you $48, while three for $100 offers a steep discount. Consult the calendar though; tickets can only be used during the manager's shift from whom you bought them.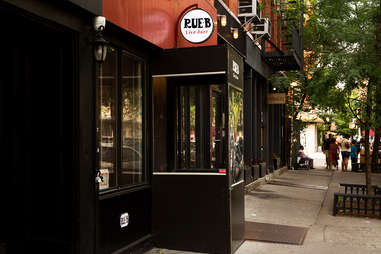 WHEN YOU NEED: TO ENTERTAIN OUT-OF-TOWNERS
Rue-B
Visiting parents/friends: Don't read this. Everyone else: It can be seriously exhausting to host visiting parents or friends, amirite? You need a place that is "New York" enough to feel worth the trip, and yet not too "city" to scare off your suburban mom. Thankfully, this music lounge on Avenue B does the entertaining for you. Rue-B features live jazz every night of the week, plus an array of "jazzy signature cocktails." So after dinner, take the 'rents here to see some cool cats jam out and sip on some Billie Jean Martinis (vodka, elderflower liqueur, pear puree, lime, and aromatic bitters). The schedule is packed with trios, quartets, and even an all-female house funk band, plus the live music runs until midnight -- late enough to keep your fam occupied until bedtime.
WHEN YOU NEED: TO SEE WHAT EVERYONE'S BEEN TALKING ABOUT
Please Don't Tell
If a spot in your neighborhood is pretty much the poster child for "NYC speakeasy," you should probably investigate the hype for yourself. Do so by entering the popular frankfurter joint Crif Dogs on St. Marks Place and head straight for the phone booth, then dial "1" and wait for your call to be answered. What's beyond the secret door is NYC's worst-kept secret, aptly named Please Don't Tell (PDT for short). This intimate speakeasy -- complete with low ceilings, brick walls, and taxidermied animals -- might have a cool aesthetic, but it's the cocktails from James Beard Award winner Jim Meehan (PDT's mixologist co-founder) that really made everyone in Manhattan spread the gospel. Today, the bar is as booked up as ever (the same-day-only reservations line opens at 3pm daily), with a rotating cocktail menu that'll keep you coming back weekend after weekend. In the past, drinks have included everything from a Bacon Old Fashioned to more complicated creations like the Paddington (rum, Lillet Blanc, lemon and grapefruit juice, orange marmalade, and absinthe).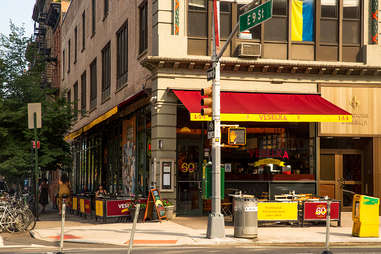 WHEN YOU NEED: A LATE-NIGHT BITE
Veselka
Not only do you never, ever have to go to bed hungry living in the East Village, you don't even have to settle for a boring dollar slice or protein bar from the corner bodega. Lucky you, living here means living mere blocks away from Ukrainian diner Veselka, an NYC institution since 1954. Open 24 hours a day at Second Avenue and Ninth Street, Veselka has long been a late-night favorite for post-bar noshing -- which might have something to do with its handmade pierogi (potato, cheese, meat, and others), plus specialties like Ukrainian-style meatballs and stuffed cabbage. The 3am meal never tasted so good.
WHEN YOU NEED: A GO-TO DIVE BAR
Lucy's
While this trendy neighborhood hasn't been untouched by gentrification, Avenue A dive Lucy's still feels like it did 40 years ago (with decades-old fliers on the wall to prove it), back when it was called Blanche's. For the past 20 or so years, Ludwika "Lucy" Mickevicius has served as owner -- in addition to tending bar like she did for the previous two decades. From 7pm to 4am, stop in for a game of pool and a few Pabst Blue Ribbons. The best part: At Lucy's, you can easily have an epic night for a crisp $20. Think we just found your new watering hole.
WHEN YOU NEED: A GIFT FOR THAT IMPOSSIBLE-TO-SHOP-FOR PERSON
Obscura Antiques & Oddities
So you got an invite to your friend's engagement party/boss' retirement party/mother-in-law's birthday... and you're totally stumped on what to gift. You could freak out and just buy a bunch of scratch-offs. Or you could hit up Obscura Antiques & Oddities. Wander over to this whimsical shop on Avenue A to find the most unique present this person will ever receive. From old-school Kodak cameras to vintage medical instruments, Obscura will not only serve as your last-minute gift savior, but can keep you busy for hours when you feel like exploring the unknown.
WHEN YOU NEED: A FRESH CUT
East Village Barbershop
If you're looking for a reliable cut or shave and don't know where to turn, East Village Barbershop on East 10th Street should be your first stop. Aside from the reliable prices ($25 for a haircut and $15 for a beard trim, among other services), what keeps the shop's fiercely loyal customers coming back for years is owner Ruben's infectious charisma. Known for cracking jokes and greeting each and every customer -- even pedestrians on the street -- warmly as they pass by, he's really more like a neighborhood celebrity than simply a business owner. And if the hair makes the man, well, you want to make sure you're leaving yours in good hands.
WHEN YOU NEED: A SPOT TO TAKE VEGETARIAN (OR VEGAN) FRIENDS
Superiority Burger
It's 2018, so chances are you're friends with at least one, nay, 25 people with dietary restrictions. It can be hard to settle on a spot that satisfies everyone's needs, until of course, you come across the East Village's veg-friendly haven Superiority Burger. Chef Brooks Headley opened the tiny "Shake Shack for vegetarians" on East Ninth Street in 2015, and his wildly creative menu and ability to turn even the most dedicated carnivores into plant-preachers has kept its doors open since. (Not to mention, most items are also "accidentally vegan.") Grab yourselves a few titular burgers (topped with Muenster cheese, iceberg lettuce, tomato, dill pickle) or the Superiority Wrap (brown rice, tofu, cabbage, sunflower seeds) and head down the street to Tompkins Square Park if there's no room inside to sit. If this is East Village survival, you might even make it through a zombie apocalypse.