Everywhere You Should Go During A Layover At LGA and JFK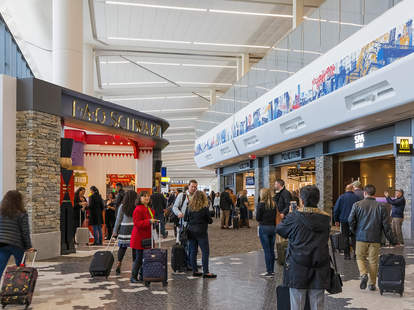 Port Authority of New York & New Jersey
Is there anything worse than a short layover at the airport? The cold chill that runs down your spine as you wait for fellow passengers to deplane, knowing your gate is closing across the terminal. The race of your pulse as you scan the departures only to find your next gate is on the other side of the building. The anxiety as you must choose: Do you take your chances on the people mover, or sprint the whole way there? But there is something worse than a short layover: A four-hour layover.
Listen, there's a smart solution to losing your mind while you wait at the gate for the next flight out of New York: Get resourceful. See what the airport has to offer. Lucky for you, we handled all the research for John F Kennedy International Airport and LaGuardia Airport right here.
TWA Hotel/David Mitchell
JFK
TWA Hotel
JFK is a special destination if you're a fan of design. First stop is the TWA Hotel, where you can take a deep dive into a landmark design from the golden age of air travel. Accessible by AirTran, the hotel, originally designed by Eero Saarinen, has been revamped to become -- yet again -- the perfect place to appreciate your surroundings during a whirlwind travel day.

Met Store
Bring some great design home as a souvenir even if your trip didn't include enough time to visit the actual Metropolitan Museum of Art. The Met Store in Terminal 4 has a well-curated selection of gifts that scream "I went all the way to 82nd street to bring you a taste of metropolitan culture," not: "I got this at the airport."
JetBlue
Deep Blue Sushi
Grabbing a bite doesn't have to mean staring down the barrel of a disappointing to-go sandwich in a plastic container. Get yourself over to Terminal 5, because this sushi at the airport is anything but "airport sushi" -- and that's a very, very good thing.
Terrace and Wooftop
Take in the grand design and views of the city from the vantage point of Terrace and Wooftop at Terminal 5. Not only is it a great way to get some fresh air for yourself, but it's perfect for your pup, too.
American Airlines Admiral Club + Virgin Clubhouse
Most airport lounges require some kind of membership, but often offer guest access as well. If you're going to splurge on lounge access to relax after long hours in the air, we recommend the Admiral Club and the Virgin Club. Located in Terminal 8 and Terminal 4 respectively, these combine the peace and quiet with proximity to your gate that you want when you're at your wits' end.
OTG Management
LAGUARDIA
Biergarten
Get the Brooklyn experience in Queens. Stop by Terminal C to sample a beer list curated by Brooklyn Brewery brewmaster Garrett Oliver, and enjoy German-influenced sandwiches and small plates with your pint.
Eastern Concourse
Make your way to Terminal B to experience the dramatic changes made to LGA as part of its eight billion-dollar overhaul. We're talking new bathrooms, updated power outlets (more important when you're actually there, trust us), and even new seating areas designed to make you feel like you're in one of NYC's iconic parks.
XpresSpa
There's so much more than a chair massage in Terminal C. We're talking full-body massage, facials, waxing, and a real-deal hair salon. Get a 20-minute blowout and arrive at your next destination looking better than you left.
Mural at the Marine Air Terminal
There's something extremely New York about clambering through the hustle and bustle of a crowd, only to turn the corner and find yourself nearly alone, staring at some beautiful work of art. This is your chance before you take off: See this amazing art deco mural situated in the smaller Marine Terminal, opened in 1932.
Not every moment of travel can be smooth. But if you find yourself with more time on your hands than you expected at either one of NYC's esteemed airports, there's plenty to keep you busy and stress-free.