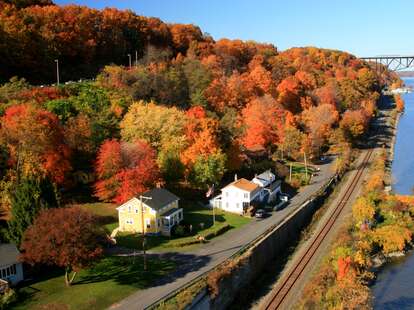 Poughkeepsie, New York

| Colin D. Young/Shutterstock
Poughkeepsie, New York

| Colin D. Young/Shutterstock
Along with the autumn equinox comes a nip in the air, sweater weather, apple picking, and of course, leaf peeping.
This time of year, there's a small window of opportunity to catch the changing leaves and their gorgeous canopies of color—and the most spectacular foliage scenery is typically hours outside of the five boroughs. So, escape the city and make an adventure of it with activities, culinary experiences, and top-notch lodgings for some well-needed nature therapy.
Here are the most beautiful places for fall foliage within 5 hours of NYC.
Tarrytown and Sleepy Hollow, New York
These neighboring towns referred to as TaSH are an easy reach from New York City. Sleepy Hollow might be famous for Ichabod Crane and the Headless Horsemen from Washington Irving's story, but it's also ideal for leaf peeping. The best spots to enjoy fall foliage are at the Old Dutch Church and Burying Ground erected in 1685, Sleepy Hollow Cemetery, and Tarrytown's historic Lyndhurst Mansion. From the mansion, the view of the Palisades and trees by the Hudson River is spectacular. For even better color, head to Rockefeller State Park Preserve in nearby Pleasantville where oak, maple, and beech trees contribute to its famous hues. Nearby, Rockwood Hall—a former Gilded Age mansion owned by William Rockefeller—commands views of the Hudson River and Palisade Cliffs where striking foliage is visible.
Places to eat: Hudson Farmer & The Fish in Sleepy Hollow for seafood with a river view; in Tarrytown, Goosefeather offers contemporary Chinese fare with flavors of Hong Kong; and Horsefeathers in Tarrytown is a go-to for pub-grub and boozy coffees, IPAs, and specialty beers.
Where to stay: Tarrytown House Estate on the Hudson steeped in Gilded Age elegance with modern amenities like ADA accessibility, tennis, swimming, and on-site acclaimed restaurant, Goosefeather; or Tarrytown's Westchester Marriott for modern American dining, amenities, and accommodations.
Other activities: Philipsburg Manor for the history of its Dutch colonialism and of the enslaved African lives that once toiled on its grounds; Tarrytown Lakes with its 3.6 miles of easy trail where you will be rewarded with fall foliage at an area that was once a drinking water reservoir for Tarrytown. For nature lovers, Rockefeller State Park Preserve is a must-see; go on a self-guided tour of famous vaults and graves that include Washington Irving, Rockefeller, Elizabeth Arden, and more at Sleepy Hollow Cemetery; and the TaSH Farmers Market to bring back fresh fruit and produce.
Distance from NYC: 50 minutes both by car or train; and 3 hours by bike.
Peak foliage: Second half of October
How to get there: By car, I-87 N and Saw Mill River Parkway; by train, board the Hudson Line to Tarrytown at Grand Central Station; and by bike, take the scenic route via the Hudson River Greenway.
Green-Wood Cemetery, Brooklyn
With their otherworldly ambience in a landscape of stone cherubs and gothic statuary, cemeteries also make for a great leaf peeping experience. And at Green-Wood Cemetery in Brooklyn—which dates back to 1838 and is renowned for its permanent residents like the artist Basquiat and conductor Leonard Bernstein—foliage can be seen in its spectacular arboretum (a dynamic living collection of trees). Within its 478 acres, the best spots are the Japanese maple trees on Vine and Cypress Avenues, around Dell Water, and ginkgo trees on Locust Avenue.
Places to eat: Housed in a converted gas station, the beer garden Greenwood Park for sandwiches, draft beer, and cocktails named Greenwood Shandy; Sea Witch tavern for its outdoor patio and pub grub like the Oyster Po'boy; and Baked in Brooklyn across Green-Wood has flatbread crisps, breads, breadsticks, and sandwiches.
Where to stay: There are many inexpensive chain motels directly overlooking the cemetery, but we suggest heading to EVEN Hotel in Downtown Brooklyn for its wellness offerings and mood-changing lights; or The Industrialist in historic Gowanus is in a renovated warehouse with micro-rooms and standard amenities.
Other activities: A trolley tour of Green-Wood for its nature and architecture, famous residents, and Battle of Brooklyn history; take a brisk walk (or quick subway) to Industry City in nearby Sunset Park for its food hall and bites at Japan Village; and view creators at work like Micol ceramics at Made at IC.
Distance from NYC: None! It's here in town.
Peak foliage: End of October through early November
How to get there: D, N, and R subway lines to 25th and 36th St stops; the D to 9th Avenue; and F or G to 15 St-Prospect Park.
Phoenicia, New York
Chances are you've heard of this city many times, or have been yourself. But there's one special activity here that you can't find anywhere else in the Catskills—or NYC, for that matter: Rail Explorers is a company that will rent you a rail bike for a beautiful ride on the old Ulster and Delaware Railroad that runs along the Esopus Creek. And yes, there are a ton of trees along the way. This will be a leaf-peeping adventure you're sure to remember—you can even pair the ride with a fancy dinner on the Grand Bellevue meal train.
Places to eat: The iconic Phoenicia Diner; Brio's for pizza; Woodstock Brewing for brews and bar food (and tacos!); and Public House at Urban Cowboy Lodge for a great night out with chef Jon Adair's locally sourced and veg-forward menu.
Where to stay: Our favorite is the boutique hotel Urban Cowboy Lodge and its cool city vibes and signature in-room clawfoot tubs; along with The Graham & Co. Hotel and Scribner's Catskills Lodge.
Other activities: Take advantage of the surrounding trails for hiking, running, or biking: Giant Ledge, Kaaterskill Falls, and Overlook Mountain are all great outdoor spaces to explore.
Distance from NYC: Two hours and 15 minutes by car
Peak foliage: Second half of September to early October
How to get there: Hop in a car and travel north on I-87 for a majority of the drive.
Cold Spring, New York
This is a popular spot for New Yorkers looking to take in fall colors, mostly due to its easy access by train. If you didn't bring hiking shoes, the best spot to take in the riverside foliage is at the gazebo overlooking the water at the very far end of Main Street. But if you're equipped with hiking gear and are looking for a challenge, trek up Bull Hill or the more advanced Breakneck Ridge for a closer peek at the fall scenes.
Places to eat: Hudson Hil's Cafe for brunch, Le Bouchon for French classics, or Cold Spring Depot for an extensive beer list.
Where to stay: Hudson River House Inn or Pig Hill
Other activities: If you don't feel like driving or hopping on public transportation, Seastreak offers leaf peeping boat tours starting in NYC and New Jersey, which will take you to Cold Spring (the views along the way cannot be beat). If you find yourself with downtime in Cold Spring, check out one of the many antique and specialty stores lining Main Street.
Distance from NYC: One hour and 15 minutes by car, two hours and 30 minutes by train
Peak foliage: End of October through early November
How to get there: Reach this quaint town by Metro North's Hudson line from Grand Central Station. By car, it's a relatively quick drive up Palisades Interstate Parkway.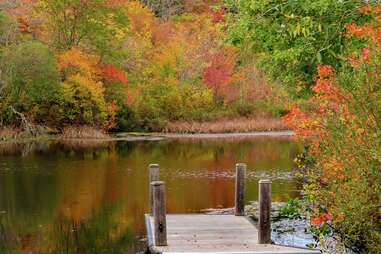 North Fork, Long Island
What's unique about experiencing fall in this 30-mile region that spans Suffolk County is the background of the Long Island Sound. Many locations on this list offer lakeside views, but the numerous bays located in the North Fork offer an entirely different fall atmosphere. Plus, visiting in the off-season after the summer beach goers have come and gone, makes for a more laid-back experience. It's also stacked with dozens of wineries harvesting grapes (depending on season), so it's an ideal moment to book a visit.
Places to eat: North Fork Roasting Co. for coffee and snacks, Little Creek Oyster Farm & Market for seafood, or Cliff's Elbow Room for local favorites like baked clams, a raw bar, and chowder.
Where to stay: Soundview Greenport located right on the beach (what more can we say?).
Other activities: By car, don't miss a joy ride along Peconic Bay Boulevard, a 12.5-mile stretch lined with parks and great views, and perfect for frequent leaf peeping breaks; tours and tastings of the North Fork Wine Region; Atelier Disset for workshops on chocolate painting (canvas of dark chocolate with "paints" of melted cocoa butter and food coloring).
Distance from NYC: One hour and 20 minutes by car
Peak foliage: Second half of October
How to get there: When it comes to driving out of NYC, it doesn't get much easier than this. Once you're out of the city, follow the Long Island Expressway east until you hit your destination.
Poughkeepsie, New York
There are a lot of stunning New York towns to visit during fall but only one of them has a footbridge that takes you across the Hudson River. Here, the surroundings include changing leaves and crisp air while heading across the 1.28-mile Walkway Over the Hudson to the neighboring town of Highland.
Places to eat: You'll find Lolita's Pizza at the entrance to the bridge, making it a great choice for a post-stroll bite and a cocktail. La Cabanita has a fantastic mezcal selection and is known for its authentic Oaxacan dishes (plus, it's housed in a converted church). Head to Farmers and Chefs for seafood and waterside dining.
Where to stay: There are a fair share of chain hotels in Poughkeepsie but look to an array of bed and breakfasts for added charm like the Journey Inn, a cozy place offering up traditional food like baked spiced pears and scones with crystallized ginger. For something a bit out of the ordinary, head to Wings Castle, a medieval-style bed and breakfast that looks more like a stereotypical spooky castle than an overnight stay.
Other activities: Art lovers can spend an afternoon at the Frances Lehman Loeb Art Center (a teaching museum on the Vassar campus) and Barrett Art Center, both of which house permanent collections and rotating exhibits. Head to Main Street and stroll through Main Mall Row, a series of storefronts that date back to the 1870s. Assuming you're after the best foliage views, don't miss Locust Grove Estate with its on-site museum and nature preserve that surrounds a stunning Italianate villa built in 1851.
Distance from NYC: One hour and 45 minutes by car; two hours and 10 minutes by train.
Peak foliage: Second half of October
How to get there: Hop on a Metro North Hudson Line train from Grand Central Station or an Albany-bound Empire Corridor Amtrak from Penn Station/Moynihan Hall. By car, head north on the Palisades Interstate Parkway and I-87.
Untermyer Gardens Conservancy, New York
Showcasing horticulture and amazing landscape design, the Conservancy in Yonkers preserves its original gardens that were cultivated by famed NYC lawyer and horticulturist, Samuel Untermyer. This free destination is ideal for New Yorkers on a budget looking for a day trip. The best spot in the Gardens to view changing colors is on the trees below the Persian Pool which turn shades of yellow and red.
Places to eat: With sparse dining options nearby, head to cozy La Lanterna Restaurant and Caffe for "Italian dining with a Swiss twist" and dishes like antipasti, pasta, and schnitzels; and Gianna's for thin-crust brick oven pizza.
Where to stay: There are many chain hotels in Yonkers but love yourself and stay at the Royal Regency Hotel for upscale accommodations and experiences from salsa nights to open mic comedy.
Other activities: You'll have to go further afield for activity so make time for Hudson River Museum and its Planetarium, science collection, art, and history. Don't miss a tour of the 1877 Glenview historic home featured in The Gilded Age on HBO.
Distance from NYC: One hour and 50 minutes by car; twenty to thirty-five minutes by train.
Peak foliage: Second half of October
How to get there: Hop on a Metro North railroad train from Grand Central Station or Harlem 125th Street station. By car, head north on FDR Drive and I-87.
Norfolk, Connecticut
Thanks to its rural location in the northwestern corner of the state, this small town in Connecticut is one of the first to see foliage changes. For the best sights, pack hiking shoes and head to some of the birds-eye views in the area: Campbell Falls, Haystack Mountain State Park, and Dennis Hill. There are trails for all hiking levels in the area and most walks are either surrounded by trees or high above the branches for a unique look into the surrounding counties and state line.
Places to eat: The Berkshire Country Store is a café/grocery store with a ton of homemade options and the perfect spot for picnic supplies. For affordability, head to The Norfolk Pub for platters of PEI mussels, French onion soup, and an assortment of burgers.
Where to stay: Manor House Inn or Blackberry River Inn
Other activities: Catch a live show at the Infinity Music Hall (and hit up the Bistro before and/or after), stroll the galleries at the Artisans Guild, take in the sights at Haystack Mountain State Park, or brush up on local knowledge at the Norfolk Historical Museum.
Distance from NYC: Two hours and 20 minutes by car
Peak foliage: Early October
How to get there: Hop in a car and head north east on I-84. The drive is pretty straightforward and especially beautiful as the leaves change.
North Adams, Massachusetts
Located on the Northwest corner of The Berkshires, North Adams offers up the perfect mix of small-town charm with outdoor excitement. This city is the smallest in Massachusetts and you won't run into the same crowds during peak foliage season that are common in larger hubs.
Places to eat: Bounti-Fare Restaurant has an extensive yet affordable menu; woman-owned Nara Sushi offers sushi and Korean dishes like Bulgogi and Bibmbap; and choose from Bright Ideas Brewing's many pints.
Where to stay: TOURISTS is a 48-room boutique hotel located in the heart of North Adams. This is a great spot for newcomers to stay, since the hotel has an adventure coordinator offering private hikes along the Appalachian Trail, fly-fishing expeditions, and waterfall meditation sessions to guests.
Other activities: With the Berkshires in your backyard, don't miss out on biking the Ashuwillticook Rail Trail or exploring Clarksburg State Park. For a view of the state's best span of fall foliage, head to Mount Greylock, which allows you to gaze up to 90 miles in every direction.
Distance from NYC: Three hours and 30 minutes by car
Peak foliage: Late September to mid October
How to get there: While it is possible to make your way to North Adams by public transportation, it will take 14 hours with multiple bus transfers. The best way is by car, which also offers a beautiful ride up the Taconic State Parkway during fall.
Saratoga Springs, New York
The best part about visiting Saratoga Springs in fall is the beautiful changing leaves seen within the city limits and in the surrounding woods. Congress Park is in the heart of the city and is a great picnic spot with mineral springs and a historic wooden carousel. Head to the trails in Skidmore's North Woods, a 150-area park with trails that range ¼ mile to 1-mile long and are great for beginners or casual leaf peepers.
Places to eat: Hamlet and Ghost (an old gambling den-turned-restaurant!), 15 Church in a restored historic building for seafood and steak, or Hatties (a local fried chicken institution)
Where to stay: For something super hip, check out The Downtowner, a modern take on a motor lodge hotel that's a nostalgic thrill.
Other activities: The best views Saratoga County has to offer can be found in Saratoga Spa State Park. Bring or rent a bike and bust away from fellow nature enthusiasts for some quality (read: quiet) time.
Distance from NYC: Three hours and 30 minutes by car
Peak foliage: Second and third weeks in October
How to get there: Located in the Southern Adirondacks, Saratoga is best reached by car. Follow the Hudson River north along I-87, which promises some beautiful views.
Salem, Massachusetts
Salem is a great spot for both spooky fall vibes and beautiful foliage. In October, the city goes into full Halloween mode with haunted tours and themed boat rides, but expect major crowds. On a good year, Salem welcomes hordes of visitors from all over the country so be sure to book any accommodations in advance.
Places to eat: The Howling Wolf Taqueria for specialty tacos, Adriatic Restaurant and Bar for brick-oven pizza, and the Gulu Gulu Café for coffee and snacks.
Where to stay: The Merchant or Hotel Salem
Other activities: Every October, the city of Salem hosts the month-long Haunted Happenings celebration. Expect ghost tours, a psychic fair, witches' market, live storytelling, and special museum exhibits.
Distance from NYC: Four hours by car
Peak foliage: First half of October
How to get there: Driving is the most efficient way to get to Salem, following I-95 north of Boston.