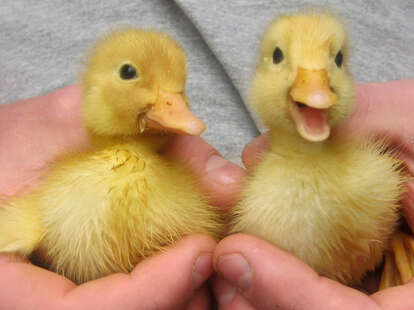 Courtesy of Stone & Thistle Farm
Courtesy of Stone & Thistle Farm
Work the Land
Stone and Thistle Farm
East Meredith, NY

Sure, the 1863 Greek revival farmhouse that you can sleep in is farmy enough. But waking up to a full farmer's breakfast (eggs straight from the chicken and bacon straight from the pig… albeit more painfully) and doing a full day of manliness-verifying work, like shepherding a real flock? That's the real deal.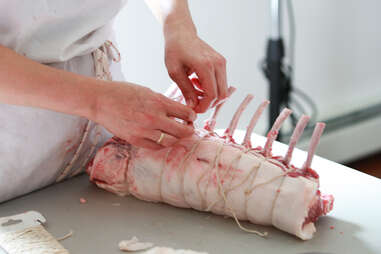 Learn to Be a Butcher
Wyebrook Farm
Honey Brook, PA

Aside from farm-fresh and seasonal dinner prepared in a converted barn, you can also attend one of this farm's periodic "full pig butchery" classes, which is one step beyond that "full pig eatery" demonstration you keep giving at cookouts.
Take Home a Duck
Woodstock Farm Animal Sanctuary
Woodstock, NY

After a thorough vetting process conducted by the Animal Sanctuary, of course. Once you're cleared, these folks will let you walk away with a chicken (omelets for days) or something a bit more specific, like a Moulard Duck (pictured right up there). Because nothing impresses apartment visitors like a Friends­-esque pet situation.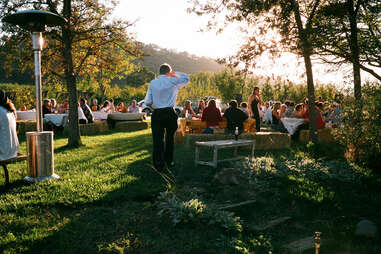 Eat at a Super Secret Supper Club
Highlands Dinner Club
Selectively Disclosed Locations in CT, NJ, and More

The Highlands Supper Club throws secretive dinner parties across the city, but they also set up shop at vineyards, estates and, yes, farms throughout the tri-state area. Join their list, bribe a well-connected friend, stalk their Facebook, or otherwise do what you gotta do to get on this list. Because the only thing tastier than food on a farm is secret food on a farm.
Learn to Make Your Own, Well, Everything
Flint Hill Farm
Coopersburg, PA

Hand-pulled mozzarella? Canning tasty fruit concoctions? Horse riding lessons? This joint has DIY farm classes on lock. Pay a visit and return home with the apocalypse preparedness skills needed to ride out a tragic mozz shortage.
Enter a Horse/Ox Plowing Competition
Howell Farm
Lambertville, NJ

With a honey-harvesting apiary, an authentic blacksmith shop, and an open-to-the-public horse-and-plow competition, this place has farmstead badassery on lock. And while this year's display of dirt-displacing glory just passed, you're gonna need all year to train for next August. So head over to Howell and get your chops ready.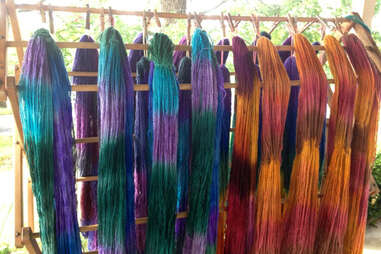 Get Started on Making Your Own Mohair Suit
Steam Valley Fiber Farm
Trout Run, PA

Yes this place calls itself a fiber farm, but that's not actually that irregular these days (that's a little fiber joke)! These guys teach the ways of rustic-as-hell yarn spinning, fabric fabricating and, yes, mohair making. Elton John would be proud.
Take a Cheese Road Trip
The Finger Lakes Cheese Trail
Finger Lakes, NY

What's better than a farm that lets you chow down on artisan cheese? Two of them. What's better than two? Twelve. Make the rounds of what is awesomely dubbed "The Finger Lakes Cheese Trail" and you'll feast on an arsenal of artisanal cheddar mere yards from the cows that gave it to you.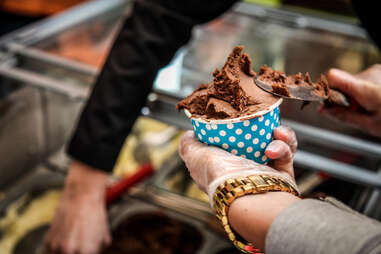 Score the Freshest Gelato Ever
Lazy Crazy Acres
Arkville, NY

How does a full summer's worth of Saturday nights downing pizza and gelato sound? Pretty great, especially since it's all (at this point, duh) farm fresh. How fresh? Those clever scamps at Crazy Acres say their cool creations are "cow-to-cone". Solid wordsmithing right there.
Go-Kart Like the Flintstones
Heaven Hill Farm
Vernon, NJ

How can you not go to something called the "Action Fun Farm"? Aside from an epic corn maze and something called a "straw crawl course", Heaven Hill features grass-track pedal go-karts. Yep, go-karts finally powered by your high-adrenaline need to beat small children at things.