While you could plan a three-week-long road trip across the country this summer, let's be honest: No one has the patience (or vacation days) to be in a car that long. So, we decided to map out a perfectly doable trip you could pull off in a weekend from New York, making enough stops on the way to Saratoga Springs to feel like a legit adventure -- even if it's just a tiny one. From sculpture gardens to tubing in the Catskills, here's everywhere you should hit up.
FIRST, STRETCH YOUR LEGS
When taking a road trip from Manhattan, the general rule of thumb is that you do not stop until you cross a bridge or tunnel. We're making an exception for the Bronx's Van Cortlandt Park, one of the most overlooked parks in the city, and it's right along our route. With thousands of acres of green space, rolling hills, and hiking paths, even a quick 10-minute walk through the park will feel like you're already a world away from the hustle and bustle -- even though you're just a half hour out.
TOUR A HISTORIC (AND KINDA CREEPY) CEMETERY
The Legend of Sleepy Hollow and the infamous Headless Horseman are worth nerding out over, even when Halloween is months away. And besides being home to Washington Irving, the village of Sleepy Hollow has plenty of other famous residents such as Elizabeth Arden, Andrew Carnegie, and William Rockefeller -- and they are all buried at Sleepy Hollow Cemetery. While taking a pit stop at a cemetary may seem a little, well, creepy, not doing so would be like going to Salem and not checking out a witch museum, or seeing New Orleans without checking out a voodoo shop. That's especially true because this historic cemetery is home to 18th century "death's head" tombstones, ornate mausoleums, and is set on a Hudson Valley hilltop that's so pretty, you'll forget about the macabre backdrop.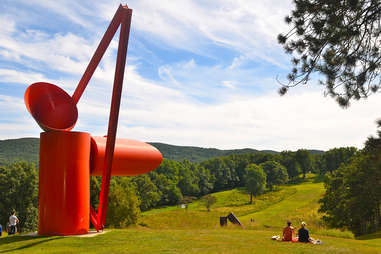 TAKE A QUICK HIKE THROUGH A SCULPTURE GARDEN
The Hudson Valley was pretty enough to inspire an entire school of artistry, so it's no surprise that today it's the setting for several art exhibits and sculpture gardens. On your way to Saratoga, you'll pass Storm King, the 100-acre Hudson Valley sculpture garden that is on the bucket list of most New Yorkers. If you've already hit that up, though, Opus 40 in Saugerties is the stop for you. This 6.5 acre sculpture garden was made from the ruins of an old rock quarry, created by a single artist: Harvey Fite. It's nestled in the Catskills forests, and its epicenter sits three stories above ground, giving you prime views of the mountains.
TAKE A DIP IN ESOPUS CREEK
Besides being scenic and peaceful, the Catskill mountain town of Phoenicia, NY, is known for its tubing adventures. So if you're in the mood to cool off during your trip, get your float on in this Catskills creek while on your way to Saratoga. Esopus winds through 65 miles of mountains and packs some easy rapids along the way. Not in the mood to tube? This area also has some of the best fly fishing in the country -- so you could even catch tonight's dinner before getting back on the road.
HIT A FARMER'S MARKET IN THE MIDDLE OF THE CAPITAL REGION
If your Esopus fishing expedition was unsuccessful, we've still got you covered. The Troy Waterfront Farmers Market takes place on the edge of the Hudson in Troy, a small urban center that borders Albany. Here, there are more than 100 local farmers and vendors offering the best in New York state produce, plus local coffee roasters, baked goods for puppies, and live performances from local acts. It's been going on for more than 18 years, and helps support local farmers upstate. The market is hosted every Saturday from 9am to 2pm, so if you hit a little traffic getting out of the city, you won't have to rush.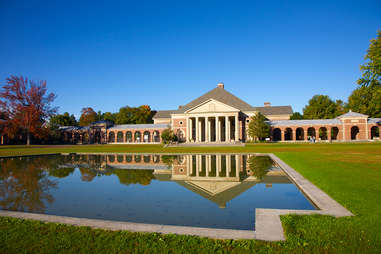 RELAX IN SARATOGA'S NATURAL MINERAL BATHS
They don't call it "Saratoga Springs" for nothing, and after all that driving, you probably feel like freshening up. The mineral waters that run through the historic Saratoga Spa State Park are naturally bubbly and were first preserved by Franklin Roosevelt in the '30s. Today, several spas in the city use the waters for their treatments and baths. You could also take a dip in one of the state park's public pools -- or even get a literal taste of the waters at any of the 21 spring tasting spots throughout the city. With the cash you've saved, you could even start planning your next trip back.