The New Jersey Festival of Ballooning

| Photo courtesy of The New Jersey Festival of Ballooning
The New Jersey Festival of Ballooning

| Photo courtesy of The New Jersey Festival of Ballooning
Along with Cappadocia and Albuquerque, add Central New Jersey to your list of hot-air balloon hotspots.
Every year, the town of Readington hosts the largest summertime hot-air balloon festival in North America, and the 2023 event from July 28-30 at Solberg Airport marks the New Jersey Lottery Festival of Ballooning's 40th anniversary.
The festival is renowned for having hot-air balloons from all over the world dotting the Central New Jersey summer sky with an array of colors and shapes. Some of this year's Insta-worthy showstoppers include an 86-foot-tall Darth Vader; 62-foot-tall Yoda; 70-foot-tall replica of the first hot-air balloon flight with a sheep, duck, and rooster as its first passengers; and a 65-foot-tall, 750-pound bright pink Lucky Pig from the New Jersey Lottery.
There will be 100 hot-air balloons ascending into the sky (weather permitting) for the experience of "Love at First Flight," where flights will be at 6:30 am and 6:30 pm for the entirety of the festival. Rides cost $275 per person in the morning and from $325 per person in the evening and you can book balloon rides here.
In addition to balloons, this annual event is also a music festival with 2023 headliners like KC and the Sunshine Band and Fitz and the Tantrums. Attendees can also expect a Cash Pop stage with tribute bands for the Grateful Dead, Stevie Nicks, and an all-female Led Zeppelin group. Plenty of family-friendly programming includes artist Laurie Berkner, recognized as the "queen of kids' music," as one of the headlining musical acts.
In addition, there will be a light show of 300 drones on Friday and Saturday night at 9:15 pm, which will replace the single night of fireworks that have been set off for decades. This is part of the festival's commitment to reducing its environmental impact.
Where: Solberg Airport, 39 Thor Solberg Road, Readington, NJ
Get There: 1 hour by car from NYC via I-78 W
1 hour 10 minutes from Philadelphia via I-95 N
4 hours 30 minutes from Boston via CT-15 S
Cost: Adults: $32-$139; Children 4-12 years: $12-$15; Children ages 3 and under are free.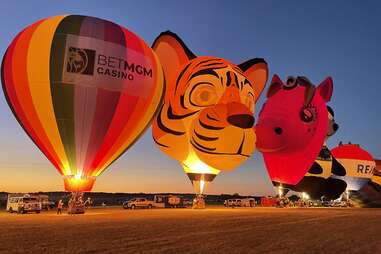 Where to eat near Readington Township, NJ
There are no restaurants within close proximity of Solberg Airport, so drive 20 minutes on US Hwy 22 for eateries like Stoney Brook Grille serving New American fare or Uncle Vinnie's Clam Bar for seafood and Italian dishes. South of Solberg Airport on Route 202 is Spain 92 for Spanish fare and slightly further out is Silli Point Indian Restaurant.
Things to do near Readington Township, NJ
Let's be honest: the New Jersey Lottery Festival of Ballooning is the main summertime attraction in Readington, so any other meaningful activity is thirty minutes away. If you're into historical details and unique finds, head to Red Mill Museum Village in Clinton on ten acres of land with a grist mill, log cabins, smithy, and other historic buildings. The museum is celebrating its 60th anniversary with historical exhibits and past ones include a vintage radio collection and WWI memorabilia.
Where: 56 Main Street, Clinton, NJ
Get there: 20 minute drive via US-22 E
Cost: Adults are $12, Seniors and Children under 12 are $8
If touching grass and returning to nature after a day of head-bangers and ballooning is necessary, Duke Farms is a serene option. It's an historic estate with outdoor activities, workshops, and natural habitats. Also, it's women-owned, ADA compliant, LGBTQ+ friendly, and has public bathrooms and picnic tables—what's not to love?
Here, you'll find the Orchid Range—a tropical greenhouse oasis of plants native to the United States; Great Falls of tiered, cascading waterfalls down the side of the Duke Reservoir (the falls are human-made so they're timed in the summer and turned off in the winter); an outdoor marble sculpture gallery; and over a thousand acres of land to explore and engage the farm's natural habitats, native flora and fauna, and sustainability efforts. Try a fun summer event and bike rentals are available to explore the area.
Where: 1112 Dukes Parkway West, Hillsborough Township, NJ
Get there: 20 minute drive via US-202 S
Cost: Visiting is free but a parking pass is required for Saturday visits from April to October.
Where to stay in and around Readington Township, NJ
In addition to chain hotels like Towne Place Suites by Marriott Bridgewater and Homewood Suites by Hilton Bridgewater, opt for nearby Airbnbs like a luxurious 14-acre farmhouse in East Amwell, 2-bedroom apartment in the heart of downtown Somerville, or beautiful renovated carriage house in Flemington.