In a matter of weeks, The City That Never Sleeps became The City of Empty Streets as a series of mandates from authorities slowly shut down the town, eventually forcing the closure of non-essential businesses and banning gatherings of any size. Nobody is immune to the pervasive impact of COVID-19, but New York City's LGBTQ+ population has been hit particularly hard. Mass layoffs in several queer-backed industries and scaled-back services at vital LGBTQ+ organizations have put an already vulnerable community at greater risk.
NYC queers understand the importance of community better than most, and the current crisis desperately demands the togetherness that we've learned to foster. If you have the means to help other LGBTQ+ New Yorkers in need right now, these are the best ways to do it.
Virtually tip your favorite bartenders, performers, and queens
The entire nightlife industry has been put on hold in NYC, but that hasn't stopped entertainers from finding ways to adapt. Social media is the COVID-era nightclub, hosting drag competitions, concerts, comedy shows, and dance parties to give quarantined queers a virtual night out (and make some coin in the process).
Queer venues like Club Cumming have continued their programming online, with resident performers hopping on livestreams to continue their weekly shows. Take Cat Cohen's "Cabernet Cabaret," a comedy favorite in the LGBTQ+ community, which now streams Wednesdays at 8pm on Cohen's Instagram with a rotating lineup of comedians. Each week, she's choosing a different charity as part of her #CabCabCares campaign that people can donate to in lieu of the regular cover charge.
Local drag queen Rosé started using her performance skills to connect with fans who show her love on Venmo. You can send her $1 for a compliment, $5 for a compliment in the form of a rap that's delivered through Instagram, $10 to get the rap posted on her Instagram story, and $15 for her to record the rap bearing some skin and the accent of your choice. Trans actress and cabaret performer Barbra Herr launched her own Facebook Live series "Stress Relief" that airs on Saturday nights at 8pm, where she sings or lip-syncs whatever the audience requests, accepting Venmo and CashApp tips along the way.
J.W. Harvey, who bartended at Elmo before the shutdown, has also found creative ways to turn social media posts into profit. He started showing his followers how to make cocktails at home by going live on Instagram and posting to his stories, leaving his Venmo handle visible for anyone who felt inclined to virtually tip. When he's not shaking martinis, Harvey is an actor and a writer, and he's been using those skills as well to make creative bar-themed videos for his Instagram feed that offer lighthearted entertainment from a familiar face.
Of course these entertainers aren't the only ones adjusting to nightlife's new digital sphere -- check in with all of the performers you love to see how they're carrying on during the shutdown, and consider "tipping" your favorite bartender or server on Venmo any time you mix yourself a drink or cook a nice meal.
Stock up on merch
If you love something, why not wear your heart on your sleeve? Drag queens have merch, comedians have merch, Broadway shows have merch, bars and restaurants have merch -- all your favorite performers, performances, and performance venues probably have merch, and now's the best time to get it.
Some of the best LGBTQ+ bars in the city have online stores, including Flaming Saddles, Henrietta Hudson, Stonewall, and Club Cumming. All Broadway productions have been put on hold, but their digital gift shop carries on. Seek Treatment -- the inherently queer podcast about boys, sex, f***ing, dating, and love -- sells T-shirts with the hosts' best catchphrases. And many local drag queens have their own merch lines that you can find through their social media pages or websites.
Shop online from queer-owned businesses
While you're on the web, support queer brick-and-mortars that are relying on internet sales to get through the shutdown. Crown Heights gift shop and home goods store Fredericks & Mae has an extensive online collection, as does intersectional feminist witch shop Cult Party and women-friendly sex store Babeland. The BGSQD bookstore started a system to ship books to customers until they're able to reopen. Queer Candle Co., an Artists & Fleas vendor that donates 10% of its profits to the Sylvia Rivera Law Project, has continued to sell homemade soy wax candles online; and while Housing Works, the NYC organization aiming to tackle the dual crises of homelessness and AIDS, had to close its thrift shops and bookstore cafe, they've amped up their online inventory for people who can continue supporting their mission.
Digital-only shops will also need your support during the forthcoming recession. Gay Apparel sells gender-neutral tops that say "GAY" in the style of the highly recognizable "GAP" shirts. The Phluid Project, formerly located in NoHo, now runs an exclusively online operation focused on gender-free fashion. Project Runway alum Hester Sunshine makes her custom couture accessible at her online shop Sunshine by Hester. NYC portrait photographer Warren Giddarie sells sexy calendars, prints, and apparel on the Fluorescent Studio site. And of course, there are plenty of queer-owned Etsy shops to browse through in addition to the based-out-of-NYC businesses.
Order takeout and delivery from queer eateries and cafes
While NYC's restaurants have taken a huge hit as a result of social distancing, many have been able to stay open by pivoting to delivery and take-out only. One of the best ways to support eateries that are still trucking along in the midst of the pandemic is by ordering meals from them as often as your budget allows.
If you have a favorite LGBTQ-backed restaurant, check in and see which of their services are still available; if you don't, here are some options: In Hell's Kitchen, Etcetera Etcetera is boxing up its Italian fare, Kahve Coffee's two locations are offering takeout, and Huascar & Co. Bakeshop satisfies sweet tooths with takeout and delivery services. Fonda's renowned Mexican food & margs -- found in Park Slope, East Village, and Chelsea -- can be ordered for takeout or delivery through any of the major apps.
Buy gift certificates to your favorite queer spots
Purchasing gift certificates from the places whose doors are locked indefinitely helps the owners get some sort of income while they wait to reopen. Buy them for friends or get them for yourself -- when the quarantine orders lift, you'll have a little treat to cash in.
Most restaurants have gift cards or certificates available for purchase on their websites, but the practice extends beyond the food and drink industry. For example, gay-owned salon Hawthorne allows you to buy e-gift cards for a specific stylist, and radical bookstore Bluestockings sells gift certificates in addition to the products in its online store.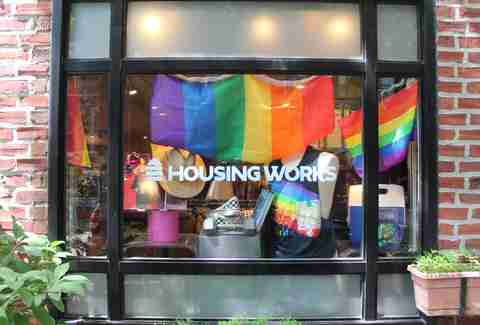 Support vital LGBTQ+ organizations
The city's shutdown poses a great challenge for organizations that help the LGBTQ+ community thrive. Queer populations are already at heightened risk of complications with COVID-19, and without New York City's life-changing and life-saving nonprofits, the community would lose the support needed to stay healthy and connected.
The Center is continuing to help LGBTQ+ folks get medical attention, mental health support, legal aid, housing assistance, and other vital services. Help fund their operations by donating online. Other queer health centers that rely on donations, like Callen-Lorde and Housing Works Community Healthcare, are doing their best to offer services to patients in a way that minimizes the spread of COVID-19.
The Transgender Law Center is hosting a series of virtual community gatherings about the coronavirus crisis to help educate people and share important resources. If you're unable to participate or feel that it's not the right space for you, TLC accepts online donations as well. SAGE is currently offering grab-and-go meals, phone support, virtual classes, and a 24/7 hotline to LGBTQ+ elders in NYC -- one of the highest risk groups in the nation. Recommend their services to the elderly people in your life, and support their life-saving work with a financial gift.
Some individuals have also taken to grassroots fundraising that goes straight to the pockets of people in need. NYC native Indya Moore, best known for playing Angel Evangelista on Pose, is using their platform to raise money for the most vulnerable members of the LGBTQ+ community, prioritizing black trans and queer folks. People are sending Moore money via the Cash App, and Moore is redistributing every dollar earned to people in need right now. To nominate someone whose resources are dwindling, send their Cash App username to Moore on Instagram.
Sign up here for our daily NYC email and be the first to get all the food/drink/fun New York has to offer.