How to Support the LGBTQ+ Community in NYC During Pride
From events and organizations to restaurants and performers, you can make a difference.
NYC Pride

| lazyllama/Shutterstock
NYC Pride

| lazyllama/Shutterstock
Pride Month is a triumphant time in New York City, home of the original gay liberation movement and the first LGBTQ+ Pride March. Last June—just one year after hosting dozens of WorldPride events to commemorate the 50th anniversary of the Stonewall Riots—New Yorkers tabled the usual Pride celebrations amid the pandemic and shifted their focus toward lifting up struggling queer businesses and protesting police brutality against BIPOC communities.
In 2021, the world is beginning to resume business as usual, but there are still plenty of ways that you can tap into the true spirit of Pride and use June as an opportunity to support the queer community at large, no matter your orientation and gender identity.
We compiled a list of businesses, organizations, events, and performers to turn your attention toward this Pride Month in order to make the biggest impact in NYC—now get to work!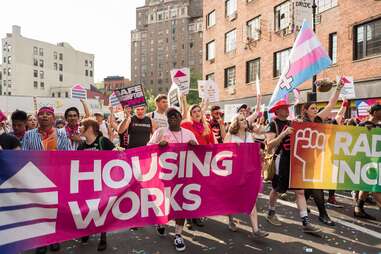 Support vital LGBTQ+ organizations
Since the dawn of the queer liberation movement, nonprofits have played a central role in helping LGBTQ+ people of all ages thrive, and today, they are no less important. This Pride Month, ensure that future queer people have access to the resources they need by donating money or time to one of NYC's most impactful organizations.
Even in the 21st century, LGBTQ+ people are far too familiar with health care discrimination. Fortunately, New Yorkers have access to affordable non-profit health clinics that offer inclusive and affirmative care for gay and trans people seeking a safe space. Health organizations like Callen-Lorde, APICHA, and the Gay Men's Health Clinic stay afloat in part thanks to volunteers, advocates, and financial donors.
According to the Ali Forney Center, up to 40% of NYC's homeless youth identify as members of the LGBTQ+ community. The AFC exists to help lower that percentage, offering housing and meal assistance to several homeless youth each year thanks to volunteers and food and clothing donations. Similarly, Housing Works is able to tackle the dual housing and AIDS crises with help from donations and retail sales.
The Center is a community hub for LGBTQ+ people seeking support and connection, with an added focus on empowering youth who are still getting comfortable with their gender or sexuality. On the flip side, SAGE NYC specializes in queer elder care, a model that's gained added importance amid a dangerous pandemic.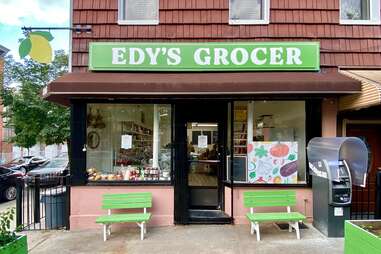 Go out to queer-owned restaurants and bars
LGBTQ+ restaurants and bars have always deserved our business, but following the devastating COVID-19 pandemic, many surviving spots are hanging on by a thread. Pride Month is the perfect opportunity to give queer-owned establishments a much-needed financial boost—and have fun doing it.
NYC is one of the best cities for gay nightlife, with seemingly endless bar options that each offer a different experience. Four particularly monumental bars that have teetered on the edge of shutting down over the past year could use your help: Julius', the city's oldest gay bar and home of the history-making "Sip-In"; The Stonewall Inn, where the gay liberation movement started; and Alibi Lounge and Lambda Lounge, some of the only Black-owned queer bars in the city.
On tame days when you're just looking for a bite to eat, you have a wealth of LGBTQ+ restaurants to choose from that need your business. Order American fare at Elmo, Mexican meals at Fonda, signature bowls at Blue Park Kitchen, New Mexican (the American state) burritos and more at Ursula, cafe food at Foster Sundry, Lebanese dishes and goods at Edy's Grocer, or Italian plates at Via Carota.
Want coffee and a treat? Find espresso at Odd Fox in Greenpoint and Bed-Stuy or Kahve Coffee in Hell's Kitchen. Then, head to a queer bakery. Tip: A Cupcake Wars-winning pastry chef runs Huascar & Co. Bakeshop in Midtown, and some of the best chocolates in NYC are found at Li-Lac's two Lower Manhattan locations.
Always tip your performers and queens
At some point in your Pride endeavors, you may find yourself at a drag brunch, nightclub, concert, or other live performance. After a year of little-to-no live performances in NYC, entertainers are banking on Pride Month for a much-needed financial lift, which brings us to a lesson you hopefully already know: Always, always tip your queens.
If a drag queen or go-go dancer starts performing at the bar you're in and you don't have cash on hand, slip out and grab cash or find another spot to drink. Cover charges and ticket costs don't excuse you from tipping.
If you're enjoying an entertainer's art, regardless of the circumstance you're in, you should tip. It's common courtesy, and they worked hard to earn it. (Note: This also applies to bartenders, servers, baristas, and anyone in the service industry who makes your Pride experience more enjoyable.)
Participate in Pride events around the city or from your couch
One of the coolest parts of Pride in NYC is seeing thousands of people from all walks of life gather to celebrate a historically oppressed group. Pride events are straight-up fun, but they also play an important role in showing struggling queers that they're supported and sending a message to the greater community that bigotry isn't welcome here.
A broadcasted version of the iconic NYC Pride March and a grassroots, in-the-streets Queer Liberation March are happening on the final Sunday of June again, but there are various events throughout the month—both virtual and IRL—to enjoy prior to the grand finale.
Attend a march celebrating Black and Asian LGBTQ+ communities at the Blasian March on June 5. Join Brooklyn Liberation on June 13 for their follow-up event to last year's march for Black trans lives. Round up the little ones in your life for an age-appropriate and queer-affirmative digital film screening during NYC Pride's Family Movie Night on June 17. Go biking during the OutCycling Pride Ride or jogging during the Frontrunners Pride Run. Continue to advocate for Black trans lives and pay respect to victims of the Pulse nightclub shooting at this year's Pride Rally on June 25. Enjoy a street fair in the Village with PrideFest on June 27. If you're still looking for activities, check in with your favorite clubs and venues to see what they've got on the calendar.
Educate yourself & show solidarity
The beauty of the LGBTQ+ community is how much diversity it houses. That said, no two queer experiences are the same, and it's important to recognize that allies and queer people alike always have growing to do. You may identify as queer, or have a friend who does, but that doesn't mean you know what all LGBTQ+ people are going through.
This Pride Month, open your ears and hearts and educate yourself on LGBTQ+ history and the challenges that queer people endure every day. Tune into panels and seminars during NYC Pride's three-day Human Rights Conference, watch impactful international theater at the Criminal Queerness Festival, and roam the High Line after June 21 to get a look at modern-day ballroom culture with The Center's new photography exhibit, Visions of Pride: Paris Is Still Burning.
You can also push society forward with small actions that aren't limited to Pride Month. Rather than slapping a rainbow banner on your profile photo during June, permanently add your pronouns to social media bios and put them in your email signatures. It not only helps people address you properly, but gently dismantles stereotypes and binaries by reinforcing the idea that pronouns shouldn't be assumed.
Sign up here for our daily NYC email and be the first to get all the food/drink/fun New York has to offer.