The Best Spots to Hike in NYC, According to Hood Hikers' Jasmine Guadalupe
Your Timbs are ready to find nature.
Advertiser Content From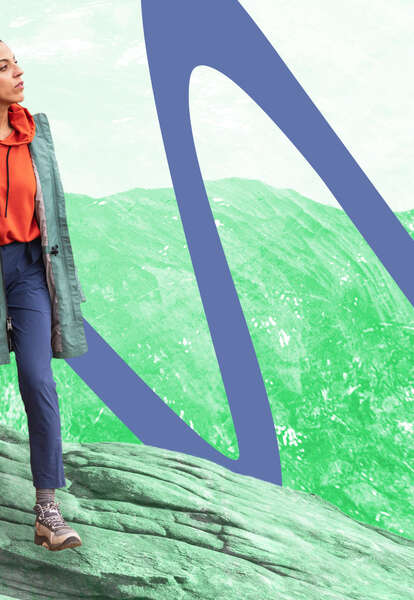 Photo: courtesy of Timberland; Design: Samantha Shin/Thrillist
Photo: courtesy of Timberland; Design: Samantha Shin/Thrillist
New York City is known for its bright lights, lively nightlife, and diverse communities, so it might not be the first place you'd think of when you're looking to get in touch with nature. However, we're here to tell you: don't sleep on the greener side of NYC.
To take a closer look at some of the best hiking locations within NYC, we linked up with Timberland, because really, what's more New York than a Timberland® boot? The brand's eco-friendly GreenStride™ collection is designed to bring comfort and style to city streets and hiking terrain (plus they're eco-friendly, made with 75% renewable materials). Timberland has also partnered with hikers who are giving urban communities a new perspective on seeing The Great Outdoors, including certified hiking guide Jasmine Guadalupe from The Hood Hikers, an outdoor adventure community that helps create safe spaces for Black and Brown people to explore nature around the city.
Alongside Guadalupe's professional qualifications, she has experience living and hiking in the forests of upstate New York, too. She now brings her knowledge and love for the outdoors to urban areas for others to enjoy. "When I'm enjoying nature in the city, I just feel like I'm on a break," she says. "Like it's a little city break from the mayhem and the chaos that's going on, even though you're right in the middle of it."
To get the inside scoop on where Guadalupe likes to take her Timbs, check out her favorite spots to hike amid the city's blocks:
The Bronx has a few hidden gems when it comes to getting in touch with nature and Fort Tryon Park is one unique spot you don't want to miss. The Fort Tryon Park Trail actually runs through two parks —Fort Tryon and Inwood Park. The entire trail is beginner-friendly, though Guadalupe does note that the Inwood section of the park is on a bit of an incline, so boots that are built to take on tough terrain — like the Timberland® GreenStride collection — will definitely come in handy. She also highlights that since the trail runs through two parks, you will see the perfect balance of city and nature views. "You get the urban effect and then you get the park and green space and wooded area," Guadalupe says. "You get a little bit of everything." Plus, you can't forget the incredible views of the Hudson River and the Cloisters, which have their own rich history.
Riverside Park and its 400 acres of parkland go from West 59th Street to West 181st Street, so it's definitely worth a trip uptown. The landscape has rocky precipices (make sure you're wearing a boot with a good grip sole, like Timberland® GreenStride), sylvan lawns, and groves of mature elm trees that are perfect to relax under on a sunny day. "That's another one that has beautiful views," Guadalupe says. "Especially for a sunset hike. Or a sunset picnic. The sunsets over there are gorgeous." You'll also get a chance to see the man-made shoreline and promenade. However, to get to both you'll need to trek down three steep levels, so beginner hikers should be extra cautious on this one.
Central Park isn't all tourists and marathon runners. "Central Park is another good spot that has the hidden gems where you can get that city effect, that community vibe, where people are playing music — especially closest to Harlem," Guadalupe explains. "And then you go into The Ramble and it's very serene. It's very quiet. Even some portions of the trail, there won't be anyone out there." The historic park includes seven easy hikes and a few more difficult trails that span from 29 to 285 feet in elevation gain. For an easy, breezy hike, definitely look into the Jackie Kennedy Onassis Reservoir Running Path, the North Woods Trail, East and West Drive Loop, and Central Park Outer Loop.
Guadalupe says it best: "Roosevelt Island is really a little treasure in the city." If you haven't visited, here's your sign to do so. Named after America's 26th president, Roosevelt Island sits in the East River between Manhattan and Queens. The 139 acres include two miles of nature trails that feature a 360-degree panoramic view of the city. "You're getting all city views, but not city traffic and city noise," she adds. Sit anywhere on the long spreads of grass or by the water, both are amazing choices with little to no city sounds to crowd your thoughts.
Take a trip to Brooklyn to hike the 3.6-mile loop trail that features a hidden lake — typically filled with ducks — tucked away from the main areas of Prospect Park. This trail offers a number of fun activity options too, including tennis, ice skating (during the colder months), soccer, fishing, and volleyball. "It's not too elevated, so it's more of a serene walk in the park," Guadalupe says. "These places are really good for that city break. Take a break, center, pause, reset." It's also an area heavily populated by dog owners, so the pups will be all around (on leashes per the rules).
Another hiking gem out of The Bronx is Van Cortlandt Park Trail. The trail is a 9.9-mile loop that features a beautiful lake and horse stables. While this park is doable and safe for all skill levels, there are no markers in the area, so keeping an eye on your surroundings is extremely important. "You're definitely deep in the woods on this one," Guadalupe warns. "People have gotten lost, so you'll definitely want to be careful. Make sure you know where you're going." For this reason, she also advises having your phone charged up when you visit.
If you're up for a quick road trip, take a drive just an hour north of The Bronx, near Garrison, to check out Arden Point and Glenclyffe, one of Guadalupe's favorite hiking locations. "What's really amazing about this hike is that it has so many different terrains," she says. "There's this hidden bamboo oasis that makes you feel like you're in the tropics or something. It's so cute. It'll make you go, 'I'm in New York?'" The 3.8-mile loop trail is perfect for any skill level, though there are steep areas to look out for. The added bonus is the view of a waterfall, a meadow, a hidden treehouse, and a river, which are all totally worth the trek.