As anyone from New Jersey can attest, the Jersey Shore is one of the best places in the world. It has a bad reputation thanks to MTV, but Seaside Heights only represents like, one percent of Shore culture. The 100-plus miles of oceanfront that stretch from central New Jersey to the southern tip of the state are filled with tiny towns and cities that are each fantastically unique. Going down the shore (aka, DTS) means a road trip down the Garden State Parkway, and you know you're entering paradise when the Shore Points exit signs start to pop up. There are a ton of towns, but they aren't all created equal -- some are fist-pumping destinations, others are dry religious resorts -- which is why we ranked the major ones, both large and small, worth knowing. Spoiler alert: Seaside made the list, but it isn't first OR last.
Recommended Video
Winter Starbucks Beverages Around The World
12. Stone Harbor/Avalon
Exit number: 13
These two neighboring towns, which share a barrier island called Seven Mile Beach, are popular August vacation spots among the Jersey and Philly crowd. Both have that quiet, refined, family vibe that defines towns whose crowds change every week with summer rental turnovers. That said, they're a bit boring and filled with a lot of 11-year-olds selling friendship bracelets. Expect lots of ice cream shops (Springer's is the best), beautiful sand dunes, and cute but overpriced souvenir stores.
11. Point Pleasant Beach
Exit number: 98
For a Jersey Shore town with that quintessential commercial boardwalk, you want Point Pleasant Beach. The middle part of the mile-long boardwalk is home to Jenkinson's, an arcade and amusement park where you'll find some of the best deep-fried Oreos around (there's also insanely good Cookie Monster ice cream at Hoffman's). But delicious junk food aside, compared to other boardwalk-centric locales like Seaside and Wildwood (more on those later), Point Pleasant is pretty underwhelming.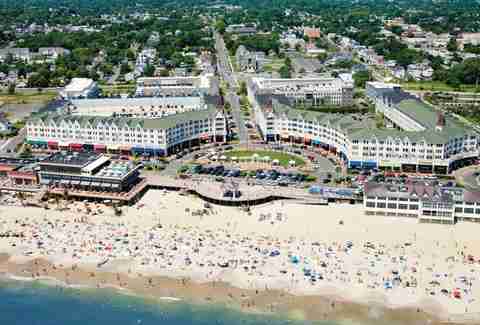 10. Long Branch
Exit number: 105
If you're coming to the Jersey Shore from New York via NJ Transit, then you've heard of Long Branch. When the train hits Long Branch, you either get off and go your merry way, or wait for the super-local train that hits most of the shore points in Monmouth County. Long Branch is one of the northernmost towns on the Jersey Shore and has more of a year-round than seasonal crowd, so it doesn't really embrace summer as much as other places (sure, you can go to Seven Presidents Park for your sun and swim fix, and Pier Village for restaurants and shopping, but there are better shore towns to spend your summer in).
9. Ocean City
Exit number: 25 and 30
With an eight-mile shore and a two-and-half-mile boardwalk, Ocean City is one of the largest towns down the shore (most boardwalks max out at one mile). The barrier island has the best of both worlds: beautiful beaches akin to Stone Harbor and Avalon and boardwalk amusements similar to Point Pleasant. However, its family vibe might be construed as a bit boring, due in no small part to it being a dry town.
8. Seaside Heights
Exit number: 82
Seaside Heights deserves a place on the list mainly because it's so damn well-known. Thanks to Snooki et al., the Ocean County town is known to err on the side of trashy, but a weekend there is an experience worth having. Its commercial boardwalk is bigger and better than Point Pleasant's, even if it's a little grimy and filled with a gym-tan-laundry crowd (points for people-watching). Seaside is home to some of the shore's biggest bars and clubs, like Hemingway's Cafe, The Bamboo Bar, and Karma, all of which are worth visiting for the experience.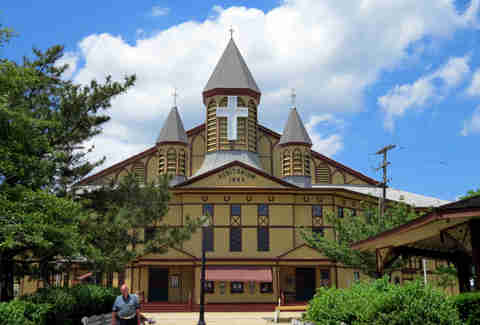 7. Ocean Grove
Exit number: 100B
If there's one word to describe Ocean Grove, it's unique. Or Methodist. Directly south of Asbury Park, the tiny town was founded as a Methodist camp meeting ground at the end of the 19th century. The hallmark of Ocean Grove is The Great Auditorium, a huge wooden hall in the middle of the town square that hosts everything from Sunday service to ABBA cover band concerts. The town is also something of a tent city -- surrounding the auditorium are about a hundred or so summer-only canvas tents/wooden cottages that make it a true campground worth seeing. Not surprising given its religious nature, Ocean Grove is a dry town, so there aren't any bars or liquor stores, but all restaurants are BYOB!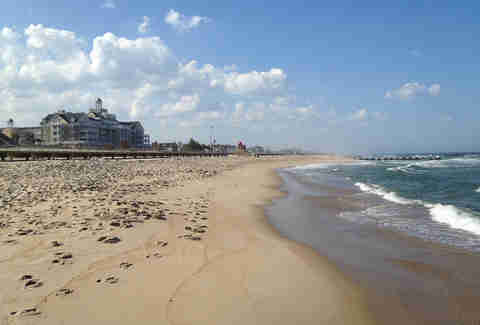 6. Spring Lake
Exit number: 98
Spring Lake is the kind of place you go when you just want to laze away the day on a nice beach. Somewhere along the way, it got nicknamed the Irish Riviera because it's filled with two things: Irish people and massive, stately homes. You probably won't see much of the freckly elite if you're a day-tripper though -- they spend most of their time at the private Bath & Tennis Club, at one of two resident-only beachside pools, or in their own manicured backyards. Spring Lake is one of the most expensive beaches to access on the shore (daily badges are $10), and there's no food allowed on the sand, but most people bring coolers and leave them on the boardwalk. Don't let the rules scare you away: the clean beaches are worth the price.
5. Belmar
Exit number: 98
Belmar has that certain Italian-American je ne sais quoi that out-of-towners associate with the Jersey Shore, but isn't as, er, overwhelming as Seaside Heights. It's right next to Spring Lake, but instead of mansions and inns, Belmar's stretch of Ocean Ave is filled with surf shops, pizza places, and bars, so it lacks its neighboring town's eliteness. In the morning, there's a line out the door for Dunkin' Donuts, but as soon as 5pm hits, the lines switch over to D'Jais, a beachfront bar and grill known for its happy hour and general late-night debauchery. Most restaurants and stores in Belmar cater to the shirtless, shoeless beach crowd.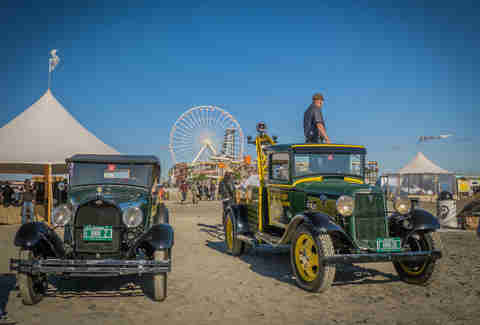 4. Wildwood
Exit number: 4A
This shore spot is actually comprised of three different towns (Wildwood, Wildwood Crest, and North Wildwood) known collectively as The Wildwoods. Together, they make up one of the biggest and widest public beaches in New Jersey, which also happen to be free and clean. Wildwood often gets compared to Seaside Heights for its boardwalk amusement park scene, but with added attractions like a chapel and vintage car shows, it's got way more variety. The town is known for its 1950s and 1960s doo-wop motels with neon signs, plastic palm trees, and space age architecture, and in 2005, The Googie-style Caribbean Motel was added to the National Register of Historic Places.
3. Asbury Park
Exit number: 102
Asbury Park has a complicated history. Aside from being the town where Bruce Springsteen got his start, it's also known for a series of race riots in the '70s that transformed it from a middle-class beach resort (complete with a casino and a commercial boardwalk) into a dilapidated and deserted city. Over the last few years, Asbury has gone through a wave of gentrification that's putting it back on the map. Its downtown is full of upscale restaurants and trendy bars, and is also somewhat of an interior design destination known for its art and decor shops. The one thing that's remained constant since the '70s is Asbury's music scene. Right on Ocean Ave, The Stone Pony looks much like it did when Springsteen first performed there. The music venue has performances almost every night and sets up a seasonal outdoor stage for summer concerts.
2. Long Beach Island
Exit number: 63
Long Beach Island, aka LBI, isn't actually a town, but rather a colony of small shore towns with thematic names like Surf City, Barnegat Light, Loveladies, Ship Bottom, and Beach Haven. The 18-mile island is truly seasonal -- traffic lights are only turned on for the summer season (the rest of the year they're in constant blinking-yellow mode). Each little town has its own distinct personality, but they're all quaint and undisturbed by crazy night-life scenes, commercial boardwalks, and resort hotels. LBI also has some pretty good surfing (for New Jersey), and plenty of surf shops to match. The population skyrockets from 10,000 to more than 100,000 in the summer, and the crowd is split between lifers who've spent every summer there or week-long vacationers. Thing is, since the best way to vacation in LBI is by renting a house, it requires a lot of planning. And, the barrier island, as picturesque and sand dune-laden as it is, is usually a traffic nightmare once you get off the Parkway.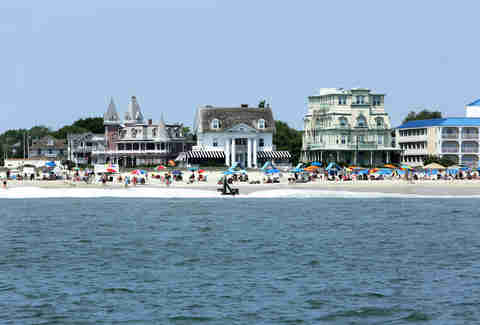 1. Cape May
Exit number: 0
Here's why Cape May is number one: it's beautiful, historic, and easy to get to. Follow the Garden State Parkway until it ends and you'll end up in Cape May, a gem of a beach town, and a National Historic Landmark, on the southernmost tip of New Jersey. The island isn't as narrow as LBI, so it's not conducive to as much traffic. It isn't trashy, nor is it elitist, and it attracts a whole range of people -- couples young and old, families, and young and restless millennials. The town's defining characteristic is its Victorian architecture, and the historic district boasts more than 600 dollhouse-like houses, hotels, and inns. It's the perfect place for a weekend trip: book a room at a bed & breakfast (like The Queen Victoria or The Mission Inn), and split your time between going to the beach and doing quirky touristy activities, like the Cape May Ghost Tour. There are a few beaches to choose from, like Sunset Beach, which is known for its nightly flag-lowering ceremony, or the more quaint Cape May Point, which is where you'll find the historic lighthouse. Cape May just might be one of the best beach spots in the whole country.
Sign up here for our daily NYC email and be the first to get all the food/drink/fun New York has to offer.