Ferris wheel at Atlantic City

| Photo courtesy of AtlanticCityNJ.com
Ferris wheel at Atlantic City

| Photo courtesy of AtlanticCityNJ.com
Some might say it's not officially summer until you've hit up the beaches and boardwalks of New Jersey. With around 130 miles of coastline from Sandy Hook to Cape May, the Jersey Shore is at its peak during summer season, with plenty of events, outdoor concerts, and of course, boardwalk junk food to experience.
From a newly opened waterpark to a full concert lineup, things are about to get exciting for anyone near the Garden State. Here's everything cool to do at the Jersey Shore this year from the Fourth of July to Labor Day.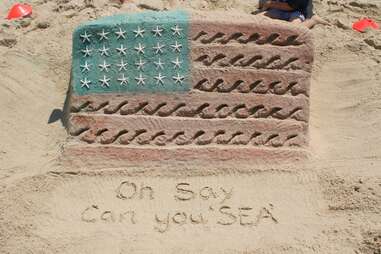 Beachside Events at the Jersey Shore
Fireworks at Oceanfest in Long Branch; plus Wildwood and Seaside Heights
July 4, and ongoing Wednesday and Fridays
Various locations
If you're going to dive headfirst into summer, then it's worth doing right. With Fourth of July spectacles all down the coastline, the Jersey Shore is where to see fireworks over the Atlantic. Party it up with a massive celebration at Oceanfest in Long Branch, a family-friendly event with everything from music and dance performances to food vendors. And if you can't make it down for the fourth, you still have a chance to catch firework displays at various shore towns all summer long, including Friday nights at Wildwood and Wednesdays at Seaside Heights.
Cost: Free
Movies on the Beach
July 11–Aug 29
Point Pleasant
A favorite vacation spot for families with kids, Point Pleasant Beach has no shortage of activities, from amusement park rides, mini golf, and an aquarium, to name a few, all located on Jenkinson's Boardwalk. During summertime Jenksinon's Boardwalk hosts Movies at the Beach on Tuesday nights. It's the perfect excuse to extend your day by the water—since you must already have a comfy blanket or chair to sit on. This year's movie lineup includes Jaws, Lightyear, and Top Gun:Maverick, among others.
Cost: Free
Annual Sandcastle Contest
July 12
Belmar
The 36th Annual New Jersey Sandcastle Contest at Belmar Beach is back—though anyone familiar with the event knows that the competition extends way beyond actual sand castles. Take for instance, last year's event, where sand sculptures encompassed anything from Clifford the Big Red Dog, Spongebob SquarePants, to Tillie, based on the creepy grinning face mural painted on the side of the Palace Amusements building in Asbury Park. Registration for this year's event, which includes prizes and games, is at 8 am and judging begins at noon. Participants must enter via 18th Avenue.
Cost: Free
Island Waterpark and the Atlantic City Boardwalk
Ongoing
Atlantic City
Dubbed "America's Playground," Atlantic City is home to the country's first boardwalk, originally built in 1870—at 5.5 miles, it also happens to be the world's longest. If you're hoping to get lucky at the casinos, there's now another reason to head to this New Jersey beach haven with the June 30 grand opening of Island Waterpark at the Showboat Resort. The indoor waterpark has your classic tube slides and lazy river, but if you're looking to scream it out, the park also has its own zero gravity roller coaster and zip line. If you want to leave the kids at home, there's also an adults only pool with a swim-up bar and a DJ.
Cost: From $69
Festival Playero: Wildwood's Biggest Latin Music Festival
Aug 11–12
Wildwood
There can never be enough summer beach parties, and the Festival Playero (Concert on the Beach) is no exception. With performances by headliners Brenda K. Starr, Raul Acosta, and salsa orchestra band El Gran Combo de Puerto Rico, the two-day event will also include Latin food and a cash bar for purchasing beer and wine. The celebration starts with a kick-off party on August 11 with live music, appetizers, cash bar, and fireworks. Grab your tickets here.
Cost: $60–$200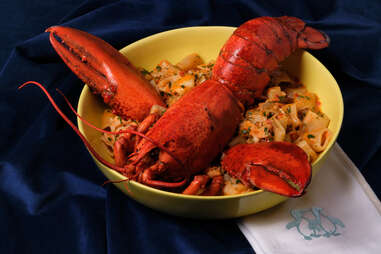 Food at the Jersey Shore
Superfrico by Spiegelworld
Ongoing
Atlantic City
After the successful debut of its Italian American Psychedelic restaurant Superfrico in Las Vegas two years ago, entertainment company Spiegelworld has now brought the bizarre to Caesars Atlantic City Hotel & Casino with its new project, The Hook. The adults-only immersive experience is AC's first and only live entertainment and dining residency. At the Jersey Superfrico, expect reimagined Italian fare like its Sin City sister spot, but with a coastal twist for menu highlights like Crab Gravy Pasta, Joyce Farms Bolognese with pappardelle and ricotta; and Superfrico's signature Detroit-style pizza topped with jumbo lump crab. The restaurant is located backstage of The Hook theater, where you can catch the live show before or after dinner from Wednesday through Sunday from 7 pm–9 pm. Superfrico serves dinner Wednesday through Sunday from 5 pm. Both dinner and theater reservations can be made online.
Cost: Theater tickets are $68. Dinner prices vary.
Kohr's Frozen Custard
Ongoing
Seaside Heights
Anyone who grew up going to the Jersey Shore for summer vacation remembers the orange vanilla swirl cones from Kohr's Frozen Custard, the iconic soft serve custard and ice cream stand. A tradition for families visiting the boardwalk, this sugary delight is made with eggs, cream, milk, and other ingredients and is still being churned with the original machine from when the shop opened in 1919. Be sure to add an Orangeade to your order, squeezed from fresh oranges, of course.
Cost: Varies
Mogo: Korean Fusion Tacos
Ongoing
Asbury Park
While junk food and the Jersey Shore usually go hand-in-hand, this is not the case at MOGO, a Korean eatery offering a specialty menu that strives to provide healthier dining options. With its name translating to "eat" in Korean, the spot is a must when in Asbury Park, with highlights including the Beef Taco, made with Korean barbecue-marinated rib eye, and the soy-ginger marinated Chicken Taco. Vegans and vegetarians can order the spicy soy-glazed Tofu Taco. Don't skip out on the Korean Doughnut for dessert, with cinnamon and a sesame filling that's all decked in powdered sugar. MOGO's brick and mortar location on Cookman Avenue is open year-round, though from May through September you can also visit the boardwalk location, weather permitting.
Cost: Varies
Arts & Culture at the Jersey Shore
The Stony Pony
Ongoing
Asbury Park
Considered the CBGB (RIP) of Asbury Park, The Stone Pony made rock and roll history when Bruce Springsteen performed with the Blackberry Booze Band on September 8, 1974. Since then, Springsteen has made numerous surprise appearances at the nearly 50-year-old music venue, which is still very much a place to see and be seen at the Jersey Shore. In addition to year-round indoor shows, The Stone Pony Summer Stage hosts larger outdoor concerts throughout the summer season, with performances this year from Yungblud, Incubus, the Pixies, and Modest Mouse, to name a few.
Cost: Varies
Viking Village Dock Tour
July 7–Sep 1
Barnegat Light
Founded as a lobster fishing co-op in the 1920s by Norwegian fishermen, Viking Village has since grown into a commercial fishing dock. The quaint fishing village will transport you back to old times, with tiny fishing shacks that have since been turned into shops where you'll find everything from clothing and fishing gear, home decor, coffee, and jewelry. In an effort to educate the public about the commercial fishing industry and sustainable fishing practices, a tour is given every Friday at 10 am during summer (it's suggested you arrive by 9:45 am). And of course, be sure to stop at Cassidy's Fish Market on your way out for some freshly caught seafood (likely the same fish you saw being hoarded during your tour).
Cost: Dock tours are free
Doo Wop Experience and Neon Sign Garden
Ongoing
Wildwood
Set in a former 1960s restaurant, at the Doo Wop Experience and Neon Sign Garden museum, learn all about Wildwood in its heyday during the doo-wop era, with salvaged artifacts and memorabilia. An interactive exhibit explores the city's Doo Wop Motels and the mid-century resort architecture that Wildwood became known for. Fun fact: Doo Wop was a term used to describe the futuristic architecture style at the time, featuring bright colors and boomerang shapes. After dark, stroll around the Neon Sign Garden filled with rescued items from Wildwood landmarks that were slated for the wrecking ball. Extended summer hours are Thursday through Sunday from 6 pm to 9:30 pm. And since you're already in town, go for the full experience with a stay at one of the remaining vintage motels like the Caribbean Motel or the Bel Air Motel.
Cost: Museum entry is free
Lucy the Elephant
July 22
Margate
If you have yet to experience the view from Lucy the Elephant's howdah, then you're missing out. Standing six stories tall, Lucy easily holds the title as the world's largest elephant. Now a designated National Historic Landmark, she was built in 1881 by a real estate developer. In her earlier days, Lucy the Elephant has served as a real estate office, a hotel, a summer home, and even a tavern. It wasn't until the 1970s that she officially opened for tours. A beloved roadside attraction for beachgoers, there are now daily guided tours that take you up the staircase inside Lucy's hind leg to an open air howdah, with views of the surrounding city and the Atlantic. In July there will also be a birthday bash for Lucy, who gets her toenails painted every year just for the occasion. While visiting, grab a bite at newly opened beach grill The Other Lucy, just steps away.
Cost: $4–$8.50. Tickets for children 2 and under are free.
Underground Railroad Trolley Tour
Ongoing
Cape May
The oldest seaside resort in the country, Cape May is known for its ornate Victorian homes and quaint streets—in fact the entire city was designated a National Historic Landmark in 1976. However, it was also a part of the Underground Railroad. Cape May was once home to abolitionist Harriet Tubman, who lived there in the early 1850s, where she worked at hotels and as a cook to help fund her Underground Railroad efforts. Together with Stephen Smith, a railroad businessman and the formerly enslaved person, Tubman worked with abolitionists in the area to help free those who were enslaved escaping from the south. The 1.5-hour trolley tour is a chance to learn more about the duo's work in Cape May, stopping at sites that played an important part in the Underground Railroad. A tour of the Harriet Tubman Museum of New Jersey can also be combined with the trolley tour upon request. Reserve your trolley tour tickets here.
Cost: $15–$25
Quick Stop
Ongoing
Leonardo
At first glance, the Quick Stop in Leonardo looks like your average mini-mart with the standard snacks, candy, and, ahem, milk gallons. But for Kevin Smith fans, the place might look a bit familiar, since it's the location of his 1994 cult film Clerks, the low-budget comedy that revolves around ruminations of New Jersey life, with the tagline, "I assure you, we're open!" The "World's Most Famous Convenience Store" is definitely worth a pit stop on your way down to the shore, and all in all looks pretty much the same as it did in the movie—only now you'll find Clerks paraphernalia. Come for the photo opps and nostalgia, and buy a snack or two for the road. And by all means, don't mess with the milk.
Cost: Varies depending on what you purchase
Sandy Hook Peninsula
Ongoing
Sandy Hook
Set on the northern tip of the Jersey Shore, Sandy Hook has something for everyone. The Sandy Hook Peninsula is part of the Gateway National Recreation Area, with plenty of beaches (including one that's clothing optional), along with opportunities for fishing, birding, and recreational boating. One of the best ways to explore the peninsula is by bicycle along the paved 5-mile long Multi-Use Pathway, which begins at the park entrance and ends at Fort Hancock, a former US Army fort that was decommissioned in 1974. The oceanside bike trail takes you past multiple historic sites, wetlands, and the Sandy Hook Lighthouse, which has been in service since 1764—making it the oldest operating lighthouse in the country. If you plan to visit the lighthouse, it is open for tours on weekends from 1pm to 3:30pm.
Cost: There's a $20 beach parking fee from Memorial Day Weekend through Labor Day.