The Thanksgiving Day Parade Sneak Peek You Really Shouldn't Miss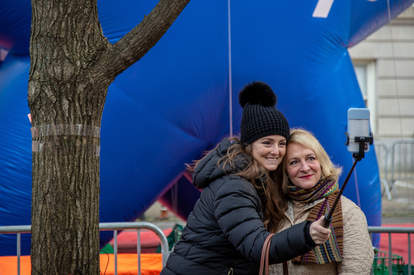 You'd be hard pressed to find an American who's not familiar with the Macy's Thanksgiving Day Parade. Every fourth Thursday of November, droves of folks and quite a few floats parade through Manhattan, ringing in the start of the holiday season for IRL spectators and at-home viewers around the globe. And while the singing celebs and costumed dancers bring plenty of excitement to the day's festivities, the larger-than-life, unlike-anything-else-you've-seen balloons hovering overhead earn the most oohs and aahs.
 
Thursday's famous parade is a beloved tradition, but few realize that the best opportunity to see the helium-filled balloons up close actually happens on Thanksgiving Eve. The Macy's Balloon Inflation takes place in the shadows of the American Museum of Natural History on Manhattan's Upper West Side. From 1-8pm on Wednesday, November 27, you can snap photos in front of the grounded polyurethane giants as they come to life in preparation for the main event.
We've answered the most burning questions about Thanksgiving's most underrated celebration below, including which new balloons are joining the lineup this year.
How does the Balloon Inflation work?
Every year, the Macy's Thanksgiving Day Parade balloons are transported from the Macy's Parade Studio in Moonachie, New Jersey, and laid out in the Upper West Side. They're ceremonially inflated on Thanksgiving Eve, when the public can get a front row sneak peek of the parade's newest, biggest, and most beloved balloons. Guests will line up for the viewing at 73rd Street and Columbus Avenue, make their way through security, and be guided through the inflation area moving clockwise around the Natural History Museum, starting at 77th Street/Central Park West and ending at 81st Street/Central Park West.
How do I get there?
Subway is the fastest form of travel in NYC, and in this case, you'll want to take the B or C lines to 72nd Street. You'll be tempted to get off at the Museum of Natural History stop at 81st Street, but don't! The lineup area is much closer to 72nd. You can also ride the 1, 2, or 3 lines to 72nd Street. If you're coming from the east side of Central Park, you can take the 65th Street Transverse via bus or car.
What's the best time to see the balloons?
If you're looking for a less crowded viewing experience, arrive at the entry point earlier in the day. If you're looking to see the balloons in their final stages of inflation, brave the crowds at night. The balloons begin taking their general form between 1 and 3pm, but by dark, they'll look much more complete. If you're leaning toward the later hours, just be sure to get in before 8pm or you'll be turned away.
What should I bring?
November in NYC isn't strikingly warm. The current forecast predicts occasional rain showers on Wednesday, with a high of 57 and a low of 43, so layer up, bring comfortable footwear, and grab a poncho to stay dry. Carrying a full camera might become a hassle, but make sure you have something to take photos with! 
Note: Umbrellas, backpacks, large bags, alcohol, drones, and e-cigs will not be allowed through security, so plan accordingly.
What balloons are new this year?
This year's parade will feature three new character balloons and two new heritage balloons. Get an early look at these five budding icons on Wednesday:
Astronaut Snoopy

| Courtesy of Macy's, Inc.
Astronaut Snoopy
The parade's most prominent character got a redesign to commemorate 50 years since the moon landing.
Dimensions: 43L x 29W x 49H
# of handlers: 90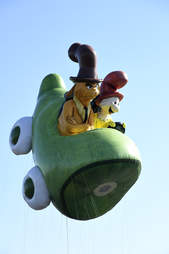 Green Eggs and Ham

| Courtesy of Macy's, Inc.
Green Eggs and Ham
A green "hammobile" the size of 4 million eggs, or 14,000 hams, joins the parade following the release of Netflix's new Dr. Seuss-inspired show.
Dimensions: 51L x 27W x 46H
# of handlers: 90
Spongebob Squarepants & Gary

| Courtesy of Macy's, Inc.
Spongebob Squarepants & Gary
Spongebob's speechless sidekick joins the festivities with this newly designed character balloon honoring the iconic cartoon's 20th anniversary.
Dimensions: 46L x 36W x 44H
# of handlers: 90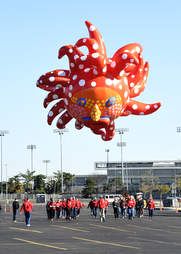 Love Flies Up to the SKy

| Courtesy of Macy's, Inc.
Love Flies Up to the Sky
The latest entry in the Blue Sky Gallery series recognizes the talent of renowned contemporary artist Yayoi Kusama.
Dimensions: 30L x 36W x 34H
# of handlers: 40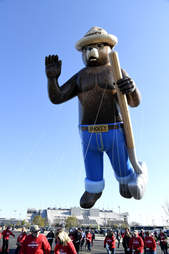 Smokey Bear

| Courtesy of Macy's, Inc.
Smokey Bear
The star of America's longest-running PSA returns for the first time since 1993 to celebrate his 75th birthday.
Dimensions: 16L x 25W x 51H
# of handlers: 40
Power Rangers Mighty Morphin Red Ranger

| Courtesy of Macy's, Inc.
What balloons are returning?
The new balloons might hog the spotlight, but there are plenty of other familiar characters you'll catch a glimpse of on the Natural History Museum grounds, including The Elf on the Shelf, Dr. Seuss' The Grinch, The Nutcracker, Olaf, Pikachu, Pillsbury Doughboy, and Ronald McDonald. And you won't have to work hard to spot the tallest balloon, Diary of a Wimpy Kid, measuring 62 feet tall (5 stories high); the longest balloon, Power Rangers Mighty Morphin Red Ranger, measuring 77 feet long; and the widest balloon, Jett by Super Wings, spanning the width of an actual Learjet at 39 feet. See the full lineup of balloons, balloonicles, and trycaloons here.
Sign up here for our daily NYC email and be the first to get all the food/drink/fun New York has to offer.
Kyler Alvord never leaves his apartment without an umbrella and a large bag. Find him empty-handed and mid-identity crisis at this year's Balloon Inflation. You can also find him on Instagram and Twitter.