The Most Fun Neighborhoods for a Weekend Stay in Manhattan
At only 13.4 miles long by 2.3 miles wide, Manhattan is relatively small -- but when you're visiting, it can feel huge. If even life-long New Yorkers never get to see, eat, and do everything the city has to offer, how can you figure out where to stay in Manhattan?
If you've already crossed off most of your NYC bucket list (Statue of Liberty? Check!), it's time to get to know New York on a deeper level. By spending a few days in a Manhattan neighborhood, you can experience the sides of the city that only New Yorkers see. Whether you're an uptown girl, a downtown bohemian, or an east or west sider, we've rounded up our favorite places to weekend like a local in New York City.
Nom Wah Tea Parlor

| Cole Saladino/Thrillist
Chinatown & the Lower East Side
Once an expanse of farmland (yes, Orchard Street was named after an actual orchard), the Lower East Side is evocative of the always-changing nature of New York City. Settled by a wave after wave of immigrants, you can walk from one world to the next simply by crossing the street. The LES, bordered on the south and west by Chinatown, is a master class in New York City's famed high-low aesthetic. Food is cheap, rents are high, and you can go anywhere -- and we mean anywhere -- in your sweatpants and Adidas slides.
Where to Stay
Sister City, a newish spin-off from the folks behind the Ace Hotel, is pure Instagram bait. It's bright, white, and full of Scandi blonde wood -- a perfect respite from the noise and chaos of the neighborhood. If you'd prefer to stay right in the heart of Chinatown, 50 Bowery has a little less of the 'gram factor and, accordingly, a slightly lower price tag. If you're looking to save a buck on your lodgings, the LES and Chinatown have their share of hostels and what could generously be called "tiny" hotels -- but in this town, you get what you pay for. (In some cases, you might pay for bed bugs).
Things to Do
Make an advance reservation at the Tenement Museum, the best place to learn about the Lower East Side's immigrant history. Tour guides will walk you through a living history tenement to show you how the families lived. (It might give you a new appreciation for, say, your washer and dryer.) After, you can wander the streets of Chinatown, stopping at Durian NYC for a taste of the famous fruit. Make your way to the base of the Manhattan Bridge, where the Mahayana Buddhist Temple sits (nearby is 2 Bridges, one of the world's most tucked-away record shops -- enter the New York Mart Chinatown mall and make your way to Suite #205). New Yorker pro tip: if you must walk across a bridge, take the Manhattan. The Manhattan Bridge is never clogged with tourists, affording for a pleasant walk and a view of both the Brooklyn Bridge and the New York skyline.
Best Restaurants, Bars, and Nightlife
Start your day with a cuppa at Hi-Collar, a modern take on a Japanese kissaten, or tea room. Order a $7 "siphon" coffee, which is served like a bespoke cocktail -- just name your flavor profile and they'll whip it right up. (Only in New York!) For another take on NYC's famous $7 latte, head to Round K, where they pour a matte-black latte made with 8% dutch processed cacao (only in New York!!!). Skip any and all tempting pastries to save room for dim sum at Nom Wah Tea Parlor, which opened in 1920. The space is gigantic, the interior is drab, and the food is plentiful -- just like all the best dim sum houses. Order more than you think you can possibly eat, and then eat it (if you don't know where to start, try the pork buns, turnip cakes, and sesame balls with lotus paste -- they're all crowd-pleasers). If you'd like to stuff yourself in another fashion, head to Clinton Street Baking Company, where they serve stacks of pancakes worth writing home about.
Stop for a pre-dinner drink at Attaboy, the city's only speakeasy that is actually still cool. The dimly lit menuless bar is very hip, very tiny, and most easily gotten into the moment they open. Press the buzzer at the almost-entirely unmarked door, then head inside and let them mix you up the drink you've been dreaming of. After, head to a reservation at Dirt Candy for a virtuous vegan night out, or Mario Carbone's Dirty French bistro for the absolute opposite. The Box, an X-rated cabaret, is a favorite late-night Lower East Side haunt, but the drinks and dance floor at Home Sweet Home are equally fun.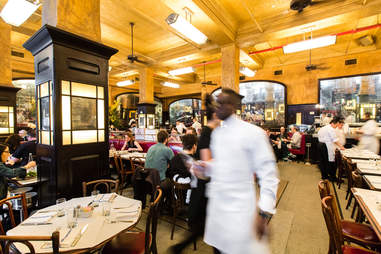 Balthazar

| Cole Saladino/Thrillist
SoHo
SoHo is the spot to spot models, celebs, and influencers getting the perfect shot for their grid. With a hip restaurant scene, an internet's worth of shopping, and a lively nightlife, it's the place to stay for bright young things. While its heyday as a haven for artists is long gone, the neighborhood has managed to retain some of its DNA -- you simply need to wander the cobblestone streets to find it.
Where to Stay
The Arlo SoHo offers a central location for a (relatively affordable) price. For your best chance at celebrity sightings, book a room at The Mercer -- but be prepared to pay celebrity prices. If you want built-in nightlife, book a room at The James, where Jimmy, the hotel's rooftop bar, gets the party started after the sun goes down.
Things to Do
In SoHo, you can still go shopping in real life. It's like free, immediate shipping! Anthom, a women's clothing store, is curated with interesting and upcoming brands; YSL, Chanel, and other luxury brands have presences; and for the eco-conscious second-hand shopper, What Goes Around Comes Around and The RealReal both have storefronts. When you tire of shopping and crave some culture, store your bags in the hotel and find The Earth Room, a subterranean sculpture in the heart of SoHo. For even more of the neighborhood's art scene, head to the Peter Freeman gallery or The Drawing Center.
Best Restaurants, Bars, and Nightlife
In a neighborhood full of great coffee shops, mini-chain Ground Support is a cozy place to get a buzz on. Grab a bagel and lox at Baz or -- if you still aren't over the cronut craze -- head to Dominique Ansel's always-innovative bakery. Sit down for a full brunch at the buzzy St. Ambroeus, plant-based hot spot The Butcher's Daughter, or Jack's Wife Freda. (If you haven't guessed, this is a neighborhood that loves to brunch.) Expect a long wait for a table almost anywhere you put your name in.

If you've worn out your credit card on a shopping spree, pop in for cheap eats at Mooncake Foods or grab some tacos from the counter at La Esquina. For those still in the spending mood, make a rezzie at upscale foodie fave King or -- that old-school classic -- Balthazar. After, head out for a civilized cocktail and some serious people-watching at Pegu Club -- and then round out your night (or your early morning) at Baby Grand, a miniature karaoke bar that's always packed to the rafters.
Courtesy of Arthouse Hotel
Upper West Side
Home to iconic museums, some of the city's most stunning real estate, and the whole left side of Central Park, the Upper West Side is worth exploring. While you might spend a day at the opera and a night at the ballet, the neighborhood isn't all upper crust. With all the public space and cultural institutions to explore (for free!), a weekend can be had on the cheap. The Upper West Side stretches from 59th to 110th, so it's a neighborhood best left for those who love to explore the city on their feet.
Where to Stay
The Hotel Belleclaire, built in 1903 by architect Emery Roth, the designer of the iconic Eldorado on Central Park West, feels like spending the night in the history of the UWS. If you're looking for something a little more modern, the Arthouse Hotel cuts a contemporary figure. Don't stress too much about the northerliness of your hotel -- the best destinations on the UWS are all over the map, so you'll be doing some schlepping no matter where you stay.
Things to Do
Hit the bricks (or grab a CitiBike) to make your way through two of New York's most iconic parks. Riverside Park, along the water, covers nearly 330 acres of the west side. Take in the skyline, then head east for a tour through Central Park. Find Cleopatra's Needle, an Ancient Egyptian obelisk made during the reign of Pharaoh Thutmose III, from 1479 BC to 11 March 1425 BC, and Belvedere Castle, an 1860s lookout that used to hold a weather station. Linger longer on your history lessons at the American Museum of Natural History, home of the big blue whale, a fearsome T. Rex, an ancient Olmec head, and thousands of other notable items. In a city of culture, the Upper West Side has some of its greatest institutions -- the Metropolitan Opera House and the American Ballet Theatre. See a show, or just explore Lincoln Center, which boasts stunning architecture, murals by Marc Chagall, and eleven crystal chandeliers gifted by the Austrian government as repayment for America's help in WWII.
Best Restaurants, Bars, and Nightlife
If you're on the UWS, you're noshing at Barney Greengrass, the self-crowned "Sturgeon King" of NYC. Opened on Amsterdam Avenue in 1929, the spot's been slinging smoked fish to New Yorkers ever since. Order a bagel with lox, potato latkes, and (how could you not?) a few slices of that famous sturgeon. If you're in the mood for royalty but not an expensive bagel, head to Curry King, instead. Beloved by the city's Pakistani cabbies, just grab a plate and load it up like a local. If you're feeling a full brunch, Jacob's Pickles is the neighborhood's go-to. Order a biscuit sandwich and a pickle sampler for all the fuel you'll need to keep you on your feet.
Continue your evening of culture at Boulud Sud, Daniel Boulud's pricy ode to the Mediterranean. If you're more of the T-shirt type (or if you blew your budget in the museum gift shop), head to 108 Food Dried Hot Pots for dinner. Dry hot pot -- essentially a stir fry -- lets you choose your raw ingredients from silver tubs, pick your spice level, and then get it all fried up with ginger and scallions. For a nightcap, head to Prohibition, where they have live music every night of the week. Check their calendar to catch an open mic, Broadway sing-along, or dueling pianos.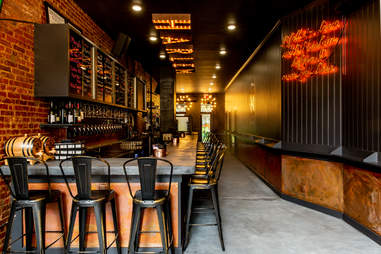 Harlem Hops

| Cole Saladino/Thrillist
Harlem
Since the Great Migration and the Harlem Renaissance, Harlem has been home to some of the greatest Black artists, writers, musicians, and thinkers of our time. A neighborhood shaped by its people, Harlem is now a destination for foodies, jazz lovers, and history buffs. The neighborhood is largely residential, so it's light on tourist traps and heavy on local flavor.
Where to Stay
While Harlem doesn't boast the huge hotels of other neighborhoods, there are plenty of intimate (and affordable) places to stay.
Northern Lights Mansion
, a bed-and-breakfast in a Harlem brownstone, lets you experience the neighborhood right on the street.
The Central Park North
, another cozy spot, offers little rooms for a low price. If you must stay in a chain hotel, the
Aloft Harlem
is centrally located and super walkable.
Things to Do
Harlem has some of the city's most interesting -- and lesser-known -- museums. El Museo Del Barrio, in East Harlem, is dedicated to showcasing the work of Latino, Caribbean, and Latin American artists, while the Studio Museum in Harlem champions artists of African descent. Head to the Schomburg Center, where the Hip-Hop Archive is available to the public by request. For live entertainment, head to Paris Blues or Bill's Place for a night of jazz, or to the world-famous Apollo Theater for a show.
Best Restaurants, Bars, and Nightlife
Grab a coffee at local shop Little Bean Coffee (try the triple-strength cold brew if you want to feel your heartbeat in your tongue), then head to Lee Lee's bakery, where the rugelach is handmade, as they say, "by a Brother." In the hands of baker Alvin Lee Smalls, the traditionally Jewish pastry is buttery, sticky, and sweet enough to sustain a sugar high through the afternoon. When you're finally hungry for brunch, head to Lido, where the food is fine, but the unlimited booze is the main attraction. Bottomless mimosas are $16, and they won't cut you off until 3:30.
Okay, so there is at least one tourist trap in Harlem -- if you've made it this long in your life without eating at Sylvia's, head to the world-famous spot for some soul food. Order the ribs, fried catfish, and mac & cheese for a taste of the South in northern Manhattan. If you're craving a more chef-y take on soul food, celebrity chef Marcus Samulesson's Red Rooster should hit the spot. Not feeling soul food? Zag to Sushi Inoue, a splurge of an omakase spot that rings in at $225/person. Close your night out with a drink at Harlem Hops, a craft beer bar opened by three HBCU grads.
Times Square

| Awesome Pixel/Shutterstock
Midtown
Home to the
M&M Store
, the Naked Cowboy, and many other distasteful Times Square institutions, Midtown's not on the top of any native New Yorker's neighborhood list. But if you've got your heart set on seeing a Broadway show -- and don't want to brave a long subway ride back to your hotel -- Midtown
can
be transcended. Step away from Times Square and into Koreatown, explore the neighborhood's surprising shops and restaurants, and find a whole world beyond the Great White Way.
Where to Stay
There are no shortages of hotels in the heart of Midtown -- the 414 Hotel, on 46th between 8th and 9th, gives you a slight reprieve from the hustle and bustle while still being steps away from whatever musical Hugh Jackman is currently starring in. There's something to be said about coming back to a small hotel with a bed-and-breakfast feel after a day spent in some of the city's busiest streets. If you're willing to sacrifice Instagramming your digs, the Hotel at 5th Ave in the heart of Koreatown offers a rate so low you can afford to see Hugh Jackman twice.
Things to Do
We don't need to tell you about Broadway -- but if you love the theater, why not look beyond the standard fare? Playwrights Horizons, a writer's theater dedicated to supporting contemporary American playwrights and composers, is worth a visit. By staging new works, the theater offers you a first look at what could be the next classic. For more of the contemporary art scene, head to MoMA, where you could easily spend two days wandering through the galleries. If you've been before, the museum has recently been redesigned, giving new context to their most famous works and resurfacing pieces that have been buried in the archives. After, head to one of Midtown's weirdest little spots -- the Houdini Museum in the Fantasma Magic shop. Half-hidden and only accessible by an elevator, it's a little bit of honest magic in a neighborhood that would appear to have no secrets left.
Best Restaurants, Bars, and Nightlife
Besfren Cafe is a Korean coffee shop boasting Instagrammable lattes and adorable pastries. Order a chiffon donut, then pop next store to browse their K-beauty shop while you snack. For brunch, go for Korean fried chicken at Turntable Chicken Jazz, which is right around the corner from the Empire State Building. If you just need a slice of pizza, you could do worse (in Midtown, you could do much, much worse) than Upside Pizza; the 90s-themed spot has a $3 cheese slice (only a dollar more for pepperoni) that hits the spot.
Forget the overpriced pasta at all the Midtown trattorias -- you know better than that! Instead, spring for a night of Korean BBQ at Miss KOREA BBQ, where they're open 24/7 for all your late-night meat needs. It's not cheap, but it's much more fun than a forgettable dinner of overcooked salmon and farfalle with peas. If you'd prefer to take a trip to the other side of the world (this is NYC, after all) head to Russian Samovar, a restaurant-slash-piano bar, for endless vodka, live music, and heaps of Russian food. If you've still got the energy after dinner, make the most of your time in Koreatown and sing some karaoke. Gagopa Karaoke, a fan favorite, lets you rent a room and sing all night long -- by the end, you might sound as good as Hugh Jackman.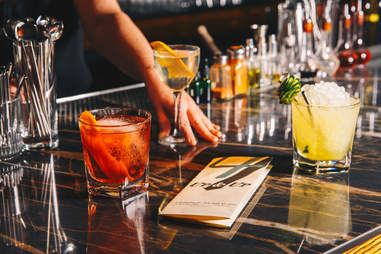 The Up & Up

| Cole Saladino/Thrillist
Greenwich Village & the West Village
Home to the characters of Washington Square Park, comedy clubs, and live music venues, Greenwich Village (which includes the West Village) always has something going on. It's a neighborhood that bustles all day and parties all night -- perfect for night owls, urban explorers, and those who like to keep New York weird. The birthplace of bohemian culture and the locus of the LGBTQ movement in NYC, the neighborhood has always been a space for non-conformists. With something to eat, drink, or see everywhere you look, you could spend a thousand weekends here -- but you can pack a lot of fun into just one.
Where to Stay
The Walker Hotel, with 113 rooms, is a mid-sized spot near all the action; the Incentra Village Inn, although a little less stylish, also offers a central location. For big-hotel luxury, head north of the Village itself for a night at The Standard -- you'll have to walk or cab it to the heart of the neighborhood, but you can't beat the gorgeous digs.
Things to Do
Grab your bagel and head to Washington Square Park, where in good weather you can watch piano players, breakdancers, and Paul the Pigeon Man. (But please, for the love of birdseed, don't touch the pigeons). The Village is designed for wandering -- explore the side streets, gawk at the real estate, and see if you can spot the Friends apartment building. Once the sun goes down, the Village's nightlife begins in earnest. Comedy clubs abound -- head to the Comedy Cellar and The Lantern for a night of laughter. If you'd prefer to rock out to a music set, Blue Note jazz club and The Bitter End are just around the corner.
Best Restaurants, Bars, and Nightlife
For a quick breakfast, Murray's Bagels it is. Home of the famous "no toasting" policy, they recently abandoned the rule after 19 years of holding firm. (Final ruling: If the bagel's hot out of the kitchen, don't toast it; once it's cooled, all bets are off). After a New York bagel, the only reasonable lunch is a perfect slice of New York pizza. John's of Bleecker Street is the best in the neighborhood (sorry, Joe's fans, facts are facts). You can't get a slice from John's -- only pies -- but they're so good, you wouldn't want just one slice, anyway. Another New York classic is Carbone, which is always packed -- lunchtime is your best bet for experiencing a meal there.
Pregame your night with dinner at one of the Village's many incredible restaurants. Japonica, the longtime sushi spot, doesn't take reservations, but is worth the line. (They do deliver, if you feel like eating in your hotel room.) French restaurant MIMI, with its menu of sea urchin and foie gras, is indicative of the Village's new food scene. If you're overwhelmed, order the Chef's Tasting -- for $85/person, you'll get five courses to try. Of course, the old scene is good, too, and best experienced at the recently reimagined Gotham Bar and Grill. For after-dinner drinks, head to the The Up & Up, a cocktail bar in the room of the Gaslight Cafe -- the perfect mix of fresh and classic. If you're more into beer than fancy drinks, 124 Old Rabbit Club serves up unusual craft beers in a space hidden below the streets -- just press the buzzer to be let inside.
Sign up here for our daily NYC email and be the first to get all the food/drink/fun New York has to offer.