Presented By

The Most Beautiful Places in Upstate New York
Nature preserves, waterfalls, bird sanctuaries, and more for a summer escape.
Presented By

When those of us in Downstate New York (a.k.a. New York City, Long Island, and the Hudson Valley) are in need of a weekend getaway or even a day trip, there's no better destination than our northern sibling, Upstate New York. While it's a spectacular retreat during the colder months, the region has more to offer than just skiing and snow tubing at Belleayre Mountain once summer rolls around, and is perfect for your next NYC escape. From bird sanctuaries and nature preserves to a sculpture park and architectural marvel, add these locales to your itinerary. Here are the most beautiful places to visit in Upstate New York.
Information listed here may be subject to change depending on the developing situation with COVID-19's Omicron variant. Please check for the latest updates available or contact each establishment directly for more info.
Fishkill Creek
Beacon
Fishkill Creek is a tributary of the Hudson River and flows to a small estuary south of Beacon. The name comes from the Dutch translation for fish creek (vis kill) because of the abundance of alewife, white perch, and other fish species in its waters. At the far end of Main Street, with uniquely independent businesses like Hudson Valley Marshmallow Company and Beacon Bath and Bubble, your ears will know you're near the river first before your vision comes upon a rush of water and a short cascading waterfall accessible across abandoned rail tracks. Enjoy views that open up to a truly beautiful landscape of trees, rocks, and foliage-covered mountains across the creek. It's free and open year-round, so get nature pictures for the 'gram with all of your seasonal outfits.
Amazing Airbnb nearby: Tiny Home with a Fire Pit
Corning
The glass collections at this offbeat museum are intriguing, but it's the striking 100,000-square-foot Contemporary Art + Design Wing that has visitors planning a trip to the Finger Lakes for more than just wine and waterfalls. Live glass-blowing demos are available daily, and current exhibitions include Fire and Vine, the history of glass and wine, from the grapes of Romans to bacchanal experiences in modern culture; in addition to the museum's ongoing Innovation Center and the Jerome and Lucille Strauss Study Gallery with objects spanning 3,500 years of glass making across the world. Stay for the make-your-own-glass projects available to everyone. The museum is open with advance ticketing.
Amazing Airbnb nearby: The Hand-Built Hilltop Cabin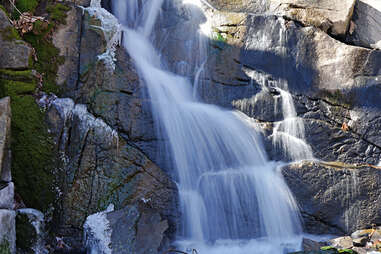 Falling Waters Preserve
Glasco
A two-hour car ride from NYC, Falling Waters Preserve in Ulster County is a small and lesser-known nature preserve devoid of the usual crowds that frequent popular trails. When here, expect to soak in the verdant environment and truly forest bathe (shinrin-yoku, in Japanese) in its expanse of trees as far as the eye can see. When hiking the Father Charles Jorn trail, you'll stumble across a waterfall cascading down rock ledges before walking a bit further to the coastline for a mini beach and foliage views across the Hudson River. The preserve has fishing available and there are historical signposts on the trail detailing the remnants of an icehouse that once stored ice blocks harvested off the Hudson for pre-refrigerator-era shipment to NYC. Once you've had your fill, drive 10 minutes to the Village of Saugerties, a charming and walkable locale, for food and drink, independent shops, a historic lighthouse, and more discoveries. The preserve is open and free year-round.
Amazing Airbnb nearby: Glasco Woodstock
Derby
Head to Derby, a tiny, Lake Erie-based hamlet, for the Frank Lloyd Wright-designed Graycliff—the estate designed for the Martin family, who were his benefactors. Go on a landscape tour of the property highlighting its gardens, pond, and the first floor of the main house. Built between 1926 and 1931, the restored estate sits at the edge of the lake where the 70-foot limestone cliffs served as inspiration for Wright's work. The property is open year-round, so book tours in advance for a lovely experience.
Amazing Airbnb nearby: The Luxurious Lakeside Retreat
Griffis Sculpture Park
East Otto
In the 1960s, artist Larry Griffis got the idea to create what would become the first sculpture park in the United States while watching his children romp through the ruins of an emperor's villa in Italy. Today, at Griffis Sculpture Park visitors can bike 10 miles of trails, cruising around woods, fields, and ponds—not to mention over 250 sculptures arranged by themes like animals, nudes, and castles. Located in Cattaraugus County in Western NY, the sculpture park hosts annual events with art, food, and drum circles, and if you want a bird's eye view, watch drone footage via a virtual visit through the park website, showing acres of the property. Rent a bike from Tom's Pro Bike in Buffalo to work up a winter sweat.
Amazing Airbnb nearby: Lodge Retreat
Ruth Reynolds Glunt Nature Preserve
Saugerties
Located on a sandbar in the Hudson River, this nature preserve in the Village of Saugerties is small but teeming with biodiversity: nesting bald eagles, ducks, and invasive species like the Eurasian water chestnut. With a spanning marshland and fairly deep sandy trail, bask in the serenity of the area with only the chirps of birds and the buzzing of insects to accompany you. Ten minutes away is the piece de resistance of the preserve, Saugerties Lighthouse, which is a structure atypical of conventional lighthouses that also doubles as a tiny accommodation for weekend stays. From the river deck, take in views of boaters and kayakers navigating the Hudson River and in the right season, gorgeous fall foliage is visible across the river. If interested, the Saugerties Conservancy manages the lighthouse and can be reached for accommodation information. The preserve is currently open.
Amazing Airbnb nearby: The Barn in Tivoli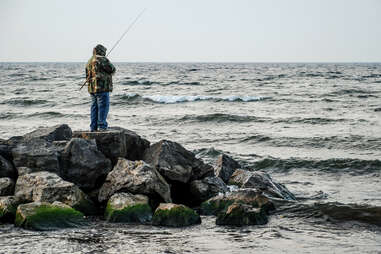 The Secret Sidewalk
Rochester
A mile west of Ontario Beach Park in the little hamlet of Charlotte is the most idyllic street you've ever seen. Though it's technically Rochester, it feels like you've landed in Monet's Garden at Sainte-Adresse in northwestern France. The Secret Sidewalk is a public walkway, but the residents who live in the big lakefront homes from the early 20th century would rather prefer their slice of paradise remain off the tourist checklist. So, keep your cool, don't take selfies, and just enjoy your Abbott's Frozen Custard with the rest of the locals.
Amazing Airbnb nearby: The Lakeside Escape
Amenia
Follow in the footsteps of Hemingway, Hughes, Thoreau, and Emerson, by visiting the Troutbeck, a timeless cool kids club for creatives, forest bathers, and those who appreciate laid-back luxury (especially when it's affordable). Since 1765, the property has served as a country inn, a tavern, and the site of two meetings that would lead to the formation of the National Association for the Advancement of Colored People (NAACP). In a new era of digital nomadism and workcations, it's not the mountains that are calling, but this romantic 250-acre historic estate. The myriad book nooks are intoxicating; the farm-to-table restaurant alone merits the two-hour train ride; the wellness facility is like a shot of serotonin, and the activities are top-notch in any season—think tennis, swimming and riverside hammocks in summer, and ax throwing, falconry excursions, and après-ski in winter; but the true beauty of Troutbeck is how quickly you're able to simply relax. Out of office or not, don't be surprised to find yourself dabbling with a pen, pouring out pent-up thoughts onto paper, and sipping an Old Fashioned like it's your job.
Amazing Airbnb nearby: Oak Hill House
Washington County Grasslands Important Bird Area (IBA)
Fort Edward
Fly the coop to this 13,000-acre bird sanctuary near the historic Hudson River town of Fort Edward. The Washington Country Grasslands Important Bird Area (IBA) is a year-round birder's paradise amidst picturesque farmland and rolling hills, and the critical grassland habitat is a riveting experience for expert and amateur ornithologists to view grassland birds. Among the more than 100 species that breed here are snowy owls, red-tailed hawks, Northern Harriers, and the state-endangered short-eared owl. Furthermore, the IBA does a great job of protecting grassland, biodiversity, and mitigating climate change by not releasing carbon during grassland fires. Walk the 1/2-mile trail and take in 360-degree views from the observation deck and if you're a keen ornithologist, there is a public access Alfred Z. Solomon Grassland Bird Viewing Area with acres of grassland habitat to spot threatened species. If you prefer, there are guided bird walks and tours available for reservation depending on the season.
Amazing Airbnb Nearby: Out on a Limb - A Magical Treehouse
The Wild Walk
Tupper Lake
Head to this 81-acre playground for nature lovers teeming with white pines and biodiversity. Nestled 45 feet up in the Adirondack forest at the Wild Center (the first LEED-certified museum in New York), this permanent High Line-inspired Wild Walk exhibit is open for reservations and is the only elevated tree-top trail in the state. Tower above ground from the special human-sized nest that gives a literal bird's eye view of the forest canopy, take in the spectacular panorama from atop a four-story white pine (the tallest trees in the Adirondacks) while on the lookout for bald eagles or make like a superhero and suspend yourself on a web from the treetops. Don't forget to spy the Snags—towering remnants of white pines struck and snapped off by lightning—that are home to biodiversity of the area. Wild Walk is open all winter with animal viewings, snowshoeing, and Wild Lights, a winter wonderland of immersive, twinkling music and lights after dark.
Amazing Airbnb nearby: Lakefront Lodge