Ocean Grove

| gary718/Shutterstock
Ocean Grove

| gary718/Shutterstock
Ready to stop staring at your computer and start staring out over the water? While summer in the city has felt a little different this year, the sun's still burning up the pavement and taxing our window A/C units. Beaches in and near NYC have begun to welcome crowds for swimming, sunbathing, and even some socially-distanced day drinking.
Some of the best beaches are accessible by public transportation, while others require a car to get to -- but they're all only 2.5 hours or less from home. Make sure to leave early in the morning (beach parking lots are at 50% capacity and tend to fill up by noon!), spring for a mask that matches your favorite bathing suit, BYO snacks, and hit the beach safely this summer.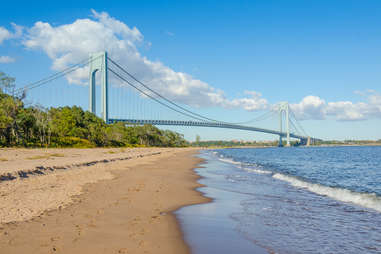 The good news: NYC beaches are open
NYC's beaches reopened for swimming on July 1, so expect to see lifeguards and throngs of hot dog-eating crowds. NYC Parks Ambassadors are patrolling the beaches to hand out masks, check for social distancing, and keep the beaches as open as possible. If you don't have a car, (or a friend from college with a ride), these beaches are all accessible by public transportation.
Brighton Beach
Brooklyn
Home to only-in-Brighton Russian grocery stores, table after table of boardwalk dining, and a long history as Brooklyn's "Little Odessa," a day at Brighton Beach feels almost like a European vacation (it's certainly as close as we're going to get to Europe for a while!). The crowds there are usually sparser than nearby Coney Island, so early risers should have plenty of space for social distancing. If you do find yourself yearning for a little more hustle and bustle, a quick walk down the boardwalk takes you straight to Coney, where you can score a hot dog to relive that summer-of-2019 feeling.
How to get there: Via B train.
Franklin Delano Roosevelt Boardwalk and Beach
Staten Island
Hop the ferry to Staten Island for a day on the beach and boardwalk in the borough that gave us the Wu-Tang Clan. Stretching the 2.5 miles between Fort Wadsworth and Miller Field, it should be easy to find a space along the sand for your beach blanket and -- of course -- your matching mask. Order a white clam pie (a SI classic) for pickup from Denino's for a sandy picnic lunch, take in the surf, and then cool off with an Italian ice from Ralph's before catching the ferry back home.
How to get there: Staten Island Ferry plus a cab or bus.
Orchard Beach
Bronx
The Bronx's only beach is just one-mile long, so make sure to come early to score a socially-distanced spot. With a view of City Island -- where an outdoor lunch of a dozen clams at Johnny Reef's or crab legs at Original Crab Shanty await after a morning spent sunbathing -- this is another city spot that makes you feel as if you've been teleported out of NYC. If the beach gets too crowded, pack up and spend the day hiking through the rest of Pelham Bay Park, the city's largest park and home to 13 miles of shoreline along the Long Island Sound.
How to get there: Hop on the 6 train.
Jacob Riis Park
Queens
Riis park -- the longtime destination of every one of your friends in possession of a Honda Fit -- is reopening their beach bazaar with social distancing guidelines to bring the summer party to the Rockaways. Alcohol will be served at the bazaar's beer gardens, and The Dropout and Rockaway Clam Bar will be slinging burgers and lobster rolls to replace all that sodium you're sweating out. The parking lot is currently only at one-third capacity, so come early if you've got a designated driver and want to secure a space. And fun fact: The eastern end of the beach has long been a popular destination and safe space for the LGBTQ+ community.
How to get there: Driving is the easiest, but you can also take the A train to Beach 116 and then catch the bus.
New Jersey beaches... also an option
New Jersey's boardwalks have been getting some not-so-great attention, so you can't blame the state for keeping its restrictions pretty tight. Social distancing rules are of course still in effect, and many beaches don't have lifeguards, effectively prohibiting swimming. "Passive recreation" is allowed, though, so you can hike, sunbathe, and explore the Garden State's surf.
Island Beach State Park
Seaside Park, NJ
The Jersey Shore's Island Beach lacks the fist-pumping energy that its location might bring to mind. The preserved barrier island, which has almost 10 miles of shoreline, is a refuge for the flora and fauna that live in its marshes and dunes. Although all the restrooms and nature centers are closed due to COVID, the beach is open for sunbathing and dipping your toes in the water. Pack a lunch, or stop by the Red Fox Beach Bar & Grill with your mask on and hand sanitizer ready to get a taste of Snooki's shore.
How to get there: Bus Route 137 and Bus Route 67 from Port Authority, or via car.
Ocean Grove Beach
Ocean Grove, NJ
A trip to Ocean Grove requires a little advance planning and a lot of luck. The $9 daily badges to enter the beach must be purchased on an app at 5pm the night before your trip -- and there are fewer than 150 available each day. If you manage to score a badge, you'll be rewarded with a quiet surf and a charming boardwalk. But buyer beware: Ocean Grove is a dry town, so don't even think about sneaking in a couple of White Claws. Round out your day of wholesome fun with a sundae at Day's. You can always drink when you get back to New York!
How to get there: NJ Transit to Asbury Park, or via car.
Sandy Hook
Middletown, NJ
Sandy Hook Unit, which is tucked inside the nearly-27,000 acre U.S. National Recreation Area, has multiple beaches for those looking for some sun. Perhaps the most infamous is Gunnison Beach -- New Jersey's sole nude beach -- for those who want to really let it all hang out. If you'd like to keep your clothes on, all the ocean- or bay-side beaches will be open for passive recreation. Some COVID restrictions are still in place, so don't expect to picnic, swim, or sunbathe with friends. If you'd just like to spend the day taking in the summer sunshine, stroll along the Multi-Use Path to explore the six-mile barrier island.
How to get there: Via ferry or car.
Fisherman's Cove
Manasquan, NJ
If anyone's coming out ahead in this pandemic, it's our dogs. Pack up your pooch's cutest 'kini and take them to Fisherman's Cove, where dogs are allowed to romp on the east portion of the beach. The rocky cove is perfect for playing fetch, fishing for dinner (make sure to register here if you plan on angling!), and catching some rays.
How to get there: NJ Transit to Manasquan stop.
Long Island beaches
Many beaches in Long Island are only for residents, so your best bet is to head to one of the area's beautiful state parks. While public parking has been reduced by 50% and many nearby roads are closed, the parks offer mile after mile of blue-water beaches and nature-filled hiking trails for New Yorkers who can set their alarms early enough.
Jones Beach State Park
Wantagh, NY
You can count on Jones Beach, which features 6.5 miles of sand, to fill up by noon. It's a popular spot for families, but don't be deterred by the noise of kids crying because a seagull stole their hot dog -- the park is full of fun for adults, too, with outdoor concession stands and even a 700-foot zip line over the beach. If you'd like to spend your day at the beach a little more meditatively, take a walk to the east or west side of the park for sea-bird watching and some quiet contemplation.
How to get there: Via car.
Robert Moses State Park
Fire Island, NY
Named for Robert Moses, a public official who oversaw the development of many of New York's public spaces, this state park is on the far west tip of Fire Island. Head to Field 5 to take a walk down to Fire Island lighthouse, then keep walking into the little town of Kismet for a meal. Surf's Out, which has plenty of outdoor dining, is serving up cocktails including the "Summerita" with Cuervo and muddled watermelon and a piña colada made with 151.
How to get there: LIRR to Babylon (but you'll still need a car), or via car.
Hither Hills State Park
Montauk, NY
Montauk's state park has beautiful dunes, a manageable surf, and a summer-vibes crowd. If you're outdoorsy, you can score a campground and stay the night, but a long day spent in Montauk is just as good. On the east side of the park, you'll find the Walking Dunes Trail of Napeague Harbor, a 2.7 mile hiking loop trail with photo-worthy views. There are plenty of scene-y restaurants in Montauk, but if you just want a quick bite, head to Morty's Oyster Stand for a 'Gansett and a burger or The Lobster Roll, home of the iconic and oft-Instagrammed "LUNCH" sign.
How to get there: LIRR to Montauk stop or via car.
Sunken Meadow State Park
Kings Park, NY
The sand is pebbly (wear your water shoes!) and the boardwalk tends to get a little crowded, but Sunken Meadow's swimming is tough to beat. Across the calm, blue waters of the Long Island Sound -- an estuary of the Atlantic -- you'll get a glimpse of Connecticut and wooded dunes. The park is nearly 1,300 acres, with plenty of easy-to-moderate hiking trails to explore. After your day in the sun, hop in the car and head to nearby Gino's of King's Park for a pizza, a bottle of wine, and some rainbow cookie gelato.
How to get there: Take the LIRR to King's Park or via car.
Sign up here for our daily NYC email and be the first to get all the food/drink/fun New York has to offer.
Rachel Pelz lives and writes in Brooklyn.