Ball & Albanese

| Courtesy of Getaway
Ball & Albanese

| Courtesy of Getaway
There's no reason you should have to wait for a special occasion to plan a romantic getaway -- especially when your AC-less apartment is quickly driving you and your boo to an early breakup. Forget the heart-shaped tubs and cheesy overpriced hotel packages, and opt for something a couple hours outside the city that's just as cool and interesting as the two of you think you are. From a bike retreat at a Red Hook barn, to a safari-inspired glamping resort in Ithaca, to a liveaboard sailboat in Sag Harbor, these 10 destinations throughout New York offer way more than your average romantic escape.
Rhinebeck
This summer, you could choose to share a (potentially pee-saturated) pool in the city with raucous New Yorkers, or you could book a weekend at the Rhinebeck Carriage House (from $300/night) and have a pool -- plus two private woodsy acres and an entire 19th century charmer -- all to yourselves. The proprietor, Liz, makes better-than-Balthazar blueberry scones, and will meet you at the station after your train trip up the Hudson River. In between swims, you might walk to town for crème brulee at Le Petit Bistro, play bocce in the backyard, or take a ride in the Old Rhinebeck Aerodrome's new replica of Charles Lindbergh's famed Spirit of St. Louis monoplane.
By public transit: Ride Amtrak one hour 40 minutes to Rhinecliff station.
By car: One hour 45 minutes
Shh... it's a secret
Whether you've harbored dreams of living off the grid or just want to get lost in the woods, this is a surefire way to reignite the romance (assuming you're not claustrophobic). The retreat gurus at Getaway have recently opened three 160sqft eco cabins (from $99/night) in various hidden locations two hours north of the city for New Yorkers to unplug, eat jerky, and commune with nature. "Part of the magic is that Getaway is about enjoying the house and land on its own," co-founder Jon Staff told Thrillist. "Even though there are trails and waterfalls and ski hills around, you don't need those to disconnect and recharge for a night or two. And even if you want them, isn't it more fun to discover them spontaneously?"
By car: Within a few hours of NYC. As each cabin spot is under lock and key, you must make a reservation to receive specific directions.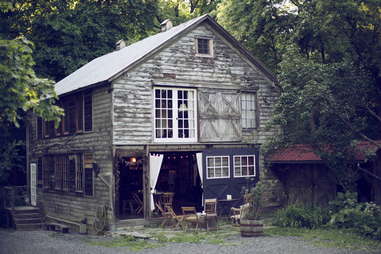 Tivoli
Hotels will feel so ho-hum after a weekend spent in this dreamy barn, set on four lush acres within easy walking distance of town and a pebble beach perfect for skinny-dipping. The barn (from $350/night) inspires up to six guests to ditch the electronics and sit around a fire pit swapping Never-Have-I-Ever stories, play piano, take an outdoor shower, stretch out on the "yoga deck," and soak up the beauty of seemingly boundless time. The neighborhood is also worth exploring. Check out a Bard SummerScape show at the Frank Gehry-designed Fisher Center for the Performing Arts, ramble along the picturesque Poets' Walk, have an Employees Only-designed cocktail at The Corner, and eat enchiladas at Santa Fe.
By public transit: Take Amtrak from Penn Station to Rhinecliff Station in one hour 45 minutes, followed by a 15-minute taxi ride.
By car: Two-hour drive
Catskills
The minute you walk into the North Branch Inn, you'll wonder why it's taken you so long to discover this place (don't beat yourself up, it only opened last fall). The nine-room house (from $199/night), built in 1868, always smells of something homemade -- be it sourdough or spitfire-roasted lamb -- and upon arrival, you'll struggle to choose what to do first. Throw down at the inn's 100-year-old wood bowling alley? Read a book by the backyard creek? Hike the new Kaaterskill Clove trails? Check out the nearby taprooms at Roscoe Beer Co. and Prohibition Distillery? However you choose to spend the day, end it with a five-course meal at Sunday Supper Club, a film in the hotel's movie theater, and a bonfire best enjoyed with a glass of barrel-aged North Branch cider.
By car: Two-hour drive
Red Hook
Your new favorite place to hit the reset button is a red solar-powered barn (from $269/night) perched in the middle of open meadows, mountains, creeks, and miles of beautiful bike paths. Rest Ride Recover owners Gregg and Molly like to compare the biking here in the Hudson Valley to the Ardennes region in southeast Belgium, only better. Of course, guests needn't be cyclists to enjoy a stay, but if you do like to pedal, days in the saddle don't get much more rewarding than this. After discovering nearby quaint river towns like Red Hook and Tivoli on two wheels and grabbing dinner at Mercato, relax on your private patio and wait for the sun to set and the frogs to sing before cozying up by the indoor fire.
By public transit: Bring your bike on Amtrak, get off at Rhinecliff station, give your luggage to Gregg, then take a scenic eight-mile spin to the house.
By car: Two-hour drive
Hudson
It's not as creepy as it sounds. Artist Laura Ann found a historic red-brick building at the edge of a cemetery -- the final resting place of famous inventors and Hudson River School painters -- and converted it into a bright, vibrant loft (from $99/night) ideal for creative minds, overworked urbanites, and friendly ghosts (just kidding?!). Built in 1900 as a schoolhouse, the structure then became a tool factory and an experimental museum before Laura Ann turned it into one of the spookiest accommodations on Airbnb. The fastest way to get to town, home to Fish & Game, one of the best restaurants in New York outside NYC, is to walk through the graveyard.
By public transit: Take Amtrak from Penn Station to Hudson Station in two hours. Laura Ann can pick you up at the station.
By car: Two hours, 30 minutes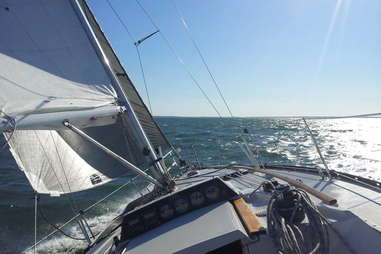 Sag Harbor
Bring your deck shoes, fishing rods, and that one couple you like to travel with on board the Nomade, a 35ft sailboat ($800/night) that will forever raise the bar for Long Island adventures. Helmed by Captain Eric, your aquatic digs travel at six knots and come equipped with all the luxuries of a nice hotel. Whether you choose to get dropped off on dry land now and then, or spend the whole weekend on board, diving off the bow, dining on lobster rolls, and watching shooting stars, this is one trip that will be anything but predictable.
By public transit: Three-hour ride on Hampton Jitney from Manhattan to Sag Harbor.
By car: Two-hour drive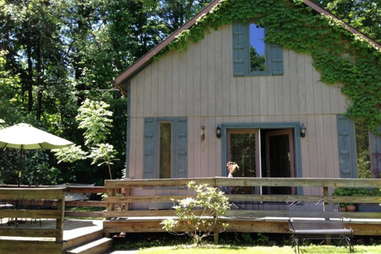 Saugerties
Kippagh Cottage is the epitome of provincial Frenchness. Sneak away to this rustic sanctuary (from $150/night), situated near small-town diversions like the Saturday Farmers Market or a nearby antiques gallery. Bring a picnic to the spectacular sculpture maze Opus 40, grab a Kingston-brewed pint of Keegan Ales Citra Pale Ale with a side of truffle fries at the The Dutch Ale House, then return to the cottage for barbecuing, hammocking, and stargazing.
By public transit: Take a two hour 40 minute ride on Adirondack Trailways to Saugerties, then a five-minute taxi ride to the cottage.
By car: Two hours, 20 minutes
Lake George
If you'd rather not splurge on The Sagamore, but want the same access to Lake George's stunning setting, consider pitching a tent on one of the 44 islands (out of 170!) in the region. Glen Island, Long Island, and Narrow Island are among New York State's most picturesque campsites -- complete with a dock, fireplace, picnic table, privy, and toilet facility -- and cost just $28 per night. Pack your inflatable stand-up paddleboard to explore cliff-jumping spots and get frisky in secluded inlets.
By public transit: Take a five-hour Adirondack Trailways bus ride to Lake George.
By car: Four-hour drive
Ithaca
Pitching a tent not your thing? Enjoy all the thrills of a backcountry adventure with a few frills -- like ready-made campfires, local wine & cider tastings, massages, and s'mores -- when you book a safari-inspired nook (from $179/night) at Firelight Camps, tucked away on the grounds of La Tourelle, a resort and spa located five minutes from Ithaca's Downtown. Expect platform tents with hardwood floors, king beds, private balconies, a farm-to-table breakfast feast, wild foraging hikes, and waterfall-dappled walks that start just feet from your tent flap.
By public transit: Ride the Short Line or Greyhound bus from Port Authority to Ithaca in five hours.
By car: 3.5 hour drive
Sign up here for our daily NYC email and be the first to get all the food/drink/fun New York has to offer.