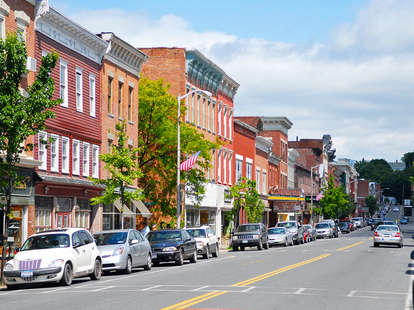 Every town in the Catskills is worth visiting, because hey, they're in the Catskills, and it's damn nice up there (those painters weren't lying). To get you started, we rounded up 11 tiny hamlets with killer food, beer and wine scenes, sweet activities and, of course, views that'll make you rethink everything -- starting with that daily 6-train commute.
DELHI
County: Delaware County, Western Catskills
Before you go, be aware that Delhi is the kind of town where even a jaded New York couple might spot an old barn, fall in love, renovate it into a second home, then turn their backs on the city altogether and move in permanently (per the Times, this has actually happened at least once). Buying or just gazing, architecture is a huge draw here -- you may need to check your gas tank to verify that all these Colonial, wide-porched Victorian, Greek Revival, and American Craftsman houses are just three hours from NYC. Most notable: the 1797 Frisbee House, meeting place for the Delaware County Historical Association and, apparently, ghosts who often show up in photos. Bring a good camera, and at least one close friend.
Where to eat and drink: Pop into Tay Tea to sip some hand-blended loose-leaf (and find a no-brainer gift for mom, or your English stepdad). Or try the daily quiche and soup special at the Blue Bee Café. It's not always on the menu, but you can still ask for it -- that'd be the small-town hospitality you came for.
BOVINA
County: Delaware County, Western Catskills
Bovina was stitched together in 1820 from pieces of Delhi, Stamford, and Middletown, all of which are known for phenomenal dairy (with a name like Bovina, you'd better be). Among the biggest players are Green Shepard Farm and Burnett Farms. Such is the draw of the place, it called Bovina Valley Farm proprietor Dan Finn -- who grew up hand-milking a cow named Melissa -- back after 15 years working in the film industry in NYC. These days, you'll find him churning out his famous Alderney (a Tomme-style made from raw milk), as well as small-batch maple syrup for those intolerant of lactose but not pancakes.
Where to eat and drink: Leave the stool and bucket to the professionals. Instead try Brushland Eating House, a homage to 19th century "eating houses" people once gathered at when food and ingredients were scarce. This modern version serves the ultimate comfort food, simple dishes like cast-iron chicken and roasted carrot just like great, great… great grandma used to make.
HOBART
County: Delaware County, Northwest Catskills
How, in the tiny village of Hobart (estimated population: 414), can there be so much scandal and intrigue? Well, it's all on paper. The self-dubbed "book village" (seven days a week from Memorial Day to Columbus Day, six Main Street booksellers peddle titles both new and dusty) also holds some real treasures; Wm. H. Adams Antiquarian Books once carried a $1500 Hippocrates second edition, published in 1657 in Greek and Latin, giving you a 50-50 chance of understanding none of it. Antique and furniture shops like Second Wind and The Sheep's Nest are also abundant, so drive up in a van.
Where to eat and drink: Grab a good title and head to The Farmer's Wife for seasonal fruit pies and sticky buns. Or try Table on Ten for wood-fired pizza.
ROSCOE/LIVINGSTON MANOR
County: Sullivan County, Southwest Catskills
At 7am each April 1st, "Trout Town, USA" kicks off fly-fishing season when locals gather at Junction Pool -- the intersection of the Beaver Kill and the Willowemoc Creek -- for the ceremonial first cast in the river where fly fishing was allegedly invented. (You can learn all about it by visiting The Catskill Fly Fishing Center & Museum.) Later in the summer, the town's fish fixation gets delightfully surreal with the Trout Parade, which the Times once compared to the Mermaid Festival (though of course the Catskills are far easier to get to than Coney Island).
Where to eat and drink: After your trips to Roscoe Beer Company and Prohibition Distillery, hit German-style Brandenburg Bakery in Livingston Manor for house-made bread, turnovers, donuts, and danishes. Or try the Roscoe Diner on Route 17. Open since 1964, it serves around 1,000 meals on busy days, which is basically any day there's fishing.
NARROWSBURG
County: Sullivan County, Southern Catskills
Narrowsburg lives for two things: having buildings on the National Register of Historic Places, and broadening minds. Most recently the Catskills' destination for arts, cultural, and generally cerebral pursuits added One Grand bookstore. Owned by Out editor-in-chief Aaron Hicklin, it features curated collections by "thinking man/woman's" celebs like James Franco, Bill Gates, and Tilda Swinton. Other edifying pursuits include September's Big Eddy Film Festival (Narrowsburg was called Big Eddy until 1840; population hasn't changed much since.)
Where to eat and drink: You probably expect fresh fish and farm ingredients from a town along the Delaware -- and you should. At The Heron Restaurant, take your pick of blackened catfish or crispy salmon, among other tasty options.

TANNERSVILLE
County: Greene County, Northern Catskills
Tannersville is looking extra fresh these days, after local artist Elena Patterson sparked a neon revolution up and down Main Street when she gave her own home a highly pigmented makeover. Thank her when at least one person says of your vacation pics, "Wait, did you go upstate or to Iceland?" Beyond looking resplendent, the town's in the midst of an economic and tourism revival -- though you can still easily find that idyllic, "We're buying this farmhouse!" solitude if you're looking for it.
Where to eat and drink:Twin Peaks sells coffee and dreams (aka made-to-order donuts like caramel sea salt, apple crumb, maple bacon -- you name it). Put a big, fat bookend on your day with a Mama's Boy burger and one of their 26 flavors of frozen custard & yogurt.
WINDHAM
County: Greene County, Northern Catskills
Windham was once part of Woodstock, missing out on major notoriety by becoming its own township in 1798. But who needs epoch-defining festivals when you've got natural beauty, thrill-seeking (seriously steep mountain bike paths), and craft beer (the new Cave Mountain Brewing Company, where you can sip on an oatmeal stout beer float, a blueberry wheat, or a more traditional American IPA)? The top skiing destination really comes into its own in winter; Windham Mountain Resort has put $11 million into lodge renovations and upgrades in the past three years, so go enjoy all their hard work.
Where to eat and drink: Head to Rock'n Mexicana Cantina for the fire pit, Baja burritos, $1 taco night, and $4 margs; or try Chicken Run Family Restaurant and Steakhouse for chicken pot pie, St. Louis ribs, and frozen beer towers.
PHOENICIA
County: Ulster County, Eastern Catskills
The tiny town of Phoenicia (we're talking 309 people tiny) is the definition of something for everyone -- a top summer destination for white-water tubing, it's also perfect for the more chill vacationer. Head to Town Tinker Tube Rental through September to strap on a life jacket and get on the water. Also check out Mystery Spot Antiques, which has housed everything from this "formal portrait of gentleman and his dog" to mid-century cursive typewriters -- perfect for sending goodbye letters to explain why you're moving to the Ulster County town full-time.
Where to eat and drink: Catskills vacationers travel from all over the region to check out the Phoenicia Diner. Built in 1962, the restaurant may have changed owners several times, but the quality has remained the same. Current owner Mike Cioffi has put a modern flare on the joint, serving up cast iron skillet eggs, CBLTs (that's fresh crab), and housemade granola to customers in sleek black leather booths. This past May, The Lot at the Phoenicia Diner opened, so now you can enjoy all that great grub food-truck style. Just grab and go.
CATSKILL
County: Greene County, Northern Catskills
Catskill has always been artsy, but its downtown has become a major hub for live theater and performance since the Lumberyard Contemporary Performing Arts Center began construction. (Though it's not set to open until 2018, you can still stay updated on what's to come.) Until it's ready, spend time at the Thomas Cole National Historic Site, where you can see the ongoing exhibition, Sanford R. Gifford In The Catskills, through the end of October. Featuring works of the Catskills by Gifford, the 19th-century landscape painter who was inspired by Cole, this one is not to be missed.
Where to eat and drink: Nothing says vacation like fresh seafood by the water. Frank Guido's Port of Call has lobster bakes Tuesdays and Thursdays, and crispy fried calamari and Maryland crab cakes any day of the week. You can get there by car or boat. Just remember to drop anchor -- can't swim home on a full stomach.
SAUGERTIES
County: Ulster County, Eastern Catskills
The Ulster County town of Saugerties ("sawmill" in Dutch) was known for woodcutting and bluestone mining during the 17th century, and is now saving the planet as a top player in solar manufacturing. Its history remains highly visible in both the Colonial architecture and landmarks like the Saugerties Lighthouse. Built in 1869 to replace the 1838 original, it's since been restored and preserved, and it's a must-visit. Stay in one of the two bed and breakfast rooms, visit the museum, or just take in that fresh Hudson River air.
Where to eat and drink: Don't get too attached to anything at Miss Lucy's Kitchen; the menu changes daily based on the freshest ingredients available. That tomato gazpacho might have been amazing today, but tomatoes won't be in season forever. Guess you'll just have to switch to another item like duck confit spring rolls or house made pappardelle with local sausage. Darn. And if you're not feelin' anything at Miss Lucy's that day, head to Love Bites Café where the specials include an oatmeal raisin cookie waffle and spicy shrimp over cornbread pudding.
WOODSTOCK
County: Ulster County, Northeast Catskills
This longtime artist colony (since 1787) was established around music, food, art, and eccentricity of all kinds; today the town stealthily retains a population dotted with a few big names, but also plenty of the coolest music industry people you've never heard of. To really feel its vibes, visit Opus 40, a museum and outdoor sculpture garden in Saugerties (less than 20 minutes away) that showcases the defining work of Woodstock artist Harvey Fite: bluestone sculptures Fite crafted by hand for 37 years.
Where to eat drink: You can't live off vibes, but you can live off filet mignon. Nearby Bear Café will serve you its quality cut over garlic mash; if you're lucky enough to get a table overlooking Sawkill Creek, you'll probably end up staying for seconds, dessert, coffee, tea -- you get it. For breakfast or brunch, try Oriole 9, where you can anything from get truffled scrambled eggs to curried coconut tofu hash.