For your upcoming road trip to Upstate New York, instead of planning your itinerary around cool events in the Hudson Valley and Catskills or fascinating abandoned places, make a charming small town your next destination.
Beyond the five boroughs, the great State of New York truly offers something for everyone—and from the birthplace of your favorite salad dressing (aka Thousand Island) to quaint hamlets with with history, excellent food, and cultural attractions, there's no shortage of places that make for a perfect escape from the hustle and bustle of the city. Here are 11 must-visit small towns in Upstate New York.
Alexandria Bay
The Thousand Islands won't ever be a day trip from New York City, but it's worth the journey to see this dreamy region that's shared by the US and Canada (fun fact: it's also where your favorite salad dressing is from). Alexandria Bay is the most picturesque town in the area, located right on the shores of the St. Lawrence River. And indeed, most of the best activities here are on the water, whether that's renting a pontoon boat or hiring beloved Uncle Sam Boat Tours to take you on a tour of the area's famed castles, Boldt and Singer. Post up for the night at the nearby 1000 Islands Harbor Hotel in Clayton; the riverside property features a spacious outdoor firepit and gorgeous views of the water from most rooms. And for farm-to-table dishes, head to The Kitchen at the Captain Visger House.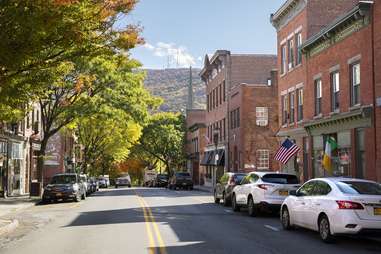 Canandaigua
The Seneca tribe dubbed Canandaigua "The Chosen Spot," and a visit to this picturesque lakeside town certainly proves why. Located 25 miles southeast of Rochester on the northern end of Lake Canandaigua (one of the famed Finger Lakes), the historic downtown has a bevy of bed and breakfasts, art galleries, and local restaurants. Aside from boating, kayaking, or paddleboarding on the lake, historical attractions include the stunning Sonnenberg Gardens and Mansion and Granger Homestead and Carriage Museum, which has a collection of over 100 antique carriages. The Lake House on Canandaigua is arguably the buzziest hotel in the region and for dining, try the Breakfast Crepe at Simply Crepes; Reuben Schnitzel at Rheinblick German Restaurant; and Cheeseburger at The Green Front.
Catskill
It's little wonder famed painter Thomas Cole made his home in Catskill: the views of the mountains here are unparalleled. His house is now a National Historic Site and certainly worth a visit, but it's not the only claim to fame this town boasts: it's also where author Washington Irving based his famed short story of "Rip Van Winkle." Of course, there's also loads to do here even if you're not a 19th-century history buff. Most famous is probably Kaaterskill Falls, one of the tallest falls in New York State and only about 15 miles from the center of town. Back on Main Street, pop into fun boutiques like Mahalo Gift Shop for cheeky Catskill swag. For local eats, try the Norman Bates sandwich at HiLo, Tour of Poland platter at New York Restaurant, and a Sunset Pale Ale and the Buffalo Chicken Pizza at Rip Van Winkle Brewing Company.
Cooperstown
It may be just a small village, but Cooperstown certainly boasts some big-city attractions. Most notable may be the fantastic National Baseball Hall of Fame, which partially gives the area its nickname of America's Hometown (legend also has it that Abner Doubleday created the sport here in 1839). But Cooperstown is also known as the Village of Museums: the Fenimore Art Museum boasts one of the strongest collections of American Indian and folk art, while The Farmers Museum is one of the country's oldest living museums. Located on the southern shores of Otsego Lake, the area also offers plenty of outdoor pursuits like chartering boats or hiking in the nearly 600-acre Glimmerglass State Park. Spend the night at the historic and luxurious Otesaga Resort Hotel and enjoy the BBQ Chicken at Brooks' House of Bar-BQ and Poutine (with a glass of Pale Sour) at Brewery Ommegang.
Ellicottville
Western New York may be the state's most underappreciated region, but one trip to Ellicottville will make you wonder why it took you so long to visit. Known as the area's premier launch point for outdoor adventures, the town boasts two ski slopes, ample trails for hiking and mountain biking, and some of the best fishing in North America in surrounding Cattaraugus County. And the town itself, though tiny, is packed with local boutiques, impressive restaurants, and a surprising number of bars. Book a stay at Holiday Valley, a resort that offers plenty of activities like golf, an aerial adventure park, and more. And be sure to try local eats like the 24-ounce Ribeye at West Rose, Loaded Brewer Tots at Ellicottville Brewing Co., and Spaghetti & Meatballs at Dina's.
Lake Placid
This town in the Adirondacks is perhaps most well-known for hosting the Olympics in 1932 and 1980, and many of the former facilities are now open to the public. But aside from wintertime sports, the charming village offers beautiful scenery and a quaint downtown year-round. Paddle on serene Mirror Lake in the summer, or climb Wallface, New York's biggest cliff, for a jaw-dropping view of fall foliage. And no trip here would be complete without a stay at one of the area's fabulous lodges: Lake Placid Lodge and Whiteface Lodge being the must-sees. For local bites, try the Venison Brunswick Stew at Salt of the Earth Bistro and Award Winning Wings at Smoke Signals.
Lewiston
Though its proximity to Niagara Falls may be what first draws travelers here, they stay in Lewiston for its charm, excellent boutique shopping, and eateries like The Silo for its signature Haystack Sandwich; Brickyard Pub & BBQ for barbecue; and Hibbard's Original Frozen Custard for sweet treats. The main stretch in town is Center Street; if you walk all the way to its end, you'll be at the Niagara River (and can wave at Canada across the way). Watersports are an unsurprisingly popular activity here: the most famous—and most fun—is probably Whirlpool Jet Boat Tours. This adrenaline-pumping, 45-minute ride takes guests into the heart of the Niagara Gorge and then through the Devil's Hole rapids; prepare to get soaked if you sign up for the "wet jet" tour. Relax after with a coffee from Orange Cat Coffee Co. and a stroll through the Earl W. Brydges Artpark State Park, just a short walk from the village.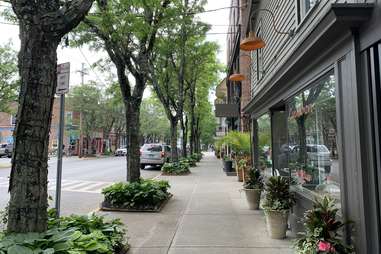 Saratoga Springs
While best known as a hub for all things horse racing with the Saratoga Race Course, this walkable town in the Capital District of New York offers plenty to do for the non-equine inclined. Saratoga Springs, after all, was originally known for its natural mineral springs, which attracted the state's elite during the Gilded Age. Today, Saratoga Spa State Park is just as enchanting as it was 100 years ago, with winding hiking trails, geysers, and a golf course. Back in town, Broadway is one of the best main streets in all of Upstate, with plenty of boutiques and stores to peruse. For popular local eateries, head to Mrs. London's Bakery, Hattie's Restaurant, and Osteria Danny; and Hamlet & Ghost for a nightcap.
Saugerties
Often overlooked in favor of neighboring spots like Woodstock, this quiet Catskills town is certainly worth a detour of its own. Start your visit with a tour of the incredible Opus 40, a nearly 60-acre sculpture park single-handedly carved by sculptor Harvey Fite. From there, drive into town and feast upon farm-to-table fare from the perennially packed Miss Lucy's Kitchen. Partition Street, the main drag, features many charming shops, including natural skincare mecca Savor Beauty and famed sweets store Krause's Chocolates. The boutique property Diamond Mills Hotel is also bringing buzz to the town: Even if you're not staying there, make sure to have a meal at the outdoor terrace overlooking Esopus Creek. And for more food options, be sure to add Alleyway Ice Cream for its Ube Heath Bar Crunch ice cream and The Dutch for its Beer Flights and signature Dutch Burger to your itinerary.