Your international and domestic travel plans may currently be on hold, but that doesn't mean you can't start planning for a different, more local (and just as memorable) vacation. Believe it or not, there is more to New York than the five boroughs -- and we don't just mean Montauk. Our great state truly offers something for everyone, from the picky gourmand to the adrenaline junkie. And, if you're up for a road trip, even the farthest regions of the Empire State are within reach. Just remember, of course, to wear your masks and practice social distancing wherever you visit. New York State's low COVID-19 infection rate is something to be proud of, so let's keep it that way.
And now, from the farm-to-table pleasures of the Hudson Valley to the remote beauty of the Thousand Islands, here are the best small towns in Upstate New York.
Alexandria Bay
Why it's so great: The Thousand Islands won't ever be a day trip from NYC, but it's worth the journey to see this dreamy region that's shared by the US and Canada (fun fact: it's also where your favorite salad dressing is from). Alexandria Bay is the most picturesque town in the area, located right on the shores of the St. Lawrence River. And indeed, most of the best activities here are on the water, whether that's renting a pontoon boat or hiring beloved Uncle Sam Boat Tours to take you on a tour of the area's famed castles, Boldt and Singer. Post up for the night at the nearby 1000 Islands Harbor Hotel in Clayton; the riverside property features a spacious outdoor firepit and gorgeous views of the water from most rooms.
Must-eat foods: The poutine burger at Riley's by the River; crab cakes at Coleman's Dock of the Bay; macaroni au gratin at The Kitchen; and, of course, order Thousand Island dressing on your salad at least once.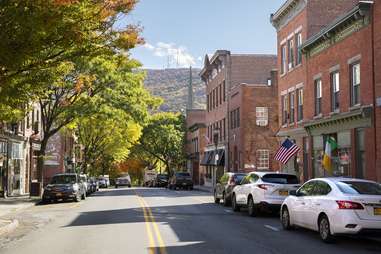 Beacon
Why it's so great: At just an hour-and-a-half drive from NYC, this art-filled town is easily doable as a day trip. Many come to visit Dia:Beacon, a 300,000 square-foot contemporary and modern art museum that's housed in an old Nabisco box printing factory on the shore of the Hudson River. But there is much more to explore in the town itself, including quirky Dr. Who-themed The Pandorica restaurant, local craft breweries like 2 Way Brewing Company, and the addictive sweets at the Hudson Valley Marshmallow Co. It's worth spending the night at the romantic Hotel at Roundhouse Beacon; ask for a room overlooking the waterfall.
Must-eat foods: Singapore sling for two and pretzel crack at Wonderbar; a bucket of popcorn at Story Screen Drive-In; lemon-cream cheese pancakes at Towne Crier Café.
Canandaigua
Why it's so great: The Seneca tribe dubbed Canandaigua "The Chosen Spot," and a visit to this picturesque lakeside town certainly proves why. Located 25 miles southeast of Rochester on the northern end of Lake Canandaigua (one of the famed Finger Lakes), the historic downtown has a bevy of bed and breakfasts, art galleries, and local restaurants. Aside from boating, kayaking, or paddleboarding on the lake, historical attractions are also big business here. Top sites include the stunning Sonnenburg Gardens and Mansion and the Granger Homestead and Carriage Museum, which has a collection of over 100 antique carriages. And, with the opening this summer of The Lake House on Canandaigua, arguably the buzziest hotel launch ever in the region, expect to hear much more about this town in the years to come.
Must-eat foods: The breakfast crepe at Simply Crepes; Reuben schnitzel at Rheinblick German Restaurant; cheeseburger at The Green Front.
Catskill
Why it's so great: It's little wonder famed painter Thomas Cole made his home in Catskill: the views of the mountains here are unparalleled. His house is now a National Historic Site and certainly worth a visit, but it's not the only claim to fame this town boasts: it's also where author Washington Irving based his famed short story of "Rip Van Winkle." Of course, there's also loads to do here even if you're not a 19th-century history buff. Most famous is probably Kaaterskill Falls, one of the tallest falls in New York State and only about 15 miles from the center of town. Back on Main Street, pop into fun boutiques like Mahalo Gift Shop for cheeky Catskill swag. And, for an overnight unlike any other, book a room at Long Neck Inn, a hotel and campground on the site of the old Catskill Game Farm (don't worry, there are no longer any Tiger King-style animals on property).
Must-eat foods: Norman Bates sandwich at HiLo; Tour of Poland platter at New York Restaurant; a Sunset Pale Ale and Buffalo chicken pizza at Rip Van Winkle Brewing Company.
Cooperstown
Why it's so great: It may be just a small village, but Cooperstown certainly boasts some big-city attractions. Most notable may be the fantastic National Baseball Hall of Fame, which partially gives the area its nickname of America's Hometown (legend also has it that Abner Doubleday created the sport here in 1839). But Cooperstown is also known as the Village of Museums: the Fenimore Art Museum boasts one of the strongest collections of American Indian and folk art, while The Farmers Museum is one of the country's oldest living museums. And the area does not lack for outdoor pursuits either; Cooperstown is located on the southern shores of Otsego Lake, where you can charter boats or hike in the nearly 600-acre Glimmerglass State Park. Spend the night at the historic and luxurious Otesaga Resort Hotel, just an eight-minute walk from town.
Must-eat foods: BBQ chicken at Brooks' House of Bar-BQ; Indian lamb pops at Alex's World Bistro; poutine and a glass of Pale Sour at Brewery Ommegang.
Ellicottville
Why it's so great: Western New York may be the state's most underappreciated region, but one trip to buzzing Ellicottville will make you wonder why it took you so long to visit. Known as the area's premier launch point for outdoor adventures, the town boasts two ski slopes, ample trails for hiking and mountain biking, and some of the best fishing in North America in surrounding Cattaraugus County. And the town itself, though tiny, is packed with local boutiques, impressive restaurants, and a surprising number of bars. Book a stay at Holiday Valley, a resort that offers summer activities like golf and an aerial adventure park (in non-social distancing times, of course), plus day-and-night skiing and snowboarding, and tubing in the winter.
Must-eat foods: The 24-ounce ribeye at West Rose; an El Gordo Burro beer and loaded brewer tots at Ellicottville Brewing Co.; spaghetti and meatballs at Dina's.
Lake Placid
Why it's so great: This town in the Adirondacks is perhaps most well-known for hosting the Olympics in 1932 and 1980, which means it's a must-visit for any winter sport aficionado. Many of the former Games facilities are now open to the public, so even mere mortals can learn the ins and outs of biathlon (that's cross-country skiing and riflery, of course). But aside from wintertime sports, the charming village offers beautiful scenery and a quaint downtown year-round. Paddle on serene Mirror Lake in the summer, or climb Wallface, New York's biggest cliff, for a jaw-dropping view of fall foliage. And no trip here would be complete without a stay at one of the area's fabulous lodges: Lake Placid Lodge and Whiteface Lodge being the must-sees.
Must-eat foods: Moroccan venison stew at Salt of the Earth Bistro; the smoked wings at Smoke Signals; flourless chocolate cake at The Interlaken Inn.
Lewiston
Why it's so great: Though its proximity to Niagara Falls may be what first draws travelers here, they stay in Lewiston for its charm, its excellent boutique shopping, and innovative restaurants. The main stretch in town is Center Street; if you walk all the way to its end, you'll be at the Niagara River (and can wave at Canada across the way). Watersports are an unsurprisingly popular activity here: the most famous -- and most fun -- is probably Whirlpool Jet Boat Tours. This adrenaline-pumping, 45-minute ride takes guests into the heart of the Niagara Gorge and then through the Devil's Hole rapids; prepare to get soaked if you sign up for the "wet jet" tour. Relax after with a coffee from Orange Cat Coffee Co. and a stroll through the Earl W. Brydges Artpark State Park, just a short walk from the village.
Must-eat foods: Focaccia at Carmelo's Restaurant; the arancini at Casa Antica; black raspberry frozen custard at Hibbard's Original Frozen Custard.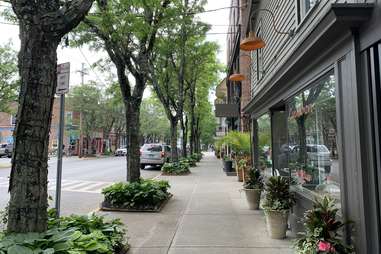 Rhinebeck
Why it's so great: A less than two-hour train ride from Penn Station, this charming hamlet in Dutchess County is the platonic ideal of an upstate small town. The farmers market is one of the best in the entire state, there is ample hiking nearby at places like Drayton Grant Park at Burger Hill, and even a classic candy store, Samuel's Sweet Shop (which – fun fact! – is partially owned by actors Paul Rudd and Jeffrey Dean Morgan). Spend the night at America's oldest continuously operating inn, The Beekman Arms and Delamater Inn, or treat yourself to a (COVID-safe) spa treatment at the newest hotel in town, Mirbeau Inn & Spa. Rumor has it Soho Farmhouse will be opening its first stateside location here in a few years, so visit now if you want to boast you were there "before it was cool."
Must-eat foods: Pita falafel from Aba's Falafel; Margherita pizza from Pizzeria Posto; chicken tikka masala from Cinnamon.
Saratoga Springs
Why it's so great: While best known as a hub for all things horse racing (the Saratoga Race Course was named by Sports Illustrated as one of the greatest sporting venues in the world), this walkable town in the Capital District of New York offers plenty to do for the non-equine inclined. Saratoga Springs, after all, was originally known for its natural mineral springs, which attracted the state's elite during the Gilded Age. Today, Saratoga Spa State Park is just as enchanting as it was 100 years ago, with winding hiking trails, geysers, and a golf course. Back in town, Broadway is one of the best main streets in all of Upstate, with plenty of boutiques, restaurants, and cocktail spots (don't miss the drinks at Hamlet & Ghost).
Must-eat foods: Hattie's Famous Fried Chicken at Hattie's Restaurant; Shrimp the Way My Father Liked at Osteria Danny; almond croissant from Mrs. London's Bakery.
Saugerties
Why it's so great: Often overlooked in favor of neighboring spots like Woodstock, this quiet Catskills town is certainly worth a detour of its own. Start your visit with a tour of the incredible Opus 40, a nearly 60-acre sculpture park single-handedly carved by sculptor Harvey Fite. From there, drive into town and feast upon farm-to-table fare from the perennially packed Miss Lucy's Kitchen. Partition Street, the main drag, features many charming shops, including natural skincare mecca Savor Beauty and famed sweet store Krause's Chocolates. New boutique property Diamond Mills Hotel is also bringing buzz to the town: Even if you're not staying there, make sure to have a meal at the outdoor terrace overlooking Esopus Creek.
Must-eat foods: Ube Heath Bar crunch ice cream at Alleyway Ice Cream; buttermilk fried chicken at Miss Lucy's Kitchen; a beer flight and house burger at The Dutch.
Sign up here for our daily NYC email and be the first to get all the food/drink/fun New York has to offer.
Juliet Izon is a Thrillist contributor.