Take a Road Trip to the World's Largest Playable Donkey Kong Arcade Game in Upstate New York
Don't forget about the colorful outdoor exhibits at The Strong National Museum of Play.
Strong National Museum of Play

| Photo courtesy of Strong National Museum of Play
Strong National Museum of Play

| Photo courtesy of Strong National Museum of Play
When it comes to long weekend destinations for New Yorkers, while Rochester may not be immediately top of mind, this city perched on the southern side of Lake Ontario punches well above its weight in relation to its size. In fact, Rochester is known as the cultural capital of Upstate New York, due in large part to its high concentration of museums, galleries, and science centers.
And if we're playing favorites, our top local destination is the quirky and delightful Strong National Museum of Play. At first glance, it's easy to write it off as a jumbo-sized children's playspace, but the museum is one of the largest history museums in the country and houses the world's most comprehensive collection of materials related to play. This means there's plenty more than just antique doll collections (although there is that, too): There's everything from pinball halls and an outdoor space to exhibits on the history of eGameRevolution.
But perhaps the most Instagrammable attraction is the museum's newest: The world's largest playable Donkey Kong arcade game. At nearly 20 feet tall, the machine actually spans more than one floor, and is one of the centerpieces of the Strong's new 90,000 square-foot expansion that opened this June. Additional new must-sees in the wing include a board game exhibit with life-sized playing pieces inspired by Hasbro, and High Score: The new home for the World Video Game Hall of Fame. And of course, don't forget to swing by the brand-new gift shop on your way out for puzzles, crafts, and toys featured in the National Toy Hall of Fame.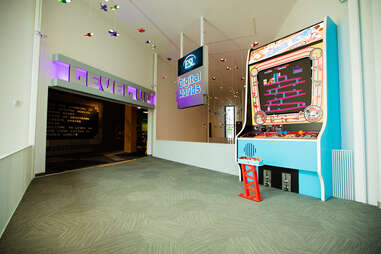 Drive time:
5 hours and 30 minutes from New York City
More things to do near Rochester, NY:
We bet you didn't know that the largest collection of lilacs in North America can be found in Rochester at Highland Park. The green space is also one of New York State's prettiest, thanks to stellar landscape design by the famed Frederick Law Olmsted. The park is also home to the Lamberton Conservatory, a carefully curated collection of plants from around the country that's open year-round.
The city is also home to one of the country's oldest operating amusement parks: Seabreeze. With 65 rides, there's something for every type of rider, whether they're scaredy cats or not. But if you can handle it, don't miss the Whirlwind, one of only three spinning coasters of its type in the whole country; and the Jack Rabbit, the oldest continually operating wooden coaster in North America.
Where to stay in Rochester, NY:
For a true unplugged experience, book a room at Woodcliff Hotel & Spa, a pampering resort that boasts a 9-hole golf course, 70 acres of hiking trails, and the luxe Spa at Woodcliff, known for their rejuvenating massages and wraps. Be sure to grab a meal at the on-site restaurant Horizons Modern Kitchen + Wine Bar. The locally sourced American menu features creative takes on everything from lamb loin to cauliflower steaks, all with stunning views of the Finger lakes and downtown Rochester.
Where to eat in Rochester, NY:
No trip to the city would be complete without trying its most famous food: The Rochester "Garbage Plate." Traditionally, this delicious dish with an unappetizing name comes with a choice of meat (like a cheeseburger or Italian sausage) served on top of some sort of combination of home fries, french fries, baked beans, or macaroni salad. The whole mess then gets topped with Rochester "hot sauce" which is actually a spicy meat ragu. Finishing touches can include piquant mustard and onion, plus a side of buttered bread. We guarantee there's nothing else like it on the planet. And while there are many places to try it, the original can be found at Nick Tahou Hots, which has been in operation since 1918.