A Guide to Taylor Swift's NYC, According to Her Songs
Welcome to New York (Taylor's Version).
Welcome to New York, Swifties. Or more accurately, East Rutherford, New Jersey, where Taylor Swift will take the MetLife Stadium stage for a series of whopping three-hour shows over Memorial Day Weekend. While we're all excited to traverse through the iconic eras with Blondie at night, there is also plenty of Taylor lore to consume during the off hours. We've rounded up all of the NYC spots Swift has referenced in her songs—from the dive bar on the East Side to Coney Island—so you can hit up the locales that inspired your favorite songs, just don't forget to bless the rains on them as you go.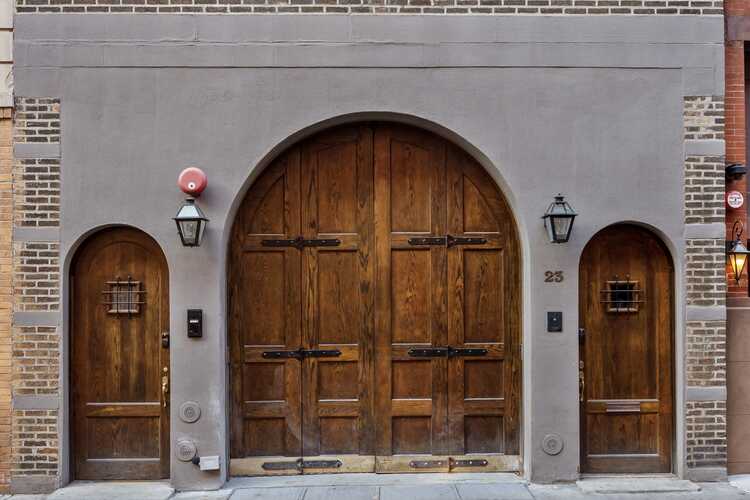 Taylor Swift's Cornelia Street townhouse

| Photo by Al Siedman/VHT for The CartyLo Team/Corcoran Group
Swift's Cornelia Street rental is indeed the titular townhouse of the beloved Lover track, "Cornelia Street," where she walked around barefoot and memorized the creaks in the floor. Swift rented the $11.5 million apartment for a few months in 2016 while getting her current Tribeca place renovated. It's strongly implied by the song that this is where Swift spent the budding beginnings of her relationship with Joe Alwyn. Even though they're not together anymore, we choose to believe the memories are immortalized there. The townhouse is a particular hotspot amongst Swifties, so don't be shocked if you see a crowd outside. After you pay your respects, go for a picturesque stroll amongst the brick row houses in the charming Greenwich Village.
While it's not confirmed, the aptly-named bar Lovers of Today is speculated to be the "dive bar on the East Side" from the song "Delicate" where Swift had a clandestine rendezvous with Alwyn. Regardless of the veracity of this rumor, you definitely want to head over to the East Village watering hole and pull up a stool; the ambient mood lighting is perfect for cosplaying a celebrity on an undercover date. While you're there, sip on the Handsome Devil, a cocktail consisting of tequila, fresh lime, and lavender honey, assumed to be inspired by the iconic "Cruel Summer" lyric "he looks up grinning like a devil." Just don't cry like a baby going home in the car.
Cue up "cardigan" and take a stroll on The High Line, a public park that sits above street level on a historic renovated rail line. In the second track on folklore, Swift recalls hearing "your heartbeat on the High Line" in a series of loving memories. The tourist hotspot is mentioned again in the promotion for the record when Swift said the album is inspired by images that "popped into [her] mind and piqued [her] curiosity" including "lovestruck kids wandering down the evergreen High Line." And it's no wonder why—the 1.45 stretch is perfect for a romantic stroll, especially if you visit on off hours like first thing in the morning or at sunset.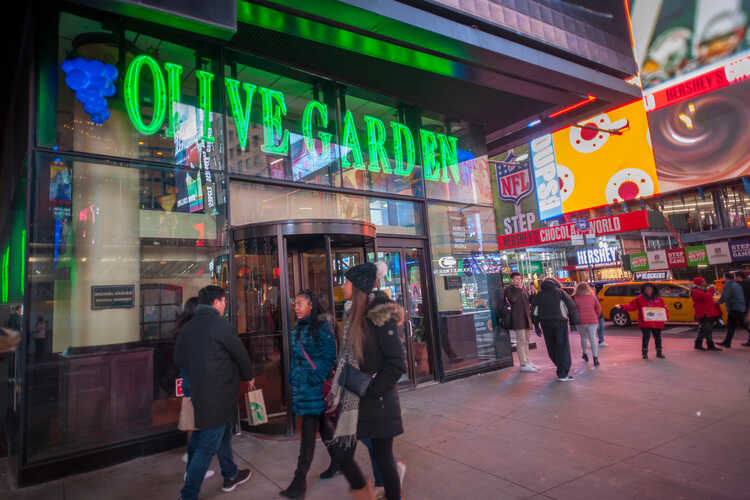 Olive Garden in Times Square

| rblfmr/Shutterstock
It's hard to think of a name drop that turned more heads than when Olive Garden casually rolled off Swift's tongue in evermore's "no body no crime." In the song, Swift writes a whodunnit tale of a housewife's murder that is only discovered after she ghosts her friend on their weekly trip to the chain restaurant. Fans may notice the main character bears the same name as one of the famous HAIM sisters, who collaborated with Swift for the song, and it's no coincidence the chain restaurant mentioned also happens to be Este's favorite. Swift told EW she was "nailing down some lyric details and texted her, 'You're not going to understand this text for a few days but... which chain restaurant do you like best?'" and thus the lyric was born. Luckily, NYC has its own outpost of Olive Garden in Times Square where you can eat endless salad and breadsticks while pondering who, exactly, did it (and what Este Haim orders at Olive Garden).
Coney Island

| Kamira/Shutterstock
For most, this carnival wonderland on the southernmost tip of Brooklyn conjures up images of Nathan's hot dogs smothered in relish, ferris wheels, and sandy shores. But Swift fans know this is the ideal spot to sit on a bench and wonder, "where did my baby go?" For this locale's namesake track on evermore, Swift teams up with The National for a moody ode to lost love. But while there are few images more evocative than brooding on a bench as a dreary day mutes the neon colors of the nearby carnival, Coney Island is best visited on a picturesque summer afternoon when you can check out the rides at the iconic Luna Park or enjoy classic carnival concessions. Sorry, Taylor.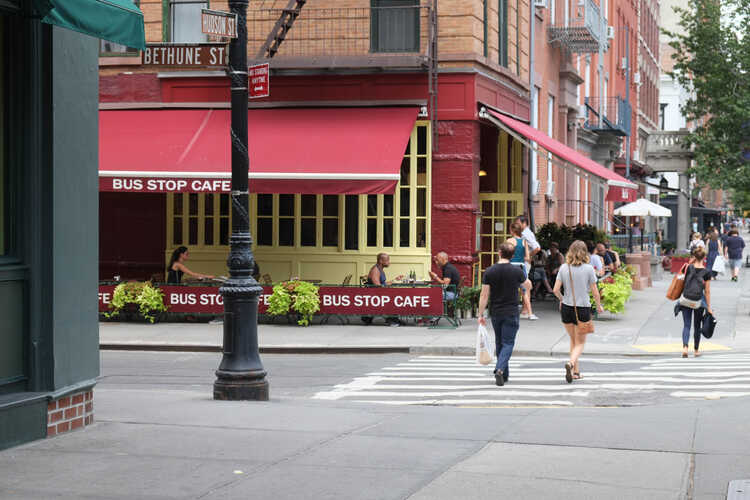 Bus Stop Cafe

| Photo by Paul Sableman
If you questioned the lyric "I thought I saw you at the bus stop, I didn't though" from "the 1" on folklore, you're not the only one. Let's be honest, it's highly unlikely Swift has taken the bus in decades. However, because Swifties are nothing if not resourceful, many believe the lyric actually refers to Bus Stop Cafe in the West Village, as the restaurant is only a 10-minute walk from her famous Cornelia Street abode. And whether you believe in certain Taylor conspiracy theories (you know the one) or not, the cafe is only a five-minute walk from Karlie Kloss's former West Village home. While Swift has never confirmed if she indeed loves the brunch at the Bus Stop Cafe, there's no harm in grabbing a table and feasting on some French toast.
The string light-adorned Housing Works Bookstore is where we watched red-headed Swift read her novel aloud in All Too Well: The Short Film, and thus instilled hope that one day we might get a memoir from her. The bookstore, staffed solely by volunteers, puts all of their profits toward the Housing Works' lifesaving service, which serves to ensure all people living with HIV/AIDS have access to housing and healthcare. The bookstore also serves as a very sought-after wedding venue (take notes, Swifties). There is a cafe inside, so it's the ideal spot to romanticize your time in the city by picking up a coffee and sifting through the two stories of bookshelves. Per the Swift recommended reading list, we suggest nabbing a copy of Rebecca by Daphne du Maurier, the book that inspired Swift to write the devastating track "tolerate it" on evermore.
This one may not be mentioned in a song, but it's where all the magic happens so it's definitely worth a visit on any Taylor-themed tour of NYC. The studio has operated in Greenwich Village since 1970, when Jimi Hendrix and his manager Michael Jeffery bought a defunct nightclub and converted it into a professional recording studio. Since then, the space has hosted everyone from The Rolling Stones and Patti Smith to Adele, Frank Ocean, and, of course, Swift. The singer was recently seen leaving the studio on several occasions with her latest rumored lover, The 1975's Matty Healy, so stop by and you may just have a celebrity sighting.