VisitTheCatskills.com / Julie Bidwell Photography
VisitTheCatskills.com / Julie Bidwell Photography
If you and your significant other can't remember the last time you got away from it all, it's time to put the Catskills on the top of your to-do list. Don't have the time (or accrued vacation days) for a long vacay? No worries, you'll reach these spots in less than three hours -- whether via your own wheels or the Adirondack-bound Trailways bus. And less travel time means fewer opportunities to argue about whose family you're going to spend Thanksgiving with.
1. Phoenicia
Phoenicia lies between Esopus Creek and the Stony Clove Stream, so tubing is the summer activity of choice. There are few things more romantic than floating down a river, as work emails become an increasingly distant memory, and you realize that your partner has been working out. Next, head to Main Street's The Mystery Spot for quirky antiques, then suit up for hiking -- you've got some serious views to take in.
How to get there: Take the Trailways bus from Port Authority to Phoenicia's Main Street. If you've got your own ride, buckle up, and cue up a good playlist for the two-and-a-half-hour drive up I-87.
Where to stay:The Glass Mountain Inn is suitably secluded, and you can rent one of the private apartments, or the Fairy Tale Cottage -- complete with a private deck for mountain sunsets -- for a weekend. If that's not romantic, you are dead inside. The property also has a fire pit, hammocks, and will even send someone to pick you up from the Trailways bus stop.
What to selfie: Brunch at the Phoenicia Diner, then visit the Woodstock Farm Sanctuary and pet a few crazy cute goats. If you're feeling adventurous, go tubing down Esopus Creek where white-water rapids will set both your hearts pumping.
2. Saugerties
Saugerties sits right between the mountains and the Hudson, so expect extra spectacular scenery. (The sun setting over the Catskills, as well as the river views, are sure to induce some mushy feelings, so consider yourself warned.) The village business district is a National Historic Landmark thanks to its preserved 19th-century storefronts, so you may feel like you've been transported to another era as you stroll past the bookstores, coffee shops, and boutiques in the downtown's eight-block stretch.
How to get there: The Trailways Bus will drop you off at the Route 32 Park and Ride. From there, you can call Kingston Kabs for a $10 ride back into town. Alternatively, the drive is just over two hours up I-87.
Where to stay:The Bluestone Bed and Basecamp was the Catskills' first microhotel -- meaning it's small and you'll probably catch the owners around, not that it's a hotel for tiny people. It sits on a bluff, with panoramic views of the mountains, and has its own vineyard and orchard.
What to selfie: Your hotel is cool and all, but the climb to the top of the historic Saugerties Lighthouse, where you can take in 360-degree views of the Hudson River, is all but compulsory. Next, pack a picnic and head to Opus 40, a 6.5-acre sculpture garden made from the ruins of an old rock quarry.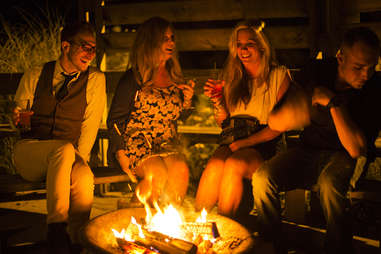 3. Roxbury
Don't be surprised if, upon arrival, you feel like you just got out of the Doctor's Tardis. This hamlet is all about its historic roots, which is why you'll catch baseball players in 1900s-era uniforms (complete with funky, old-school collars) out on the Kirkside Park field on Saturdays, as well as historic homes and, on the town's outskirts, working farms. Time feels like it stands still there, so slow down accordingly.
How to get there: The Trailways bus doesn't stop in Roxbury, but it does hit several outlying towns like Fleischmanns, Arkville, and Margaretville. So your best bet is probably your own wheels. Again, you're hitting I-87 north for about three hours.
Where to stay:The Roxbury Motel is one of the most talked-about hotels in the Catskills, and for good reason. It takes eccentric to a whole new level by offering themed rooms, like The Wizard of Oz's Emerald City, and... Coconut Cream Pie. Really. Don't lick any walls.
What to selfie: Strap on a helmet and head to Plattekill Mountain, a ski resort that has been offering mountain biking in the summer for more than two decades. If you would rather adventure on foot, though, Roxbury is also close to the Catskill Scenic Trail, a 23-mile flat hike along the old railroad through the Catskills' mountain views and farmlands. Afterward, clean up for a fancy dinner at Peekamoose Restaurant.
4. Hunter
Hunter Mountain is a prime winter destination for everyone who enjoys flying down a mountain at high speeds, but you don't need skis to visit; there's biking, hiking, zip lining, and tons more warm weather stuff to do. Adventuring aside, Hunter is drop-dead gorgeous; its waterfalls and vistas inspired the Hudson River School painters for good reason.
How to get there: The Trailways bus will take you direct to Hunter, while driving time is about 2 hours and 45 minutes via I-87 north.
Where to stay:Scribner's Catskill Lodge has been around since 1966, but was recently made over by new owners into a contemporary hotel with private decks and fireplaces. The pool has almost 360-degree mountain views, and you can watch the sunset from the bar.
What to selfie: The Mountain Top Arboretum's 23 acres of curated trees, flowers, and shrubberies make it the closest you'll get to an enchanted forest outside of a fairy tale. And just because it's summer doesn't mean you can't enjoy a scenic ride on the Hunter Mountain ski lift. (Getting to the top of the mountain is normally the best part of skiing, anyway.)
5. Fleischmanns
Fleischmanns is tiny (like 350 people tiny). While that's probably more intimate than your high school graduating class, know that the population swells to about 25 times that in the summer, so they most definitely do like strangers around these parts. New Yorkers have been coming here since the early 1900s, so it's kind of the Katz's Deli of vacation spots.
How to get there: The Pine Hill Trailways bus takes about three hours, and will drop you off right in front of your B&B if you ask the driver nicely. The drive is just a little under three hours, and besides the trek north up I-87, you'll also spend some time on Route 28, aka the Catskill Mountain Scenic Byway. Listen to a whole audio tour of the area here.
Where to stay:River Run Bed and Breakfast is located right on Main Street, but its backyard juts up against a quiet stream, and it's minutes from hiking trails through the Catskill Forest Preserve.
What to selfie: Spend the day at Belleayre Beach for swimming, kayaking, stand-up paddleboarding, and spreading sunscreen on each other's hard-to-reach spots. Later, take a scenic two-hour, highly 'grammable train ride through the Catskills.
6. Lexington
Comprised of six rural mountain communities with only 800 people between them, Lexington is all about getting in that much-needed alone time. Check out the very pretty Schoharie Creek, which runs through town, and Catskill Park. Before venturing into the latter, make sure one of you owns and knows how to operate a compass -- these aren't just forests, these are wild forests. That means patchy cell phone service, and the chance to hang out and talk like the Internet hasn't even been invented yet.
How to get there: Like you probably guessed by now, you'll be taking a Trailways bus from NYC to Phoenicia. To get from there to Lexington, shoot the innkeepers an email (beforehand, remember, unless you want to spend hours trying to get a signal) for help coordinating your bus arrival. If you're driving, you're looking at a three-hour cruise through I-87 and the Catskill Mountain Scenic Byway.
Where to stay:The Spruceton Inn is a bed and bar. For real. Grab a craft beer or glass of wine at Conan's Corner, the in-house bar, then chill out in the meadow on the property. Snooze in a hammock, or check out what the night sky is supposed to look like, minus light pollution. Aww.
What to selfie: This is farm country, so fuel up at the Lexington Farmer's Market in the morning, where you can ask a psychic how your relationship fits into the universe, or (if things aren't that serious) maybe just get a caricature. The market is open every other Saturday through October. After that, there's prime hiking around the Spruceton Inn, like the Diamond Notch Trail's waterfalls, streams, and wildflowers. That night, hit Table on Ten for locally sourced, brick-oven pizzas.
7. Meredith
You'll know you've hit Meredith when you start seeing barns, stone wall dividers for sheep herding, and lots of pastoral charm. This rural town was once New York's primary spot for dairy production, and while there aren't as many farms around today, you'll still feel far, far away from honking cars and the office. There are plenty of nearby hiking trails if you're serious about that fresh air thing.
How to get there: Trailways will take you from NYC to Delhi, from where you can coordinate pickup and drop off with the folks at Harmony Hill (below). If you aren't staying there, there are several cab options from Delhi to Meredith. You're looking at a two-hour and 45-minute road trip.
Where to stay: For those couples who want to be fully immersed in nature but... with a king-sized bed at the end of the day, Harmony Hill's treehouse yurts are an awesome compromise. They are way fancier than they sound -- you get your own deck, full-sized kitchen, and working bathroom (which is probably in better shape than your apartment's).
What to selfie: Tour Stone and Thistle Farm, then try to put all those lambs, chickens, and goats you just met out of your mind when you sit down at their on-premises restaurant Fable. The next day, catch a folk rock performance or take an arts workshop together at West Kortright Center, a nonprofit arts facility in an 1850s church that looks, appropriately, like it belongs in a painting.
8. Barryville
Barryville is one of the most scenic stops in the Catskills, which is saying a lot. You don't have to go out of your way, or even get out of the car, to see breathtaking views of the waterfalls and rock formations, and it's right on the Upper Delaware Scenic River. Get on the water with a paddle, where you can compare upper body strength, or just skip rowing altogether and take some funny pictures of each other in life preservers.
How to get there: Getting to this part of the Catskills requires a car, but the drive will take you on the Upper Delaware Scenic Byway (AKA Route 97) for about two and a half hours.
Where to stay:The Hillside Schoolhouse is an abandoned one-room school turned into a boutique, two-room hotel, hidden away in the forests.
What to selfie:Canoe on the Delaware for the best views of the Catskills, and like we said, of your SO in a bathing suit. Later, grab a homemade dessert at the Bethel Market Cafe (canoeing is work).
9. Narrowsburg
Narrowsburg's Main Street overlooks the Delaware River at the Big Eddy, so everywhere you look, you're bound to see something pretty. That holds true for the several local art galleries that have sprung up in recent years, as well as the small, but jumping, downtown. Expect a preponderance of peace signs painted on the barns and buildings on your way into town; it's close to Bethel, location of Woodstock, the '69 edition.
How to get there: It's easiest to reach Narrowsburg with your own wheels. Driving time is 2 hours 10 minutes, and for part of it you'll take winding, waterfall-studded Route 23A.
Where to stay: Camp like royalty at the Blue Hill Farms Tent and Breakfast. You get a giant bed, huge two-person jetted shower, full electricity in your tent, and breakfast served to you in a log cabin.
What to selfie: Split a sundae at Nora's Lovin' Spoonful, tour the Delaware Valley Arts Alliance gallery, or take a relaxing float to Skinner's Falls. For dinner, check out Henning's Local, a gem so hidden it's above a gas station.