Travel
Sponsored by
The Catskills' Best Outdoor Adventures
Sponsored by
You already know that the Catskills have sick scenery, cute small towns, and an awesome food and drink scene. But there's more to those mountains than meets the eye, like adrenaline-pumping adventures that make the great outdoors infinitely more exciting. What's even better than admiring a beautiful mountain? Ziplining down it, that's what.
Racing downhill at Windham Mountain Bike Park
Where: Jewett, NY
While you can definitely get a thrill cycling in NYC during rush hour traffic, Windham Mountain Bike Park will give you the good kind of adrenaline rush -- not the kind that makes you yell at innocent old ladies on the street. The trails are integrated with the natural slope of the mountainside, and while they vary in difficulty level, all start from over 3,000ft up. You better wanna go fast, cause you're gonna reach the speed of light (at least, that's what it'll feel like). The current record holder for one of the park's most popular paths, Wilderness Roll, hit 41.2 km/h and cleared the track in six minutes and 47 seconds. But we don't expect you to do that on your first try -- and no one will let you. There's a skills park for first-timers where you can learn everything from how to stand on pedals to distributing your weight evenly, and you can rent equipment if you're not ready to invest in a set of wheels. In short, slow your roll.
Darren McGee / NYSDED
Flying down Hunter Mountain on a zipline
Where: Hunter, NY
You're going to want to hold on for dear life as you soar down the SkyRider Tour at New York Zipline Canopy Tours -- the largest zipline tour in North America at 3,200ft long. You can reach up to 50 mph on the SkyRider, which sits 600ft above ground. But if you want something a little less daring, there are zipline options for scaredy-cats: Both the Mid Mountain Tour and the Night Zip Tour are 650ft long and sit just 60ft above the ground. (Because birds and stars are a hell of a lot more calming.)
Cooling off at Zoom Flume
Where: East Durham, NY
When you need to cool off from your hike, grab a tube and spend an hour (or seven) in the lazy river at Zoom Flume Water Park. When you get bored, or your fingers and toes start to look like prunes, try one of the many steep slides: the brand new Typhoon Twister, the Mighty Anaconda, or the Canyon Plunge.
Courtesy of Ulster County Tourism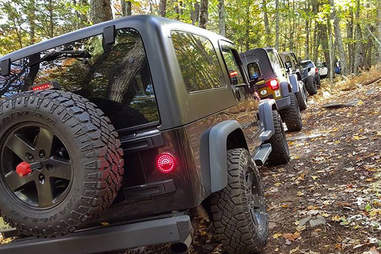 Courtesy of Northeast Off-Road Adventures
Taking an off-road excursion
Where: Ellentown, NY
Want to look badass in a 4x4? Duh. Kiss the pavement and the traffic goodbye and navigate the 68-acre trail with Northeast Off-Road Adventures. Bring your own car or use one of theirs at no extra cost when you sign up for a class. Whether you're just trying to have fun, or learn how to get the most out of a vehicle you already own, blast some rock 'n' roll, get that fist metaphorically pumping (since your hands should be on the wheel), and hit the gas.
Saddling up at the K&K Equestrian Center
Where: East Durham, NY
Ride off into the sunset on one of K&K Equestrian Center's furry friends. The center, located at East Durham's Ravine Farm, is open seven days a week during the summer, every weekend through October, and has different trails for you to explore with a noble steed. If you're not sure what you're doing, K&K will send a guide with you, and you can opt for a lil' pony until you're ready for a big guy.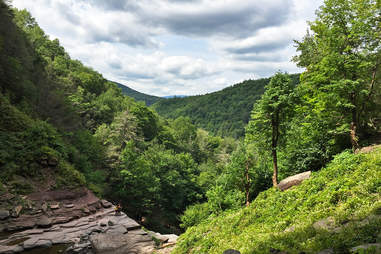 Shutterstock
Hiking Overlook Mountain
Where: Woodstock, NY
There's plenty to explore as you make your way up Woodstock's Overlook Mountain. There's no fee, but you do have to sign in before you start the five-mile trek. On the trail you'll find the Overlook Mountain House, a now abandoned hotel that was built in 1833. With no roof, practically no floors, and trees growing throughout the ruins, this spot is not for the easily spooked. Keep hiking and there's a fire tower with seriously awesome views at the top. A hop across the main trail there's a Buddhist temple to explore (and a gift shop). At the top of the mountain -- if you ever get done exploring all this crazy stuff -- you'll find carvings from hikers that blazed the trail before you. They did it, so can you.
Strapping on a lifejacket and getting wet
Where: Narrowsburg, NY; Barryville, NY
Don't make the mistake of escaping the city and not getting into some crazy river sports. Rafting, canoeing, kayaking, and tubing are all available at Lander's River Trips. Rent the equipment for the day, or spend a night or two at one of the campsites: Skinners Falls, Narrowsburg, or Barryville. Don't anticipate this excursion to be a relaxing one -- especially when you're tubing; you'll need to learn how to steer clear of sudden drop-offs and swift currents.