If you learned anything from a certain coming-of-age movie, besides not putting Baby in a corner, you know that the Catskills are a scenic, accessible escape from the NYC love-hate relationship (absence makes the heart grow fonder, right?). But there's more to the Catskills than good looks, like these 18 awesome things to do when you get there.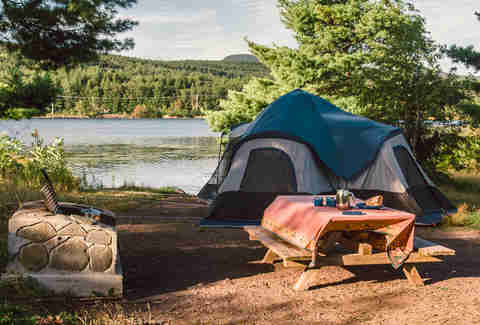 3. Party like it's 1969
Located right on the site of 1969's Woodstock (yeah, the iconic one), the Bethel Woods Center attracts big-name musical acts throughout the year, like Sting and Graham Nash. It's also the site for food festivals, movie screenings, and pop-up markets so make sure you pack the commensurate amount of tie-dye to hit them all.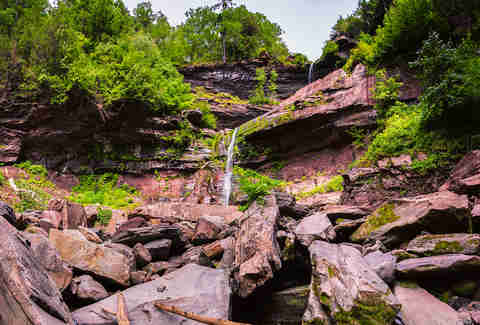 4. Take a hike
Our guess is you escaped the city to enjoy fresh air, which comes via... forests, mountains, waterfalls and the like. If long (but flat) hikes are your speed, take the Catskill Scenic Trail -- a 26-mile stretch that was once a railway, and will take you past farms, scenery, and general "aaaah."
5. Feel the wind in your hair
Well, through your helmet anyway. Hop on a motorcycle, or something else two-wheeled but less high powered, to take in some rolling hills, reservoirs, and small towns. Take Route 55 to check out the Neversink and Roundout Reservoirs, while Route 97 follows the Delaware River for a 70-mile stretch. It will be way better than sitting in traffic on your bike.
6. Float down a river
Whether you're looking for peaceful floats, or heart-racing rapids, the Upper Delaware River has got you. Lander's River Trips has pre-planned routes, so you don't even have to think as you float. And Town Tinker has been leading adventures on Esopus Creek for over 30 years. Note that the latter is not as tranquil as its name suggests; we're talking whitewater rapids.
7. Peruse some local art
The Catskills' natural beauty has been inspiring artists for decades, (Thomas Cole and the Hudson River School ringing any bells?) and today there are dozens of galleries, pottery shops, and museums to inspire, like the Windham Art and Photography gallery or the Stray Cat Gallery in Bethel. 
8. Pick up some weird souvenirs
You'll find antique shops all over the Catskills region, like Rick's Barn, a gigantic shop specializing in antique European and American furniture. But, if you aren't in the market for a huge farm table (because… NYC apartment sizes), head to Phoenicia's Homer and Langley's Mystery Spot, an antiques shop/emporium that's into some Instagram-worthy stuff. We're talking a stuffed, man-eating piranha named "Petey," and an entire exhibit dedicated to creepy dolls.
9. Catch some big city bands
Once an old button factory, the Falcon is now Marlboro's prime destination for blues, jazz, rock, world, and even contemporary chamber music. Most importantly, it now has a beer garden. There's no cover charge or minimum, so don't skimp on the donation box.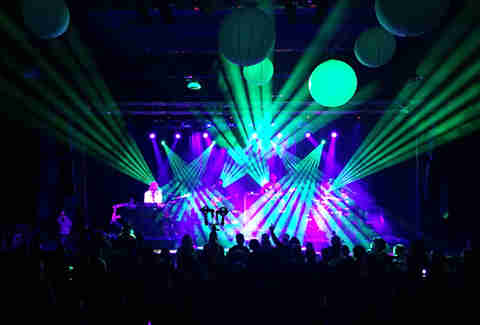 11. Sharpen your circus skills
BSP, an old vaudeville theater in downtown Kingston, hosts live music almost nightly, and offers circus arts classes in its dance studio, like Hula-Hoop workshops and aerial acrobatics. Your first class is only $20, so it's time to get serious about this career change.
12. Find a new band to love
The nonprofit Roxbury Arts Group raises grants for local artists through theater, music, art, literature, fine arts, and crafts. So catch an exhibition or performance, like the upcoming Daisycutter show, and you just might find yourself in the presence of the Next Big Thing.
13. Work on your shoulders
Motorized boating is nearly impossible in the Catskills, so the waters are perfect for canoes, kayaks, SUPs, and rowboats. There are 42 kayakable rapids throughout the Catskills if you think you have what it takes, or take it easy on the significantly calmer North South Lake or Mongaup Pond Campground.
14. And then… have a drink
The Catskill Distilling Company in Bethel makes several different whiskeys, gin, and even a "Peace Vodka" homage to its Woodstock roots. If you aren't into the hard stuff, Windham Vineyard and Winery specializes in small batch wines made from grapes grown on their mountaintop vineyard in Greene County.
Travel Close. Discover more. Visit the Catskills.