The Most Scenic Drives to the Tristate's Best Spring Adventures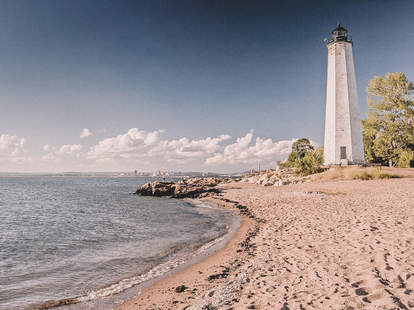 As soon as warmer weather graces the tristate area, out come the inspirational social media posts about how it's not about the destination but the journey. And though they're cliché, they're still true. The route you take certainly matters when you're able to escape the city in search of outdoor spring activities, so you might as well pick a path that keeps you smiling out the window the whole drive.
Whether you're en route to epic waterfall hikes in the Catskills, off-road cycling in New Jersey, or riverside camping next to a castle in New England, you still need a car to make these springs trips a reality. Here are 10 routes to 10 kickass outdoor adventures that'll challenge you on and off the road.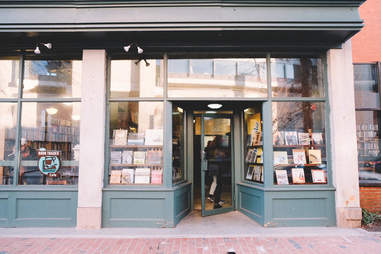 Roderick Topping
ATTAIN PEAK CONNECTICUT
Nothing says "spring in Connecticut" more than embarking on a climb to the top of a beautiful lighthouse. Five Mile Point Lighthouse at Lighthouse Point Park is 82 acres of pure New Haven bliss, with its own swimming area and an antique carousel in case you really want to release the inner kid in you. The best part about this adventure is that you take the Connecticut coast scenic route to get to it. You can even make sure you pass through the Ivy League pearly gates of Yale University, where you absolutely have to nerd out at Book Trader Cafe, one of the few independent book shops left in New Haven with a serious knack for making a good cup of joe.
Christian Giannelli
GIVE ME SHELTER
Everyone heads to the Hamptons, but what lies between Long Island's forks? Prove you know more than how to party in Montauk and visit Shelter Island, the refuge that's home to a 2,000-acre nature preserve. With a pit stop in historic Greenport and a ride on the north ferry to the island, getting there for a weekend is just as peaceful as hiking the Mashomack Preserve freshwater marshes once you do. Enjoy Long Island as it used to be before NYC invaded in the '90s -- particularly when you're striding through the Preserve's isolated trails, which are bustling with fauna to brighten up your Instagram. Or hey… maybe just keep this secret to yourself and, at the least, turn off location services before you post. Fuel up on fresh oysters and New England-style chowder with scallops served up in a mug at Little Creek Oyster Farm and Market, or grab the famous hot pepper "Italian Scallion" pie at 1943 Pizza Bar and people watch Main Street from their ivy-covered patio. For a nightcap, head to the beyond-gorgeous Shelter Island House for a romantic evening at the tavern and hotel before doing it all again on Sunday.
Joseph Sohm/Shutterstock
LEARN TO FLY ON THE WATER
Despite its rep as a suburb of NYC, western Connecticut is full of wild rural roads and a rewarding stillness, so planning an aimless drive through Route 7 should be on your tristate bucket list. Add a final destination by experiencing world-class fly fishing on the Still River (and its mainstream parent, the Housatonic River), where you can have the chance year-round to snag bass, Atlantic salmon, and perch. If it's your first time, hit up a guided tour with Housatonic River outfitters, who will get you completely outfitted in the gear and show you how to look like you know what you're doing. Make the drive Instagram-worthy by heading right over the West Cornwall Covered Bridge, one of the last covered bridges in the state that you can hit when you detour on Route 128. Tip though: These fish are for catch-and-release, not eating. Pollution levels have improved, but mercury's still high. Consider it your peaceful contribution to the tranquil "live and let live" vibe here.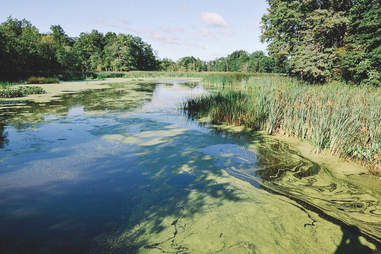 Breck P. Kent/Shutterstock
GET SWAMPED OUTSIDE OF WORK
You don't have to venture all the way to Florida to witness the beauty and wildlife of a real swamp. There's a protected area full of raw nature right in New Jersey's Great Swamp in Morris County. You can always hike it, but take the adventure up a notch and cycle through one of its two loops to get your own private tour of the wooded refuge. If you'd rather stay in the car, even your drive will lay out a nature tour for you if you take the scenic route on I-78. Make sure to plan a pit stop at the Watchung Reservation and take a historic walking tour through The Deserted Village, an abandoned town with buildings dating back to 1845.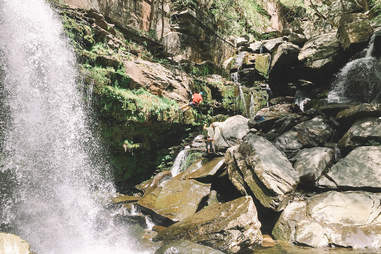 Will Soter/Upstate Adventures
SEE (AND EAT) WHERE THE '60S PEAKED
Getting to the Catskills on Route 28 is called "New York's Adventure Route" for a reason. It winds through the mind-blowing Adirondacks as you pass through small, historic towns and villages you'll definitely want to wander through. Stop by Woodstock on Route 28 -- yep, that Woodstock -- and hit up our pick for New York's best small-town diner. Phoenicia Diner is the right call for savory skillet dishes like Grits and Greens after (or hey, even before) you trek through Platte Clove in the Catskills. The nature preserve wears many faces throughout the seasons, and rewards repeated visits, but none as enchanting as when spring bursts from the ground and the runoff turns its waterfalls into torrents.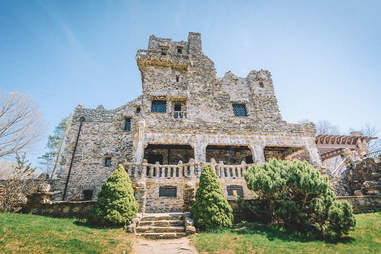 Karen Grigoryan/Shutterstock
STORM A CASTLE
As soon as it's May, pack some road snacks and your camping gear and hit Connecticut's River Loop Drive through Essex and Old Lyme to get to Gillette Castle State Park. It's home to what looks like a medieval fortress out of Game of Thrones, except it was designed by early 20th century actor William Gillette and not the Starks. The once-private castle has become a state park, and you can even camp next to it and have the Connecticut River as your backyard. When you need to head back to civilization, head into Essex and hit up The Black Seal, a dark-wooded dive full of New England charm for a bowl of Rhode Island clam chowder (yes, you're still firmly in Connecticut), which the menu helpfully sums up in its entirety as, "The clear broth type."
Geartooth Productions/Shutterstock
FALL IN LOVE WITH AQUATIC ATTRACTIONS
Hiking through Taughannock Falls State Park in upstate New York's Finger Lakes region will actually make your jaw drop, considering you'll come face-to-face with a 215-foot waterfall (it's only the largest vertical drop in the region). The Office fans will also feel inspired by the historic drive as your path down I-81 swings right through Scranton, PA. It's totally worth it to stop at Cooper's Seafood, a pirate-ship themed pub in a lighthouse where Michael hilariously took Holly for an ill-fated lunch in season five. Get a bunch of plates to share at their raw bar and make sure you order the Maryland Crab Bisque (AKA the soup that made them famous).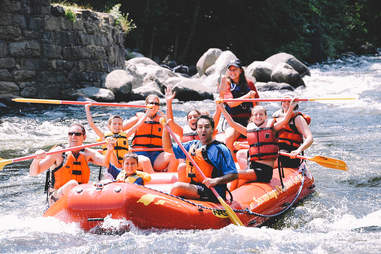 Sacandaga Outdoor Center
FLOAT SUMMER A FEW EXTRA DAYS
Who says enjoying water sports is only reserved for summer adventures? One of the best ways to dive into spring is to grab some paddles, throw on a few layers, and head out on to the water via whitewater rafting with Hadley, New York's Sacandaga Outdoor Center. Spring is the best time to enjoy both the Hudson and Sacandaga Rivers for this activity, and the drive there makes it that much sweeter. Winding through Route 9 North won't disappoint, considering you can fuel up on the iconic pancakes at Mollie's Mason Jar, bursting with rustic Adirondack charm and featuring a brick oven that puts out beloved pizza.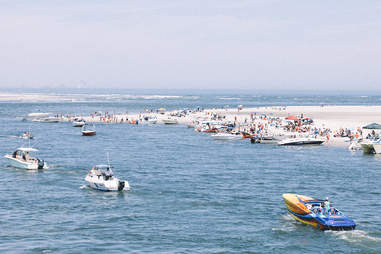 Aneese/Shutterstock
BURN ALL YOUR CARBS, THEN REPLENISH THEM
Long-distance running on pavement in the smog-filled city gets tiresome after five minutes. As soon as spring hits, opt for breezy beach runs with all the ocean views you could ever want in South Jersey along Corson's Inlet State Park in Ocean City. You also get to check off making the trek along Ocean Drive, one of the Jersey Shore's greatest scenic drives, that'll take you up and down the Atlantic Ocean. Reward yourself after your run at Ocean City's Dot's Pastry Shop, a family-owned bakery that's been turning out fresh sticky buns and cream donuts since 1947.
TAKE A ZIP... OR A DIP
Whether you're an adrenaline junkie or just trying to conquer your fear of heights this spring, gliding through the air on the 1,500-foot zipline course at Mountain Creek Resorts in Vernon, NJ is a game changer. Opening for the season in April, it's the coolest way to catch panoramic views while you're suspended in the air above a mountaintop lake. The views on the drive there and back are breathtaking, too. Just an hour northwest of NYC, Vernon is part of the storied Appalachian Trail, and a great chance to meet some wandering hikers of the forest. Trail culture is very friendly and supportive, even if you're just a day hiker, so you might make some new friends. To access this stretch, take a small detour by driving through Warwick Road. You'll even wind up in the popular swimming area at Wawayanda State Park if you feel like pairing all that hippie-zippy with a cool dippy.