Brighton Beach

| Nick Starichenko/Shutterstock
Brighton Beach

| Nick Starichenko/Shutterstock
You can tell you're getting close to Brighton Beach -- or Little Odessa, named for its ex-Soviet inhabitants -- when the signs outside of shops begin to form the unfamiliar shapes of Cyrillic. Whether you're a native New Yorker or just visiting, Brighton Beach is a living reminder that simply crossing a city block can send you straight into another world.
The waterfront neighborhood is always changing, making room for immigrants, refugees, NYC transplants, and day-trippers, but it stays deeply rooted in its past of condensed milk cans and hand-pulled noodles. "Little Odessa," in fact, is a bit diminutive; this is Brighton Beach, and it's a place entirely of its own making.
On a sunny summer afternoon, entering the neighborhood feels like you've stepped out of the city and into a European coastal town. English fades, and Russian conversation rises. Big, tan, hairy men in neon Speedos sit shirtless, with their legs spread wide. And unlike nearby Coney Island, which jangles with competing boomboxes and fruity Juul plumes, the seaside here is calm enough to hear the seagulls call, or to take a nap while your beer warms in a cup in the sand.
Along the boardwalk, Brighton Beach local Nick Bochanov, an accordionist, plays "Миллион алых роз" -- in English, the song translates to "Million Scarlet Roses" -- in the shade of his umbrella. It's a polka-like tune, though Bochanav sings it rather mournfully. A few tenants from the retirement homes along the water sit on wooden benches, nodding along.
Although Bochanov is a whiz with the accordion, he's not playing for money. "I play outdoors," he says, "because my family members hate when I play inside." He looks out over the water. "But when I have a good mood and good weather, I love it. The sea. The beach. Beautiful."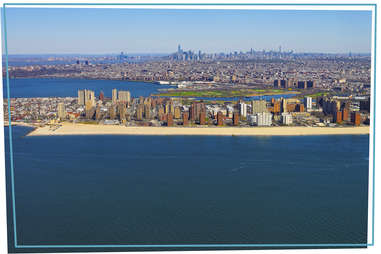 Little Odessa's namesake is coastal, too, lining the Black Sea with blue-green beaches and a vodka-soaked nightlife. Brighton Beach, on the other hand, is hardly a tourist destination: it has strikingly few boardwalk hawkers or shops stuffed with magnets and mugs. Rather, modern-day Brighton Beach is an immigrant space -- shaped by its people, for its people.

Brighton Beach was first formed in the 1860s, when developers carved beach resorts out of the Brooklyn coast as a getaway for wealthy New Yorkers. In 1868, William A. Engeman bought some sandy acreage for $20,000; he named it Brighton, after the English coastal town, and built a shipping pier and the Ocean Hotel.

In the 1930s and 40s, Jewish refugees settled in Brighton Beach, drawn to its middle-class Jewish community; and in the 1970s, when the Soviet Union temporarily relaxed its emigration laws, persecuted Ukranian Jews were drawn to the oceanside neighborhood that looked so much like home. Soon enough, Brighton Beach became Little Odessa -- not the Soviet Union, but not really New York, either. It's a third thing, made in the image of its immigrants' memories.
Today, Brighton Beach is a welcome addition to New York City's more familiar destinations. The one-of-a-kind neighborhood, charming boardwalk, and uncluttered stretch of seaside make for a worthwhile detour from the better-known Brooklyn beaches.
When you visit Brighton Beach, don't expect a hero's welcome. If you speak English, longtime locals will raise an eyebrow; if you say nothing, they'll assume you speak the mother tongue. Before you go, it's best to practice saying Спасибо (pronounced Spasibo) -- Thanks! -- until it rolls right off your tongue.
When you get off the train (the B and Q terminate at the Brooklyn beaches) or the bus (the B1 will take you from Bay Ridge, or the B68 from Prospect Park), head straight to one of Brighton Beach's many gastronoms beneath the elevated train tracks. These supermarkets are filled with only-in-Brighton-Beach Russian goodies, so come prepared with empty tote bags for your haul.
At the Brighton Bazaar on Brighton Beach Avenue, you'll find an array of Russian ice creams, including "cheesecake" bars, which are dipped in chocolate and made with sweetened condensed milk, or sgushyonka -- a Soviet childhood treat.

Peruse the buffet counters, where pickled watermelon and smelt, a small saltwater fish, fried whole, sit alongside more beach-ready snacks like piroshki, hand pies filled with minced meat or gooey cherries.
Head to the refrigerated section to load up on Baltika beers (and some plastic cups, of course, to smuggle them onto the beach). Baltika, based out of St. Petersburg, sorts its beers by alcohol percentage. A Baltika 3 has 4.8% alcohol by volume, roughly equivalent to your all-American Miller High Life or Budweiser. Baltika 9, on the other hand, has 8.0% ABV -- enough to knock you on your ass after a day in the sun.
After checking out, keep walking down Brighton Beach Avenue, which runs parallel to the boardwalk. Stop in at La Brioche, a bakery packed with trays of rugelach and the cheese-Danish-like vatrushka and medovik, a many-layered Soviet cake made with honey and (you guessed it!) sgushyonka.
If you're overwhelmed by all the choices, pick out a poppy seed roll -- a local favorite -- which are baked dark brown on the outside and filled with a sweet-and-savory paste of sticky, nutty poppy seeds. The rolls travel well, but they're so delicious they might not make it all the way to the beach.
Back on the avenue, pop into Kalinka Gifts, which is packed floor-to-ceiling with stacking matryoshka dolls and elaborate tea sets and knock-off Fabergé eggs. Classic Furs offers an authentic taste of the homeland, too -- it might be summertime now, but a girl needs a lot of mink and vodka to stay warm during those frigid Russian winters.
Once your tote is full of snacks and gifts, head to Coney Island Avenue to make your way down to the boardwalk. It's worth your time to zig and zag through Brighton Beach's side streets -- they're lined with opulent houses, complete with stone lions and elaborate topiaries and Teslas and Lexuses and BMWs. (If you must take a luxurious Instagram, try not to get caught leaning up against a fancy car.)
The Riegelmann boardwalk stretches from Manhattan Beach to Coney Island, sandwiching Brighton Beach. If you walk to the sand and look to your right, you'll see the beach is packed umbrella-to-umbrella in front of Nathan's Famous and Luna Park. But even on sweltering summer weekends, Brighton Beach has plenty of room along the coastline.
Pick a spot and pour your beer into a cup -- the cops don't come around to sleepy Brighton Beach much, filled as it is with families and retirees. Spend an hour (or a few) in the sun until you realize the Baltika 9 has gone to your head and you need some real food, like, now.
For a late lunch, head to Tatiana, a boardwalk restaurant at Brighton 6th Street that has the distinct feel of a seaside cafe. Prepare to be ignored: just like in real Europe, Brighton Beach servers can be aloof. When a waiter eventually arrives, order the red caviar. Spread thickly in the slightly sweet crepes, the roe has the distinctive taste of salmon, sort of like a supercharged lox. If you need more carbs, the pelmeni -- Russia's answer to pierogis -- are stuffed with veal and pork and arrive boiled, floating in melted butter, with a bowl of sour cream on the side. Need a kick of caffeine after all those hours in the sun? Order a tea with cherry jam: in Russia, they like to stir in fruit preserves in place of sweetener.
If you've already had your fill of Mother Russia, choose another cuisine courtesy of the former Soviet Union. In the 1930s, Soviet Koreans were forced to relocate to the Kazakh and Uzbek Soviet Socialist Republics. These Koryo-saram -- ethnic Koreans in post-Soviet states -- have formed a distinct culture, and many have immigrated to the United States.
At Cafe at Your Mother-in-Law -- a rough translation of the Cyrillic on its sign, which reads only "Elza Fancy Food" in English -- the menu is Korean, Uzbek, and a combination of the two, dipping in and out of languages and flavors. Try the veggie dishes, which are heavy on cucumber and carrot, like an Uzbek rendition of Korean banchan. The food is red with chilies, but mostly mild; still, you can bring your own beer or vodka to cool your palate.
For a meatier meal, try the lamb-heavy Uyghur food at Cafe Kashkar. The Uyghurs are an Islamic Turkic people, many of whom lived in the Soviet-backed Second East Turkestan Republic in the 1940s. (Not that you need to have a grasp of the Eastern Bloc to enjoy the food at Cafe Kashkar). Order the lagman, a national dish of the Uyghur in Kazakhstan: the hand-pulled noodles in seasoned lamb broth are thick and chewy, charmingly misshapen, and salty enough to replace everything that you sweat out in the sun. Unlike Cafe at Your Mother-in-Law, Cafe Kashkar isn't BYOB. The restaurant is halal, so no liquor is allowed.
Once you're carbed (and sobered) up again, it's time to freakin' party. After dark, Brighton Beach is known for its kitschy nightlife. Grab a table at Oleandr or Skovorodka, catering halls known for their gaudy decor and live Russian and Ukranian stage shows. If you want to really cut loose, head to the Velvet Rope Lounge for some Russian karaoke (it's even harder than it sounds!) or back to Tatiana, which turns into a full-fledged nightclub once the sun goes down.
Wherever you go, drink your vodka straight up -- no mixers allowed. And never take a shot without a proper toast: Na Zdorovie (To health!) is the classic, which has been mistranslated into the familiar "Nostrovia." If you want to mix it up, try Za lyubov (To love!) or, if you're feeling fancy, Vyp'yem za to, chtoby u nas vsegda byl povod dlya prazdnika (May we always have a reason to party!).
Before you drag yourself home, drunk and sunburned, end your night back on the beach and take one last look at the neighborhood by the sea. It can be easy to forget that New York is one-of-a-kind when we live among the Zaras and Burger Kings and high-rise towers that look so much like every other city.
That's the real magic of Brighton Beach: It's not New York, and it's not Russia, and it's not Ukraine or Uzbekistan or Korea or the Second East Turkestan Republic, or anywhere else you'll travel, anywhere else in the world.
Sign up here for our daily NYC email and be the first to get all the food/drink/fun New York has to offer.