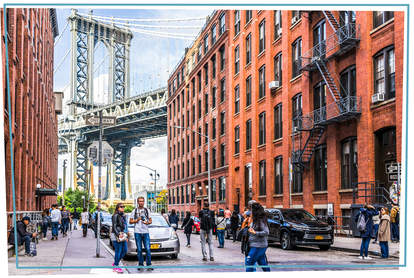 Why Dumbo Should Be Your First Stop Outside of Manhattan
The opportunity to host visitors in New York City is both a blessing and a curse. It's a delight to spend time with seldom seen family and friends, but odds are you're going to find yourself in a few places you might not want to be seen. Times Square. Waiting in line for the Statue of Liberty ferry. The mall. A walk across the Brooklyn Bridge, however, is the attraction least likely to inspire you to don a disguise. It's beautiful, historic, and it leads directly to another excellent destination already hidden in your itinerary: a trip to Dumbo.
An acronym for, say it with me, Down Under the Manhattan Bridge Overpass, Dumbo is situated in the cleavage between the Manhattan and Brooklyn bridges. Stroll over the latter without spending time in the Brooklyn side, and it's like you've paid full fare for half a ride. The once-industrial neighborhood has all the makings of a panoramic day trip: breathtaking views of Manhattan worth boasting about on social media, theatre you won't see anywhere else, and restaurants and bars beloved by locals. Cobblestone streets and repurposed warehouses imbue the air with a sense of history, while the myriad wedding parties and would-be influencers basking in cinematic photo-ops provide a modern vitality. There's shopping that goes well beyond the typical Times Square souvenirs, and always a strong cocktail or sugar high within reach.
Brooklyn Bridge

| littlenySTOCK/Shutterstock
If you'd rather see the sights by subway, take the F train one stop beyond Manhattan to York Street, or plan a scenic whirl through Brooklyn Heights and hop on the A/C to High, or the 2/3 to Clark. Whatever your route, hop in line for pizza at Juliana's right away. The legendary Grimaldi's Pizzeria looms next door on the corner of Old Fulton and Front streets, but the revered establishment's original founder, Patsy Grimaldi, actually sold the joint back in the late '90s, only to open the rival Juliana's in 2012. Most folks are unaware of this pizza provenance, so Grimaldi's still commands longer lines, but Juliana's no reservations policy means that wait times can drag there, too. When you do nab a table, stick to the basics: The margherita pizza, with its elastic mozzarella and crispy-but-yielding thin crust, is the Platonic ideal of pie.
On the nicest of nice days, when the cerulean sky lights up the dusty emerald river and even the promise of some of the city's best pizza can't get you indoors, only an impromptu picnic by the waterfront will do. Swing by Front Street's Bread & Spread. This sandwich spot's menu is limited, but its signature combinations leave nothing to be desired. A good amount of digital ink has already been spilled in praise of the porchetta's pork belly and pickled onions, and the Tuscan roast turkey is no slouch either, thanks to its freshness and clever cranberry-mustard blend. Order to go, head down to the waterfront, and enjoy your nosh with unbeatable (and highly Instagrammable) views of lower Manhattan.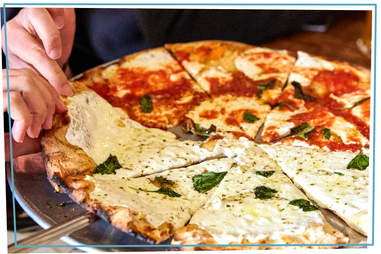 Must-try Juliana's pizza

| Biz Jones for Juliana's®
Expect congestion as you approach the river on Washington Street, where throngs of tourists pose for serendipitously framed snapshots that, with minimal effort, spotlight a segment of the Manhattan Bridge, the top of the Empire State Building, and you.
"They own the street over there," says Seon Wilson, the manager of coffee purveyor Brooklyn Roasting Company's massive flagship location on Jay Street. It's smaller Washington Street storefront has a view of the scrum. "They don't move for cars -- cars have to wait. It's the only place where I see that happen."
The snap-happy crowds only thicken once you reach the shore at Empire Fulton Ferry Park, but who could blame them for wanting to use the Brooklyn Bridge or the glittering Financial District skyline as a profile pic backdrop. Be mindful of your surroundings -- it's far too easy to end up photobombing newlyweds at this popular portrait spot. The atmosphere here begs to be captured, although some elements can only be committed to memory: the smell of saltwater from the East River as the waves lick the rocks, the rumble of subway cars shuttling over the Manhattan Bridge, the laughter of families riding the glass-encased Jane's Carousel and the satisfied slurps of diners savoring oysters at nearby Sugarcane Raw Bar Grill.
Jane's Carousel

| ARTYOORAN/Shutterstock
Sugarcane is one of several vendors at Empire Stores, the high-end marketplace that typifies Dumbo's makeover from a sparsely trafficked, largely deindustrialized wasteland to an idyllic tourist hotspot. A five-level structure notable for its brick exterior and arched windows, the ex-warehouse-turned-shopping-center dates back to the late 19th century, when Brooklyn's bustling waterfront earned the borough the nickname of "the Walled City." After long providing general storage and then becoming a part of Arbuckle Coffee's 11-block neighborhood empire in the 1910s, the building was sold by the coffee company in the 1940s, and remained vacant for decades. One recent revitalization effort later, and Empire Stores is now home to tenants like J. Crew and West Elm.
"It was very lucky timing that the neighborhood was so abandoned that nobody really thought to knock the building down when a lot of the other warehouse buildings were being knocked down," says Julie Golia, Vice President for Curatorial Affairs and Collections for the Brooklyn Historical Society. "I think that [developer] Midtown Equities did a really wonderful job of bringing to life the history of the building -- being really true to its bones but obviously making it into a wonderful destination."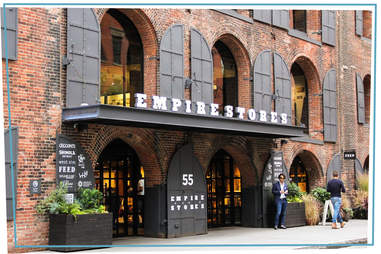 The historic marketplace building

| Courtesy of Empire Stores DUMBO
On the shopping hub's first floor, luxury retailer Shinola peddles an array of handsome watches and the aroma of fine leather. Near the designer merchandise you'll find café equivalents courtesy of Smile to Go, where the salted caramel brownie is a thing of true beauty among an impressive array of baked treats and sandwiches. For a proper meal, cut across to Cecconi's, where the mouth-watering tagliatelle with beef bolognese is an elevated take on the familiar dish. Can't stomach a $23 plate of pasta? It's still worth stopping by to sip negronis at the marble-top bar and enjoy the breeze wafting in through the wide open, water-facing doors.
For a different kind of nourishment, Empire's second floor features a Brooklyn Historical Society exhibit that illuminates the area's background and development. Among the displays: a knockout lithograph depicting the late-19th-century waterfront, accounts of factory conditions for women, and a short film that explores how the local geography has changed over the past, oh, 20,000 years or so. You'll need an hour and a half to absorb it all at a languid pace, and your $10 donation benefits BHS.
Once you're through with the past, head up to Empire Stores' fifth floor for a perched perspective of the water's edge. If the sunlight's right, you won't necessarily be able to trick your Instagram followers into confusing the East River with the beaches of Aruba, but you might surprise them with how blue NYC's waterways can appear.
The fortress-like market isn't the only place in Dumbo where your charges can pick up a worthy souvenir. Front General Store between Pearl and Jay sells vintage duds, quirky keyrings, and little trinkets for your home. Around the corner, at the Manhattan Bridge archway, pedestrians have a wealth of ways to spend money every Sunday, when the Brooklyn Flea brings its ramshackle bazaar and pseudo-food court to the neighborhood once weekly from April through October.
Brooklyn Flea's Sunday in DUMBO

| Scott Lynch
On the Adams Street side of the archway, book lovers can pick up the latest high-profile non-fiction title or a striking photography collection at Powerhouse Arena, the retail arm and event space for local independent publisher Powerhouse Books. And, starting in the fall, customers will also be able to leaf through their purchases with a drink in hand, once the shop begins bar service.
Tap into Dumbo's artsy side and catch a show at St. Ann's Warehouse, a performing arts organization that's been a fixture of the community since moving to Dumbo from Brooklyn Heights in 2000. Currently located in a renovated tobacco warehouse, St. Ann's might not be the easiest sell for someone more accustomed to traditional Broadway fare, which is exactly what makes it unique to the neighborhood. Rush tickets are available, but buy in advance if you already know you'll be in the area.
Once they've seen the city's other mandatory sights, your guests won't need to see 'em twice. But Dumbo's a destination you can bring them back to again and again, and it's certainly worth more than a footnote on your out of towner itinerary.
Sign up here for our daily NYC email and be the first to get all the food/drink/fun New York has to offer.
Kyle McGovern is a writer and editor living — get this — in Brooklyn. His work has appeared in Vulture, SPIN, and GQ.