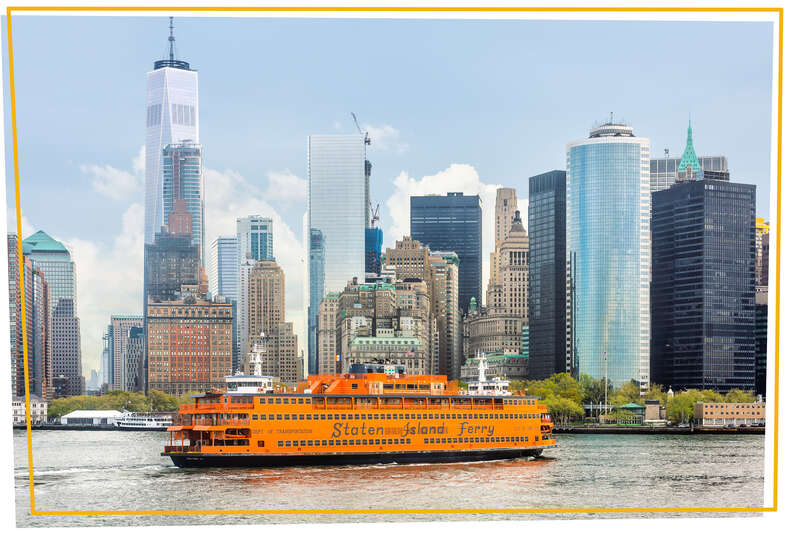 Staten Island only belongs to New York because of a boat race.
According to enduring legend, a 1670 throwdown between the colonies of New York and New Jersey decided the fate of the island. The Duke of York, having decreed that all "small islands" belonged to him, set out to prove that Staten Island was one such island and could therefore be circumnavigated in the space of a single day. He hired a ringer who made the trip in 23 hours.

Regardless of how you believe it happened, Staten Island is ours -- despite the ongoing attempts of SI politicians to secede from the city. But it's easy to forget that the "forgotten borough," as it's ruefully referred to by its residents, is a part of NYC. It doesn't connect to Manhattan by subway; geographically, it's basically New Jersey; and you're pretty sure the Wu-Tang Clan is from there, but you're not positive.

Staten Island -- only twenty minutes by car from Brooklyn, and twenty-five from Manhattan by ferry -- is worth your weekend getaway. The borough is packed with local history, immigrant food traditions, only in New York restaurants and bars with sub-Manhattan price tags, inimitable photo ops, and over 9,300 acres of parkland. With its incredible views, even just the ferry ride over is an NYC must-do. Follow along for a forty-eight hour Staten Island itinerary you'll always remember.
Getting to Staten Island
First, there's the ferry. You can line up with the crush of locals (and tourists who foolishly intend to cross right back to Manhattan -- suckers!) for a free ride over the New York Harbor. Go upstairs and head outside to spot the Statue of Liberty.

A word of advice for your weekend: To get around Staten Island, you'll definitely need a car. You can rent one on the island, of course, or back in Brooklyn for an easy drive across the Verrazzano-Narrows Bridge. There are taxi services, but since the island isn't walkable (or public transport-able), you'll end up paying for a lot of Lyfts.
DAY ONE: SAMPLE SNACKS YOU WON'T FIND IN THE REST OF THE CITY, AND SNAP SOME PHOTOGRAPHIC SOUVENIRS
Plan to arrive in the morning and stop for breakfast at the Italian Royal Crown Bakery. In true leave-the-gun, take-the-cannoli form, the bakery has a mobbed-up past, but don't let that put you off your bombolone. On a recent trip, the sfogliatella (Staten Island pronunciation: shfooyadell) was a standout, its flaky pastry filled to bursting with sweet ricotta and candied citrus.

Wait in line for a table, where you can sip a cappuccino, people-watch, and admire the rest of the sweets in the pastry case. If you still have room, order an almond-scented pear-and-frangipane pastry or a handful of chewy pignolo covered in pine nuts.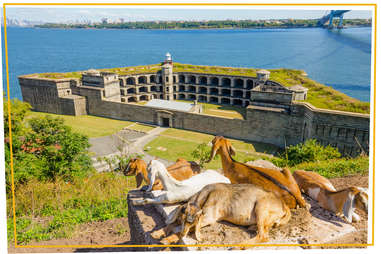 Venture out for views and local history
Once you're sufficiently sugared up, get in the car and head to Fort Wadsworth for a lesson in Staten Island history (or, if you're not much of a history buff, some spectacular skyline backdrops for an impromptu Instagram shoot nearby).

Nestled under the Verrazzano-Narrows Bridge, Fort Wadsworth is a decommissioned military installation that offers one of the best views in the five boroughs. Explore the park for panoramic vistas of Manhattan, Brooklyn, and the bridge itself. The bridge was named for Italian explorer Giovanni de Verrazzano, who anchored on the island all the way back in 1520. Due to a naming error during construction, the bridge was incorrectly called the "Verrazano" for 58 years. Since de Verrazzano had been dead for quite some time, he didn't mind much.

Many of Fort Wadsworth's Civil War-era buildings have gone to seed (in fact, the city employs a summer staff of goats to control the growing weed population), which offers the opportunity for photography and, for the brave of heart, a bit of urban spelunking.

If you're the outdoorsy type, you can camp in Fort Wadsworth for $30 a day; otherwise, you can choose to have a more "roof-and-walls" experience in the local Hilton or Holiday Inn. For a true Staten Island experience, you can spend the night in an old firehouse loft or the reportedly hauntedOld Bermuda Inn.
Have the classic Staten Island slice
When you finally find yourself hungry for lunch, head to Denino's for a slice (or seven) of its local favorite, extra-thin-crust pizza. Opened as a bar in 1937, Denino's has been slinging signature pies since the 1950s. For a classic SI experience, order a white clam pie -- the mollusks are dressed up with fresh garlic and parsley and served on a paper plate for maximum grease absorption.

"It's the best pizza on the island," says Jack Graham, a 21-year old student at Staten Island's Wagner College, over a slice of Denino's. "This place has everything. It has the Italian waitresses, the pizza, whatever scungilli is. It's a true experience."
(For the record, scungilli is any kind of sea snail -- Denino's serves them swimming in hot, medium, or sweet tomato sauce.)
For dessert, head to Ralph's across the street, a mini-chain that's been churning out Italian ices in Staten Island since 1928. (Note that it closes for the winter season).
Take in some island architecture at the jewel of Staten Island
After you slurp up your scungilli, make your way to the Snug Harbor Cultural Center and Botanical Garden. Snug Harbor, which originally opened in 1833 as a retirement home for sailors, is now an 83-acre park and home to 26 architecturally-significant structures, most notably a series of 19th century Greek Revival buildings along "Temple Row."

After falling into financial ruin, Snug Harbor was reimagined as a cultural center. The space is now home to the Staten Island Children's Museum; multiple galleries; the second-oldest music hall in New York City; and the Staten Island Botanical Garden, home to the spectacular New York Chinese Scholar's Garden.

Considered the "jewel" of Staten Island, you can spend hours exploring the gardens and architecture of Snug Harbor. Keep your eye out for ghosts here, too -- the city's long history and beautifully preserved spaces seem to lend themselves to sightings.
Hear live, local music and laugh at the cocktail prices back in Manhattan
For dinner, make your way to the nearby Southwestern "saloon" Adobe Blues, where you're less likely to see the undead. Their margaritas are, blessedly, $7; a "Texas Ranch Water" with tequila, lime, and Top Chico is $9. If you ask for a beer menu, prepare to be overwhelmed -- the choices, which typically run over 100, change seasonally. If you stay late, you can snack on mini tacos while listening to live music, which plays every Saturday night from 11pm - 1am.
DAY TWO: TRAVEL BACK IN TIME TO "STAATEN EYLANDT," THEN SEE THE FUTURE OF NYC GREENSPACE
Start your day at Holtermann's Bakery, which has been in the family since 1878, when Claus Holtermann delivered bread on foot to his Staten Island neighbors. For a real taste of tradition, order a Charlotte Russe, a once-ubiquitous New York treat that's become nearly impossible to find.

Built like a push pop, the Charlotte Russe has a base of vanilla sponge, which is spread with jam, smothered with about three inches of whipped cream, and then topped with a maraschino cherry. It's messy to eat, requiring both manual dexterity and resisting the urge to put the whole thing in your mouth at once. Chase your Charlotte Russe with a cup of coffee, peruse the boxed cakes (Entenmann's wishes), and then take a step even further back into Staten Island history.
Touch NYC's living history
Historic Richmond Town was first settled in the late 1600s, back when its inhabitants were still loyal to King George III. The architecture is heavily influenced by the Dutch settlers, who named the land Staaten Eylandt, or "States Island."

Local historians and preservationists have turned the town into a living museum, where you can tour the buildings, try on a yoke and buckets for size, and see the artisans at work in period workshops. If you're lucky -- or unlucky, depending on your stance on paranormal activity -- you might catch a glimpse of one of Richmond Town's many rumored ghosts.
"Historic Richmond Town is the only living history village in New York City," says Sarah Hermann, the Digital Content Creator for Historic Richmond Town. "If you're looking for an immersive, tangible, touchable, history, we do that, but we're also a 100-acre park site."
75 acres of the 100-acre Historic Richmond Town is part of the Staten Island Greenbelt, a system of public land which covers over a third of the island. The park also has an outdoor beer garden, paranormal adventures, holiday events, candle-lit tours on summer nights, and a working farm.

"We're trying to make it a place that is meaningful to everyone, because historic institutions for a lot of years were seen as elitist," says Hermann. "If you like old stuff, if you like culture and food, if you like the outdoors and hiking, there's a little bit for everybody."
Get back to the future at a '70s-era SI mainstay and a brand new mall
When you're ready to return to modern times (or at least to 1972), head for lunch at Jade Island, an old-school tiki spot where the Polynesian-themed kitsch is still kicking. Order a Pu Pu platter for two, which comes with a flaming urn, and a few giant fruity drinks for an only-in-Staten-Island photo. Just don't get too tipsy -- you want your wits about you when you head to the mall.
The Staten Island Mall -- anchored by department stores JCPenney and Macy's -- is like online shopping, if you could walk inside of it. The parking lot alone is a marvel for any Manhattan- or Brooklynite, not to mention the endless rows of stores of your childhood. Get a Wetzel's Pretzel for fuel, pretend that retail isn't dead, and shop like it's 1999.
See the little landfill that could as it transforms into a massive public park
Just a few miles from the mall is Freshkills Park, one of New York City's most ambitious public land projects. The park, which will be completed in phases through 2037, is being built over Staten Island's Fresh Kills landfill.
Fresh Kills was once, infamously, the world's largest dump; after years of being the only landfill accepting residential waste in NYC, Fresh Kills first closed in March of 2001. After 9/11, Fresh Kills temporarily reopened as a space to recover human remains and artifacts in the debris from the World Trade Center. After ten months of sifting through 1.2 million tons of material, the landfill was shut down once more in anticipation of becoming a public space.

Now, Fresh Kills is being transformed into a park nearly three times the size of Central Park. The final design will feature varied wildlife habitats, a system of footpaths and tidal creeks, and a final reclamation of the former landfill's four mounds of waste. A few parts of the park are openalready, and as work continues, in-progress sites will be open for tours on "Discovery Days." Check the park's calendar to find out when you can see inside.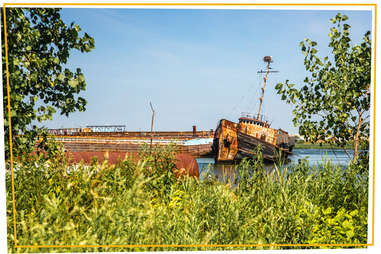 Toast all the boats that passed before
Head closer to the water to get one last glimpse of Staten Island history at the Staten Island boat graveyard (officially known as the Donjon Iron and Metal Scrap Processing Facility), where the city's abandoned boats find their final resting place. The graveyard is particularly beautiful at sunset, when the rusted-out shells of the historic boats -- including a WWII submarine chaser -- are silhouetted against the red sky.
As the "No Trespassing" signs explain, views of the ships are mostly inaccessible from the street; intrepid urban explorers, however, can find some spectacular views. If you park on the street and take a short walk, peeking through the treeline, even the most law-abiding citizens can get a good shot without legal consequences.
Once night falls -- and you get the perfect shot for the 'gram -- it's time to head back towards Manhattan and the ferry. You can fight off the Sunday scaries and the Manhattan manias with dinner at Blue, a waterfront restaurant with some of the best views in Staten Island. Order oysters and octopus (sorry, no scungilli in sight) and a bottle of wine to toast to the unforgettable borough. Save your nightcap for one last beer on the ferry back home.
Sign up here for our daily NYC email and be the first to get all the food/drink/fun New York has to offer.