TWA Hotel/David Mitchell
TWA Hotel/David Mitchell
The Flight Center at the new TWA Hotel has a pre-apocalyptic vibe. Pure white concrete, with gestural wings, the Eero Saarinen-designed former terminal is forever suspended in the Golden Age of flying. We know, though, that destruction is coming for this way of life -- '60s glamour, sexy stewardesses, pre-9/11 security, smoking on planes.
"He wanted the…Flight Center to express the drama and wonder of air travel," reads a quote by Aline Saarinen, Eero's wife, pasted onto the Flight Center's wall. "He wanted to provide a building in which the human being felt uplifted, important and full of anticipation."
Air travel's still full of drama, all right, what with the French bulldogs being stuffed into overhead compartments and bloodied doctors being dragged off planes. But any feeling of wonder or anticipation is long gone: Instead, we're barefoot and humiliated, having our underwire wanded by the TSA before being stuffed into a tiny seat without a snack for seven hours.
When I ask Google Maps for transit directions from my home in Brooklyn to the TWA Hotel on a Sunday afternoon, I get an error message: Sorry, we could not calculate transit directions from "Home" to "TWA Hotel, JFK Airport, Jamaica, NY 11430." I try typing in JFK's Terminal 5, from which you can access the hotel, but the A train isn't running past Rockaway Boulevard, so I'd have to take a shuttle bus to the AirTrain; the trip, all told, would take a little under two hours. Each way. I check Lyft, but a ride to the airport would cost me 80 bucks. I give up and drive -- $48 valet parking is beginning to sound like a bargain.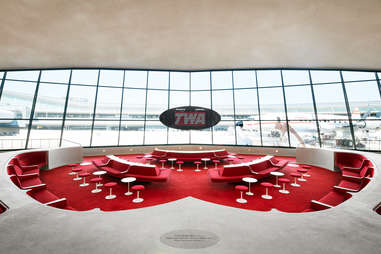 Walking into the Flight Center, I'm greeted by a ticking departures board and a hostess dressed in a purple polyester TWA uniform. Saarinen's graceful staircase soars overhead; the Sunken Lounge, a conversation-pit cocktail bar, features huge panes of glass with a view of a restored TWA plane on the long-abandoned runway. Frank Sinatra plays over the speakers; when the song ends, Nancy Sinatra comes on.
Signs of the apocalypse betray the space's throwback cosplay. Weary travelers in sweatpants and cargo shorts nap in the hotel lobby. An elderly couple clutching Dunkin' cups bicker over how to get home to Fort Lauderdale -- they missed their connection, and they can't figure out how to rebook a ticket on an iPhone. They don't look uplifted, or full of anticipation. They're just trying to get home.
A teenager following her family with a caddy full of luggage takes in the Saarinen-designed furniture and red velvet upholstery of the Sunken Lounge. "It's so old school," she says, with real awe.
Although the website said the Sunken Lounge was completely booked, I was ushered as a walk-in right to a "Reserved" table. I ordered a $20 vodka Sunken Lounge Martini, which came with a wing pin that declared me a TWA Junior Pilot (I believe the title is merely honorific). The martini was airport quality: Weak, without the eye-watering zing of a good one, although it did come with three olives. Lord knows you can't turn your nose up at free food at the airport.
The Flight Center's architecture is breathtaking, but you just can't shake the knowledge that you are, in fact, at JFK. Airports are in-between places, where the dollar is weakened by unseen forces and time changes shape. The TWA Hotel is simply a beautiful place to wait; it's not a destination unto itself.
"Do I think you're going to spend your Friday night going out to TWA?" says Scott Gerber, Principal and CEO of the Gerber Group, which operates the three on-site bars. "I don't think so. It's a bit of a stretch to spend an hour to get out there to have drinks or dinner."
Some New Yorkers have made the trip, though. In the gift shop, three young women in vintage clothes browse the red-and-white TWA merch. "We're LARPing," one of them jokes. They've taken the AirTrain to spend the weekend in the hotel -- split between the three of them, they say, the $249 a night price tag isn't so bad.
Upstairs, a family from Queens is admiring the display of TWA flight attendant uniforms through the ages. Their youngest son has been anticipating the opening for months; when he grows up, he wants to be a pilot. On the first floor, a white-haired couple from Long Island have stationed themselves at the Sunken Lounge window to take photos of the decommissioned plane. "He's a retired airline pilot," the wife whispers to me. "This means a lot to him."
The plane they're looking at -- a Connie L-1649A, which first flew in 1958 -- has been painstakingly restored by MCR/Morse Development, the developers who took on the TWA Hotel project. Connie is now a time capsule-cum-cocktail lounge, with a selfie-ready cockpit at the nose and a T-shirted bartender near the tail.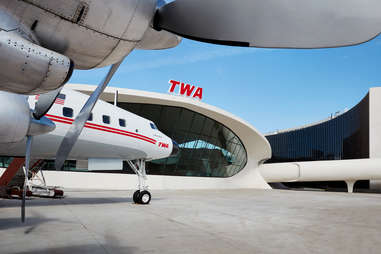 Just like the Sunken Lounge, few of Connie's visitors are drinking. They treat the restored plane like an alternative airport lounge, swiping absentmindedly through their phones. The waitress offers menus but is politely rebuffed. A little girl drinks a bottle while her parents unpack and pack their bags. Two JetBlue pilots walk up the stairs to peek inside the cockpit, which is packed with buttons and wires – things are very different now, they reassure me.
When I take one of the empty airline seats, I notice that the Connie is…swaying. The effect is like a docked boat, shivering with potential. I begin to feel a little green. "It's really shaking," a woman murmurs to her boyfriend.
"There are no wheels at the back of a plane," one of the pilots says, explaining the phenomenon. "When you put too much weight in the back" – where the bar is – "you're going to get a lot of movement with the wind."
I deplane Connie, happy to be back on the ground, and search for more New Yorkers who've made the trip out to Jamaica. Instead, I find a Slovakian YouTuber who's made the fourteen-hour trip for some fresh content.
His stay at the hotel, he says, "was a bit of a fiasco." He'd booked a Runway room, which let guests watch planes take off through soundproof panes of glass, but at check-in, the staff asked him to wait. After three and a half hours, they finally informed him that the Runway rooms wouldn't be ready, after all -- they offered him a room without a view, instead. But would he come back again? "Oh yes," he says. "For architecture and aviation, it is a five out of five."
Three women from New Mexico have stayed the weekend, too, using the TWA Hotel as a home base for trips into the city. Every morning, they took the AirTrain to the LIRR -- but it takes less than an hour to get into the city from here, they assure me.
Finally, I find a woman from Bay Ridge. She's picking up her son-in-law from the airport, so she decided to stop by the Flight Center. "I saw it on the news," she says, "and my husband said, 'Let's go stay there for a night!' I said, 'What, for $300? I don't think so.'"
Saarinen's flight center was designated a New York City Landmark in 1994, although it fell into a state of total disrepair after 2001, when it was closed to passengers. The renovation, which cost MCR/Morse Development over $265 million, received $41 million dollars in tax credits -- that's equal to about 5% of the MTA's $800 million "rescue plan" for the entire subway system.
Governor Cuomo presided proudly over the ribbon-cutting. "You are on the cusp of an entire JFK renovation," he told the crowd. "It is going to be a different airport…It is going to be what New York deserves."
Tyler Morse, the CEO of MCR/Morse Development, has bragged that the hotel will maintain a 200% occupancy rate, owing in part to its short-term stay options (rooms are available to rent for as little as four hours, starting at $139). I'd be surprised, though, if the TWA Hotel becomes a hot spot for sex workers or secret affairs: What self-respecting New Yorker would go all the way to JFK to get laid?
No airport hotel -- no matter how stunning -- can shake its status as an in-between place. Modern air travel has made even the best airports purgatorial. And JFK is not the best airport. In fact, it was recently ranked 86th in the world by AirHelp, an air passenger rights startup. (At least we beat Newark, which came in 116th out of 132). If you're waiting for a flight, though, and have the time to get out and back in through security, the TWA Hotel is a beautiful place to spend purgatory.
"If you're in the unfortunate situation when your flight is delayed or cancelled," Gerber says, "and you're stuck in JFK, and you don't want to spend the time going home and then back to the airport, you might say, 'We had a miserable day already. Might as well get a couple of drinks.'"
As for that long-gone, uplifting Golden Age of travel? "Hopefully we can de-stress you for a few hours," he says, "but at the end of the day, you're going to have to get back on the plane."
Sign up here for our daily NYC email and be the first to get all the food/drink/fun New York has to offer.