10 Weekend Getaways from NYC You Can Reach Without a Car
This spring and summer, hop on public transportation for these dreamy weekend getaways from NYC.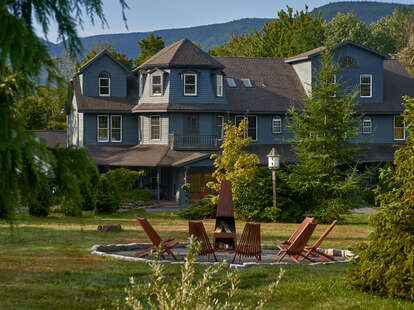 Photo courtesy of Hotel Lilien
Photo courtesy of Hotel Lilien
Now that you've given cherry blossoms and tulips their due, the next best way to celebrate the season is to get out of town and see what else is blooming. Since a restorative getaway should be a basic right for every New Yorker, we scoured the Tri-State and beyond to find the dreamiest destinations that let you slow down and remember the important things, like each other's company, being in the moment, and outdoor heated pools.
From a Victorian mansion-turned-modernist knockout on the Jersey Shore to riverside vintage campers in the Catskills and a beachside resort on Long Island that we really wanted to keep secret, these 10 new and improved retreats have something for everyone—plus, no driver's license required.
Hotel Lilien is one of many community-driven businesses breathing new life into this town that was once a popular escape for writers and artists in the late 19th century. Located a snowball's throw from Hunter Mountain, the 18-room boutique hotel has been carefully restored to an 1890s vibe with the help of co-owner Jason Marcus. Stained glass windows and Victorian antiques mix with sleek light fixtures, Calder exhibition posters, and Marcel Breuer lounge chairs like an inviting stage set for sharing stories and creating new ones. A common evening here includes locals from across the Great Northern Catskills descending for cocktails, fried chicken sandwiches, and billiards in the homey Great Room. This summer, expect fireside stargazing, concerts on the lawn, a pool with Belle Époque glamour, and guided nature walks along the Mulberry Trail to Rip Van Winkle Lake. In June, sister property Nat's Mountain House, helmed by Natalie Freihon (of Nat's on Bank), will open next door.
Nearby Activities: Down the road is Fred's Donuts from Maine transplant, Ryan Chadwick, who also owns The Boathouse, a lakeside lobster shack and boat rental site, and a secluded glamping campground that will introduce a pop-up dinner series in its newly renovated barn—located a 15-minute walk from Mountaintop Arboretum. Fuel up at Bear and Fox with breakfast tacos or Mama's Boy Burgers before a hike at Kaaterskill Falls. Many of these places are easily accessible via the Kaaterskill Trolley Company.
How to get there without a car: Ride Adirondack Trailways to Main Street Tannersville, then take the Kaaterskill Trolley Company three minutes down the road to the hotel. Check the KTC website for updates on the forthcoming pick-up service at Amtrak's Hudson station.
Total travel time: 3 hours and 30 mins
The opening of Camptown, a classic 1930s motor lodge converted into a gorgeous escape, has put Leeds on the radar of New Yorkers. The property hides 22 lush acres; beautiful log cabins with kitchenettes; cotton candy-colored conversation settees; and swinging benches to immerse in back porch culture—because not every day, or every getaway, has to be the most eventful one. Come summer, guests can lounge by the pool, play games on the grass, and drink Tepache Coladas around the fire. Make easy meals from the fully stocked pantry room or order perfectly piquant dishes like Uni Tostada at Mexican restaurant Casa Susanna. Brunch here is just as good, but whatever you do, make sure to take a few Concha Brioche Buns for the bus ride home.
Nearby activities: After a guided tour of Thomas Cole National Historic Site, the birthplace of the Hudson River School, spend the day meandering on and off Main Street. There's a brand new Asian pantry called Enoki (which also doubles as a consignment shop) and Willa's makes the best breakfast burritos this side of the Hudson. Peruse well-curated vinyl at Spikes Record Rack, buy nature-themed curios at High Rock Home, and explore the river aboard a motor boat with Catskill Charters, which also offers kayak and pontoon rentals.
How to get there: Take a Greyhound bus from Port Authority to Catskill, then use Hudson Region Transport for the three minute ride to the hotel.
Total travel time: 2 hours and 45 mins
Next to its more famous neighbor (you know the one), Bradley Beach hits like some undiscovered Eden. Quietly opened in August 2022, The James Bradley is a design lover's haven. Originally a 1904 Victorian single-familyhome, the 17-room boutique hotel is a calming oasis with an edgy spirit, something owner George DiStefano felt beachgoers have been missing on his native Jersey Shore. Amidst the striking black and off-white vintage pieces, the art collection is enchanting, from the hypnotic beat of Yoshimoto Nara's Banging the Drum to Joe Henry Baker's deep blue Ponder. The hotel can hook you up with a surf lesson, parasail experience, or stand-up paddle board and bike rentals. A block away at the beach, guests have access to sun loungers, umbrellas, games, and towels. For group getaways, consider booking the newly renovated three-bedroom bungalow with vintage Bauhaus Tubular Steel beds, full kitchen, and a private outdoor dining area.
Nearby activities: While Asbury Park has become a glitzy city-by-the-sea destination, you could avoid the crowds and opt for a chiller local scene instead. Play mini golf, do Yin/Yang yoga, and spend the afternoon at Fourth Avenue Beach. For a picnic, order from Luna Verde's, with Del Ponte's Rainbow Cookies for dessert.
How to get there without a car: Take NJ Transit from Penn Station to Bradley Beach station, which is under a mile from the hotel.
Total travel time: 1 hour and 30 mins
Hidden away in an angler's paradise on Willowemoc Creek, surrounded by 500 acres of the Catskill Forest Preserve, Boheme Retreats is breaking the RV campsite mold with its mission of inclusivity. In creating a retro escape where every traveler can truly relax in nature, owner Keva Niver aims to redefine the RV experience and make it a welcoming space for all. Among the five dashing vintage campers, spaced 25 feet apart, there's a two-person Dutchcraft named "Shirley" and a four-person trailer called "Fannie" with two full beds and a sleeping loft. Campers are equipped with full bathrooms and a kitchenette stocked with essentials. Each site has a picnic table, umbrella, fire pit, and river tubes (available on request).
Nearby activities: Boheme Retreats partners with Upstate D-Tours to bring guests into the town of Livingston Manor, where you could eat and shop til the sun goes down. Drop in at The Walk In for bus-worthy Buttermilk Biscuits, then visit lifestyle boutique Concrete and Water and the artsy vinyl store Jitterbug. Get lost in a good read at One Grand Books, order Chocolate Croissants from the Neon Croissant, and save room for The Smoke Joint's brisket sandwich. Upstate D-Tours can also take you to Upward Brewing, the most breathtaking brewery in the Western Catskills. Cheers with a Base Camp LagerBier after a hike in the 120-acre "Beer Mountain" preserve.
How to get there via public transit from NYC: Take the ShortLine bus to Monticello, then a 20 minute Uber ride to Boheme Retreats, located in the Covered Bridge Campground. If taking the bus, contact Kiver prior to arrival.
Estimated travel time: 2 hours
Innkeeper Donna Jamison's parents started Peddler's Village in 1962 and purchased this farm in 1965. She opened the 50-acre Inn at Fox Briar Farm this spring and treasures the land's old English feel and says guests can expect to see foxes, along with beavers, deer, and bald eagles. Dating back to 1740, the peaceful eco-minded estate has eight rooms, homemade gourmet breakfast, woodsy walking trails, and an unofficial dark sky preserve that somehow endures.
Nearby activities: A 1/4 mile from the inn, you'll follow the brick road in Peddler's Village to find quirky shops (there are 65), restaurants (there are seven), and monthly festivals like Bluegrass and Blueberries. For a lion door knocker, there's Knobs and Knockers, hot sauces at Pepper Palace, and cool culinary accoutrements at Cookery Ware. Sip a signature Apricot Rooster cocktail with apricot brandy at the newly renovated Red Fox Lounge inside the storied Cock 'n Bull, then unwind on the patio at Earl's for warm buttery rosemary bread, Fried Tomato and Burrata, and 5-Hour Braised Molasses Short Ribs.
How to get there without a car: Take the Trans-Bridge Lines bus to Lahaska/Peddler's Village, where you can either walk on Carousel Rd to the inn or have the innkeepers pick you up in a golf cart.
Total travel time: 2 hours
Situated a few blocks from New York City's only designated surfing beach and a breeze to reach by ferry, the 53-room Rockaway Hotel and Spa has aced the staycation. With your welcome glass of bubbly, take in the lobby's stunning rotating art gallery—catch "Kings on Vacation" by Derrick Adams and Christopher Myers' "Igbo Landing 4" stained glass lightbox—installations that reflect the diverse, vibrant landscape of the Rockaway community. Start your day with a vinyasa yoga class and a dip in the heated outdoor pool, pedal along the boardwalk on a complimentary cruiser, and let the hotel organize a surf lesson with Locals Surf School. Dine at Margies and then follow the music to the rooftop, where local bands jam and Manhattan's skyline sparkles. You'll sleep well knowing that your presence helps support the hotel's partnerships with the Jamaica Bay Rockaway Parks Conservancy and The Rising Tide Effect, which has taught more than 200 underserved local kids how to swim.
Nearby activities: Soak up the surf culture at Rockaway Surf Club, where a margarita and Tacoway Beach's Fish Tacos will hit the spot, whether you caught some waves or not. Delicious food options like Red Hook Lobster and Rippers burger joint line the boardwalk, so you'll never go hungry in the Queens riviera. Back at the hotel, park your cruiser then walk across the street to Coastal, where Rockaway Beach Bakery's Tracy Obolsky has just launched her new business, Rockaway Beach Creamery, serving up handmade ice cream and Riptide Roasting Coffee toffee. After digesting, ride 3.8 miles to the endlessly photographable Fort Tilden Beach.
How to get there without a car: Take an hourly NYC Ferry for $4 from Wall Street/Pier 11to Sunset Park, a five-minute walk up 108th St. to the hotel.
Total travel time: 1 hour
Welcoming guests for its inaugural pool season, the Pendry is the architectural crown jewel of capital hotels. Opened in fall 2022, the futuristic stack of glass-encased guest rooms is also an undeniable focal point along The Wharf, a 3.2-million-square-foot waterfront destination with a smorgasbord of restaurants, shops, cultural spaces, and outdoor parks. The Pendry has 131 rooms with views of city landmarks and the Potomac River, where you'll soon discover that boat watching is just as fascinating as people watching. (You can even find out the name, type of vessel, and track its position on marinetraffic.com.) Leave time to explore the hotel's myriad spaces, from the art-nouveau speakeasy vibe of Bar Pendry to Flora Flora's plant-forward Latin-influenced cuisine to sunsets at the Japanese rooftop eatery Moonraker.
Nearby activities: Catch the new "Afrofuturism: A History of Black Futures" exhibit at the National Museum of African American History and Culture, attend the Smithsonian Folklife Festival on the National Mall, and dance to Jazz in the Garden at the National Gallery of Art every Friday night through August 4. Eastern Market, a National Historic Landmark, is celebrating 150 years as a continuously operating public market. Come for a platter of Grilled Chicken, Jollof rice, and Plantains at Spicy Water African Grill and a scoop of ice cream from Moorenko's and stay for the ever-changing urban milieu. While the Pendry offers complimentary transportation within the surrounding area, many of DC's popular landmarks, like the Jefferson Memorial and Tidal Basin, are easy to reach on foot, with the Capital Bikeshare, or the metro. And you can always hop aboard one of many City Cruises tours that depart from Pier 4, a two-minute walk from the hotel.
How to get there without a car: Take Amtrak (which just introduced Night Owl fares from $5) from Penn Station to DC's Union Station.
Total travel time: 3 hours and 30 mins
Built in 1909, the recently revamped Vanderbilt mansion takes Gilded Age glamour to new heights. Admire the hotel's richly-hued rooms (each one more dramatic and alluring than the next) and sashay in your finest Gatsbian attire to on-site diversions like the Art of Scrimshaw in the Snooker Room; bivalves at Oyster Hour in the dining room; or an absinthe tasting around a secret bar. Off-site offerings include a private tour of The Breakers along the famous Cliff Walk, an Oyster Farm outing, and sailing on an America's Cup boat (the next best thing to participating in the Ocean Race).
Nearby activities: At this car-free travelers' haven, choose to walk, bike or trolley to the historic mansions that were the summertime playground of high society at the turn of the century. Plan a trip around the Newport Folk Festival or Newport Jazz Festival, bring the family to the new Save the Bay Aquarium, and check out the much-anticipated July opening of Mother Pizzeria from hot new restaurateur, chef Kevin O'Donnell of Giusto. Since this is the sailing capital of the world, don't miss the new Sailing Museum, complete with high- and low-tech exhibitions, famous boats, and a virtual vessel you can pilot. The museum also harbors the National Sailing Hall of Fame and America's Cup Hall of Fame.
How to get there without a car: Four-hour Amtrak train to Providence, then hop the station's complimentary shuttle bus or Seastreak's $12 ferry to Newport.
Total travel time: 5 hours
With the debut of Amtrak's Berkshire Flyer, the mountains of western Massachusetts are calling big time. The Whitlock is a chic 32-room farmhouse built in 1771 that doubled as an inn for passing stagecoach travelers. Far from the madding crowd, savor a Blueberry Old Fashioned around the patio fire pit and listen to live music at Ophelia's, which also serves a hearty homemade breakfast. At Max, the inn's new Italian restaurant, join notable regulars like Lucky Chow's culinary host William Li in relishing the Salsiccia Rapini pizza (sausage and broccoli rabe) and Vongole Gratinate.
Nearby activities: While best known for summertime concerts at Tanglewood, Lenox is more than a one-note town. The small community packs an artful punch, from the mini sculpture garden to the dozen art galleries, like the beloved His Daughter Paloma and The Wit Gallery. There's a Shakespeare & Company theater and a Bookstore with a wine bar and a devoted following—so devoted, in fact, that an acclaimed documentary was made about saving the bookstore during the pandemic. Kennedy Park has beautiful carriage roads, picnic tables, 15 miles of well-groomed woodland trails, and a lookout point with mountain vistas.
How to get there without a car: Amtrak's Berkshires Flyer runs May to September. After a four hour scenic ride, you'll arrive in Pittsfield. Take a 15-min taxi or a 30-minute bus ride for $1.55 with Berkshire Regional Transit to Lenox Town Hall, a two minute walk to the hotel.
Total travel time: 4.5 hours
Opening Memorial Day Weekend, the 20-room Hotel Moraine sits on three acres overlooking the Long Island Sound. By now, the folks behind your favorite rosé vineyard Croteaux (and the former owners of The Menhaden) know how to bottle a magic elixir of nature, adventure, and North Fork joie de vivre. Go for a dip in the heated saltwater pool or take out a complimentary SUP board, then cool off with a sundowner on the hotel's pristine beachfront. Gather the family at the game cottage, where kids can get crafty building birdhouses or tie-dyeing. While you'd be utterly content staying put, playing bocce, watching classic movies on the lawn, eating lobster rolls, and drinking rosé, Hotel Moraine leads tempting excursions, like wine tasting, farm tours, boating, fishing, and swimming.
Nearby activities: The hotel is less than two miles from the historic Greenport village and many delightful roadside stops, so hop on a complimentary cruiser and pedal the Long Island road less traveled. Some may know the drill here: the dreamy Provençal setting at Lavender by the Bay, quiches and homemade tomato sauce at KK's the Farm, seafood mainstays The Frisky Oyster and Noah's, Aldo's for a latte and D'Latte for gelato. After strolling the coastline at 67 Steps beach at the end of Sound Rd, swing by the Piano Bar for live music at The Halyard, just a four minute bike ride from the hotel.
How to get there without a car: Take the LIRR or Hampton Jitney directly to Greenport. The hotel's house car can facilitate local pickups and drop-offs.
Total travel time: 2.5 hours by bus, three hours by train.