Squeeze in an End-of-Summer Road Trip to These Gorgeous New Waterfront Hotels
Stunning spots for splashy weekend getaways from NYC.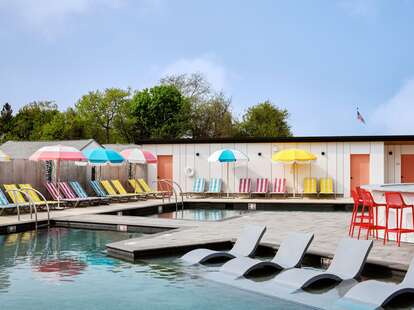 Photo by Read McKendree, courtesy of York Beach Surf Club
Photo by Read McKendree, courtesy of York Beach Surf Club
The days of sun-kissed shoulders and long al fresco feasts may be dwindling, but there's still plenty of time for a few final summer flings. While the city has its fair share of dreamy waterfront havens, we're setting our sights on new secluded horizons, places that embody summer in all its shimmering splendor, from a surfing oasis in Maine to a historic lake-perched property in upstate wine country to a Long Island gem on the Peconic Bay.
When you combine the powerful therapeutic effects of water with romantic landscapes and a sunflower-dazed state of mind, it's easy to slow down and celebrate life's little luxuries (we should all river tube at least once this season, right?). Bottom line: if you're still chasing summer, this is where you'll find it. Here are must-visit new waterfront hotels for an end-of-summer road trip.
New Waterfront Hotels in Maine
York Beach Surf Club
York, Maine
This 42-room hotel rocking a Scandi-Maineian vibe and gorgeous waterfront setting makes a strong case for a road trip to this offbeat beach town with a prized surfing legacy. Located in York, Taylor Perkins opened York Beach Surf Club earlier this summer partly to pay homage to his father, local surfing legend Sonny Perkins, who helped shape the sport's culture in the East Coast after founding a surfing club by the same name for fellow residents in 1963. So this is your cue to borrow a longboard, maybe take a lesson through the hotel, and catch some waves at Long Sands Beach, a classic New England beach break that's fun for all surfing levels.
Onsite activities: Heated salt water pool and oceanfront lawn next to the "Rolling Pearl," a vintage 1964 International Harvester milk truck converted into a raw oyster and cocktail bar.
Nearby activities: Stones Throw for the signature Steakin' Sandwich with Maine potato fries; Sohier Park overlooking the historic 1879 beacon Nubble Light; and a food-tour in Biddeford to explore its blossoming dining scene.
Average nightly rate in high season: From $285
By car from NYC: 4 hours and 35 minutes
By car from Boston: 1 hour and 30 minutes
By car from Philadelphia: 6 hours and 30 minutes
New Waterfront Hotels in Long Island, New York
Silver Sands Motel & Beach Bungalows
Greenport, NY
Hidden gems on Long Island never stay hidden for very long, but every now and then, it's possible to discover a place with that eternal best-kept-secret glow. While the Silver Sands beachfront is unlike any other on the North Fork, Alex Perros and chef Ryan Hardy have also managed to transform the beloved 1957 motel into a chic modern haven with an alluring old soul. Each of the 20 motel rooms and 15 bungalows offer a well-curated selection of purchasable books, Kris Hartley's unique treatment of original Silver Sands snapshots with pops of color and dot texture, and clay lamps from Earth Darlings you'll want to order immediately.
Onsite activities: Retro cabana umbrellas; artsy waterfront bungalows; beach chaises overlooking the calm bay and Shelter Island; hotel's cruisers to pedal 1.5 miles to Greenport; and Eddie's restaurant for its Mediterranean setting where the scent of lavender and mint commingles with the sound of waves and samba music.
Nearby activities: Brunch at Crazy Beans; peruse vinyl and second-hand threads at The Times Vintage; cruise to the historic lighthouse Bug Light with the East End Seaport Museum; romp through a sunflower maze; and take advantage of Hotel Moraine's pool pass, SUP boards and delicious lobster rolls. For late night thrills, American Beech has live DJ beats and the best truffle fries on the NoFo.
Average nightly rate in high season: From $500/bungalow
By car from NYC: 2 hours and 30 minutes
By public transit: Take the Hampton Jitney bus to Greenport village in 2 hours and 30 minutes.
By car from Boston: 3 hours and 50 minutes
By car from Philadelphia: 4 hours and 15 minutes
New Waterfront Hotels in Upstate New York
The Lodge at Schroon Lake
Schroon Lake, NY
Just around the northern bend from one of the prettiest beaches in the Adirondacks is the Lodge at Schroon Lake, a 36-acre resort that opened in June after a $21-million renovation. With the new hotel, the hamlet of Schroon Lake ushers in a return to its former heyday as a resort destination and hot spot for live music and comedy in the late 19th century up until the 1960s. Located 30 minutes from the more popular Lake George, the lodge offers something for every traveler but you'd also be content doing very little here, whether it's going for a walk through groves of pine, spruce, and evergreen trees; having a juicy burger at the Brown Swan Tavern's 42.5 foot long wooden bar; or simply lazing on the expansive deck that juts out over the lake, with the Adirondack Mountains just beyond.
Onsite activities: Aquatic fun includes kayaking, SUP boarding, and a private tour of the nine-mile-long lake in a classic wooden Chris Craft. There's also yoga, mini golf, a game room and kids club, an indoor pool and sauna, s'mores and live bluegrass.
Activities nearby: Hike a 2.3-mile moderate route with epic views along the Hoffman Notch Trail. Stroll into town for 9 Mile Coffee and pastries at Pine Cone Mercantile. After a dip at the town beach, enjoy Neapolitan-style pizza at Sticks & Stones. Schroon North Hudson Historical Society offers history lessons on how the 'Dacks evolved and its early settlers.
Average nightly rate in high season: Glamping tents on the pond with queen beds from $119/night, opening special $135/main lodge rooms, cabins like the Bird's Nest from $179.
By car from NYC: Roughly 4 hours
By public transit: Amtrak from Penn Station five hours to Ticonderoga Station, then the hotel shuttle will take you the rest of the way, about a 30 minute drive.
By car from Boston: 4 hours and 30 minutes
By car from Philadelphia: 5 hours and 30 minutes
Neversink River Resort
Godeffroy
The nature-based boutique hotel scene has become so saturated with expensive hideaways hawking hygge and high design that even hoteliers who love them are over them. Enter Josh Weissenstein and Jesse Baker, who've reimagined a 1970s campground with updated riverside digs at a refreshingly affordable price point. Spread across 70 acres (and best explored by bike or golf cart, both available for rent), Neversink River Resort opened this summer with a wide variety of accommodations, be it riverfront tent sites, a cabin on the water or a yurt in the woods. While the former KOA site is ever-evolving—a riverside lodge is slated to open in early October with yoga classes, a library, board games, and a workspace—fun diversions abound.
Onsite activities: Catch trout for dinner in the birthplace of American fly fishing; tubing and kayaking; dip in the pool and soar on the giant "jumping pillow" trampoline. On Saturdays through October, enjoy complimentary s'mores and an outdoor movie and end the day telling campfire stories. Before leaving, say hi to Maverick and Paulie, two friendly rescue goats.
Activities nearby: Go for a 3.2-mile out-and-back excursion to a spectacular waterfall in neighboring Neversink Preserve. Refuel with caffeine and sandwiches at Foundry42, a great cafe tucked inside an eclectic home goods shop in Port Jervis.
Average nightly rate in high season: From $115/cabin. (Other options: $40/tent site, $52/RV site, $105/yurt.)
By car from NYC: 1 hour and 40 minutes
By car from Boston: 4 hours and 10 minutes
By car from Philadelphia: 3 hours and 15 minutes
The Inns of Aurora
Aurora, NY
Dating back to 1833 in the heart of the Finger Lakes, the Inns of Aurora has been beautifully restored over the last 10 years. Its most recent developments include a farm-inspired spa campus with Ayurveda treatments, hydrotherapy circuits, and outdoor pools, and a newly introduced 2,200-square-foot two-bedroom Orchard Cottage (the only accommodations that allow young kids and pets).
Onsite activities: Swim, fish, kayak, and enjoy sunrise and sunset boat cruises right on Cayuga Lake. Off the water, there's archery, lakefront yoga classes, private lantern walks, bonfires, and a four-course farm-to-table feast at 1833 Kitchen & Bar.
Activities nearby: Local award-winning wineries include Heart & Hands Wine Company down the street or Keuka Lake Vineyards. For non-wine options, there's Aurora Brewing Co and creamy alcohol-free Root Beer at Wagner Valley Brewing Co. in Lodi. Learn about Upstate New York's suffrage movement and abolitionist history at the Howland Stone Store Museum and stop by the Aurora Farmer's Market for lakeside picnic fixings on Saturdays.
Average nightly rate in high season: From $610
By car from NYC: Roughly 4 hours
By car from Boston: Roughly 6 hours
By car from Philadelphia: 4 hours and 30 minutes
New Waterfront Hotels in New Jersey
Beach Shack
Cape May, NJ
Lounging under the blue and poppy orange striped umbrellas on one of the country's top rated beaches feels like being inside a Gray Malin photograph. Reopened this summer with remodeled ocean view rooms and a new pool bar, The Beach Shack is an idyllic slice of the South Jersey shore, which has also undergone something of a renaissance in recent months amidst a new business boom and completed 17-mile Cape May County bike trail.
Onsite activities: New pool bar; Rusty Nail restaurant for tacos and margaritas; live music and a fire under the stars. As part of the Cape Resorts collection, guests can enjoy resort perks like free yoga classes at Beach Plum Farm, beach bootcamp, and a free shuttle around Cape May (which departs from sister property Congress Hall five minutes away).
Activities nearby: As impressive as the Victorian architecture is in Cape May, a designated National Historic Landmark, a slew of new visit-worthy attractions include the zero-waste store Good Deeds Market; Harpoons on the Bay for oysters; Cricket Club for cocktails and weekend live jazz; and the new Cape May Point Science Center with everything from bird watching to stargazing experiences. Stretch your legs on the 1.8-mile Cape May Point Trail, with views of the 1859 lighthouse, and pick your own flowers on Sunday at the small family-owned Seashore Flower Farm—which also sells jars of homemade kimchi.
Average nightly rate in high season: From $260
By car from NYC: 2 hours 30 minutes
By public transit: Ride OurBus four hours to Cape May, then a 10-minute walk through town to the hotel.
By car from Boston: 6 hours and 30 minutes
By car from Philadelphia: 3 hours and 30 minutes
New Waterfront Hotels in Massachusetts
White Elephant
Nantucket, MA
If you feel a bit like summer has passed you by, consider taking your revenge with a big Nantucket sendoff. Fresh off a multimillion-dollar renovation, the White Elephant is there to greet you as you cruise into a captivating tableaux of pink-and-purple hydrangeas, charming cottages, cobblestoned streets, and peaceful beaches. However you decide to spend your ACK getaway, nap in the lap of luxury included, you can't go wrong.
Onsite activities: Pool; pedaling around the island on the hotel's Priority bikes (ask the concierge for a handy bike map); and the hotel's new beach bus to and from the island's dreamiest shores, like Steps or Jetties. Make it back for dinner at Brant Point Grill's Harborside Terrace for dazzling nautical views and a sea-to-table menu. The Nantucket oysters pair well with Cisco's Shark Tracker lager, which benefits the global non-profit Ocearch.
Activities nearby: A self-guided walking tour by the Nantucket Preservation Trust to explore the fascinating local history from fishing settlement to artsy enclave. Hop aboard the Wauwinet Lady for a scenic 45-minute boat ride to Toppers restaurant, perched on Nantucket Bay next to the Coskata-Coatue Wildlife Refuge. And a local must-visit is Jack and Charlie's for scoops of Black Raspberry.
Average nightly rate in high season: From $995
By car from NYC: Drive 3 hours and 45 minutes to New Bedford Ferry Terminal, then take the 1 hour and 45 minute high speed Seastreak ferry to Nantucket. Walk 9 minutes to the hotel, which you'll see as you come into the harbor.
By car from Boston: Drive 1 hour and 25 minutes to Steamship Authority, then take the Hyannis-Nantucket ferry to Nantucket. Walk 4 minutes to the hotel.
By car from Philadelphia: Drive 5 hours and 45 minutes to Steamship Authority, then take the Hyannis-Nantucket ferry to Nantucket. Walk 4 minutes to the hotel.