Paid Content For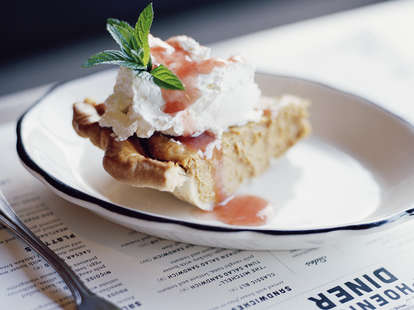 Courtesy of Phoenicia Diner
The Catskills aren't just beautiful; they've become the go-to countryside scene for some of New York's coolest tastemakers. So to point you in the right eating and drinking directions, we hit up some in-the-know locals for their go-to craft breweries, boutique distilleries, awesome farm-to-table restaurants and more.
Lucky Dog Farm Store
35796 NY-10, Hamden
"They sell delicious local sandwiches, amazing veggies, and soups in their cafe. And they have a great selection of local goods in their store."
Tulip and the Rose Café
435 Main St, Franklin
"Go here for local ingredients infused with Indian flare."
Blue Bee Cafe
114 Main St, Delhi
"Great for lunch, and an excellent Sunday brunch. And save room for the ice cream."
Molto Espresso
147 Delaware St, Walton
"Excellent coffee beverages and the cheesecake here is to die for."
Spruceton Inn
2080 Spruceton Rd, West Kill
"My partner, Sara Elbert, and I always go to the Spruceton Inn, where our friends Casey and Steven preside over the most gorgeous property and lodge. We belly up to Room One, their bar, for a local gose or shot of bourbon. A short walk from there, you can dip your toes into the creek and hike around cascading waterfalls."
Russell's General Store
Main St, Bovina Center
"When we want to stick close to home and take it easy, we meander down to Bovina's only store. We are lucky to have Russell's General just a stone's throw from the restaurant, and Bea, the operator, makes a fantastic egg sandwich. You can find us there having a lazy Monday morning with the local paper, catching up with our neighbors."
Gregory Henderson, Owner of the Roxbury Motel
2258 County Highway 41, Roxbury
Public Restaurant & Lounge
2318 Co Rd 41, Roxbury
"Public is literally next door to my hotel. It's a good local watering hole. They make a mean martini and mojito, and I always recommend the wasabi tuna. It's a nice option if you are staying at the hotel and don't want to drive."
Cassie's Café
53535 NY-30, Roxbury
"This country cafe makes some of the best pancakes and waffles around. At lunch, I always go for the hummus wrap."
Peekamoose
373 New York 28, Big Indian
"This is the go-to restaurant for special occasions and tasting menus. The chefs worked at top NYC restaurants, including Le Bernardin and Picholine. So you get quality food but at half the price and in a more relaxed setting. They're known for their braised short ribs. The chef braises them for three days so they are incredibly tender. My favorite when it's in season is the beet tartare, a great choice for vegetarians. They also do great cocktails. Try the blood orange margarita. After dinner, save room for s'mores, which you can make around the outdoor fire pit."
Arkville Bread & Breakfast
NY-28, Arkville
"Locals know this place as Jack's. There's not lodging here, the name is just a play on words. The owner-chef is a cool ex-surfer dude and he serves seriously good breakfast and lunch out of an old caboose. It's got a great local atmosphere and you can't go wrong with any of the sandwiches or salads."
Union Grove Distillery
Co Rd 38, Arkville
"A newer establishment, Union Grove is a vodka distillery and a ton of fun to visit. They have a copper-topped bar where you can sample the different vodkas and try cocktails. Distillery tours are free if you want to see how the vodka is produced."
Oakley's Place
44681 NY-28, Arkville
"Oakley's is the best wood-fired pizza in town. Everyone gathers here. The buffalo chicken pizza is so good."
Amanda Bupp, Jeff Madalena, Jason Gnewikow, and Bianca Barattini, NYC designers behind boutique hotel, The Graham & Co.
80 NY-214, Phoenicia
Phoenicia Diner
5681 NY-28, Phoenicia
"We always point our guests to the Phoenicia Diner for breakfast so you know it's trusted. It feels fresh and local. They do great skillets, like duck and grits and huevos rancheros." -- Bianca
Brio's Pizzeria
68 Main St, Phoenicia
"Brio's has a huge menu -- burgers, pasta, wraps, grilled cheese. But you go here for the pizza. The sesame seed, thin crust is our no fuss, go-to lunch." -- Amanda
Scandinavian Grace
2866 NY-28, Shokan
"Just off Route 28, Scandinavian Grace sells fantastic wares and goodies, and the owner, Frederick, knows how to make a proper cappuccino." -- Jason
Cucina
109 Mill Hill Rd, Woodstock
"Cucina is great for brunch or dinner. The relaxed atmosphere is fantastic. As soon as you arrive you feel like you're on vacation. The flatbread pizzas are always a crowd pleaser and great to share as a starter. Our regular order is the kale salad and the soup, even in the summer." -- Jeff
Travel close. Discover more. Visit the Catskills.