Where to Go Ice Skating in NYC This Winter
From outdoor park rinks to iconic spots decked out for the holidays.
When temperatures drop in NYC, you'll find New Yorkers running to the subway station, huddling by bus stops, and hailing cabs in a hurry to avoid the cold. But there is one activity worth venturing out for, and that's ice skating. This city has a plethora of ice skating rinks that run the gamut so no matter what type of skater you are, there's a sheet of ice with your name on it. From picturesque spots decked out with holiday decor to indoor rinks where you can escape the cold, here are all the best places to go ice skating in NYC this winter.
Think Coney Island is all about cotton candy, roller coasters, and boardwalk strolls in the summer sun? Think again. The Abe Stark Rink is the hidden gem of NYC's skating scene, with a vast indoor surface for all ages and abilities—from pro skaters who want to escape the city crowds to first-timers who'd rather slip and tumble in private. The rink is mostly booked up by local hockey teams, but the Saturday afternoon public skating session offers some time to get on the ice.
Price: $10 for entry. $5 for skate rentals.
Hours: Saturday from 1:30 to 3:30 pm
With a twinkling Christmas tree, holiday market, and a 17,000 square-foot ice skating rink, it's no wonder why Bryant Park is such a popular winter destination. Admission to the rink is free, but visitors will need to make a reservation in advance and pay a fee to rent skates and learn-to-skate equipment on site. After you wrap up on the ice, the Bank of America Winter Village has plenty to offer including a market with more than 170 vendors that's perfect for holiday shopping, a lodge with post-skate hot cocoa and other treats, and a curling experience where you can try your hand at the sport and kick back in a cozy hut afterward.
Price: Skating admission is free. Skate rentals are $15-$45.
Hours: Monday through Thursday from 8 am to 10 pm; Friday through Sunday from 8 am to 11:30 pm
Under the glow of Brookfield Place and with the Hudson River in the background, there are few ice skating rinks in the city that can compete with this view. The 7,350 square-foot outdoor rink offers hour-long skating sessions every day of the week, as long as the weather cooperates. To celebrate the holiday season, visit on December 8, 11, or 18 to skate with Santa or watch him take the ice for a skating performance in the afternoon. After you retire your skates for the day, head inside to check out "Luminaries," an interactive light exhibit that will set the iconic building aglow through February 2.
Price: $17 for a one-hour session. $5 for a skate rental.
Hours: Weekdays from 2 to 9:15 pm; weekends from 9 am to 9:15 pm
This indoor rink has plenty of space to skate, whether you want to practice twirls and jumps or just need some extra real estate to cling onto. The Long Island City rink offers public skate sessions on weekend afternoons when the space isn't being used for local hockey games and there's also a studio rink available for figure skaters to rent a dedicated practice area.
Price: $12 per session. $8 for a skate rental.
Hours: View schedule here
Right in the center of Industry City's bevy of restaurants, bars, and shops, an open-air skating rink will once again take up residence this winter. The rink is situated under twinkling lights and next to an outdoor bar operated by Frying Pan Brooklyn that'll serve up hot cocoa and snacks, so there are plenty of opportunities for holiday cheer.
Price: $12 per person. $10 for a skate rental.
Hours: Thursday from 4 to 8 pm; Friday from noon to 8 pm; Saturday from 11 am to 8 pm; and Sunday from 11 am to 6 pm
The southeast end of Prospect Park is home to not one, but two ice rinks at the LeFrak Center. The open-air rink is perfect for brisk afternoons or taking in holiday lights, while the covered option is ready for days when the weather refuses to cooperate. The rink also offers rentals and skating classes that range from a 15-minute crash course to a multi-day clinic. And when you're ready for a break, The Bluestone Cafe is located onsite offers hot cocoa, Brooklyn Brewery beers, and other refreshments and bites.
Price: $7.50 on weekdays and $11 on weekends. Rentals start at $12.
Hours: Monday through Thursday from 9 am to 7 pm; Friday and Saturday from 9 am to 9 pm; and Sunday from 9 am to 7 pm
This rink on the banks of the Hudson River has one standout feature: It is indoors, so you can enjoy it even as snow falls or the temperature drops to stay-inside numbers. Its Upper Manhattan location is easily accessible but still far enough away from the holiday decorations and destinations in Midtown, so you don't have to worry about this spot becoming a crowded, touristy rink.
Price: $5 for adults and $3 for children under 12. $6 for a skate rental.
Hours: Friday from 6 to 9 pm; Saturday and Sunday from 1 to 4 pm and 6 to 9 pm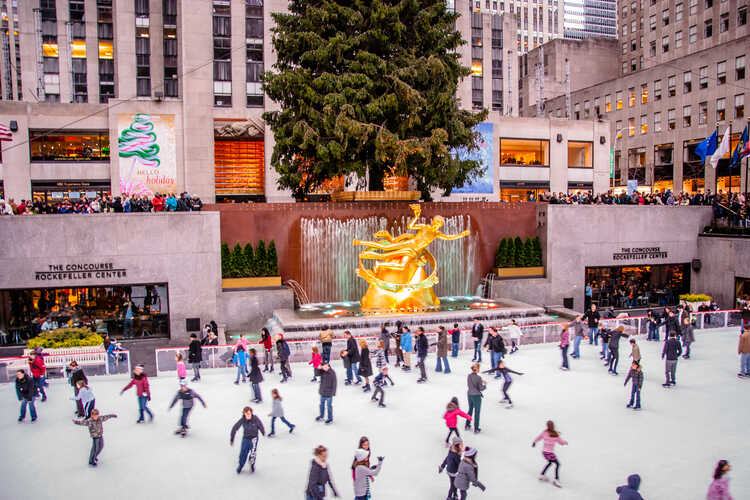 Ice skating at Rockefeller Center

| Tito Slack/Shutterstock
Perhaps the city's most iconic ice skating venue, the Rockefeller Center rink offers plenty of ice for skating under the glow of the legendary Christmas tree and bronze statue of Prometheus. The rink first opened on Christmas Day in 1936 and was meant to be a temporary installment, but it remains one of the city's most popular places to lace up. With opportunities to skate with Santa, decked-out shops nearby, the Rockettes performing just down the street, and a world-famous tree with twinkling rainbow lights, this is a one-stop shop with everything you need to channel your holiday spirit.
Price: Tickets (which include a skate rental) range from $20-$54 depending on date and time.
Hours: Daily from 7 am to midnight
While this indoor rink is often used for hockey games and figure skating practice, the Staten Island Skating Pavilion shifts its focus to offer a few public skating sessions throughout the winter. The regulation size means there's plenty of space to learn to skate, and the rink offers lessons for all ages through Learn to Skate USA, an organization endorsed by US Figure Skating, USA Hockey, and US Speedskating. Check the website for special events throughout the holiday season, like hot cocoa skating sessions or opportunities to hit the ice with Santa or the Grinch.
Price: $15 for admission. $7 for a skate rental
Hours: Friday from 8:10 to 10:10 pm; Saturday from 2:30 to 4:30 pm and 8 to 10 pm; Sunday from 2:30 to 4:30 pm
For the quintessential NYC skating experience, look no further than the Wollman Rink. This Central Park stalwart has a number of upgrades this season—mainly, it's no longer operated by the Trump Organization. You'll still be able to participate in daily skating sessions, rent skates on-site, and take in gorgeous views of the park, and the new owners, Wollman Park Partners, added a rinkside cafe offering a menu from Harlem's iconic soul food spot, Melba's, that includes soups, wood-fired pizza, the restaurant's famous mac 'n cheese, and more.
Price: $14 off-peak or $23 during peak times and holidays. $6 for children 11 and under. $11 for a skate rental.
Hours: Monday and Tuesday from 10 am to 2:30 pm; Wednesday and Thursday from 10 am to 10 pm; Friday and Saturday from 10 am to 11 pm; and Sunday from 10 am to 9 pm