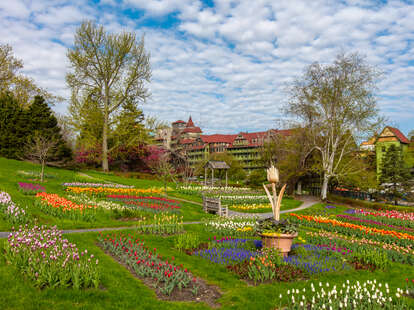 Photo courtesy of Mohonk Tulip Festival
Photo courtesy of Mohonk Tulip Festival
With spring comes the blooming of colorful flora around the NYC metro area symbolizing rebirth after months of wintry temperatures. And while cherry blossoms might be the floral main character of the season—especially in Washington DC, too—let's not forget another early spring bloomer with over 4,000 varieties: the tulip, aka the King of Bulbs.
The tulip is most associated with The Netherlands but it originated from Kazakhstan where its first known cultivation was by Turks in 1000 A.D. Often found as decorative motifs on 10th century ceramics, art, clothing, and furniture in Central Asia, the flower eventually ended up in the hands of a botanist named Clusius, who then planted tulip bulbs in Leiden University in The Netherlands.
To maximize tulip season (typically from April to late May) and view these beauties, from Central Park and Upstate, NY to Connecticut and New Jersey, we've rounded up all of the best places to take in their vibrancy this spring. For a day trip or weekend getaway from NYC, here are some colorful tulip showings and festivals in and near the city.
NYC Tulips: Brookfield Place, Park Avenue Mall, and Central Park
Citywide
In April, the NYC Department of Parks & Recreation plants over 100,000 tulips citywide, which, weather permitting, can be viewed for up to a month.
From mid-April through May, catch the blooming tulip garden at Brookfield Place in downtown Manhattan with views of the waterfront that make for an iconic shot; Olmsted Flower Bed at Central Park for not just tulips but other flowers like azaleas and phlox; and the formal Conservatory Garden also at Central Park with six acres of tulip plantings and other summer flowers like chrysanthemums. It has three distinct garden designs of English, French, and Italian, and draws both local and international visitors annually. Another tulip sighting spot is between 54th and 86th Streets on Park Avenue Mall. Every year, the Fund for Park Avenue does seasonal plantings like spring tulips which are usually planted in one color. View them on island concretes while crossing Park Avenue or in sidewalk flower beds.
When: Through May
Cream Ridge, NJ
Head to this 300 acre family farm for the popular U-pick tulip festival. Over 8 million tulip bulbs are planted and it's considered one of New Jersey's top spring activities. Events here are very popular and quickly sell out so plan ahead and join their mailing list to secure VIP spots. FYI: The farm is renowned for being content-creator friendly so lug your camera for colorful background shots of tulips, Dutch bicycles, and other fun props. Picnics are allowed only on weekdays (no alcoholic drinks). The farm will be open everyday for up to five weeks and is an affordable $15 for ages 3 and up.
When: Through late May
Distance from NYC: 1 hour by car
Somerset, NJ
This is another family farm with U-pick tulips available on weekends. Here, tulips must only be cut with shears and not pulled out, and the farm provides receptacles for cut tulips so no need to lug coolers or plastic bags. The field fee is $5 (free for under 2 year olds) per person and the cost of flowers and tulips are $1 per stem (wagon ride to access the tulip field included). The farm is open weekends during tulip season but it's highly recommended to call ahead before arrival to ensure flower availability.
When: Through mid May
Distance from NYC: 1 hour by car
Manorville, Long Island
At this annual family-friendly tulip festival in Suffolk County, visitors can expect a mini windmill, over a dozen tulip varieties, barnyard animals, and food trucks. The farm is also pet-friendly as long as fur babies are leashed. The festival runs for up to five weeks and is dependent on weather. Considering Manorville's proximity to the Hampton's, it's often referred to as the "Gateway to the Hampton's."
When: Through late May
Distance from NYC: 1 hour 20 mins by car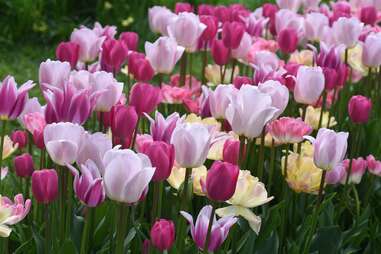 Bridgeport, CT
After World War II, small business owner Cornelis Schipper migrated from The Netherlands to the US with his wife and know-how of selling tulip bulbs from his Dutch homeland. Fast forward decades later, the company is still family-owned and sells tulip bulbs to long standing customers. Located in the Stratfield historic district of Bridgeport, Colorblends House and Spring Garden has an astounding number of colorful tulips—between 8,000 and 25,000 have been planted since 2014—endemic wildlife in the area and is family-friendly and less crowded than other major tulip gardens.
When: Through May 7
Distance from NYC: 1 hour 25 mins by car
Washington, CT
In late April, Hollister House Garden begins blooming with early tulips and other spring flowers. In 1979, the Garden was founded by George Schoellkopf in the style of formal English gardens with scenic backdrops of the Litchfield County landscape. The season begins on April 21 and admission is $10.
When: Late April
Distance from NYC: 2 hours by car
New Paltz, NY
This luxurious mountaintop retreat in New Paltz plants 9,000 tulip bulbs every fall for a springtime bloom. And while a determined population of local deer has consumed much of it, they were still generous enough to leave some bulbs uneaten on parts of the property. These uneaten bulbs will bloom by the Gatehouse and Show Garden for interested visitors. Make it a fun day trip and combine Mohonk's tulip sights with a leisurely spring hike or one of their many spa experiences like the mineral pool or a soothing massage.
When: April 28 to May 8
Distance from NYC: 2 hours by car
West Hartford, CT
Tulips bloom heartily in May in the Robert Prill Garden of the Conservancy where 11,000 bulbs were planted the previous fall. For history and botany nerds, Elizabeth Park is home to America's oldest rose garden, donated by Charles Pond in his wife's memory, and opened to the public in 1897. It opened as a Conservancy in 1977 and is on the National Register of Historic Places. Beyond the tulips, walk the property for a pond teeming with waterfowl and a stone bridge built in 1905. Additionally, find the gazebo and rose garden arches to relax in or take creative shots. The park is open daily and is free but donations are accepted. There is a cafe available but picnics are welcome so bring a basket and blanket.
When: Early May
Distance from NYC: 2 hours 25 mins by car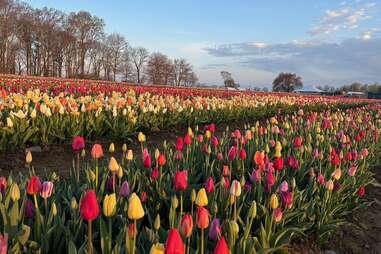 Preston, CT
Connecticut has its fair share of tulip farms and gardens, including Wicked Tulips Farm, a six-acre property that blooms in late April through mid May. This is a U-pick event where visitors amble gently through over 700,000 tulips, picking upwards to ten stems with an adult ticket. Adult tickets range between $17 and $23 while kids' tickets up to 17 years old are $5. Tickets are released in batches and sell out fast so sign up for alerts. The farm also offers Yoga in the Tulips on select weekends. Whether here for tulip picking or content creation, take note that there's no drones or photography equipment permitted.
When: April 26 to May 8
Distance from NYC: 2 hours 45 mins by car
Albany, NY
Albany's tulip festival began in 1948 with Mayor Corning declaring the tulip as the city's official flower and championing Queen Wilhelmina of The Netherlands to name a bulb variety after New York State's capital. Taking place every Mother's Day weekend at Washington Park, the Albany Tulip Festival features over 100,000 colorful tulips. Local festivities in town also include a traditional Dutch street scrubbing as a festival kick-off, Tulip Queen Procession and Coronation, Royal Tulip Ball, family-friendly activities, food vendors, and more.
When: Saturday, May 13 and Sunday, May 14
Distance from NYC: 3 hours by car